*This post contains affiliate links. As an Amazon Associate, I earn from qualifying purchases. This means when you make a purchase, I get a commission at no cost to you! Read more about my affiliates on my Affiliate Links Disclaimer.
When I went to a conference in Kuala Lumpur, Malaysia, I KNEW I had to take some time to go mammal watching in Borneo. As a wildlife biologist, searching for cool, wild animals is one of my favorite things to do.
I especially wanted to see the Bornean orangutan.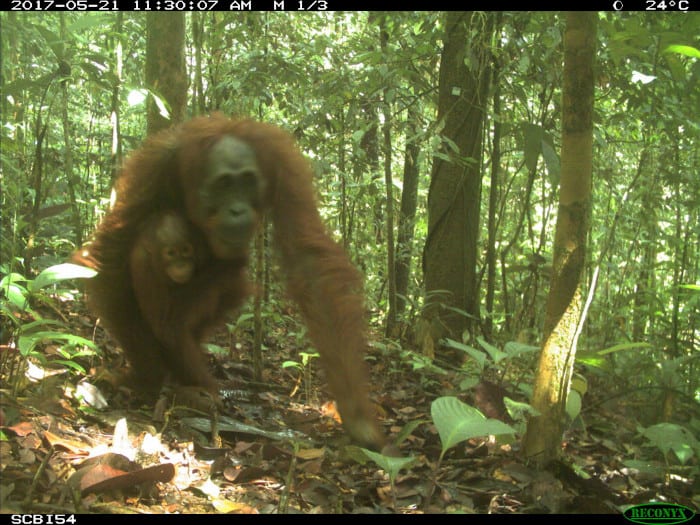 A lot of tourist go to Danum Valley to see orangutans. It's the most famous ecotourism destination in Borneo. But when I looked into Danum Valley, I thought it was pretty expensive, seemed kind of touristy, and it was also starting to book up fast. Instead, I decided on a safari in Deramakot Forest Reserve.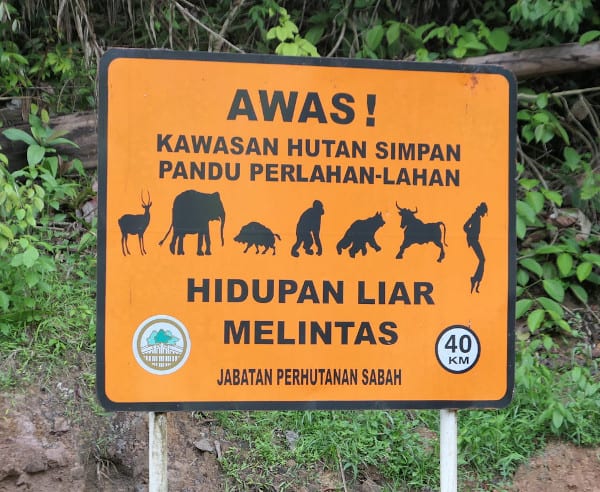 The Deramakot Forest Reserve is a protected area located in Northeastern Borneo, north of Danum Valley. It differs from Danum Valley in that it is not all pristine (e.g., untouched by development). Parts of Deramakot have been selectively logged since 1956, but it is still rich in wildlife. This is largely because it is a Forest Management Unit.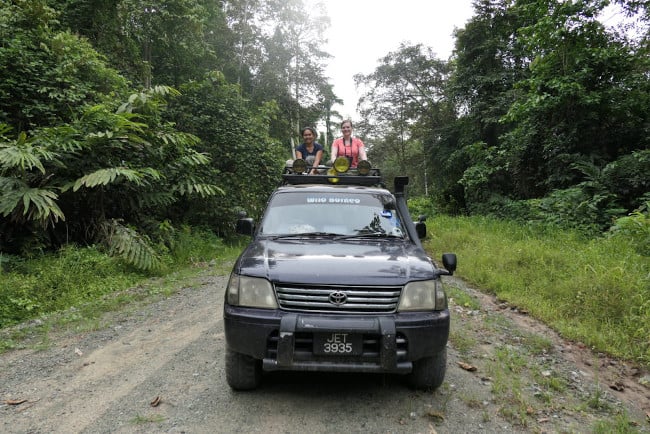 I went by myself with a guide and his wife. We spent four days scouring the park for the coolest animals, but especially mammals. I study mammals so they are my preferred taxon. In this post, I share with you all of the mammals we saw on our morning and night safaris.
Sometimes the animals got away from us or we were too far to snap a good photo, but that's okay. I used photos from iNaturalist and the Smithsonian Borneo Mammal Survey at LEWS Project in eMammal.
This was probably my favorite mammal sighting and something I really wasn't expecting to see. Western tarsiers are not necessarily rare, but they are super tiny primates and therefore can be difficult to see. We spotted this one at night from its eye shine.
I would have loved to put my hand in the photo to give you some perspective. They are about that size.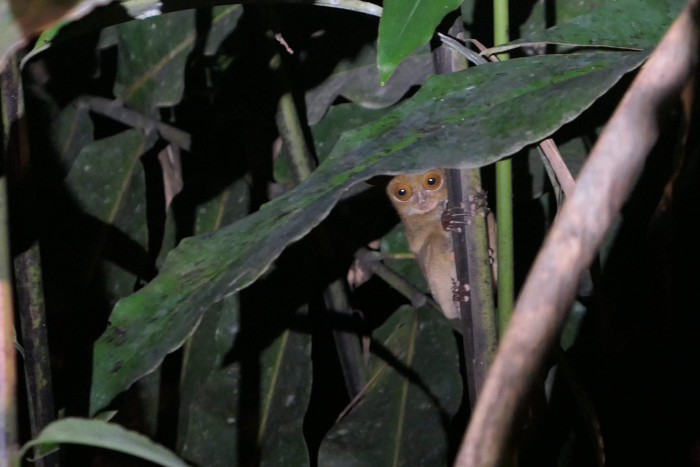 This tarsier was not that shy and let us watch him/her for awhile. I was able to get some great footage. Check it out below.
Large flying fox
On our way driving to Dermakot, once we entered the forest, we saw a large flying fox in hanging upside down in a tree. Unfortunately it was too far away to a good photo. The one below is from iNaturalist.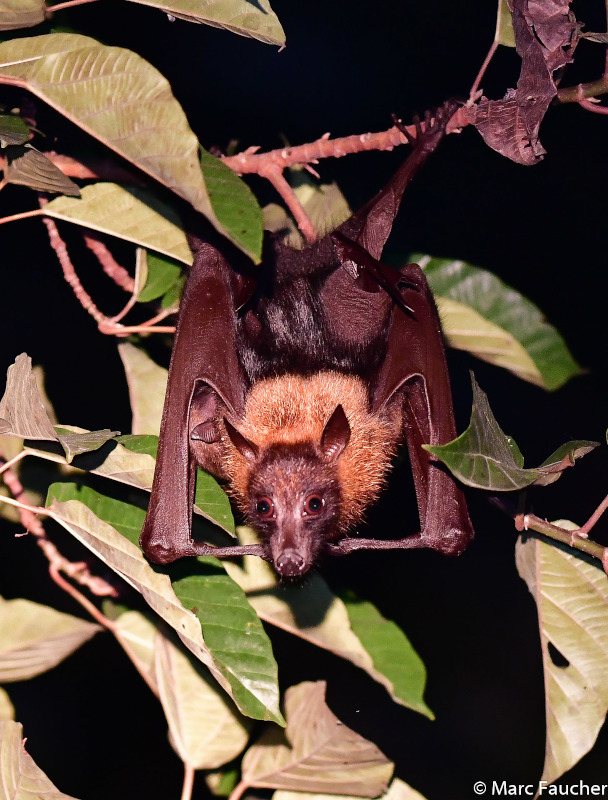 Silvered langur monkey
I first saw this monkey in the Sungai Congkak Forest, located about an hour's drive outside of Kuala Lumpur. I was happy to see them again in Deramakot. I wish I would have seen the orange babies though.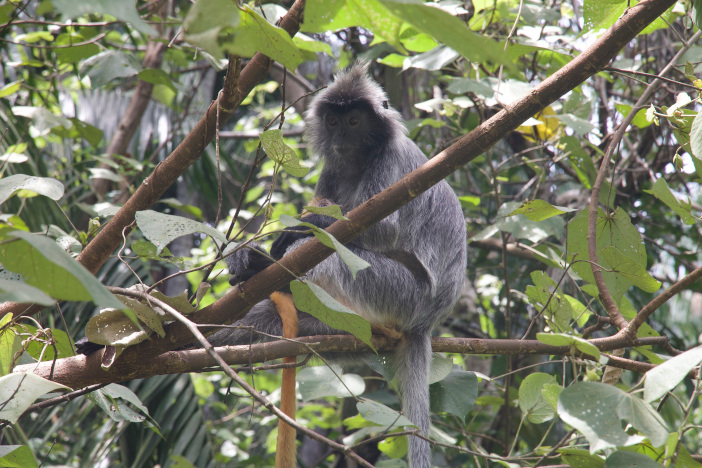 Pig-tailed macaque
Pig-tailed macaques are easy to tell apart from the other monkey species. Just look for a short tail. We did see them in Deramakot, but I posted photos from my river cruises on the Kinabatangan River because we saw them much better there.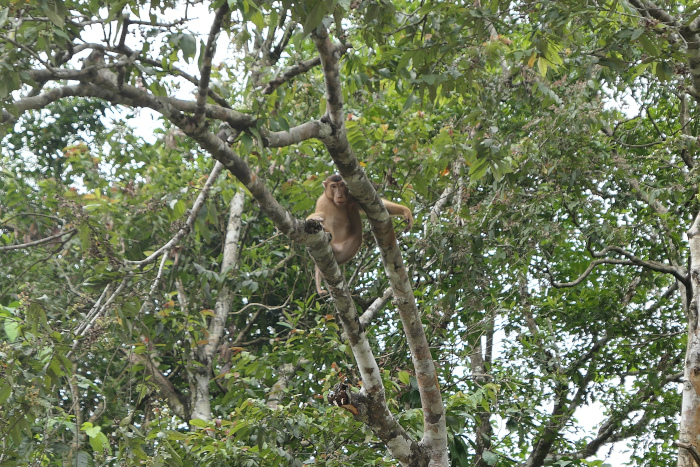 North Borneo gibbon
We saw gibbons several times, but man, they are fast! They are pretty shy so they always quickly moved whenever we stopped the car. We did hear them well though. Make sure you listen to the video below.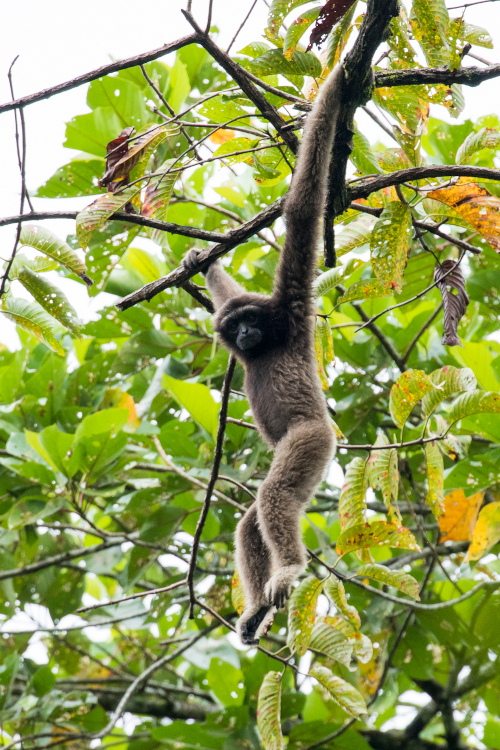 Gibbons are apes, not monkeys. Even if the gibbons are fast, you can usually tell it is a gibbon right away from the movement. They swing from branch to branch with a hand-over-hand motion called brachiation. This highly specialized movement from their ball-and-socket wrist joints gives them high speed through the trees (to unfortunately get away from us before we could snap photos).
Red giant flying squirrel
This squirrel was actually one of the coolest animals I saw. I know what you are thinking,. It's a squirrel…How could it be that cool? They are! They are a lovely bright red and large (hence the name) making them easy to see from a pretty far distance. It's fun to watch them glide from tree to tree.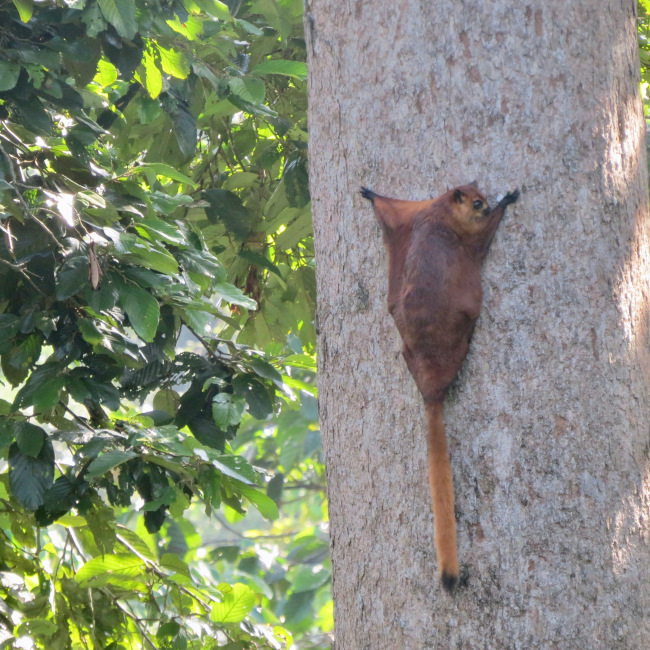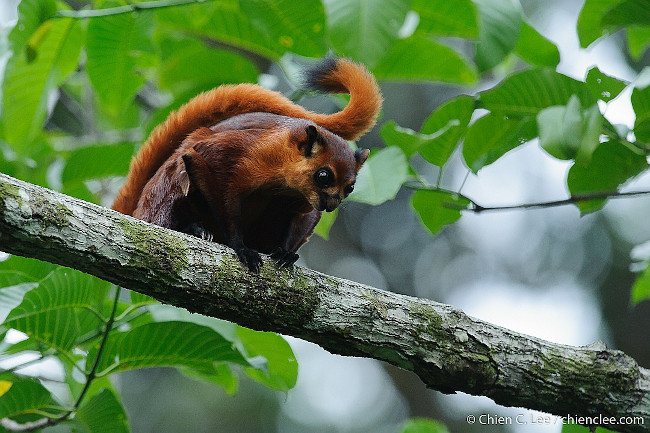 Long-tailed porcupine
We saw a long-tail porcupine in person on our first night, but it moved too fast to get a good photo. My guide said this animal is not seen frequently and that he's only seen one five times. I consider myself lucky.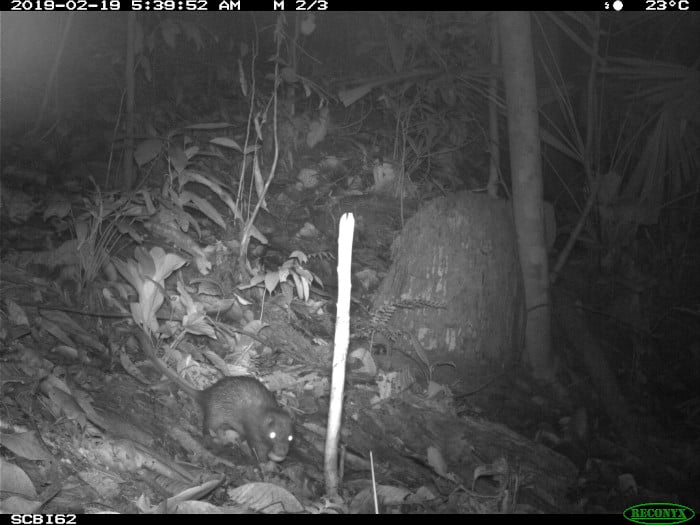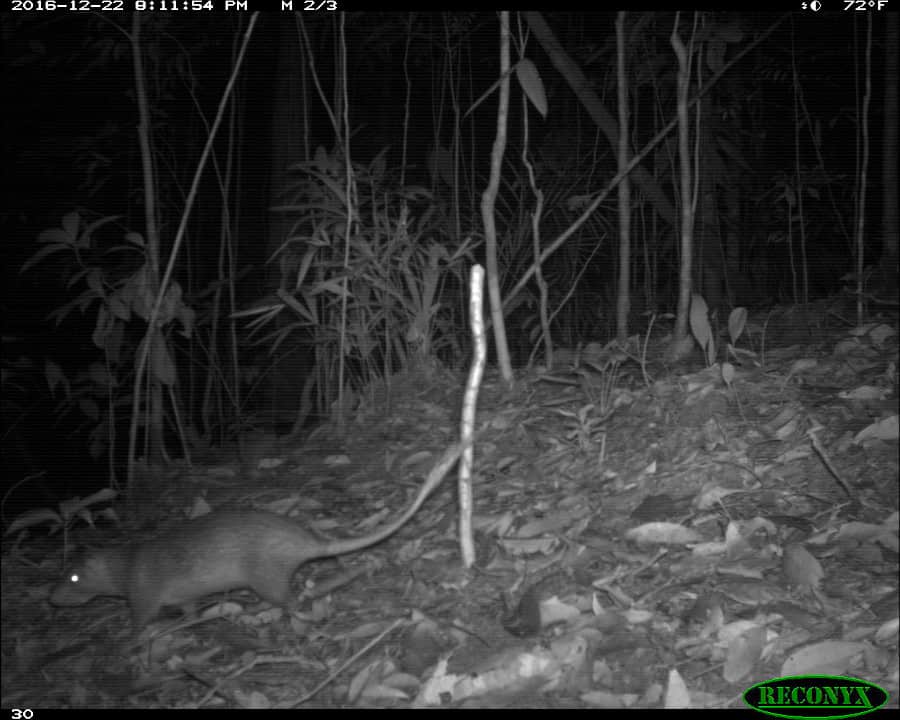 Usually you see most mammals at night, but we saw these two yellow-throated martens cross the road on our way back from a very early morning safari. You can watch the footage in the video below.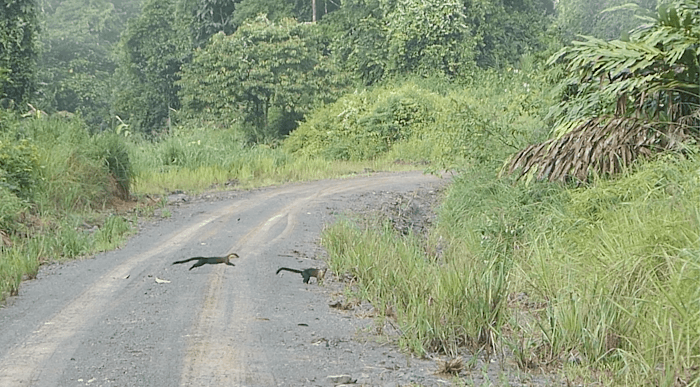 Small-toothed palm civet
We saw four different species of civets. Civets are not canids or felids, they are in their own family called Viverridae, along with genets.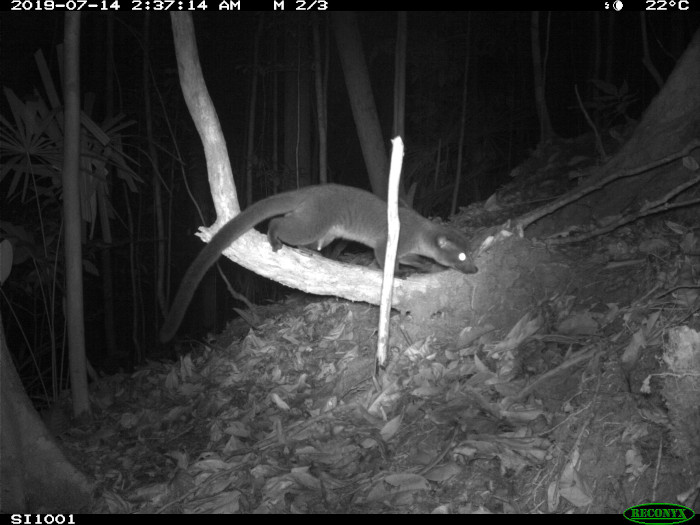 Island palm civet
I do have some video footage of a island palm civet in Deramakot, but these photos from a resort near the Kinabatangan River are much clearer.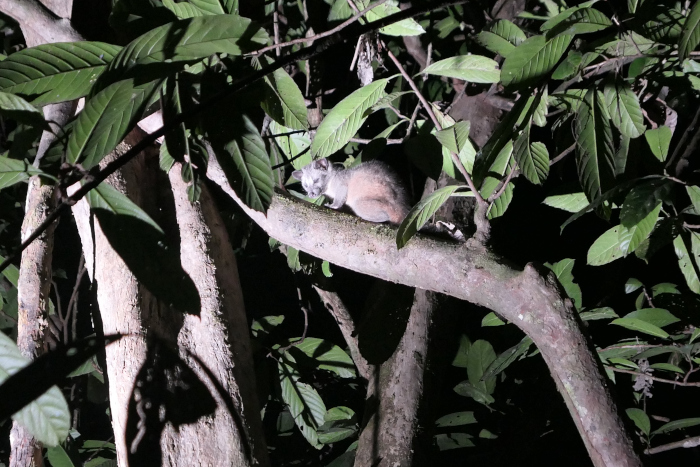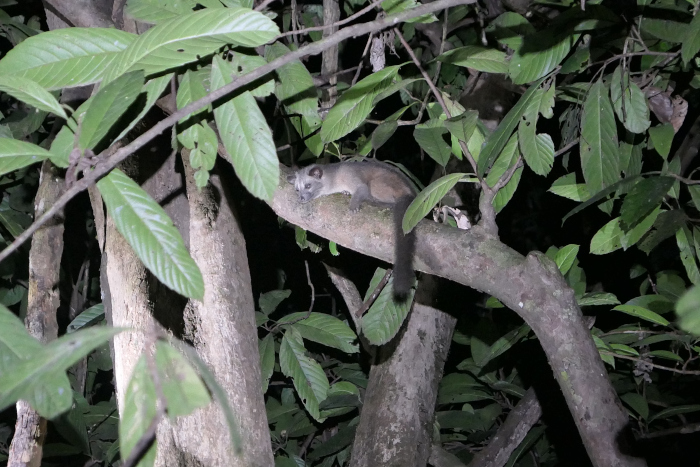 Malay civet
Another pretty civet. Check out those cool neck markings!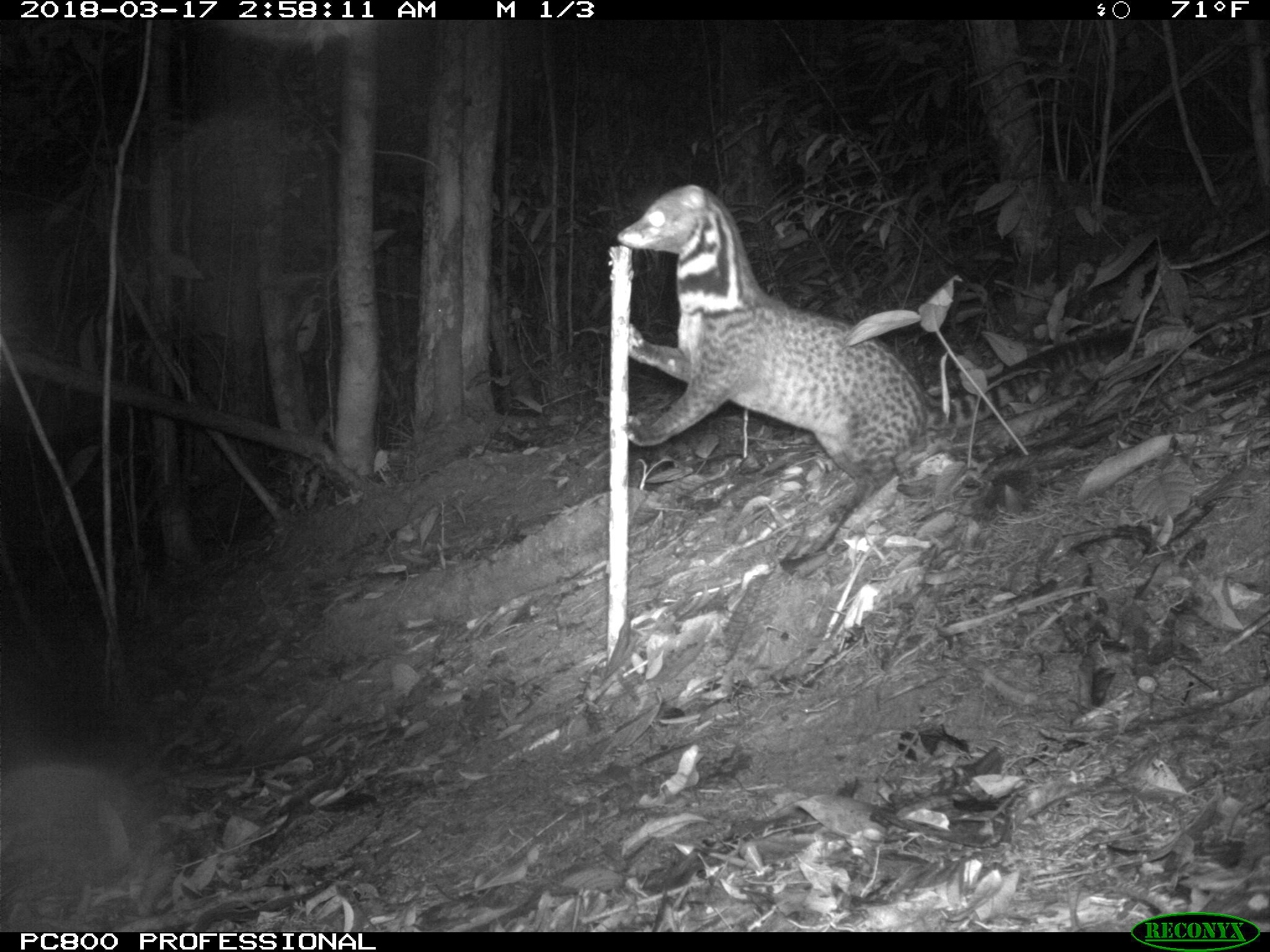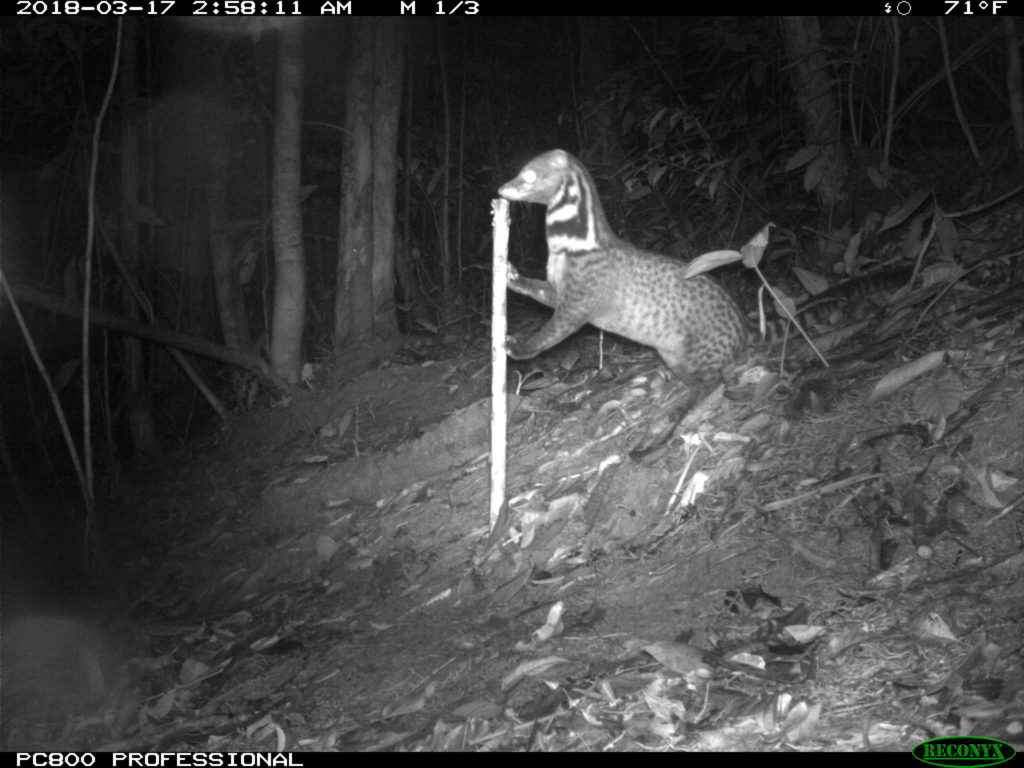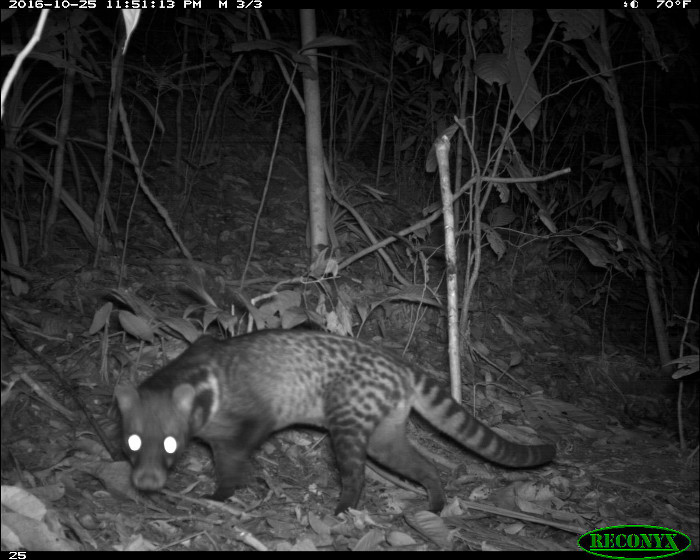 Masked palm civet
We saw a lot of civets and some of them are hard to tell apart. The masked palm civet has a cream colored tail tip. You can see it clearly in the photo I took. This is the only species with that coloration so we knew for sure it was a masked palm civet.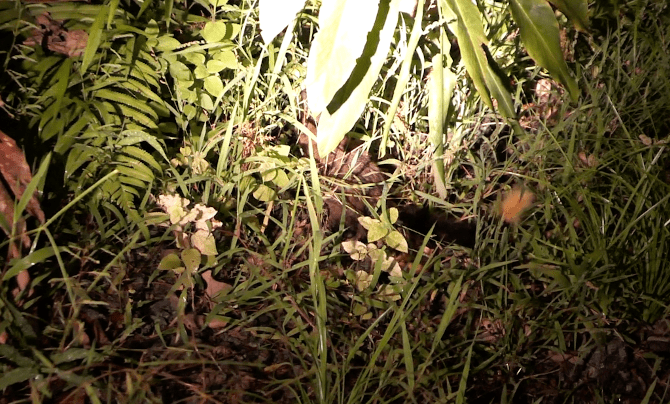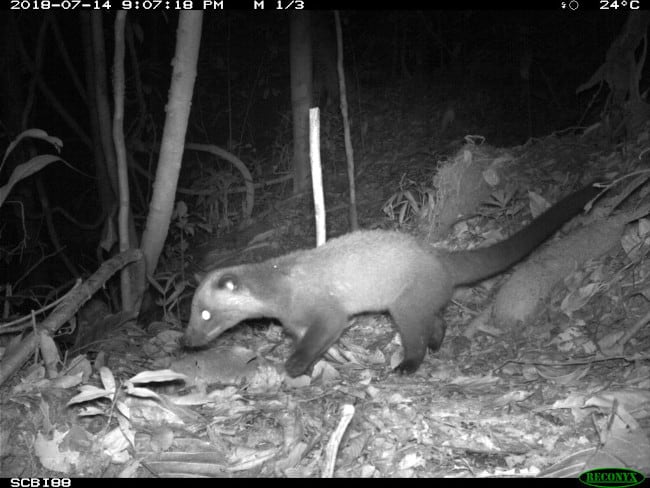 Civets are also known from their role in civet poop coffee. This is the world's most expensive coffee. It's actually made with partially digested coffee beans from civets. It's supposedly fantastic coffee, but you shouldn't buy it. The civets used to make the coffee are kept in horrible conditions.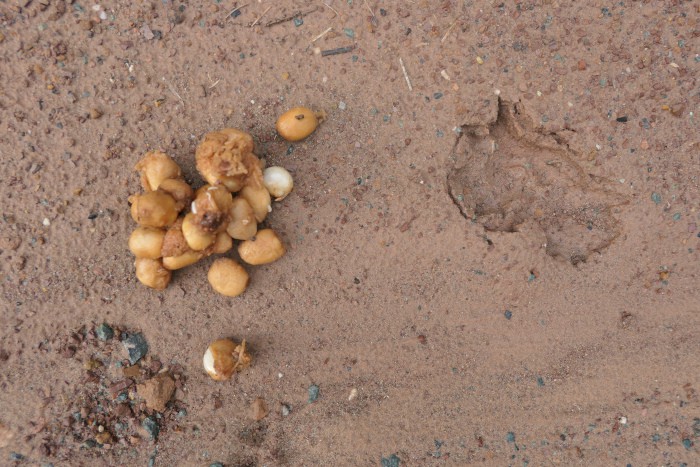 I was on the lookout for clouded leopards, but was pleasantly surprised by this little wild kitty. We saw them so many times, but I never grew tired of it.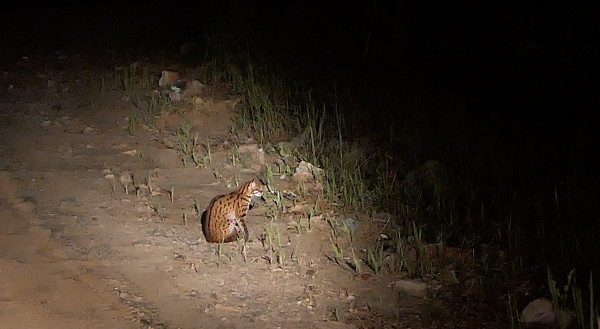 Greater mouse-deer
Not a mouse or a deer, but super cute! They are in a family with the smallest hoofed mammals in the world. The greater mouse-deer was way too fast for a photo.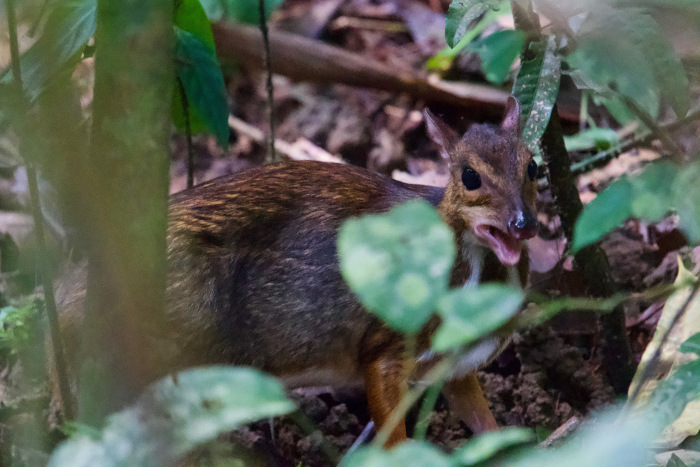 Sambar deer
This is my second time seeing sambar deer. I also saw them when I was in India. We get this animal a lot on our camera traps too.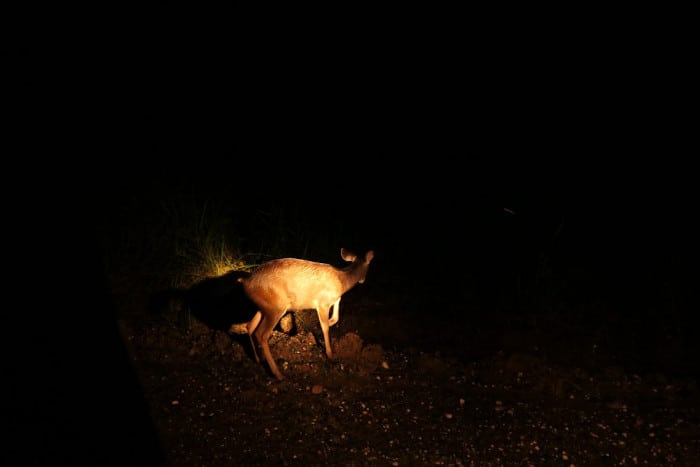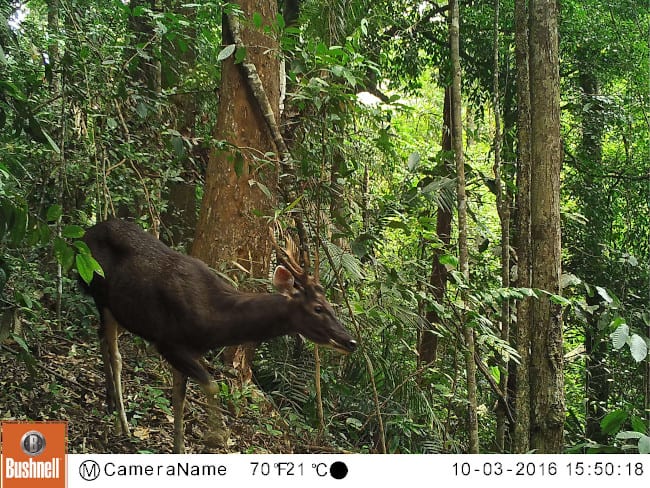 Bearded pig
You can see how this pig gets its name. We saw one scurry across the road.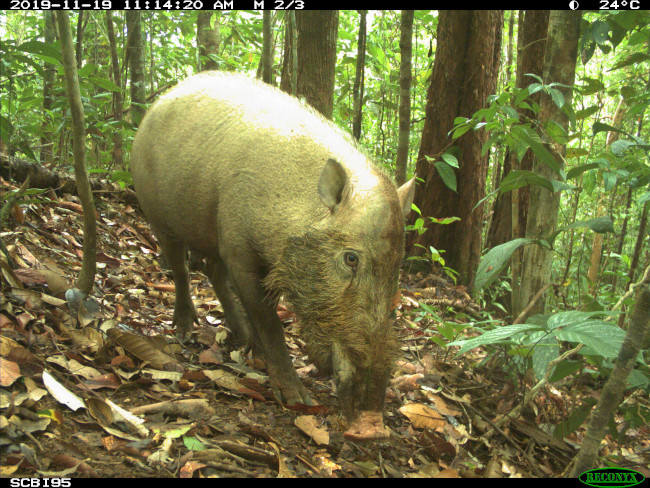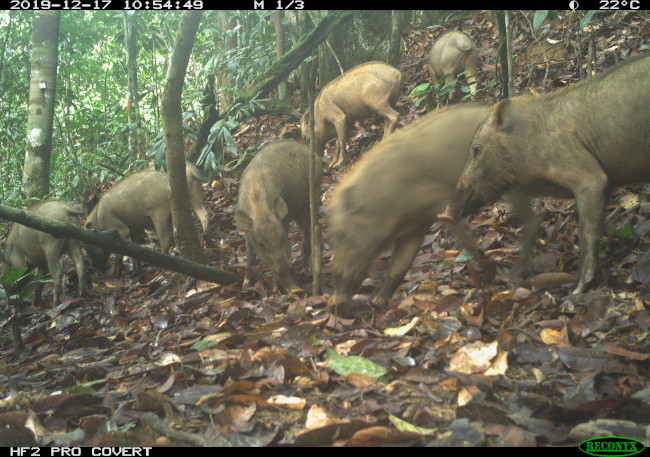 That's the full list of all of the mammals I saw in Dermakot forest. I really, really, really wanted to see an orangutan, but it didn't happen. We saw many nests and freshly eaten fruit, but no orangutans.
After Deramakot, I continued my search for orangutans in a spot north close to the Kinabatangan River.
Did I see one? You'll see…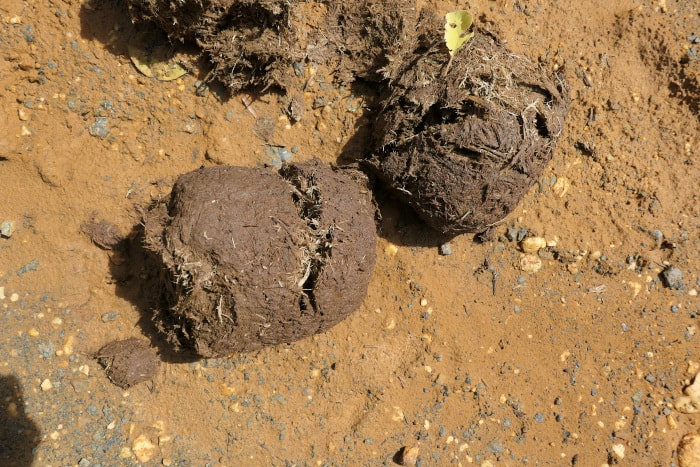 Headed to Borneo to look for wildlife? Make sure you get the Phillips and Phillips field guide. It's the best.
Stephanie Schuttler is a wildlife biologist with 17 years of experience in mammal ecology and conservation, education, and outreach. Read her inspirational story, "My Unexpected Journey Into Science" to find out how she went from the daughter of a jeweler to a Ph.D. in wildlife biology. Feel free to contact Stephanie here.