*This post contains affiliate links. As an Amazon Associate, I earn from qualifying purchases. This means when you make a purchase, I get a commission at no cost to you! Read more about my affiliates on my Affiliate Links Disclaimer.
You have no idea how excited I was to see a yellow-throated marten (Martes flavigula)! This mesocarnivore was an unexpected (but very welcomed) surprise during my ecotourism adventure in Deramakot Forest Reserve in Borneo, Malaysia. These mustelids may look colorful and cute, but don't let that fool you. They are seriously fierce.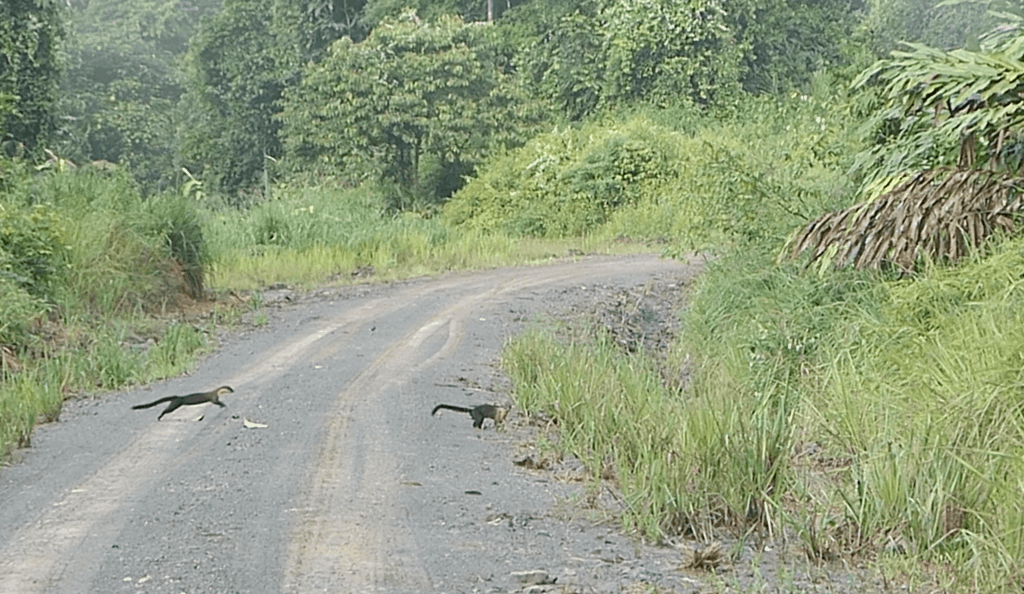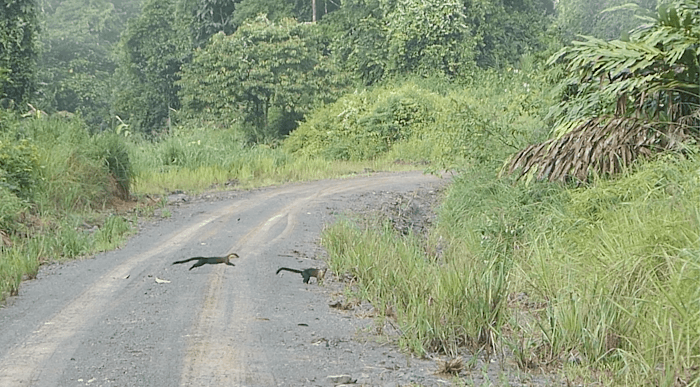 Martens are mustelids along with weasels, otters, and badgers. I personally think they look a lot like weasels. Coming from the eastern USA, weasels are hard to see, even on our camera traps. I was delighted with surprise to see two bound across the road on our way home from an early morning drive around the park. I later found out that this species is not very fearful of humans and is even easily tamed (whatever, this was still a special moment for me!).
There are so many fun things about this mammal. First, just the way it looks. I mean, what a cute face!
I simply love how colorful they are. As a fashionista, I LOVE color. Most mammals tend to be brown (boring! lucky for them that they are cute), but yellow-throated martens have a bright yellow chest (hence the name) and a brownish-red body that fades into a black butt and tail (sometimes I think there is even a hint of purple/blue).
You can see by looking through the eMammal camera trap photos throughout this post, that there is a lot of variation in coat color.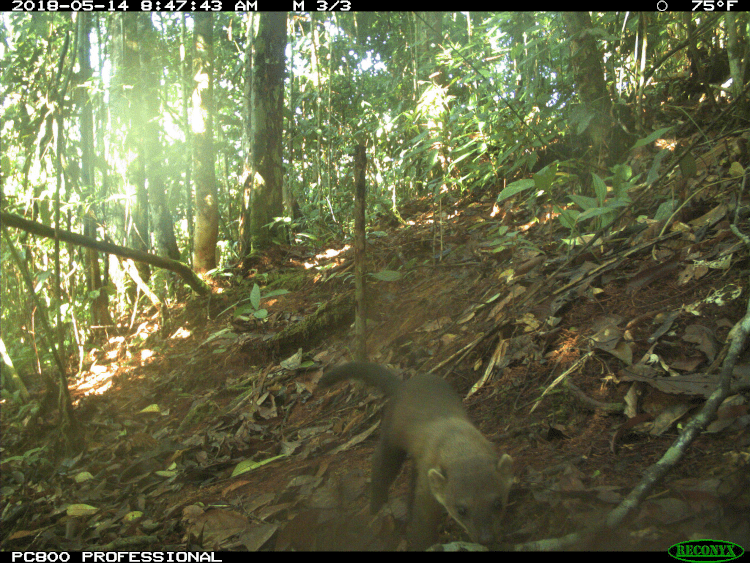 Yellow-throated martens are pretty incredible animals in that they have a large range and can inhabit a variety of habitats. They are the only Martes species that lives in tropical forests, but they can also be found in areas 4,000 m above sea level.
Martens are pretty small, but there are anecdotal reports of yellow-throated martens hunting deer and pigs in Borneo when they form packs. One guide said he observed this behavior twice, "…The marten is well known to attack deer and pigs in pairs or family groups biting at the tendons on the hind legs and clinging on to the back until the animal is exhausted and collapses" (reported in Phillips and Phillips).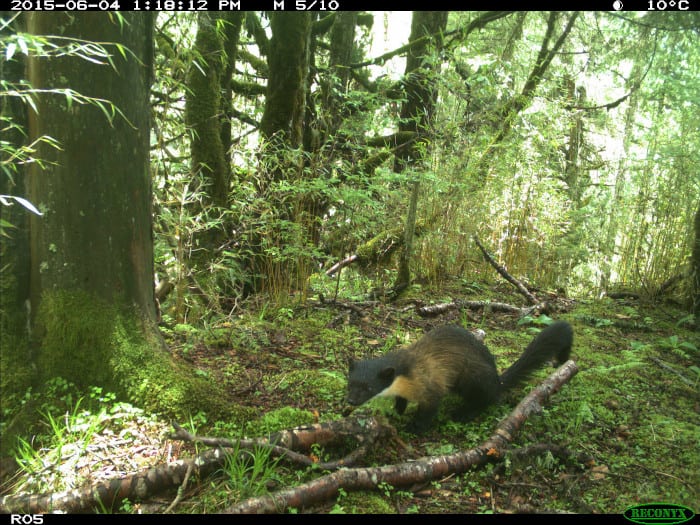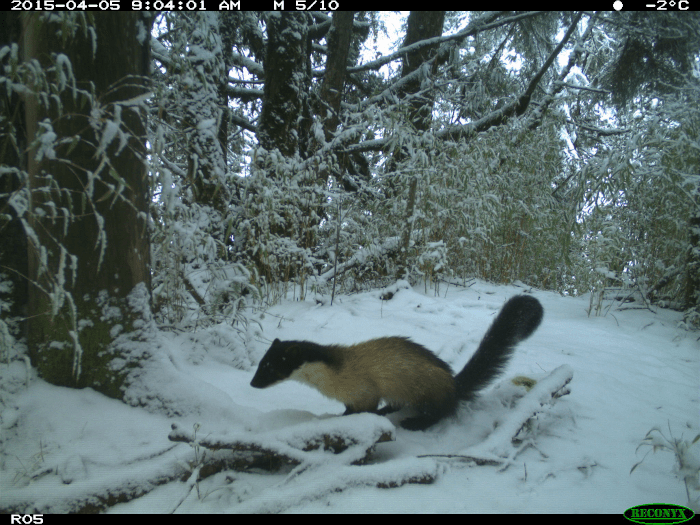 There are also other reports of martens eating large prey, although for most it is unclear if they are scavenging or hunting. In the northern part of their range though, it seems that they prey on musk deer.
Borneo lacks large predators like tigers and leopards (the largest is the clouded leopard), so here martens are close to the top! They also have no natural predators.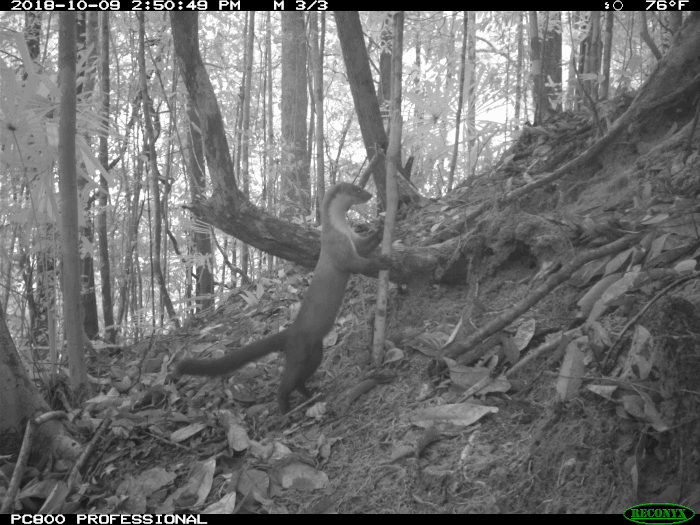 Although yellow-throated martens hunt, their diet is actually omnivorous. They are seed dispersers for the forest, and in one study, they appeared to chose fruit over live prey. They preferred fruit at peak abundance, even though small mammal abundance was highest too.
Yellow-throated martens are commonly seen in twos (like the ones I saw). This is likely because they are thought to be monogamous, which is rare in mammals. They are mainly active during the daytime.
Yellow-throated martens were just one of the many cool animals that I saw in Deramakot. Check out the others here.
In addition to the references linked throughout, this post was written with the help of the IUCN Redlist, Animal Diversity Web, and Phillips and Phillips' Mammals of Borneo.
If you go to Borneo, this book is a MUST! I love it. In addition to providing great natural history on the mammals of Borneo, there are also extensive sections on tropical forest ecology.
Stephanie Schuttler is a wildlife biologist with 17 years of experience in mammal ecology and conservation, education, and outreach. Read her inspirational story, "My Unexpected Journey Into Science" to find out how she went from the daughter of a jeweler to a Ph.D. in wildlife biology. Feel free to contact Stephanie here.