*This post contains affiliate links. As an Amazon Associate, I earn from qualifying purchases. This means when you make a purchase, I get a commission at no cost to you! Read more about my affiliates on my Affiliate Links Disclaimer.
Is this an alien? Gremlin? Yoda? No, it's a real freaking animal! The Western tarsier.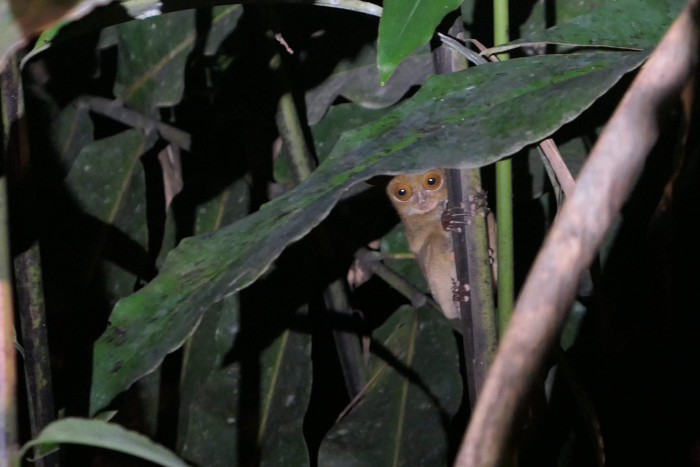 The Western or Horsfield's tarsier (Cephalopachus bancanus) and it's one of two nocturnal primates found on the island of Borneo (the other being a slow loris). I was recently there on an ecotourism adventure in Deramakot Forest.
I had a list of animals I really wanted to see, and although this was one of them, I NEVER expected to see this super tiny primate (yes primate). Seeing it though was one of the highlight's of my trip.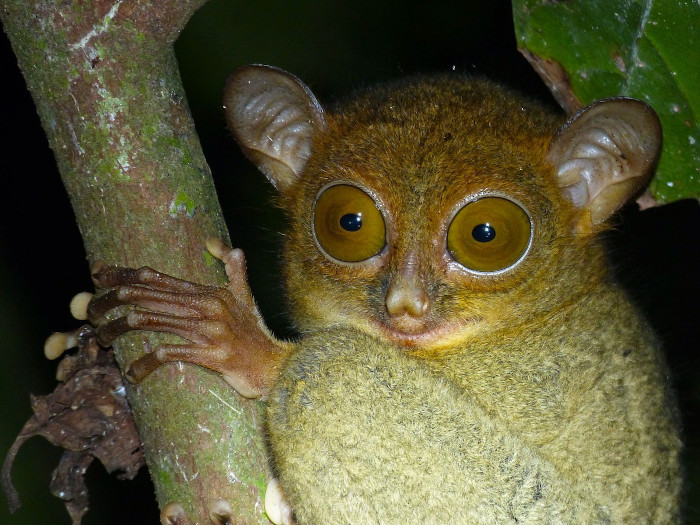 Western tarsiers are not necessarily uncommon, but they are definitely hard to see. They are very, very tiny. Males are larger and about 12 cm (less than 5 inches) without their tail. They also typically remain stationary on the stems of straight plants. Given that Borneo is a rainforest and therefore obviously has lots of vegetation, it's quite literally like finding a needle in a haystack.
So how did we find this teeny tiny primate amongst all of these plants?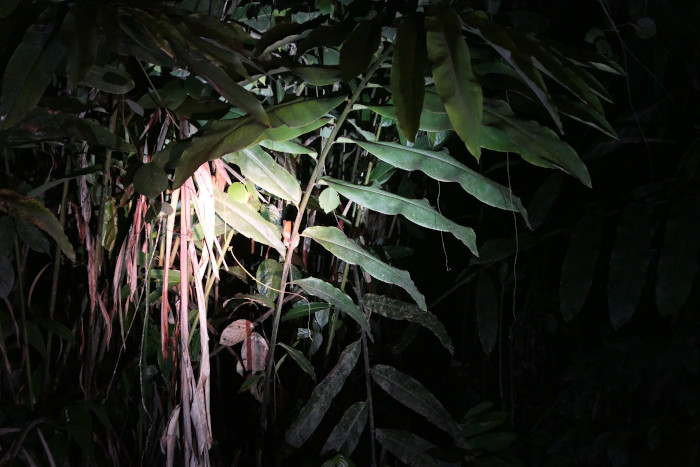 The two easiest ways to see mammals in Borneo are when (1) you are driving in the car and you see one cross the road (2) from their eye shine at night. We went out driving every night and early in the morning to look for animals' eye shine with spotlights. For the Western tarsier, their eyes grow reddish-orange.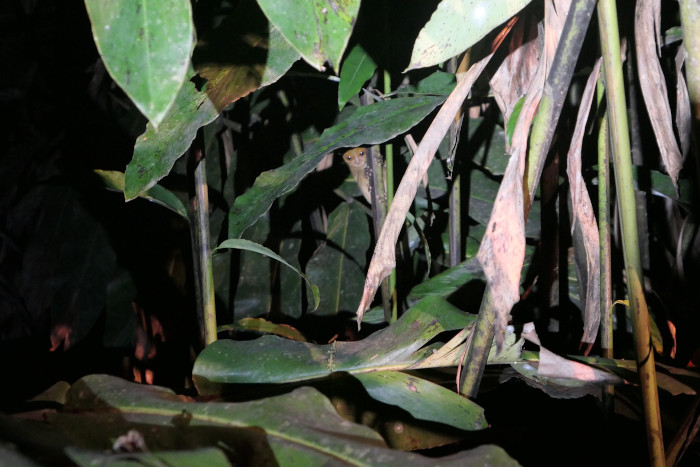 We finally saw this one after a long afternoon of searching for orangutans and coming up with nothing. My first disappointment was that, but after driving to the Kinabatangan River, our boat ride to see proboscis monkeys was cancelled because of a storm. We therefore were out hours in the forest without seeing any mammals.
But it all changed when one of our guides caught a glimpse of the reddish-orange shine. I was sitting on top of the car and the other guide quickly got out of the car and put his light on the tarsier. Even though it was small, I could tell from high upon the vehicle that that was what it was!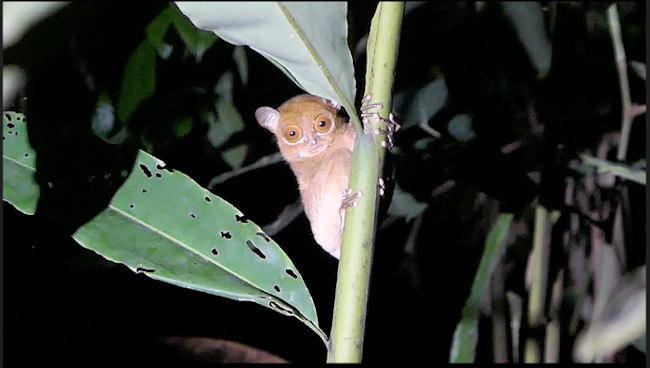 I immediately got down from the vehicle, but was so worried it would jump away. Animals frequently flee when they see humans so I was so surprised to see that it stayed. I was getting some amazing photos with even my basic camera so I took a chance and moved closer to it. I couldn't believe how close it let me get to it! We shined the light towards the side to make sure the tarsier was not blinded and all in all, it let us watch him/her for about five minutes (which is a lot with animals and that close).
It seriously was one of the coolest animals I've ever seen. The coolest part of the Western tarsier is its eyes, which are notable right away for how large they are. In fact, it has the largest eyes given its body size of any mammal.
In addition to big eyes, Western tarsiers also have very long hind legs. These long legs allow them jump from tree stem to stem. This is primarily how they move. Tarsiers can leap distances for their bodies – up to 45 times their body length or about 5 and a half meters (~18 ft.). You can see this in the YouTube video I am posting!
They cling to trees using their limbs that end in long, thin digits. They have these suction-like pads that lets them grip to smooth stems (kind of like a gecko).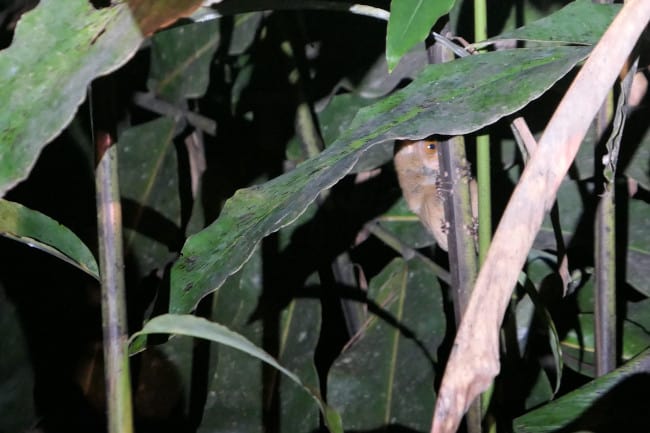 Even though Western tarsiers are small and cute, they are completely carnivorous. They eat insects, but can even eat large prey like lizards, frogs, bats, birds, and snakes! At night, bat researchers will set up mist nets to capture bats for research. Tarsiers can be seen eating the bats captured in the nets.
Another cool anatomical feature of the Western tarsier is that they can turn their heads nearly 180 degrees each way, meaning they can rotate their heads almost 360 degrees. Supposedly headhunters believed that seeing a tarsier could cause you to lose your head.
Somewhat recently, the taxonomy of family Tarsiidae was revised. You'll sometimes see this primate with the scientific name Tarsius bancanus, but a genetic study put this as the only species in the genus Cephalopachus, hence it's new name Cephalopachus bancanus. This species occurs only on Borneo and Sumatra.
Tarsiers have one baby at a time (like us), but their babies weigh a lot more in comparison to their own body weight – up to 25%! That's like a human woman weighing 100 lbs having a baby that weighs 25 lbs. That's a big baby!
Western tarsiers are listed as Vulnerable on the IUCN Redlist. Their biggest threats are habitat loss (especially from palm oil, but also logging and fire) and the illegal pet trade (they are taken from the forest to be pets). They are also thought to be a pest to agriculture and can suffer from pesticides. Ironically, the are carnivores and eat a lot of insects and may actually help control insect pest populations (more research needs to be done on this though).
This post was written with the help of the Animal Diversity Web and Phillips and Phillips' Mammals of Borneo in addition to the sources listed throughout. If you go to Borneo, this book is a MUST! It not only includes all of the mammals you might see, but lots of information about the ecology of Borneo.
The Western tarsier was just one of the many cool animals that I saw in Deramakot. Check out the others here.
Stephanie Schuttler is a wildlife biologist with 17 years of experience in mammal ecology and conservation, education, and outreach. Read her inspirational story, "My Unexpected Journey Into Science" to find out how she went from the daughter of a jeweler to a Ph.D. in wildlife biology. Feel free to contact Stephanie here.