*I am an affiliate of Beautycounterand this post contains affiliate links. This means I earn a commission from sales at no cost to you. Read my Affiliate Links Disclaimer for more information.
The most googled beauty brand in 2018 launched their most power anti-aging skincare yet: Countertime.
I've been a big fan of Beautycounter for years now, so much so that I became an affiliate of the company. I've been using Countertime for about nine months now, and in this blog post, I'll talk about why I'm loving it and how to use it.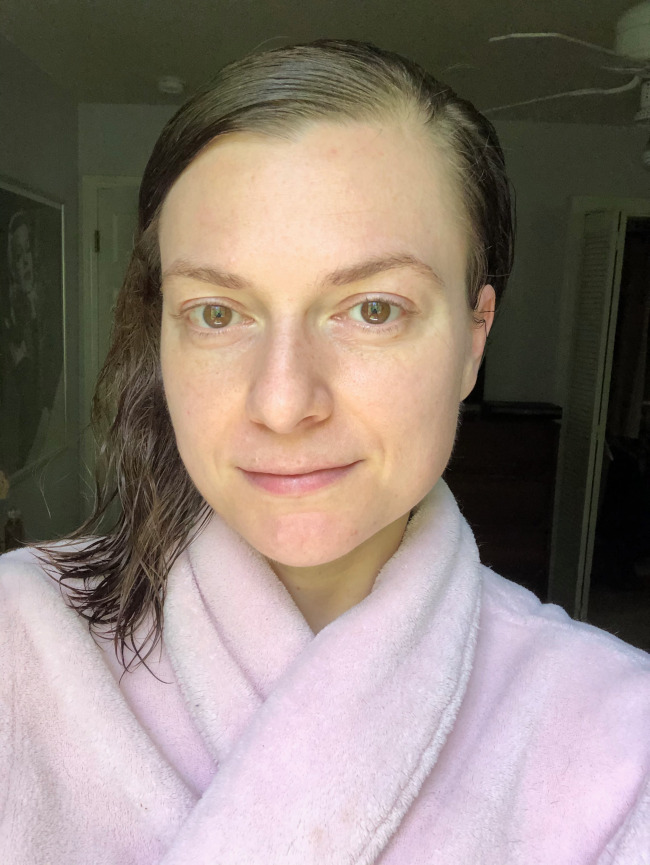 What is Countertime?
Countertime is a completely new skincare line from Beautycounter that is specifically formulated to target the signs of aging. While Beautycounter has always had anti-aging skincare, they wanted to raise the bar to create something even more powerful due to significant advancements in clean beauty science in the past few years. Countertime is this line with stronger clinical data and more effective results than previous products.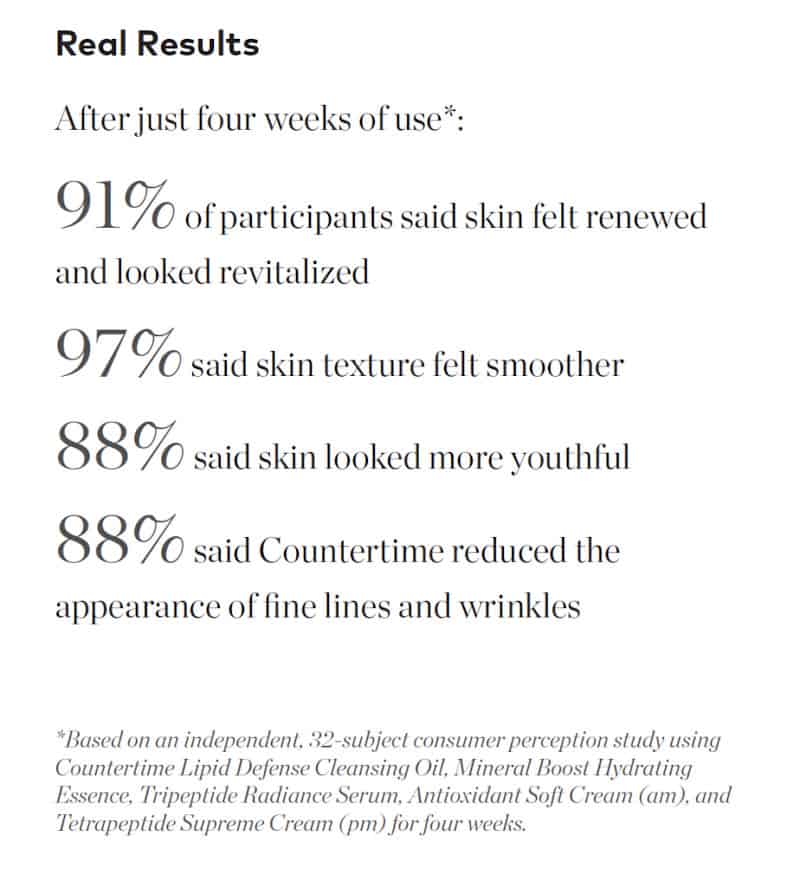 Why has it taken so long? Because retinol has been on Beautycounter's Never list for a long time. Let's get into the specifics! Here are the 5 reasons why I love Countertime and why retinatural is a safer alternative.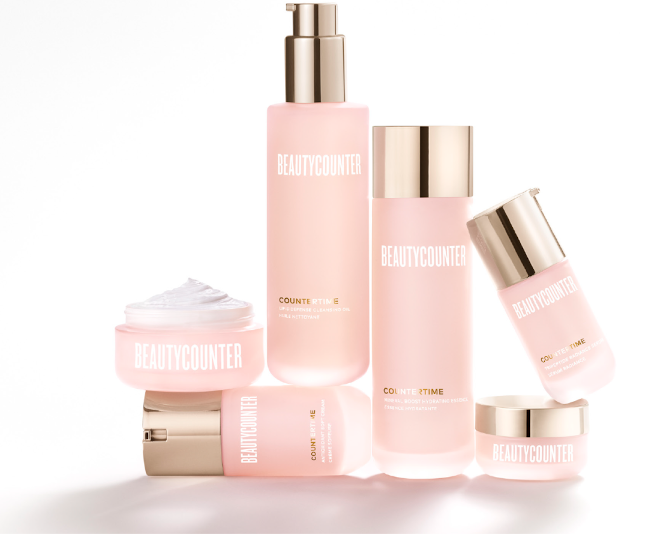 Retinatural is Safer than Retinol
Is Retinol Safe?
Most beauty brands use retinol (vitamin A) and its derivatives (e.g. retinyl palmitate, retinyl acetate, retinyl linoleate, and retinyl propionate) in their anti-aging skincare products. However, retinol has been on Beautycounter's Never List for a long time and is rated a 9 (out of 10, with 10 being the worst) by the Environmental Working Group (EWG). Why?
From EWG's profile page on retinol: "Data from an FDA study indicate that retinoid ingredients may speed the development of skin tumors and lesions on sun-exposed skin. FDA, Norwegian and German health agencies have raised a concern that daily skin application of vitamin A creams may contribute to excessive vitamin A intake for pregnant women and other populations." In other words, retinol and its derivatives may be a skin irritant and could make you skin more sensitive to the sun.
I am very fair-skinned and my mother passed away from cancer. While the verdict is still out on how safe retinol is, I prefer to use the precautionary principle, which means that I wait until enough research has been done to show that something is safe. Other countries feel the same as I do; the EU and Canada have restricted the use of retinol.
Finally, I understand there are scientists who do not view the EWG as a valid source (I personally disagree with them and I am a real scientist (PhD in 2012) and know other toxicologists AKA real scientists who disagree, and I have even had mercury poisoning myself), however, I encourage you to make your own decision. The EWG's profile on retinol includes full references to the peer-reviewed studies they use to make their ratings.
Why Retinatural is Safer
Because of retinol's safety concerns, Beautycounter made their own blend of ingredients that are just as powerful as retinol, but safer. Meet Retinatural, a complex of bakuchiol and Swiss Alpine rose (Rhododendron ferrugineum), which is contained in every Countertime product.
Bakuchiol is from the babchi plant, which is native to India and China. This plant has been traditionally used in Ayurvedic and Chinese skin-care remedies and is meant to repair your skin.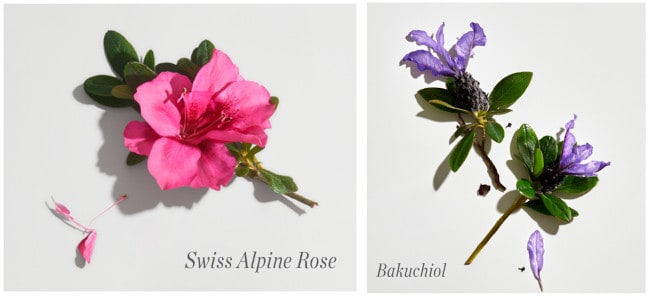 The other component of retinatural, Swiss Alpine rose, is meant to boost your skin's antioxidant defense and protect it from oxidative stress. This plant is pretty incredible. It is found in the Swiss Alps at the highest altitudes and has therefore evolved to adapt to harsh conditions.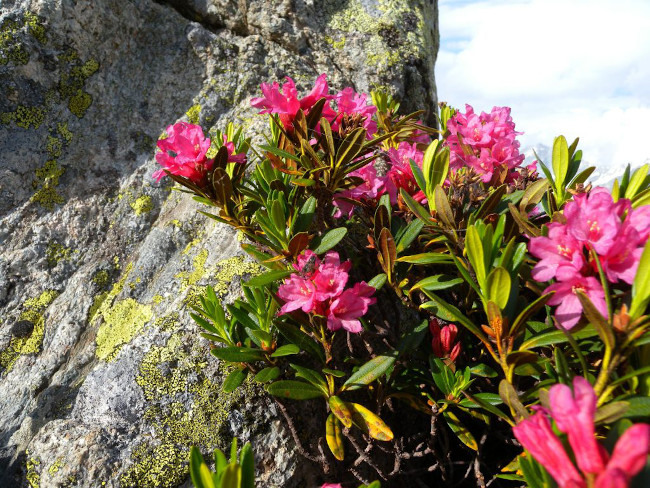 Retinatural is as Powerful as Retinol
Retinatural is not only safer, but just as effective as retinol. A study in the International Journal of Cosmetic Science found that despite the fact that bakuchiol is not like retinol structurally, it can mimic and even exceed the benefits of retinol for anti-aging. The conclusion of this study stated "Based on these data, we propose that bakuchiol can function as an anti‐ageing compound through retinol‐like regulation of gene expression."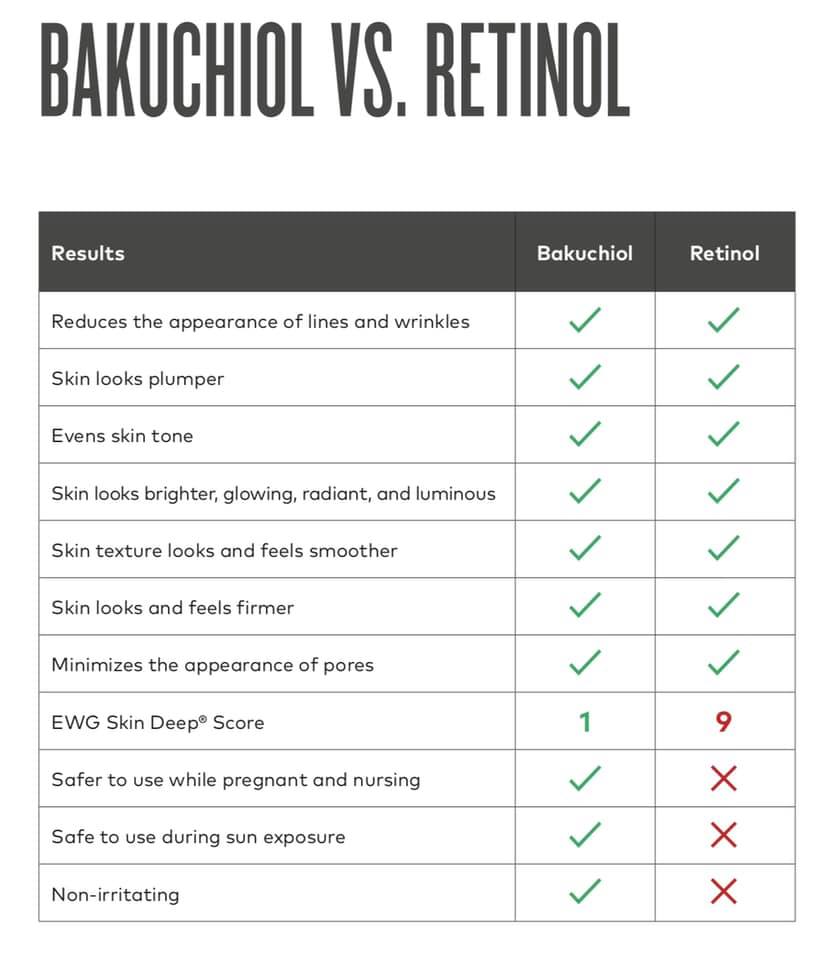 Highest Commitment to Clean
Beautycounter is committed to the highest standards of safety and the Countertime products are no exception. For product development, Beautycounter conducted "100 development trials including testing for trace contaminants in raw materials ranging from rose petals to hyaluronic acid" and hired 5 full time chemists.
In an article by WWD, Beautycounter exemplifies this with an anecdote. When they were developing Countertime, they were seeing high levels of phthalates in the organic rose petals they were using, but didn't know what was contributing to it. To solve this problem, they went all the way to the rose fields in Bulgaria! They realized that the people collecting the roses were putting them in plastic bags and leaving them in the sun. Their solution was to switch to burlap bags, which got rid of the phthalates.
More Sustainable in Glass Bottles
Plastics never fully biodegrade, and when they aren't disposed of properly, they can end up in our waterways, kill wildlife, and eventually us as they break down in the environment and enter our food and water supply. Our recycling system for plastics is broken and it's important we reduce our plastic consumption where possible. Glass is recyclable.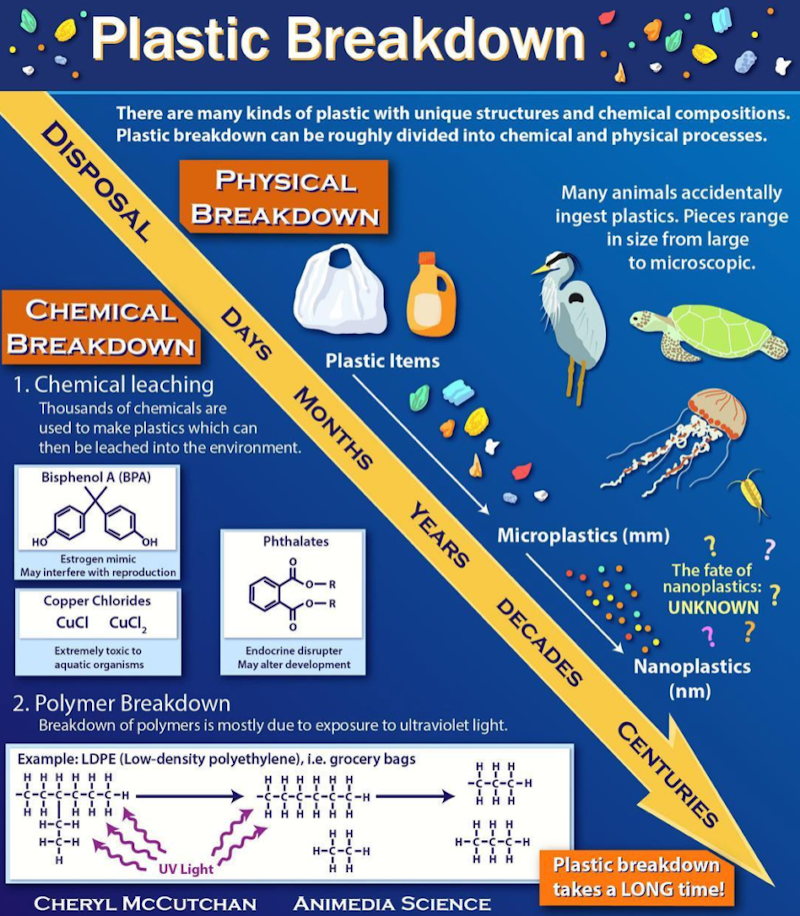 Given Beautycounter is a certified B corporation, they have a strong commitment to the environment. They therefore chose to put Countertime in beautiful glass bottles, not only to elevate how luxiourous the product is, but to make it better for our planet.
They also decided to source their glass from North America instead of Asia. This results in fewer greenhouse gas emissions because products are no longer traveling 5,000 miles across the ocean. For the Countertime, using glass over plastic reduced the line's carbon footprint by approximately 38%.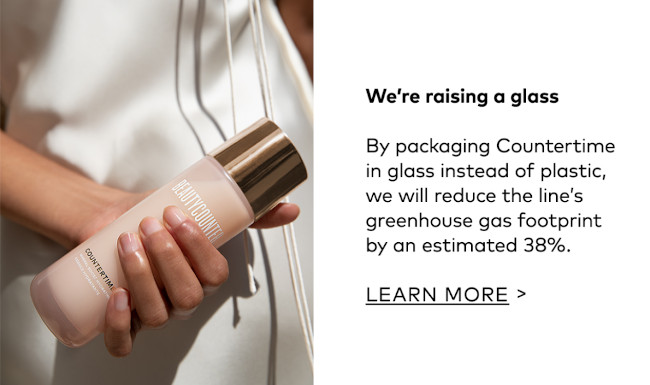 How Do You Use Countertime?
The six products in the line:
Now let's get into the details about what's in these products.
This lightweight cleansing oil with vitamin E and essential fatty acids was inspired by Asian beauty rituals. When the skin ages, it becomes more fragile and this cleansing oil was designed to remove impurities and makeup (although I still recommend using the makeup wipes before) without stripping lipids from the skin. Although it is called an oil, it is not oily and when you lather it in your hands it has a milk consistency. I have oily skin and it works well for all skin types and does not make your skin oily. It has a light rose ( rose is my favorite smell in the world) and geranium scent.
Usually after cleansing, you apply a toner, which helps restore your skin to its natural pH, acts as a second cleanser to remove further debris and dirt from makeup, and helps the skin absorb the moisturizers you use. The Mineral Boost Hydrating Essence replaces this step. An essence differs from toners in that it contains a higher level of active ingredients that nourish the skin. This optimizes your skin even more for absorption by hydrating it when you apply the rest of the products in the collection. The essence is is made up of deep-sea mineral water and bio-fermented sugars meant to restore your skin and also has a light rose and geranium scent.
Serums are meant to offer higher concentrations of potent ingredients, so if you want maximum anti-aging effects, you should use a serum. After applying the hydrating essence, add the Tripeptide Radiance Serum to increase the skin's firmness and elasticity, and reduce the appearance of fine lines and wrinkles. This serum plumps and firms your skin up!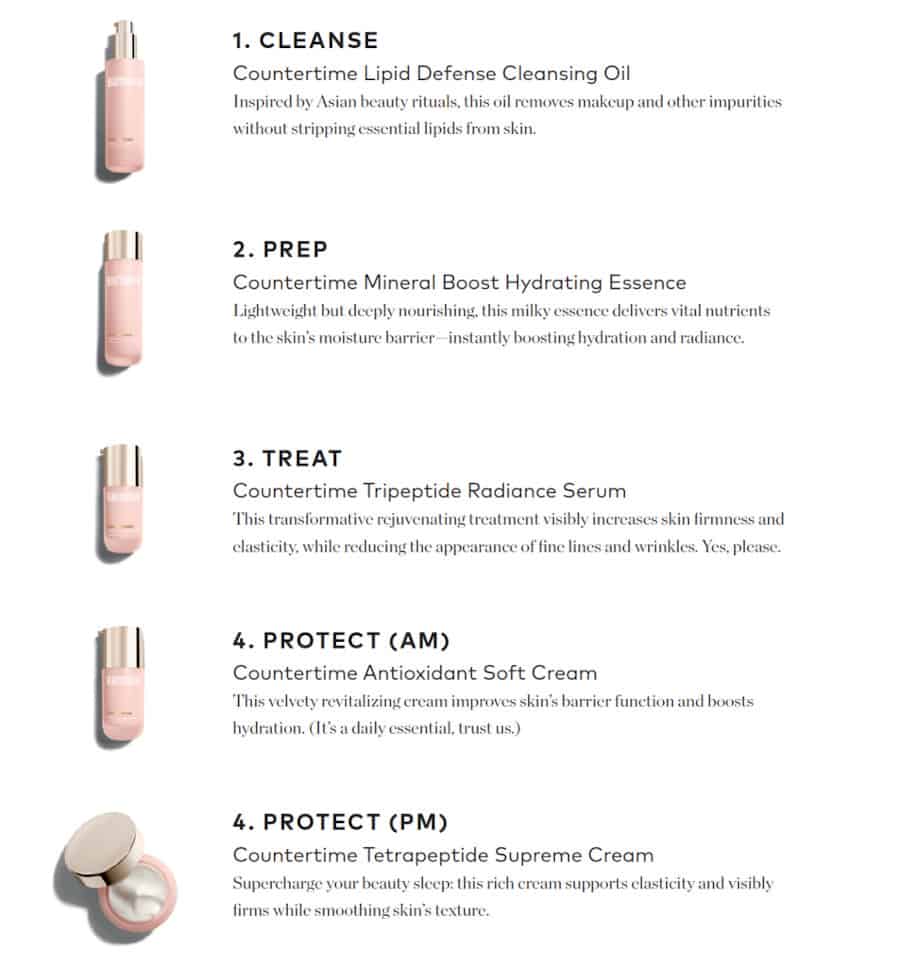 This is Countertime's daytime moisturizer, which you put on after the radiance serum. With nasturtium flower extract, It's meant to protect and plump your skin, boost hydration, and is lightweight in texture.
The Tetrapeptide Supreme Cream is an overnight moisturizer that is SUPER luxurious. This cream is really thick; it's made with shea butter, cocoa butter, and cocoanut-derived emollients) instead of mineral oils like other popular products. It is designed to firm and smooth the skin to minimize the look of fine lines and wrinkles.
The final step in the Countertime Regimen is the Ultra Renewal Eye Cream. This product is formatted to reduce dark spots under the eyes and reduce the appearance of fine lines around your eyes. (Note: I've been using Beautycounter for years and I have seen their products reverse my crows' feet and this was BEFORE Countertime, so I can't imagine how great Countertime will be!) A key ingredient is Persian silk tree extract.
My Review of Countertime
I've been using Countertime since August 2019 and love most of the products in Countertime. Even though I am a consultant, I am honest with my reviews.
I use the essence, eye cream, cleansing oil, and serum daily. I have had problems with the day and night moisturizer. They are certainly luxurious, high quality products, but they are a little too heavy for my skin and can cause me to break out in specific areas on my skin. I still use them, but with the following modifications.
Because I want the anti-aging effects of the retinatural, I use the supreme cream on my forehead where I do have a forehead wrinkle. When my skin is drier (like in winter), I will use the supreme cream and soft cream everywhere on my face. I also use the soft cream a lot on my neck. However, when my skin is more oily, I still use the serum, but mix in either the Countermatch or Countercontrol moisturizers. Check out my full anti-aging daytime and nighttime routines.
However, this is just my skin. Many other women do not need to make these modifications!
I am shocked by how long the products last except for the serum. The serum lasts a normal amount of time, a few months, but the essence, eye cream, and cleansing oil (which I use daily) have lasted me between 6-9 months. Countertime is more expensive, but you definitely get your money's worth.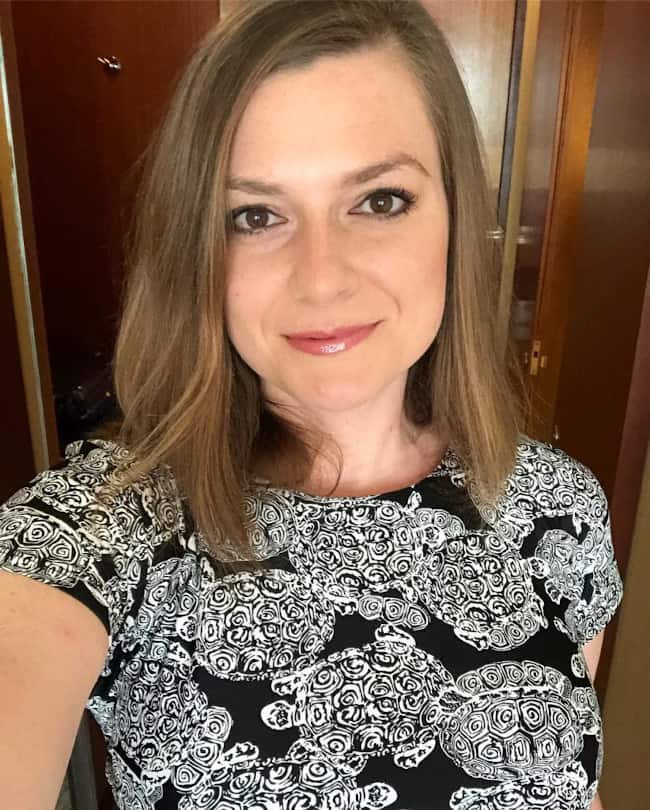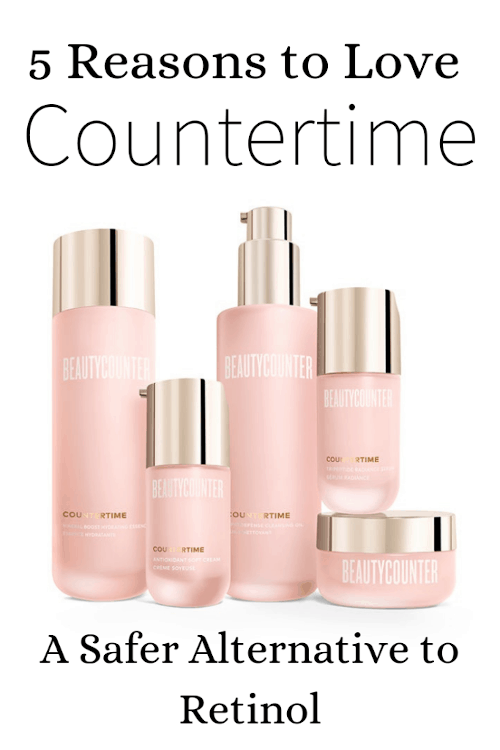 Stephanie Schuttler is a wildlife biologist with 17 years of experience in mammal ecology and conservation, education, and outreach. Read her inspirational story, "My Unexpected Journey Into Science" to find out how she went from the daughter of a jeweler to a Ph.D. in wildlife biology. Feel free to contact Stephanie here.