When people think of scientists, they typically think of – white men in lab coats. However, LOTS of us do not look like this!
When I first entered graduate school, I didn't feel comfortable expressing my fancier side because I didn't think people would take me seriously. I didn't feel like myself though.
Over the years, I finally decided to be me and embrace my fancy side. Ever since I embraced "Fancy Scientist" as my social media handles (a nickname the teachers I worked with gave me), I have noticed there are a lot of other fancy scientists out there!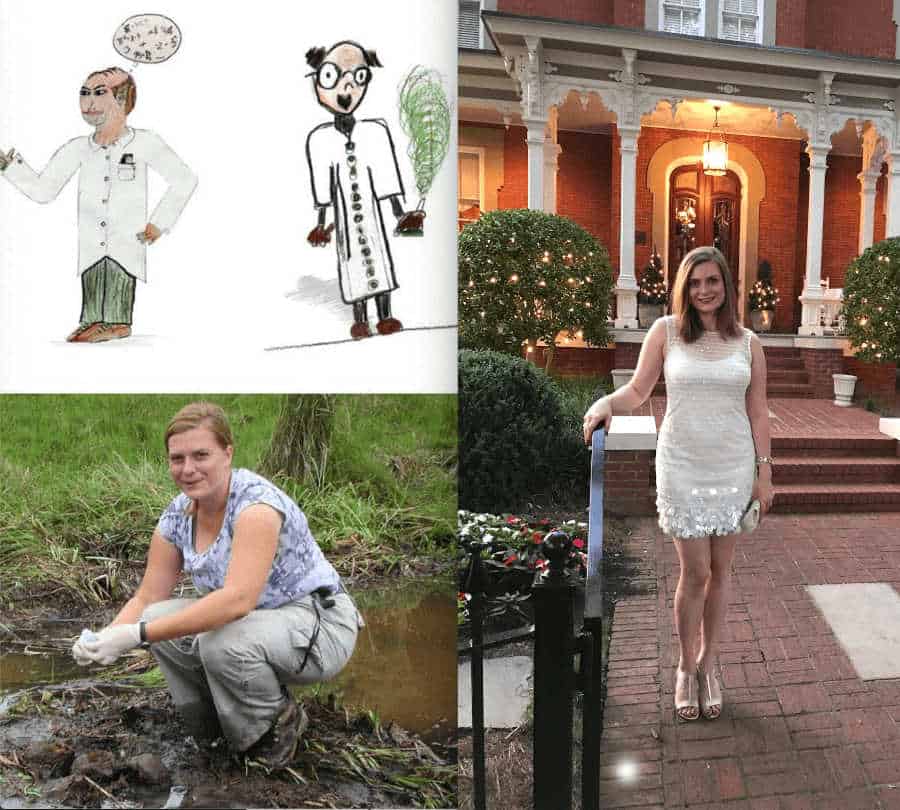 Let's take the time to meet them! Every Friday, I feature a scientist who has a fancy side on my Instagram using the hashtag #FancyScientist. There are NO limitations to age, gender, or level of education. You only have to be an active participant in scientific research.
If you know someone who would make a great fancy scientist or are one, nominate them using this form.
They are listed in the order that they were posted on my account. Here is the gigantic and ongoing list of fancy scientists out there!
Today's #FancyScientist is a first generation everything – high school, university, PhD graduate, immigrant – and a quantitative ecologist. Edward W. Tekwa or @EdwardTekwa on Twitter studies transdisciplinary problems in biodiversity, human diversity, ecology, evolution, economics, and statistics. Transdisciplinary research aims to create new conceptual, theoretical, and methodological innovations that integrate and move beyond discipline-specific approaches. Edward is non-binary and states they have minimal communication skills, but their first languages are in math, feeling, and fashion. In fact, fashion is how I first heard of Edward! They were interested in starting a fashion ecology group, which is something I am obviously into. Give them a follow cool visualizations, fun fashion, and cats.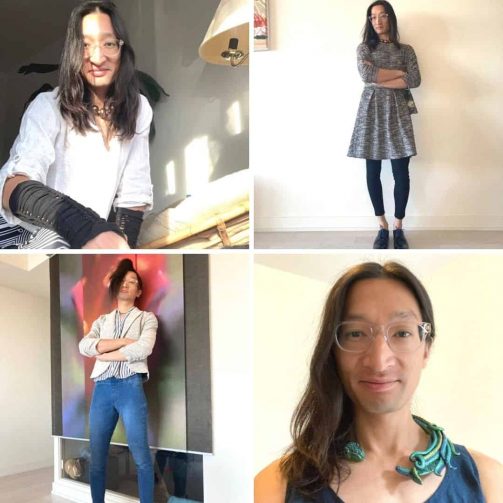 Today's #FancyScientist is an invertebrate zoologist and president of the Worldwide Dragonfly Association! How fun! Jessica Ware AKA @jessicaleeware42 research focuses on the evolution of behavioral and physiological adaptations in insects, with an emphasis on dragonflies, damselflies, termites, cockroaches and mantises. Her research focuses on phylogenetics/phylogenomics and uses these tools to help her understand reproductive, social and flight behaviors in insects. Jessica also likes to elevate the work of entomologists (people who study insects) of color and frequently speaks and contributes to panels on this issue. Give her a follow to help promote these great initiatives and see all of her cool dragonfly fashion. 
Today's #FancyScientist is many things: Teacher, designer, programmer, body positive educator, maker, crafter, and tech nerd. Anne Goodfriend or @thicc_n_nerdy on Instagram works with students as problem-solvers to investigate, build, and push the boundaries of what they thought was possible. Anne gets excited to try new things and is willing to fail along the way. She likes exploring circuitry, wearables, robotics, mechanisms, engineering, programming, physical computing and so much more! She is both a versatile designer and a capable programmer who has focused on developing and perfecting ideal user experiences. Additionally, she is a body positive intersectional steminist who practices radical selflove everyday! Yes, girl! Give her a follow to get some body positivity, self love, and get your creative juices flowing.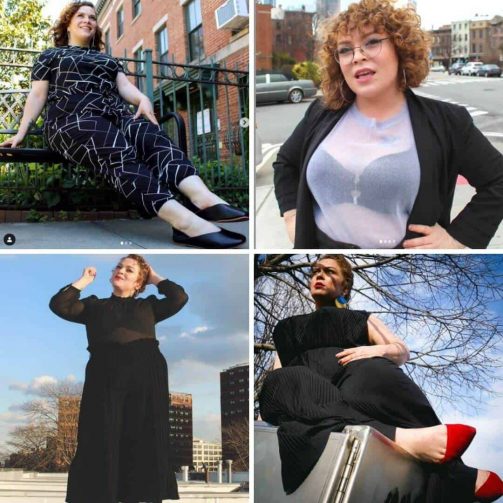 Today's #FancyScientist is an environmental and sustainability scientist heavily involved in social justice work. Alexis M Wilson or @DrAlexisWilson on Twitter studies the intersection of climate change, biogeochemical cycles in urban soils, and environmental justice. Outside of research, Alexis is committed to mentorship and is working to make STEM more accessible and inclusive of underrepresented groups. Her previous work with the Intergroup Dialogue Project focused on understanding the complexity of social identities(e.g. race, gender), systems of power, privilege, and oppression, and communicating effectively across differences. Alexis loves to travel, binge watch TV-shows, paint, dance, read, and play sports. She loves dogs, enjoys going out and spending time with friends but is equally happy spending quality time alone (me too). Give her a follow to help her with her worthy mission.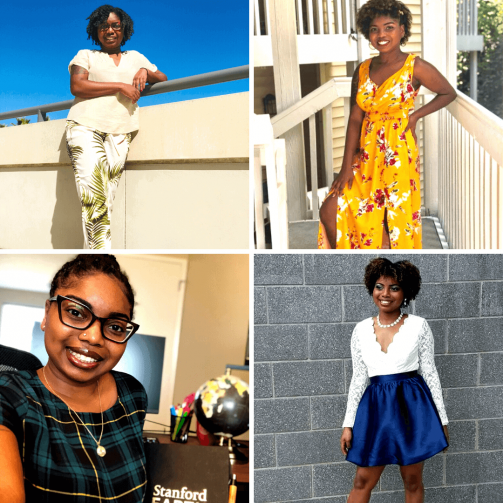 Today's #FancyScientist is a developmental neuroscientist, avid UGA football fan, and co-founder and President-Elect of Black In Neuro. Kaela Singleton AKA @kss_phd on Twitter and @kss_phd on Instagram investigates mitochondria integrity and localization in Menkes Disease, a progressive form of childhood neurodegeneration that is triggered by dysregulation of copper. Kaela's ultimate career goal is  to be an independent investigator at an institution with a commitment to innovative science, education and mentorship. As an independent researcher, she seeks to 'pay it forward' by continuing to generate high-quality science, participating in the education and mentorship of students, and remaining active in service to the neuroscience community. She enjoys reading young adult fiction, watching reality television, and cooking competition shows, a classically trained violinist and an aspiring professional make-up artist. Give her a follow to help her pay it forward!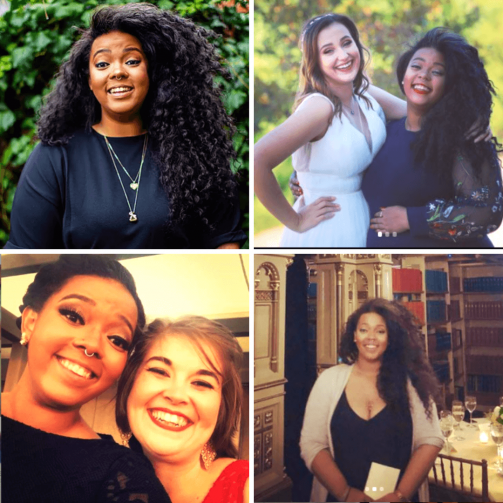 Today's #FancyScientist is a biomedical engineer and a STEM advocate for underrepresented K-12 children. Jasmine Kwasa's (AKA @elementfierce on Instagram and @JasmineKwasa on Twitter) research merges engineering, cognitive science, and neuroimaging with the aim of discovering quantitative, non-invasive measures of behavioral phenomena in human cognition. For example, her thesis project uses spatial selective attention paradigms, high-density electroencephalography (EEG), and machine learning to investigate neural correlates of top-down control in young adults with attention deficit-hyperactivity disorder (ADHD). Jasmine is passionate about closing the racial and socioeconomic access/opportunity gaps in American education and also conducts research on teaching and learning. She has previously led and developed STEM education programs for underrepresented K-12 students, particularly young women from underrepresented backgrounds and low-income families. In her free time, Jasmine is a dance fitness instructor and enjoys travel and time with her family. Give her a follow to be inspired to workout your mind and body.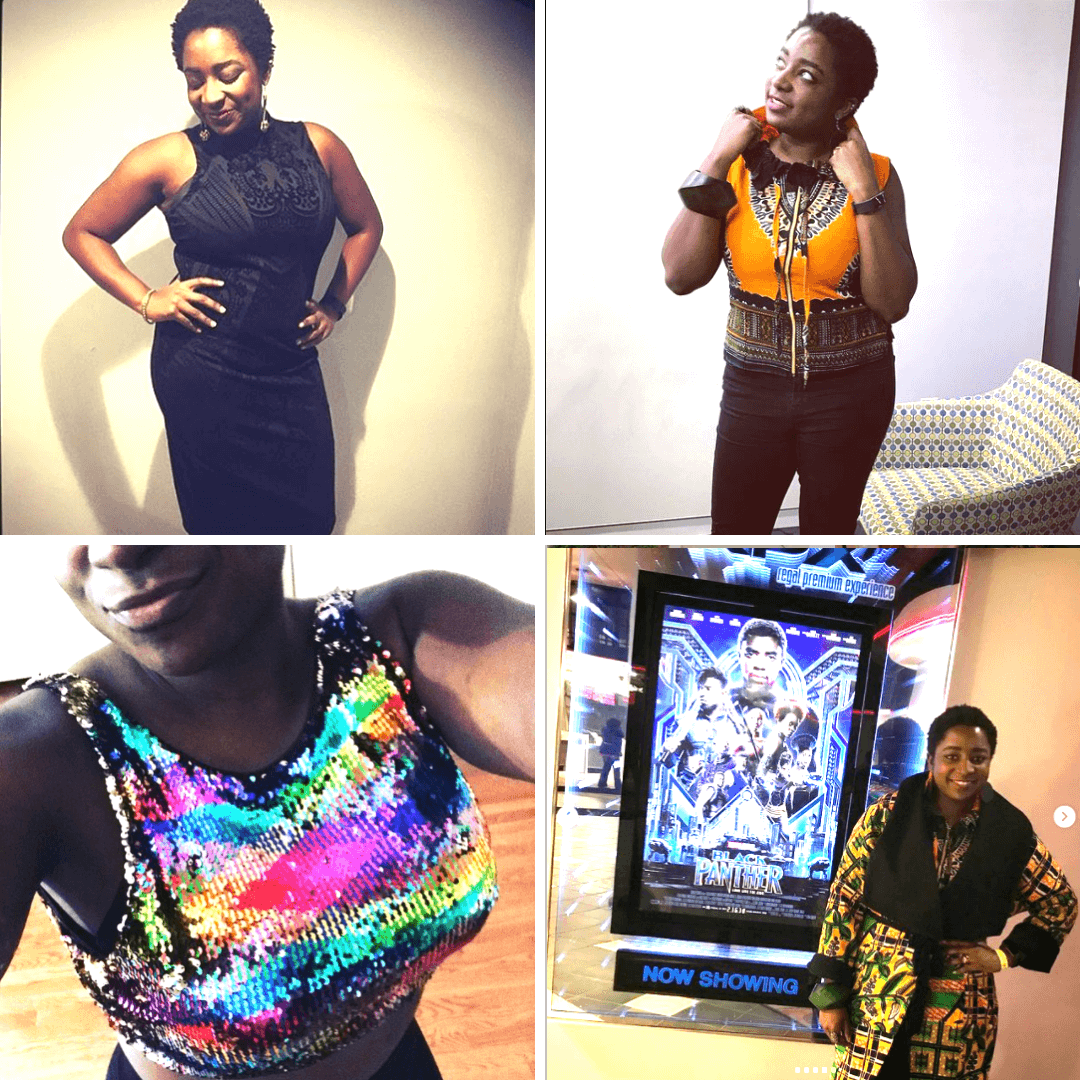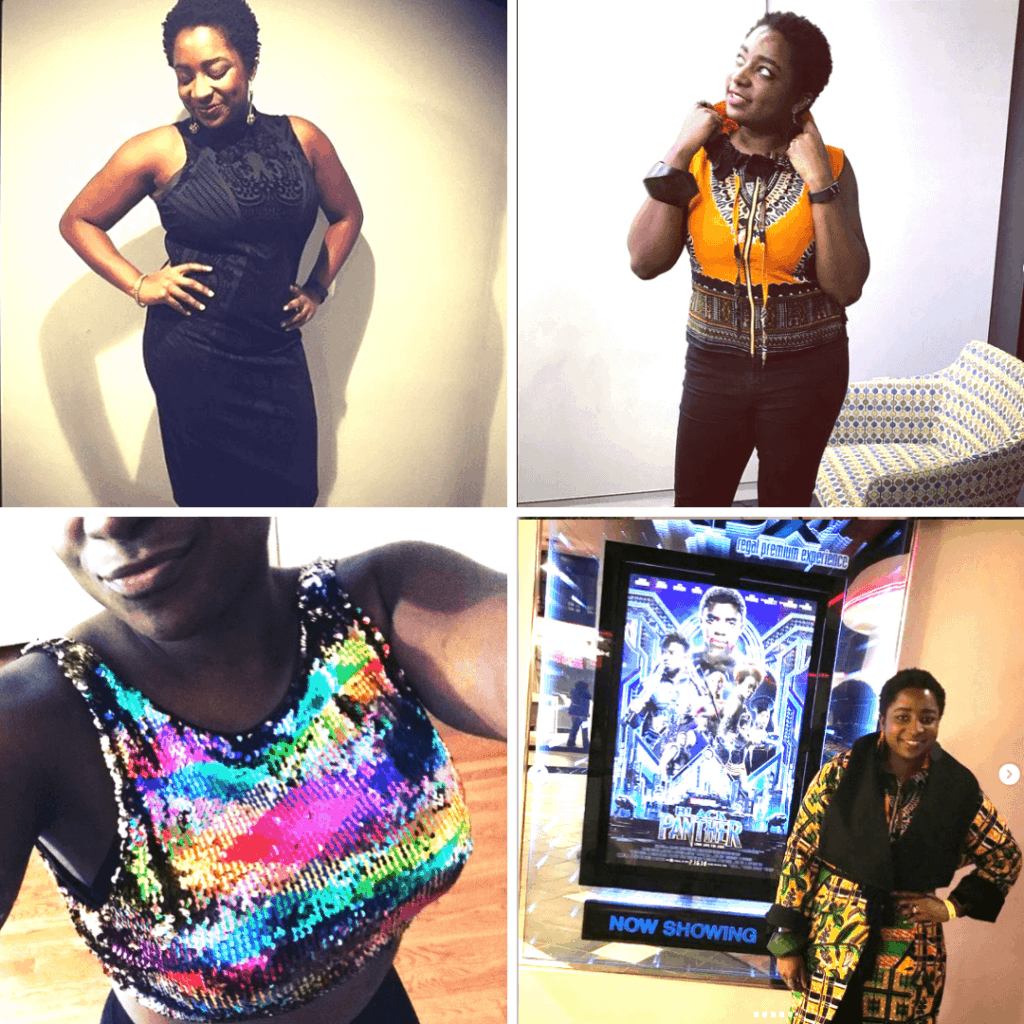 147. Dr. Addy Olubamiji
Today's #FancyScientist is a Biomedical Engineer and founder of STEMHub Foundation. Dr. Adeola (Addy) Olubamiji AKA @dr_olubamiji specializes in additive manufacturing and synchrotron x-ray computed tomography, which is imaging by sections through the use of a penetrating wave. Her area of expertise include Metal Binder Jetting, Laser Powder Bed Fusion, Fused Deposition Modeling (FDM), Selective Laser Sintering (SLS) and Bioprinting. On top of all that, she is the founder of STEMHub Foundation (@stemhubfoundation), an organization that promotes the engagement of minorities and females in STEM careers. WOW. Make sure to give her a follow to get really inspired and see her amazing style.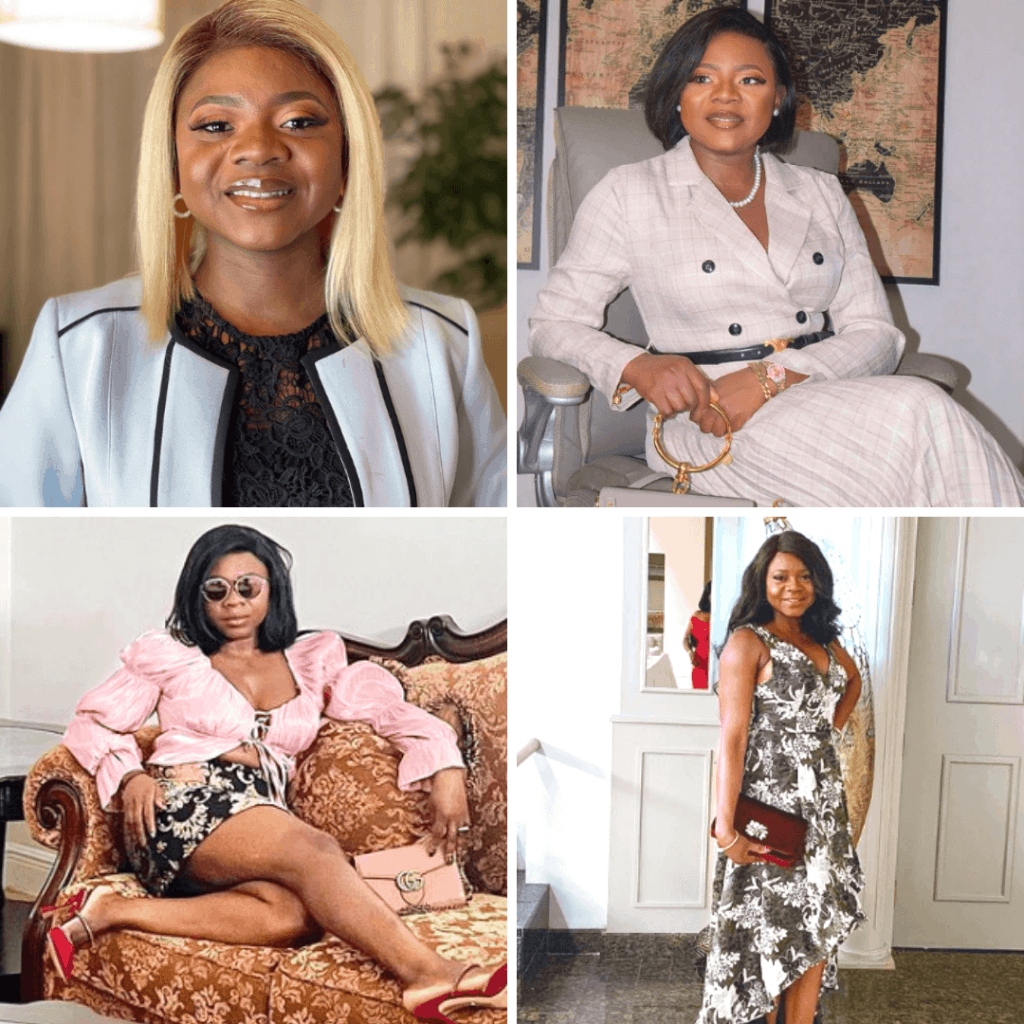 146. Tolga Aktas
Today's #FancyScientist is Tolga Aktas AKA tolga_aktas1 on Instagram and @TolgaAktas_ on Twitter is a UK-based storyteller conservationist, environmental journalist and filmmaker. He started off in electrical engineering, but was destined to work in wildlife , ecology and conservation. Tolga researched prey selection in African wild dogs and Lions and worked to identify whether the presence of other carnivores influenced what prey those species went after. The goal was to understand if the reserve in South Africa he was working at had had enough prey species to support both large carnivore species. Now, his primary focus is to create unique content on his website with powerful narratives through writing, photos, and film to provide awareness on current conservation and environmental related issues. Make sure to give him a follow to learn about these issues and see his amazing photographs!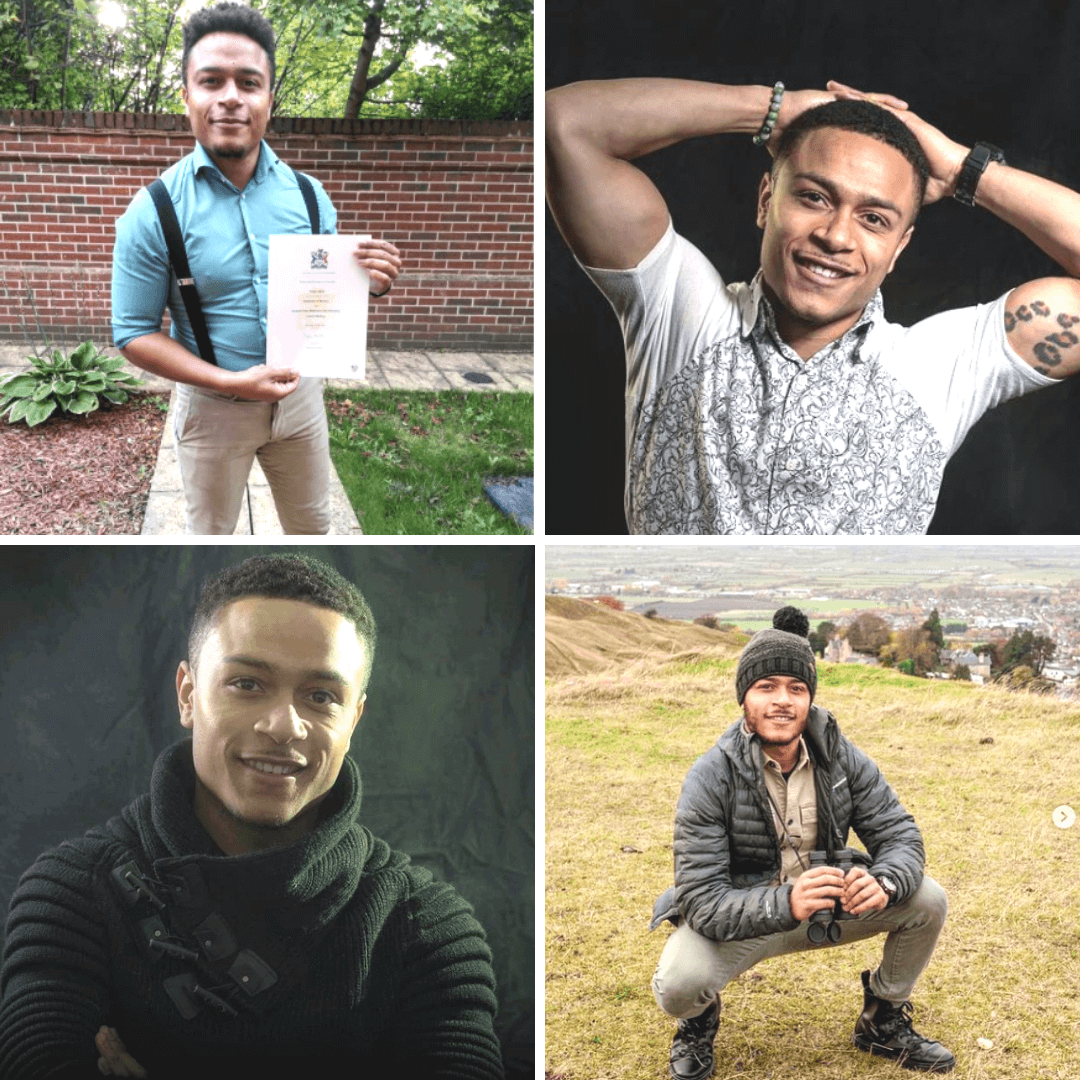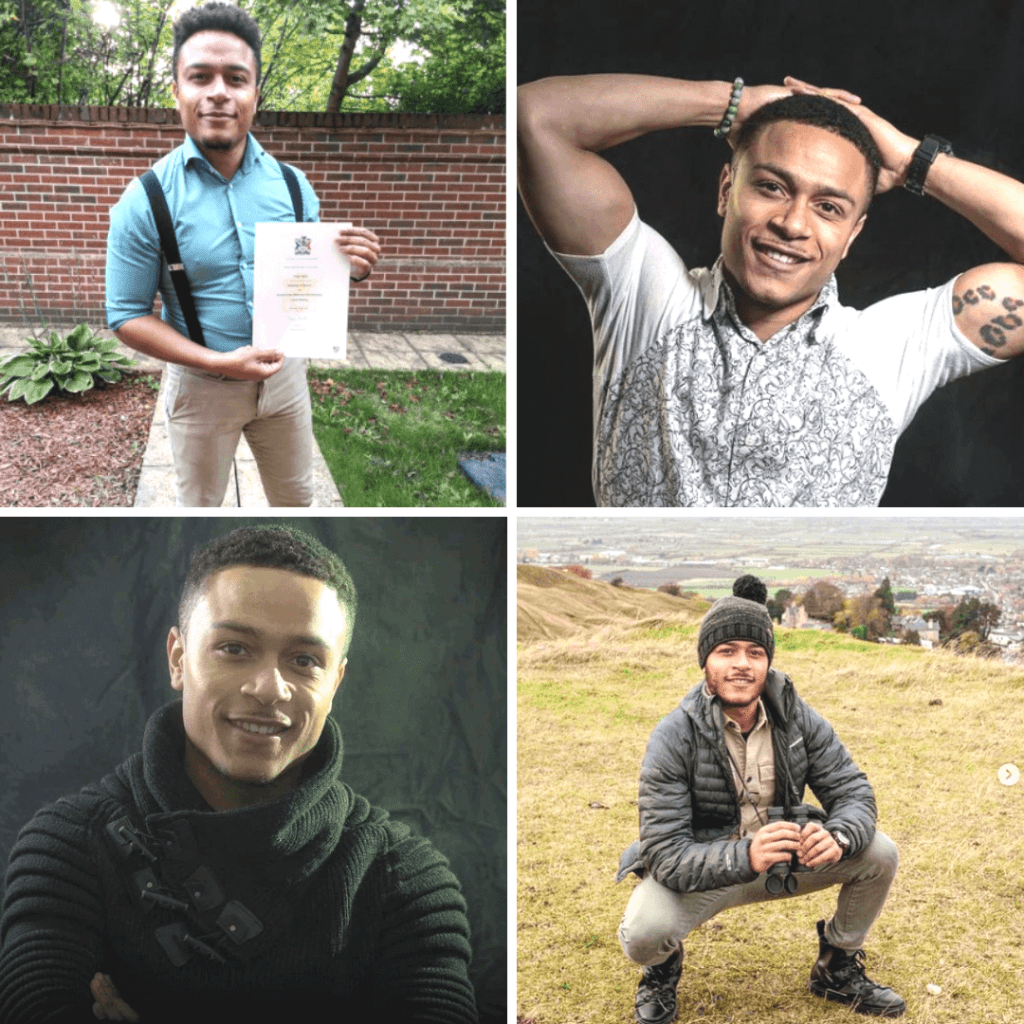 145. Dr. Erika Hamden
Today's #FancyScientist is Dr. Erika Hamden (@erika.hamden on Instagram and @ErikaHamden on Twitter) is an astronomy professor and astrophysicist who builds telescopes to understand galaxies. In fact, she is one of the few lucky people on earth whose job it is to build telescopes! Her research focuses on developing ultraviolet detector technology, building ultraviolet and visible wavelength instruments and telescopes, and using those telescopes to understand how galaxies evolve through time. As an astrophysicist, she focuses on measuring and mapping some of the faintest stuff in the universe: diffuse clouds of hydrogen around distant galaxies and within star forming regions in our own galaxy. She has developed new telescopes and other technology for observing space. Erika is also a TED fellow! Not TEDx, TED! Her TED Talk was selected by TED as a highlight of their April 2019 conference and covered by Wired magazine. On top of all of that, she practices yoga and is learning how to fly a plane. Make sure to give her a follow for her fun fashion and space related posts.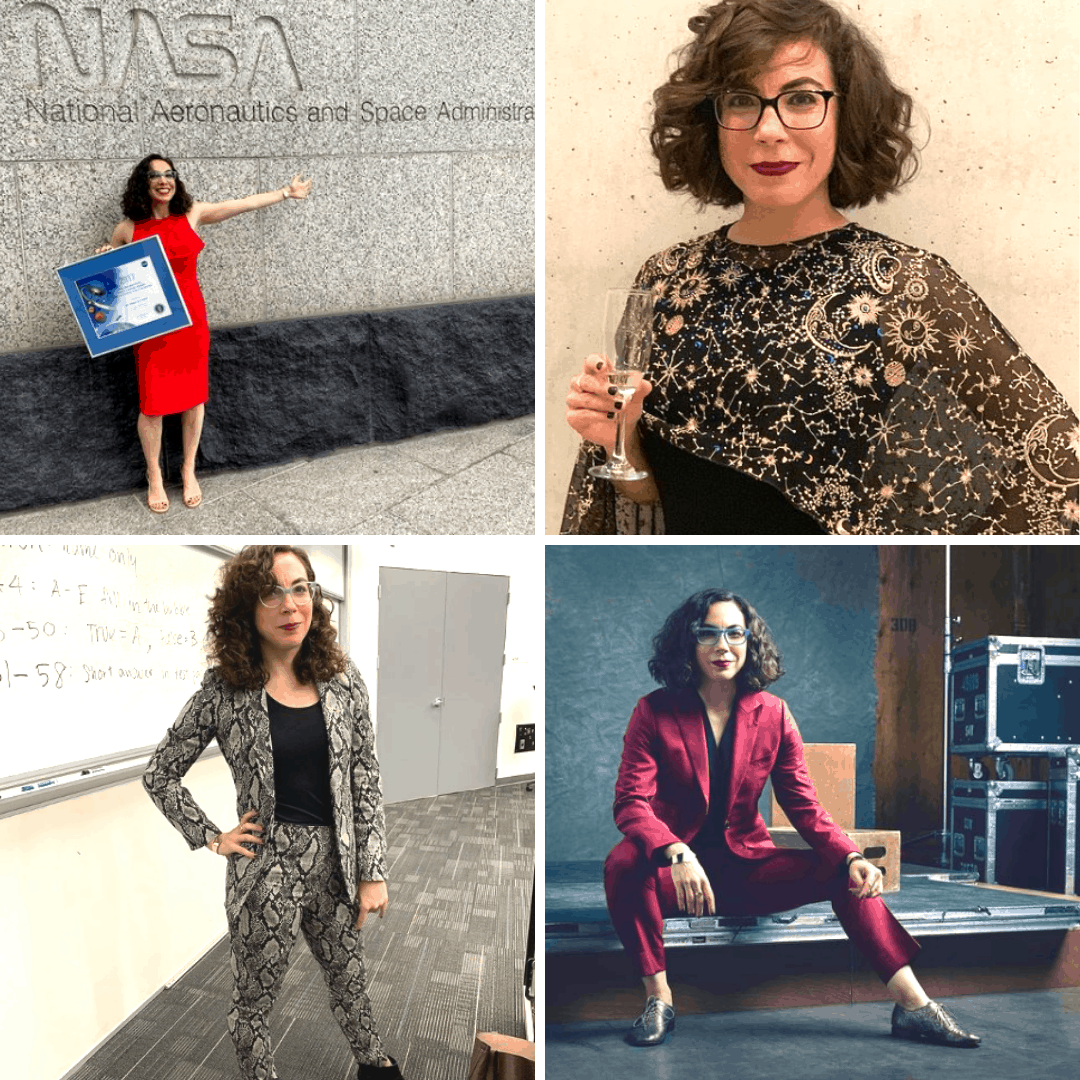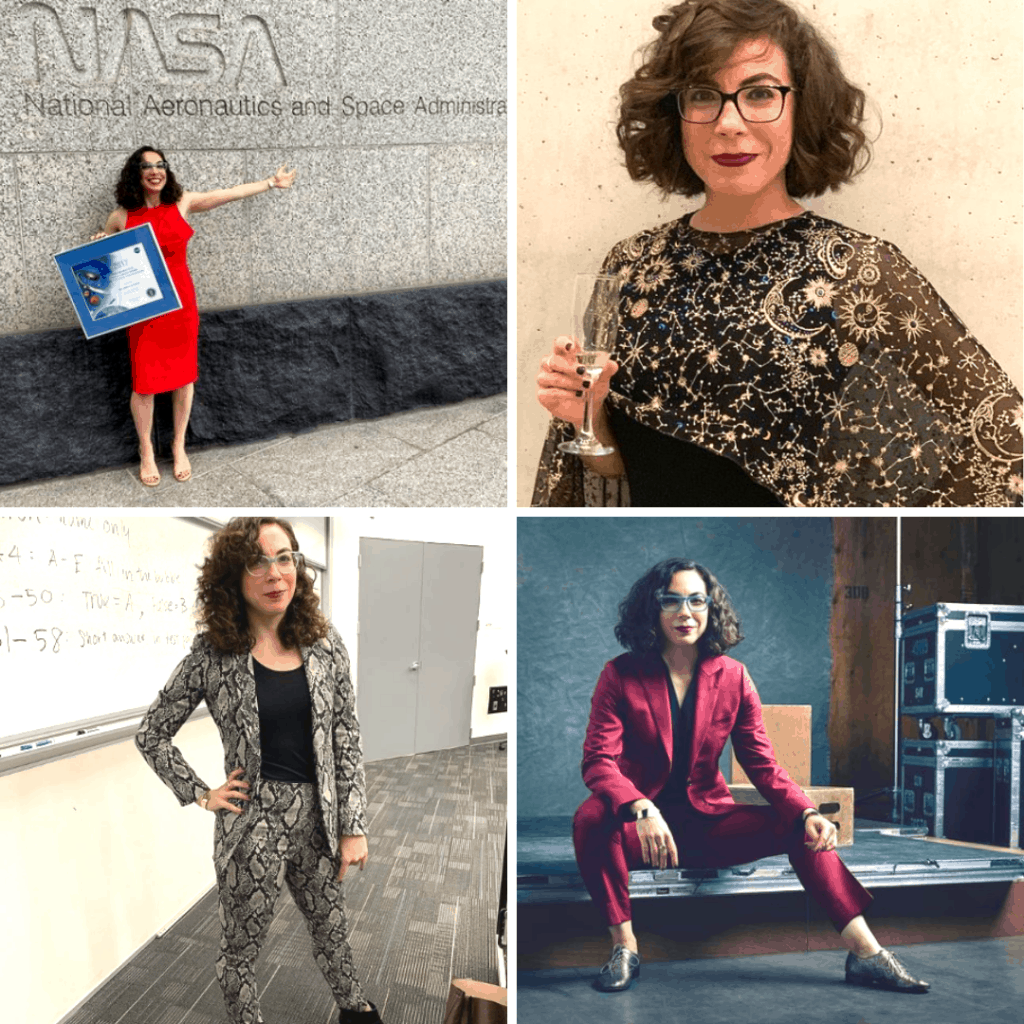 144.
Dr. Viola Lanier
Today's #FancyScientist is on a mission to empower women and bring encouragement to the fulfillment of their dreams. Dr. Viola Lanier AKA @dr.violalanier is a biomedical researcher who founded the nonprofit "Young Women Crush Cancer Inc" and co-founded of "Women With Doctorates;" an organization that provides lifestyle inspiration to women with different types of doctorate degrees. As an Oncology Subject Matter Expert, she travels to Oncology Centers all over the world and provides educational trainings to physicians on advanced treatment options for cancer care. She has been a science and medicine article contributor to news platforms such as CNN and is a former middle school science teacher. Make sure to give her a follow to support her incredible mission!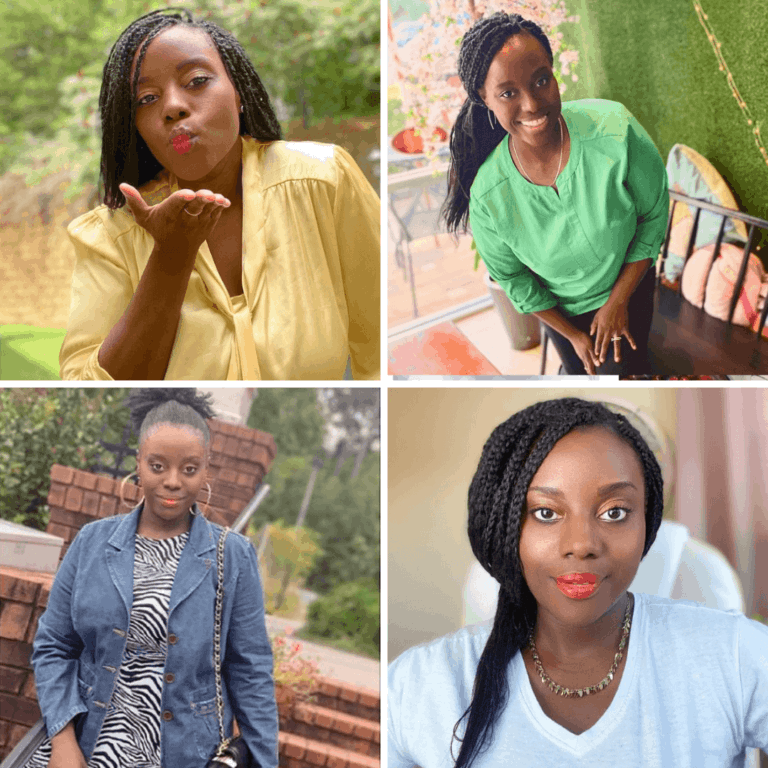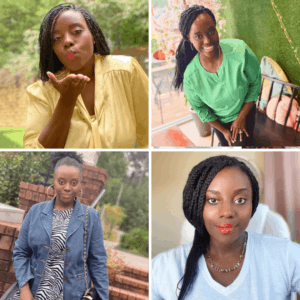 143. Tim O'Connell
Today's #FancyScientist is a dapper dresser and a bird enthusiast. Tim O'Connell AKA @Seiurus on Twitter and @seiurus on Instagram is an associate professor conducting research in wildlife conservation, especially pertaining to songbirds. His social media handles hearken to an older genus name for Louisiana Waterthrush, affectionately dubbed the "pinnacle of avian evolution." Tim attributes his comfort in being dressed fancy to 12 years of Catholic school that put him in a tie every day beginning in the first grade and a current love of choral singing for which he dons a tuxedo every few months. His aesthetic is sort of the mid-Century modern, tweeded professor stereotype, and he keeps a white lab coat handy for when he needs to make an extra-sciencey point in class. Make sure to give him a follow for fashion inspiration and bird fun!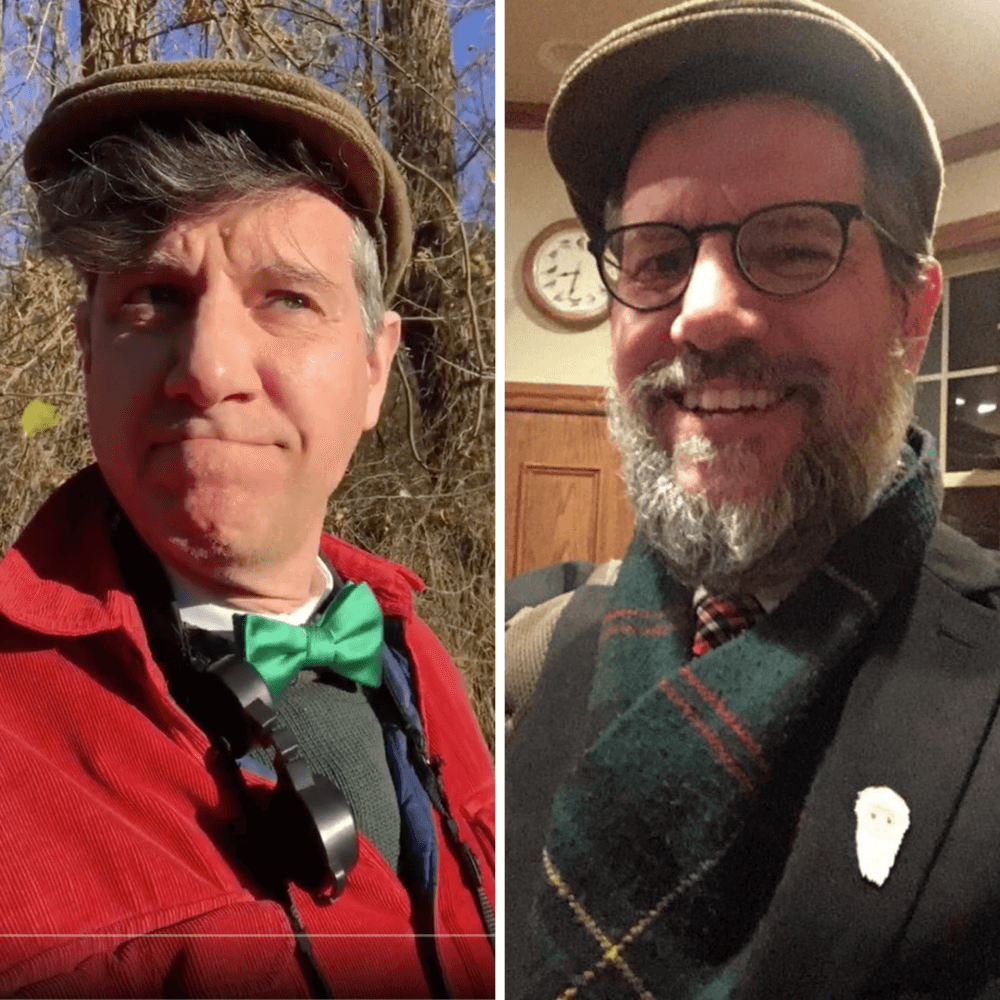 142. Danielle Twum
Today's #FancyScientist is an immunologist, TEDx speaker and a role model to young girls who want to go into STEM careers. Danielle Twum AKA @forgedonyx on Twitter and Instagram went from studying the effects of climate change on coral bleaching to the immunology of breast cancer metastasis (she also got her PhD from where I went to undergrad – the University of Buffalo!). She currently works as a Molecular Science Liaison, and is passionate about science communication, science education and making science accessible for everyone, especially for minority groups. She helps support the mental health of stressed young scientists, and uses her online influence to ignite a spark for young people who may never have thought about a STEM career. Make sure to give her a follow to increase the visibility of women in STEM roles!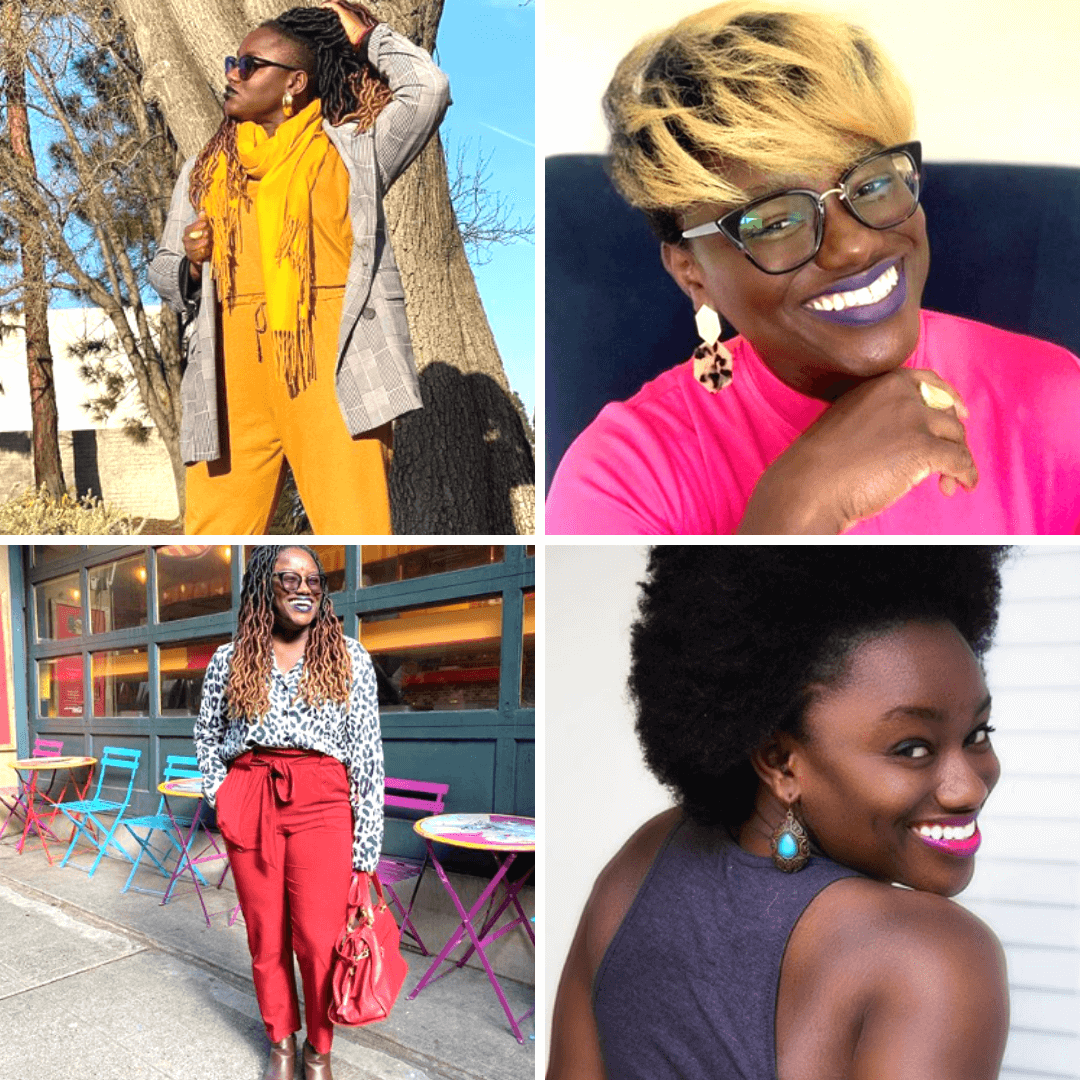 141. Chelsea Connor
Today's #FancyScientist is herpetologist, science communicator, artist & member of #BlackAFinStem. Chelsea Connor AKA @ChelseaHerps on Twitter and @outtochelsea on Instagram researches the diet overlap of two anole species. She is an anole queen because she loves them so much and enjoys sharing her love for anole lizards with some great scicomm using the #DidYouAnole. She also makes graphics of anoles and other wildlife for stickers, t-shirts, masks, and more that you can buy at https://www.redbubble.com/people/chelseaherps/shop?asc=u. Check out her #DidYouAnole every Thursday at 6pm CST for anole knowledge.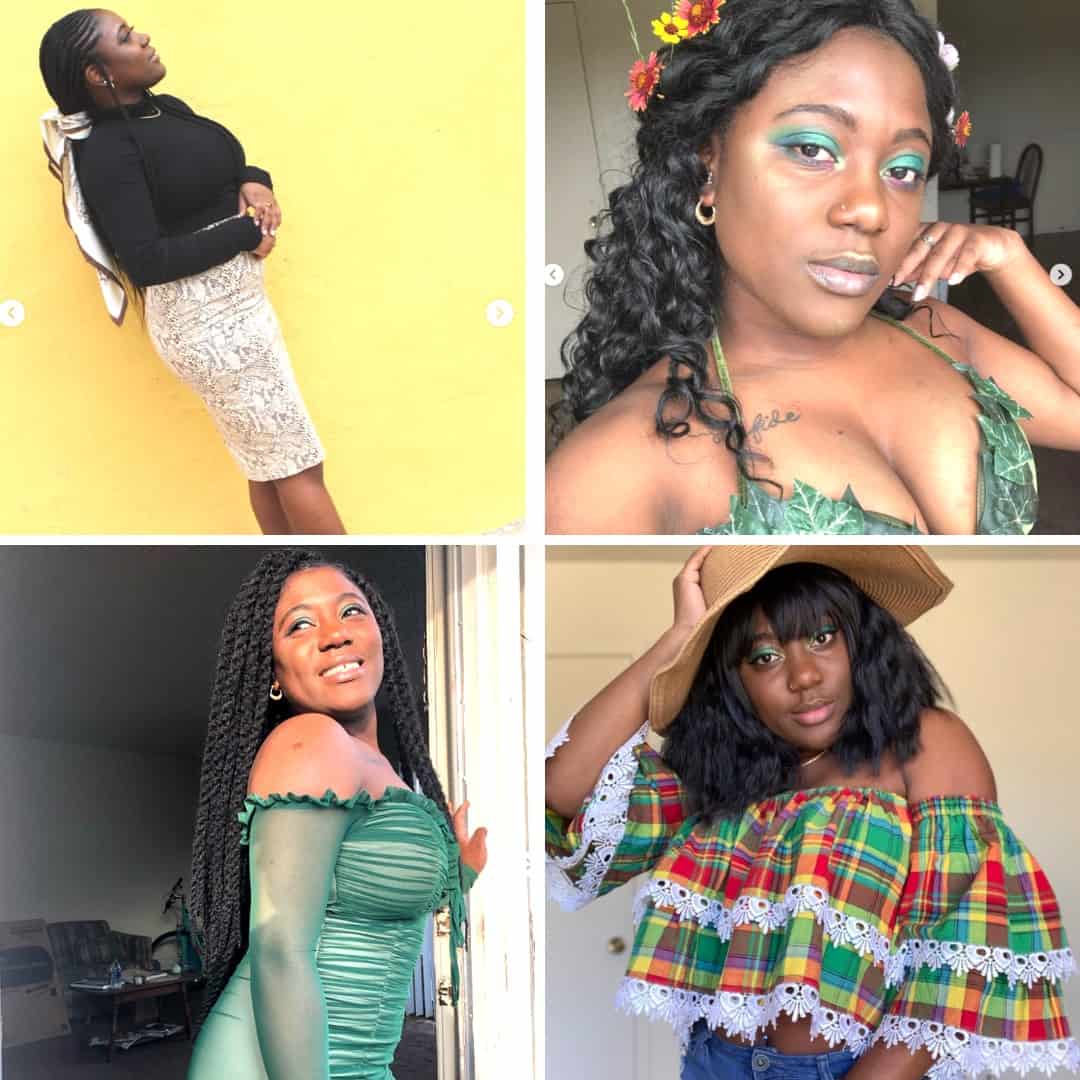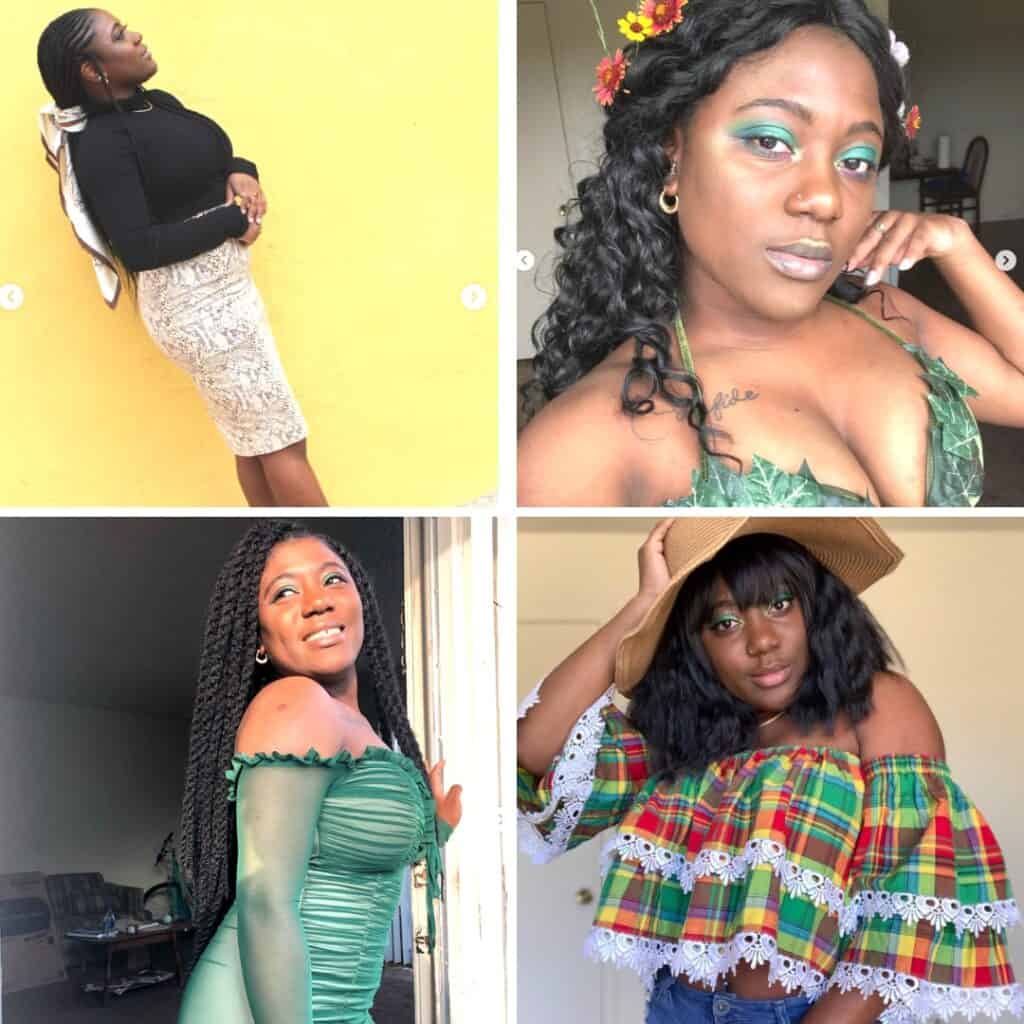 140.  Kim Feddema
Today's #FancyScientist researches something I love to talk about, that is super important, and understudied. Kim Feddema AKA @FeddemaKim on Twitter and @callitrikim on Instagram studies how social media is changing the nature of illegal wildlife trade. Her aim is to incorporate marketing theory and analysis into the study of global wildlife trade to reduce demand for illicit goods and improve conservation outcomes for species (YAS!). Specifically, she researches how scientists can apply theories such as the Elaboration Likelihood Model, Motivation, Ability, Opportunity Theory and Service Dominant Logic to better understand how consumers form their perceptions and purchasing behaviours around wild species. Some of her research included whether online media influences adolescents' beliefs regarding primates and their suitability as pets. In addition to PhD life, she also works as a primate keeper at the Perth Zoo. Give her a follow to help her on this important mission!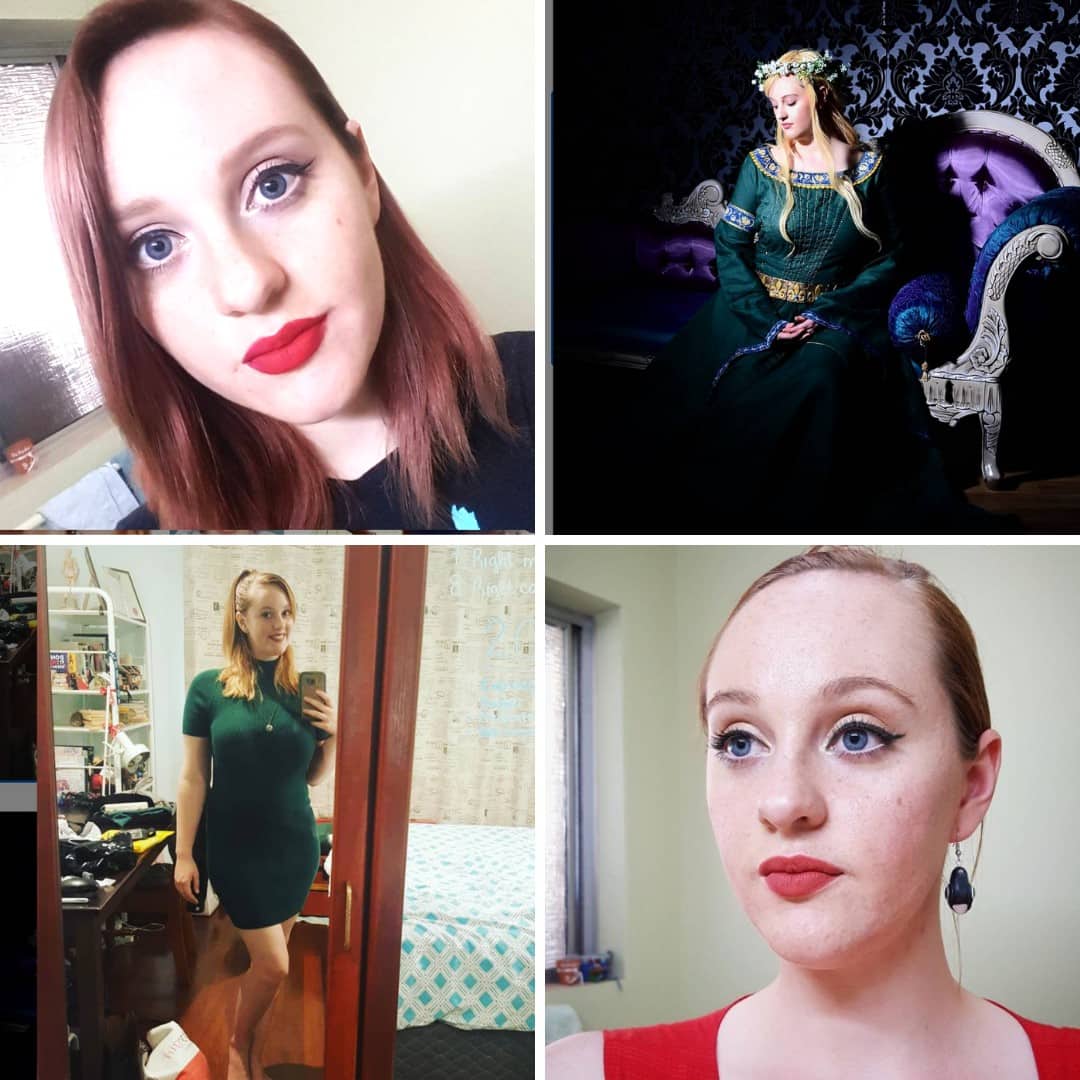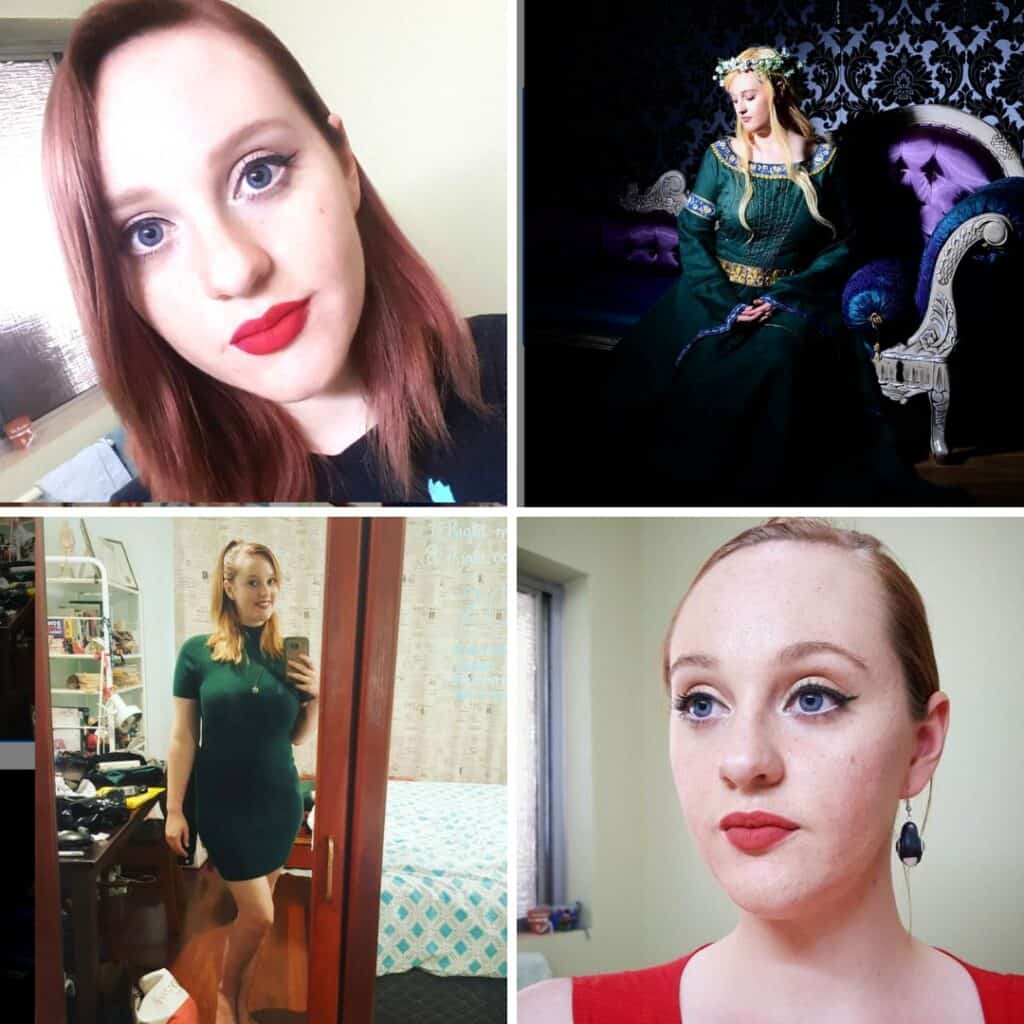 139.  Marianne Denton
New year, 52 new fancy scientists! Today's first #FancyScientist of 2021 is an interdisciplinary scientist with a specialty in aquatic ecology. You can ask Marianne Denton AKA @Astro_Limno on Twitter anything about benthic (bottom of the water body) macroinvertebrates, tardigrades, diatoms, and streams. She researches streams in Nevada, but also researchers geomorphology on Mars. She often thinks about the photosynthetic potential on Mars, while identifying cyanobacteria with her microscope. She is also passionate about science outreach and talks to community groups and professional societies on a regular basis. Follow her to see her amazing nature photos and her living a technicolor life in a black and white world.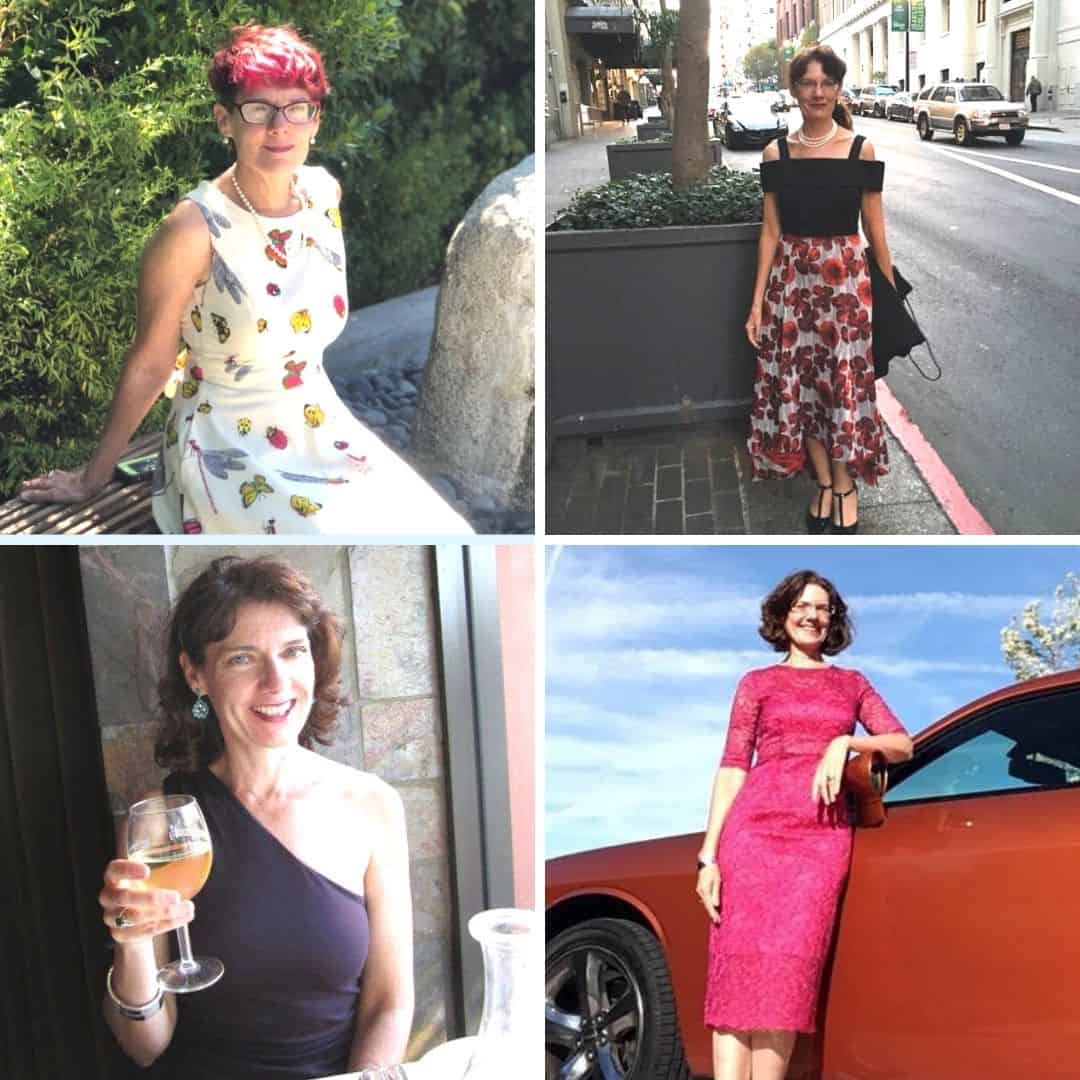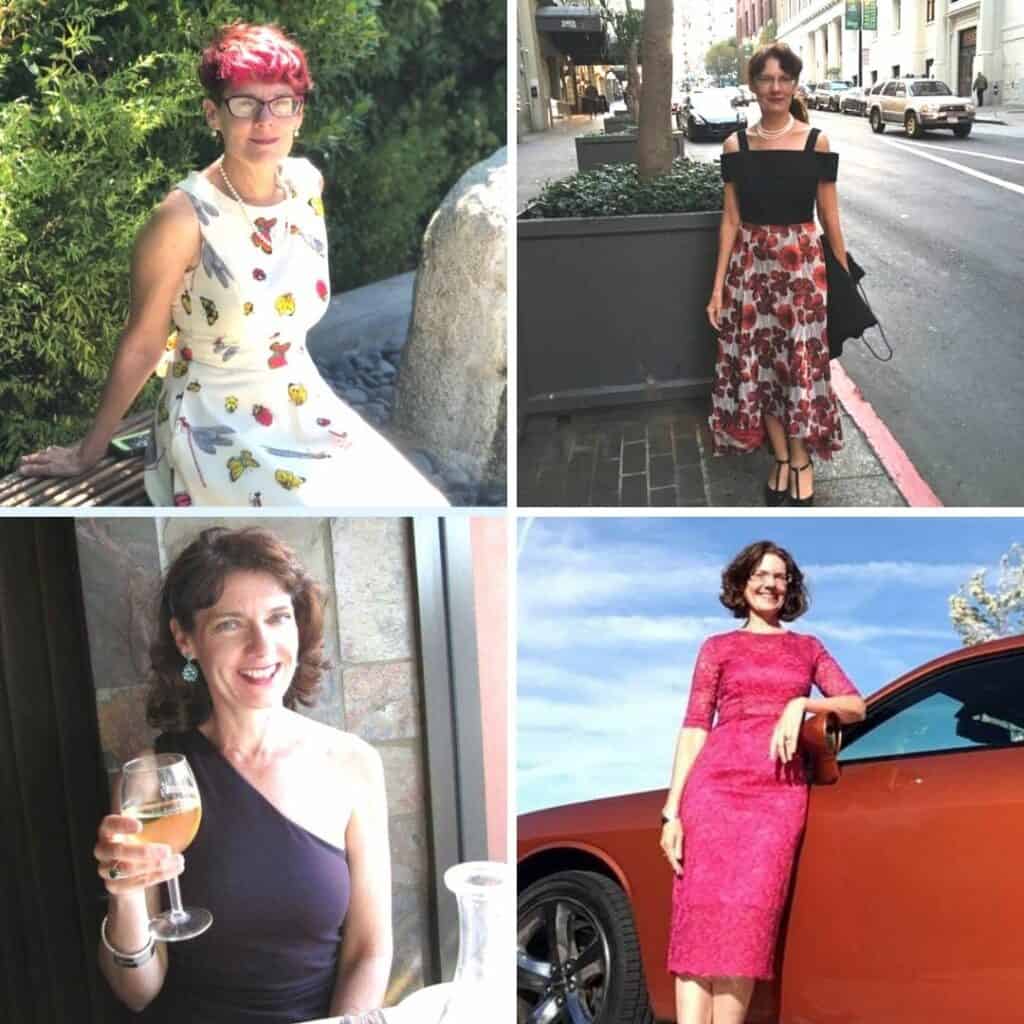 138.  Sophia Gad-Nasr
Today's #FancyScientist is an astroparticle physicist, science advisor to the TV show 12 Monkeys, and an animal lover. Sophia Gad-Nasr AKA @Astropartigirl on Twitter and Instagram studies the intersection of astrophysics, particle physics, and cosmology—astroparticle theory. She studies dark matter and loves to just pick the Universe apart, trying to figure out its properties and what it's made of using simulations. She works on a type of dark matter beyond the Cold Dark Matter paradigm—Self-Interacting Dark Matter (and has a blog on this). One of her favorite things to do when she's not working on theory or coding, is processing planetary images, particularly Saturn and Jupiter images. She also loves animals, especially hamsters. Make sure to give her a follow for her super chic space fashion.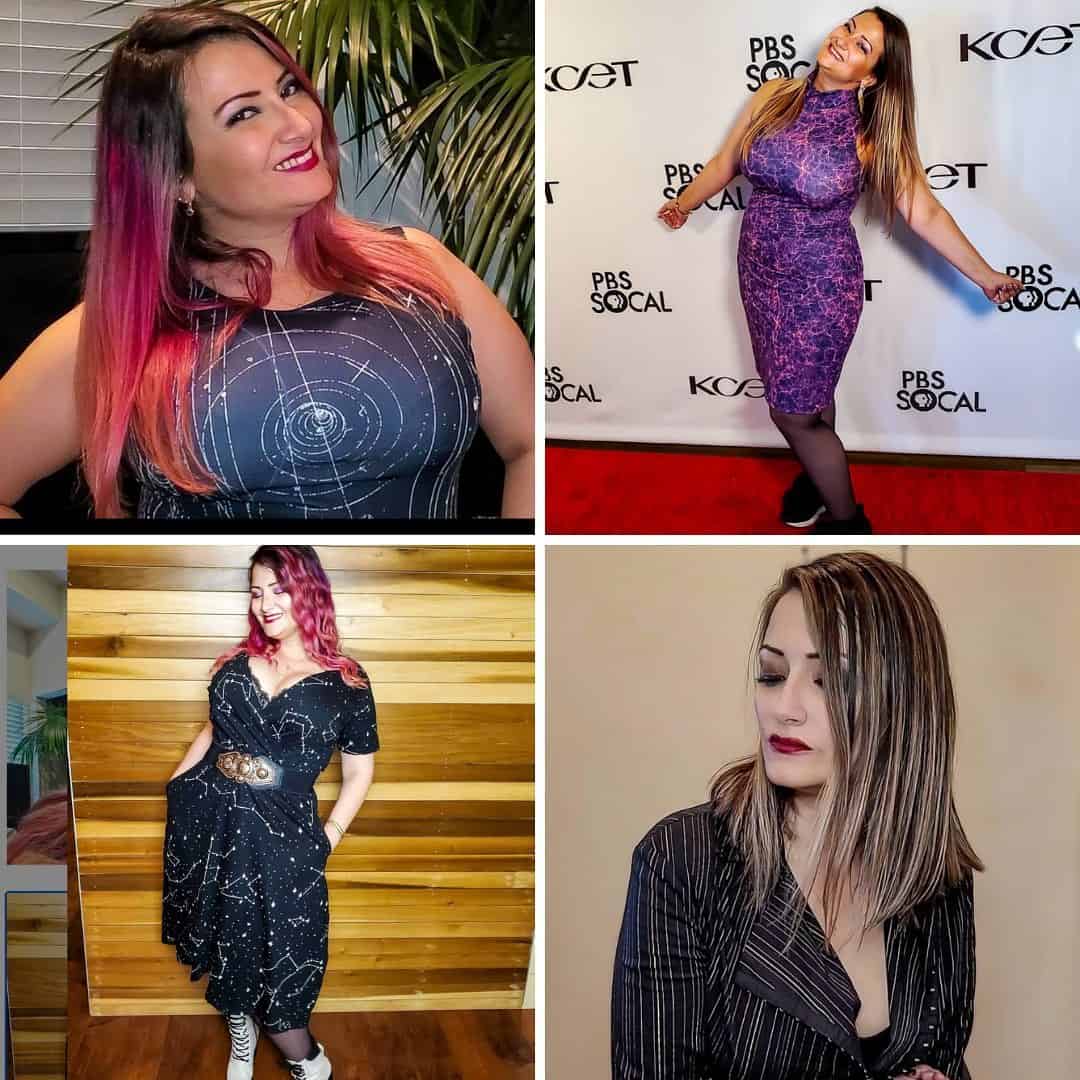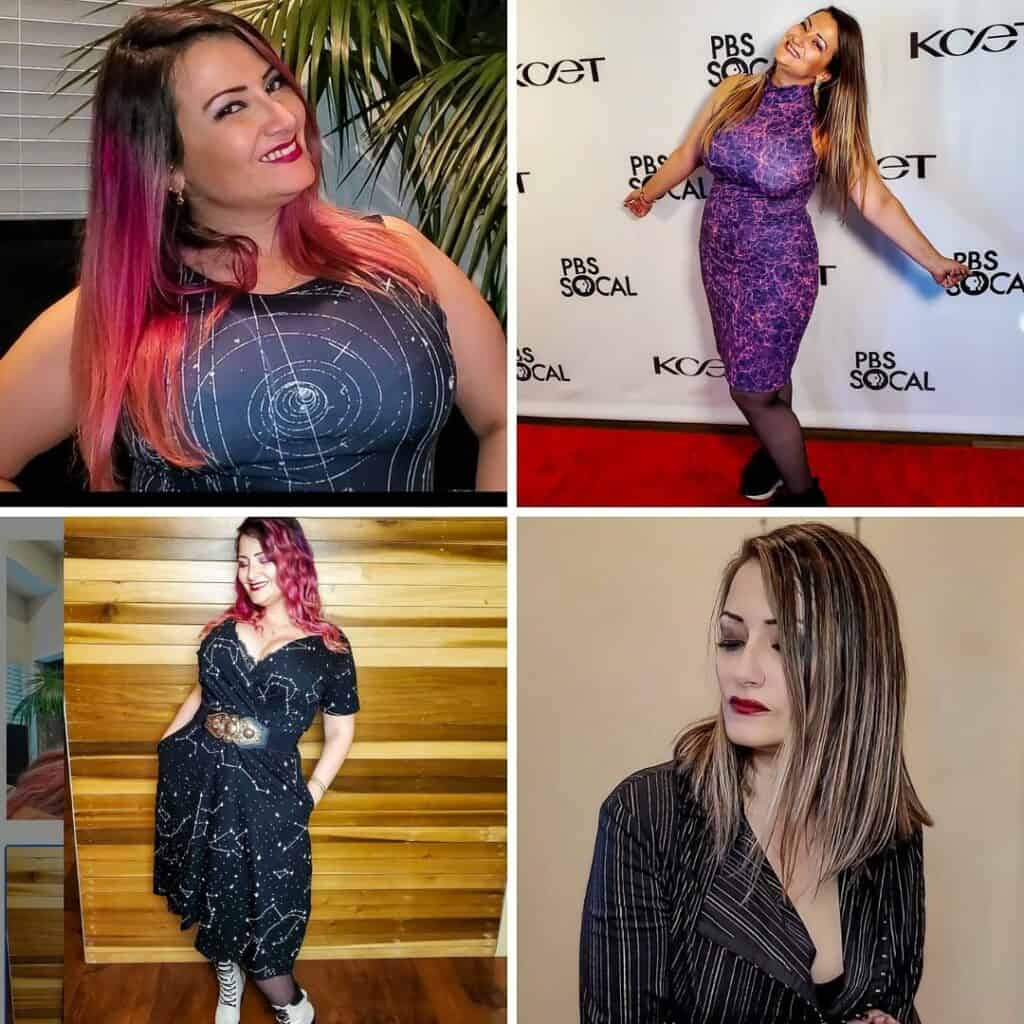 137. Lilianne Nakazono
Today's #FancyScientist is an astrophysicist, statistician, and cat-lover (me too!). Lilianne Nakazono AKA @Li_Nkzd on Twitter and @lynxriko on Instagram is part of the S-PLUS collaboration, which is an ongoing all-sky survey that will cover about 9300 squared degrees of the Southern Sky. She focuses on characterizing new quasars (a massive and extremely remote celestial object) in this photometric dataset. She loves working with big data and her research interests involve the application of Statistical Learning/Machine Learning in the Extragalactic Astronomy context. Outside of space, Lilianne loves playing video games and boardgames, and reading books, especially japanese literature. She is currently learning how to play shamisen (jiuta), a 3-stringed traditional japanese instrument. Follow her to see her progress!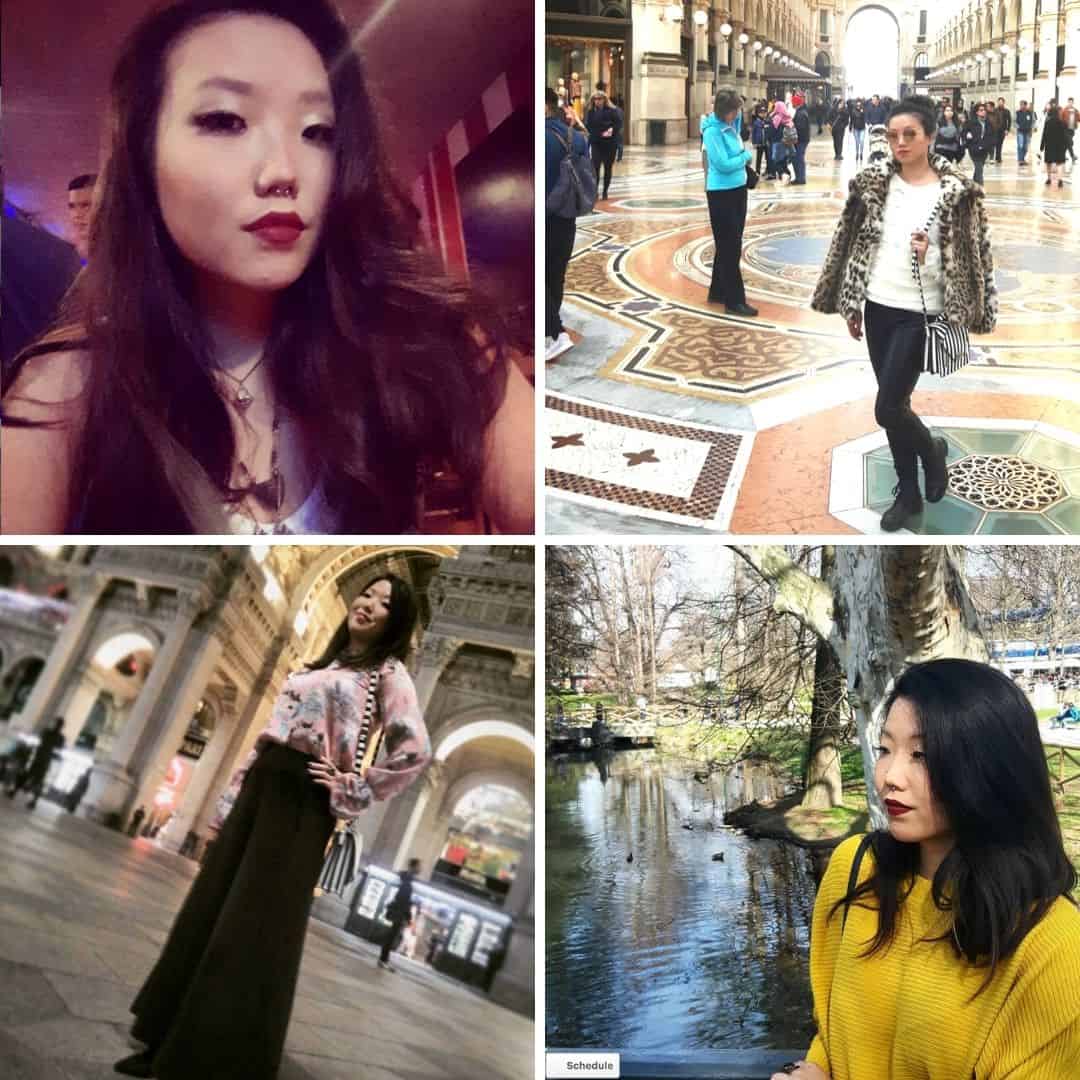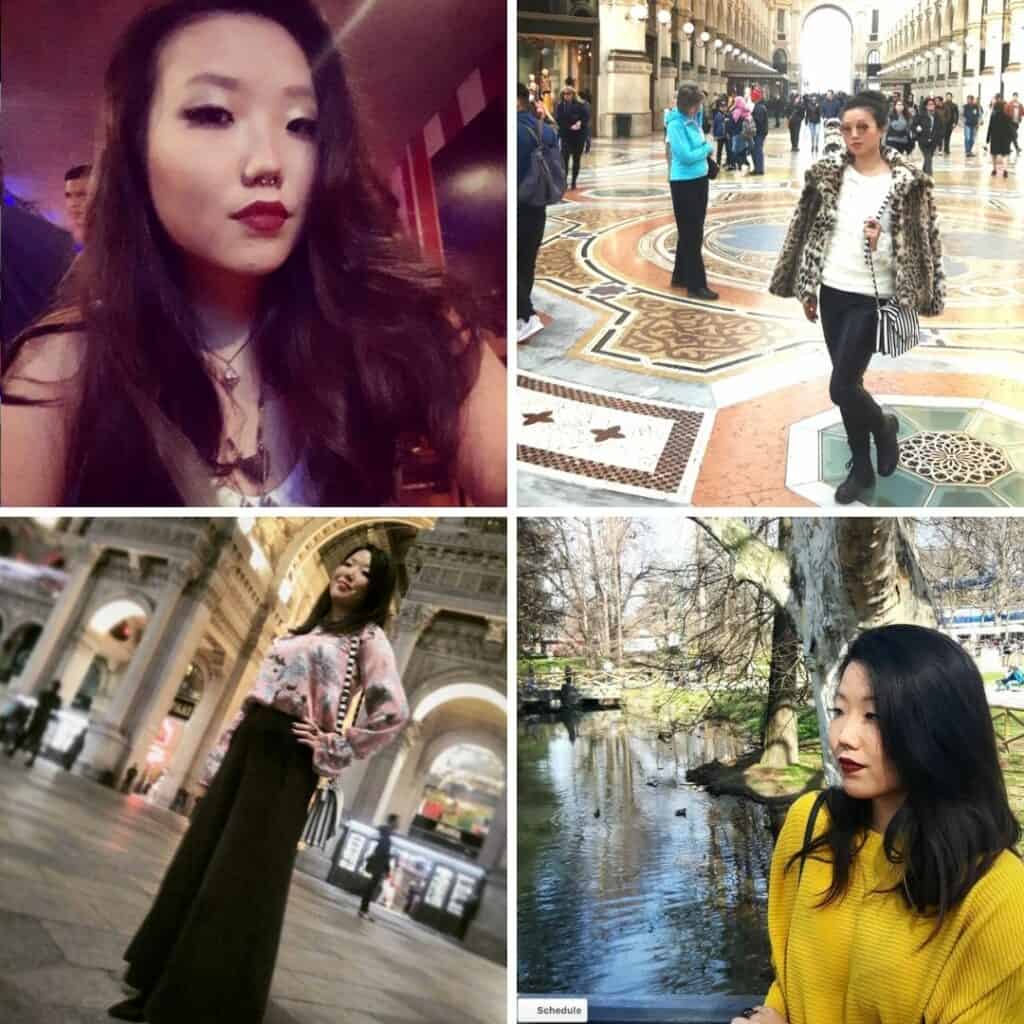 136. Briana Ruiz Christophers
Today's #FancyScientist is a scientist, future pediatrician and writer. Briana Ruiz Christophers AKA @BriChristophers on Twitter studies muscle development and fell in love with developmental biology initially when staring at fish hearts down a microscope in a research lab. Briana is also passionate about advocacy, serving as diversity representative on the Weill Cornell Medical Student Executive Committee, co-running the Association of Diverse Physician-Scientists in Training (ADePT), and developing the Mini Lessons by Medical Scientists video series aimed at introducing children and adolescents to physician-scientists. More recently, she has turned to writing as a way of communicating science and advancing social causes. Her works have been published in Academic Medicine, the Journal of Clinical Investigation, The Lancet Global Health, Pediatric Research, Scientific American, and in-Training magazine. She co-authored and was lead editor of "The Free Guide to Medical School Admissions," an e-book in its second-edition available at tiny.cc/MedAppGuide. You can follow here on her personal account, but also her reflections on @LatinasInMed and @MedStudentChat where she reflects on being a Latina growing into a pediatrician-scientist on Twitter.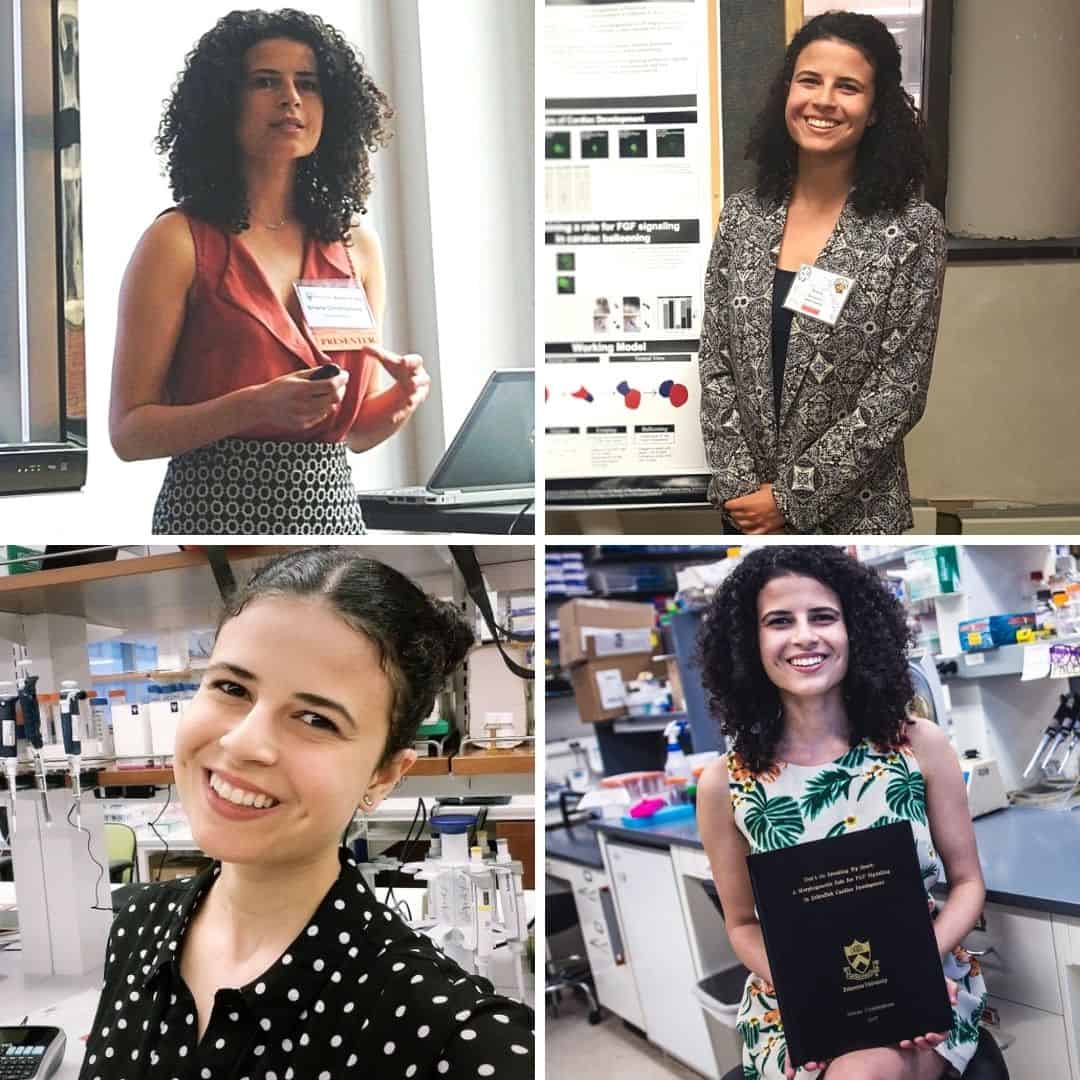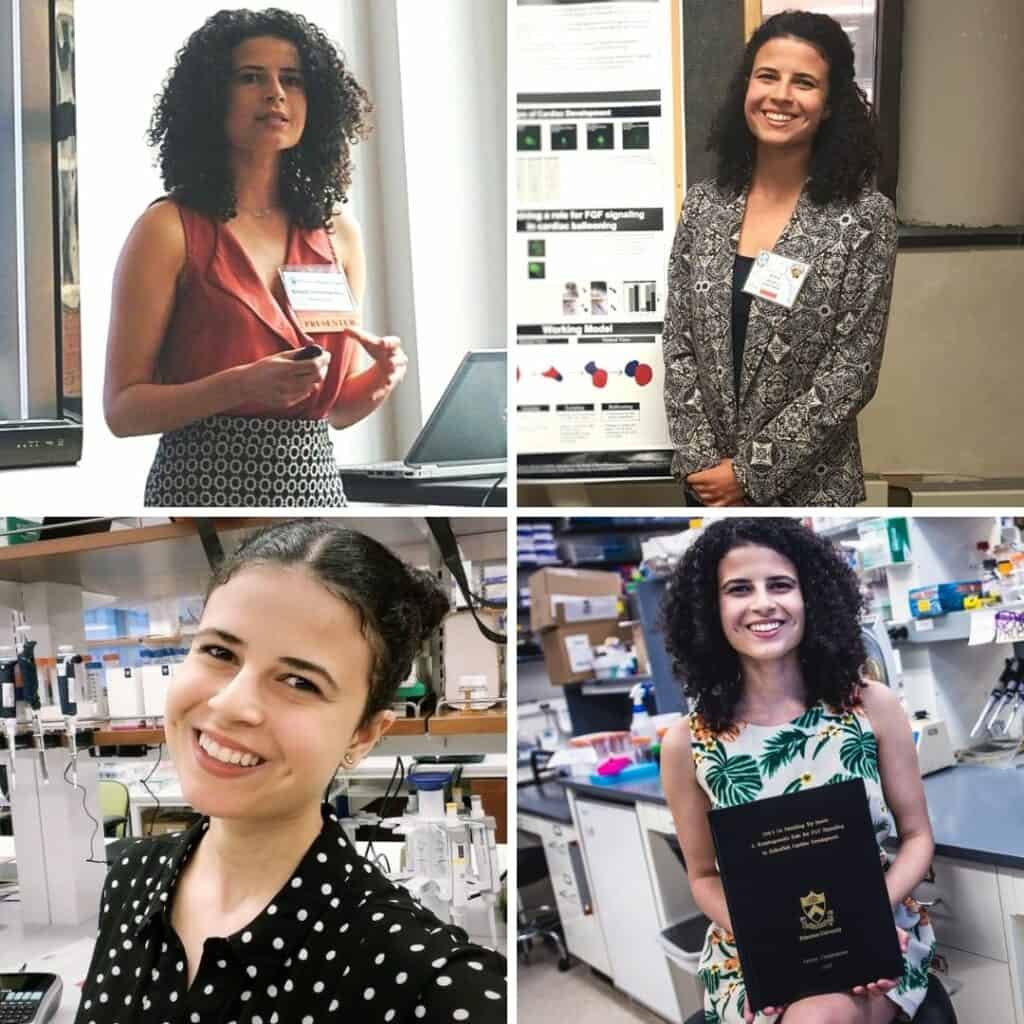 135. Dr. Héloïse Stevance
Today's #FancyScientist is an astrophysicist and "Carl Sagan but make it goth." Dr. Héloïse Stevance AKA @Sydonahi on Twitter studied the 3D shape of Core Collapse Supernovae and researched the evolution of massive stars to better understand how they die and produce Supernovae and Kilonovae. Now she studies stellar populations, particularly with the goal to understand gravitational wave counter parts. She is currently writing a dedicated code base to bridge the gap between state of the art stellar population synthesis models and observations of distant galaxies obtained with cutting-edge instrumentation. She also blogs and create scientific graphics to share (with credit). Héloïse describes herself as "A crazy [but brilliant], yellow-haired, space lady." Give her a follow to explore the space and see her amazing hairstyles.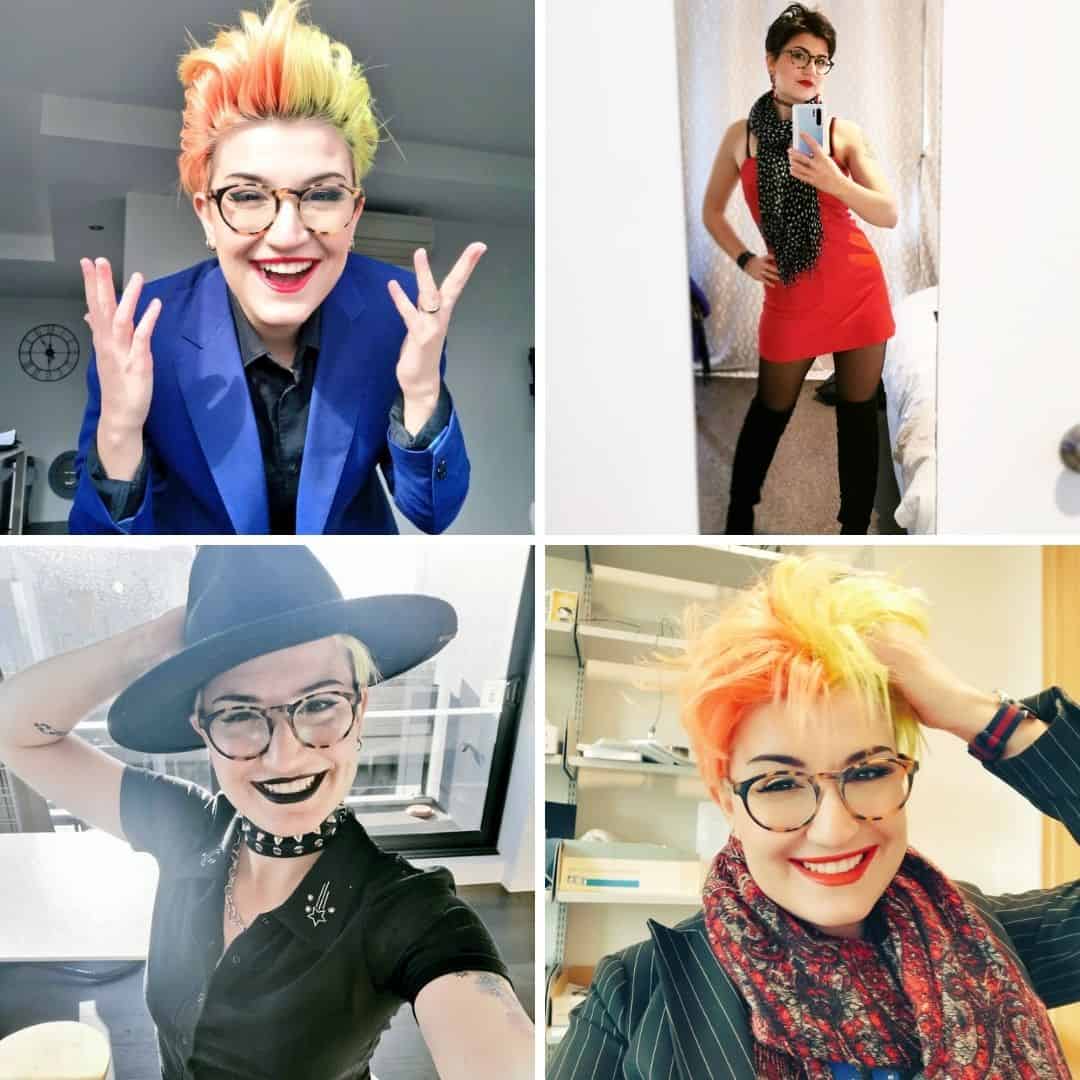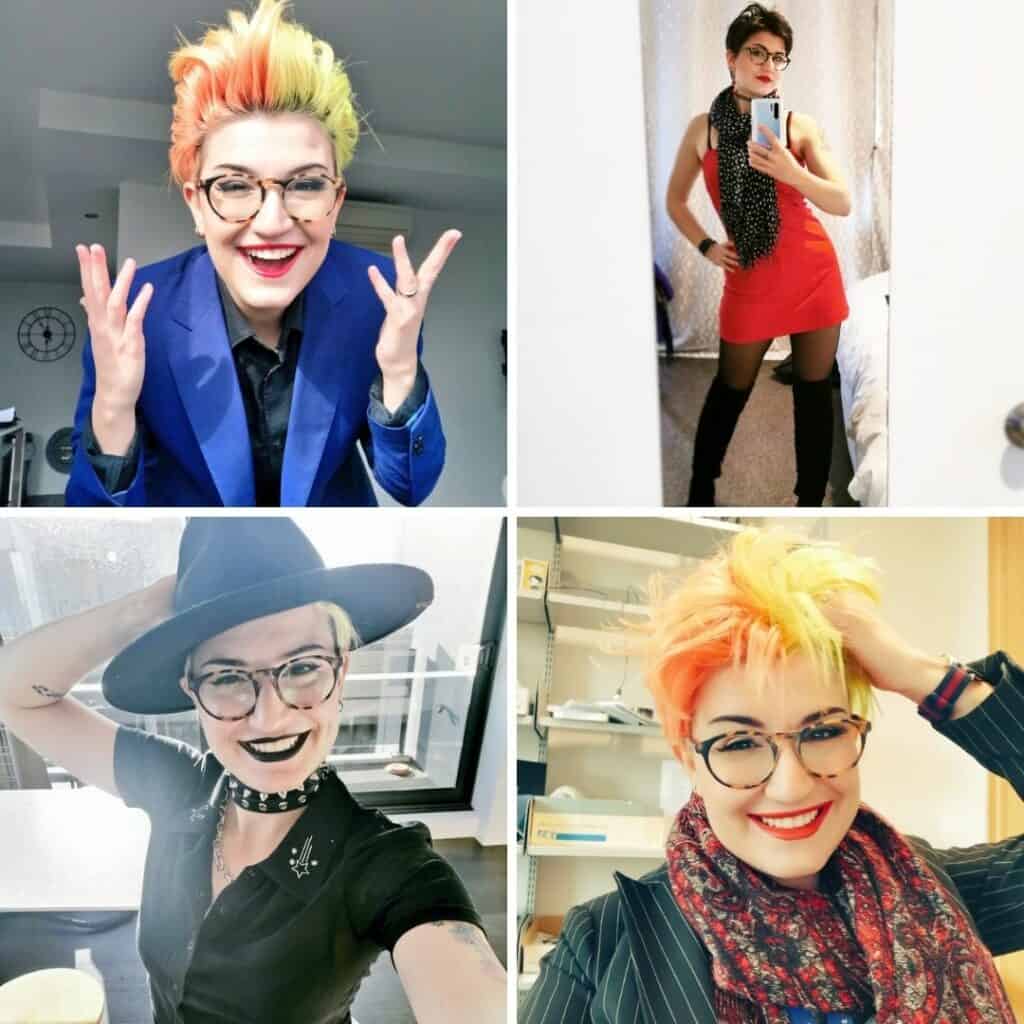 134. Sydney Hamilton
Today's #FancyScientist is a Aerospace Engineer @Boeing that has been featured in @MarieClaire and CBS! Sydney Hamilton AKA @SeeSydSoar on Twitter and Instagram has studied math, aerospace engineering, and nuclear engineering. Sydney leads a cross-functional team in the development of Satellite Reflectors, which are critical mechanisms in global satellite arrays that redirect radio frequencies (like your GPS!) to desired areas. She's also designed 3D-printed satellite parts, delivered structural repairs to Boeing's fleet of 767 and 777 airplanes, and designed and analyzed for the 777 floor Redesign effort and the 777X Folding Wing-Tip. She's also a passionate advocate for recognizing the power within diversity, Sydney founded Boeing's Generations 2 Generations employee resource group, which is dedicated to improving workplace culture across the company's rich, multi-generational talent pool. She has also championed the success of extracurricular programs designed to bring STEM through Art (STEAM) into the hands of underserved youth.Sydney can be found salsa dancing, cooking and (especially) eating new cuisines with friends. Make sure to give Sydney Hamilton a follow to help her in her goal to inspire more young women to pursue STEM careers!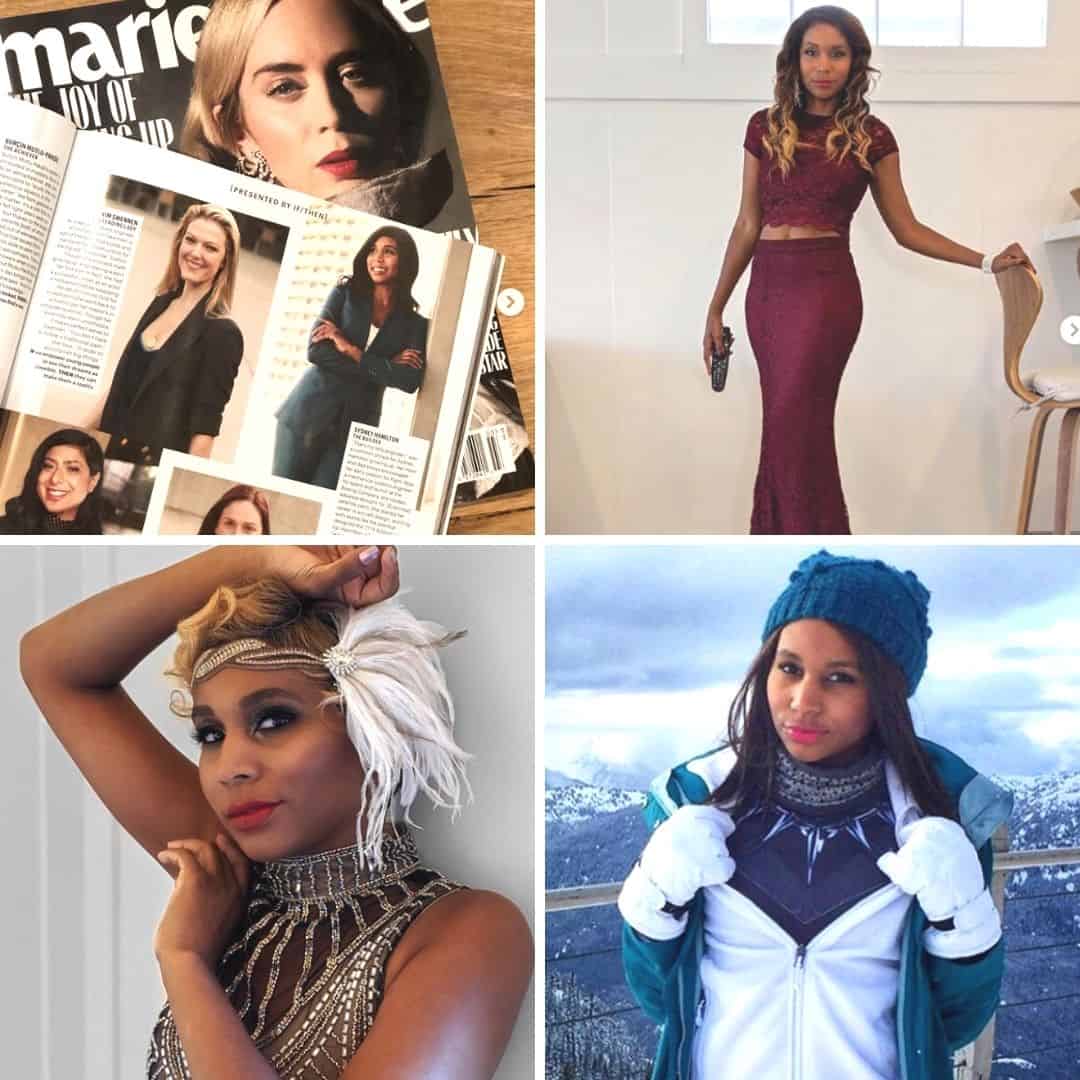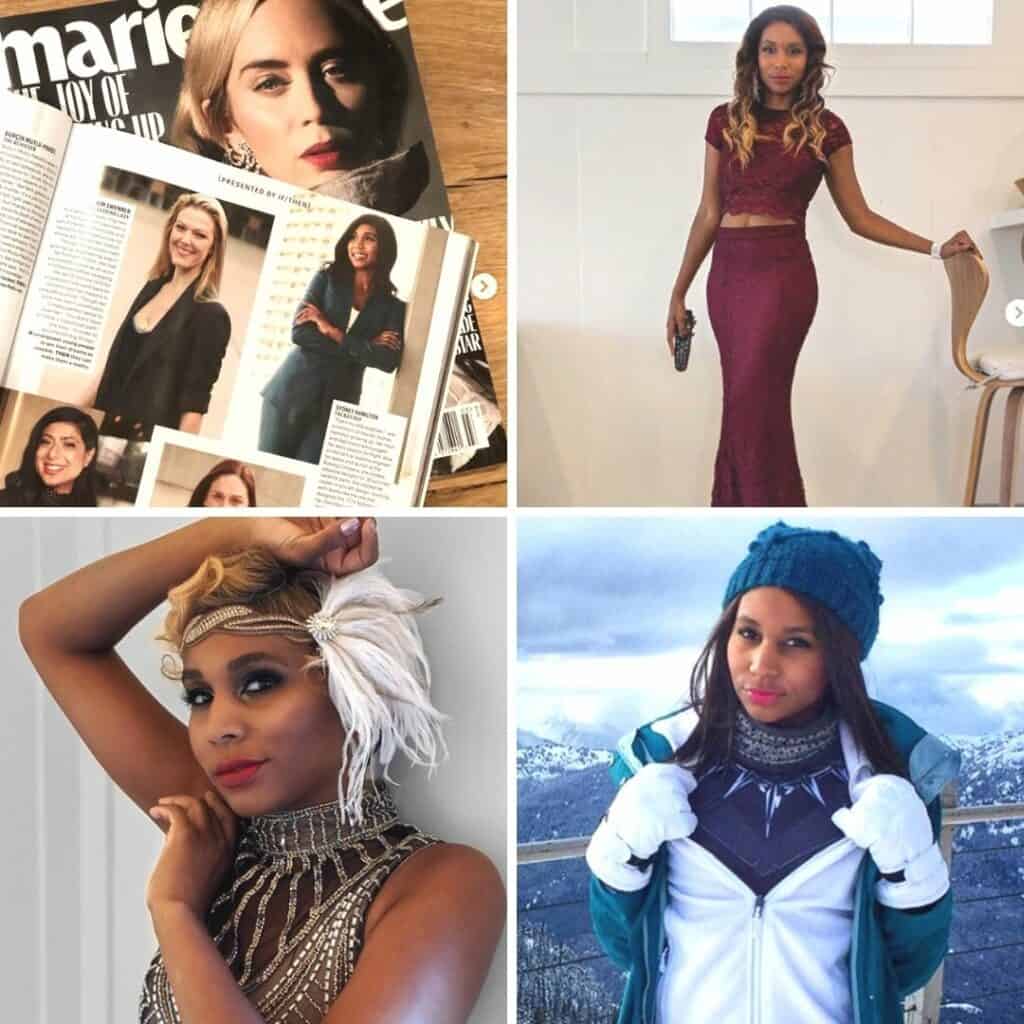 133. Chenda Bunkasem
Today's #FancyScientist is an artificial intelligence/machine learning researcher and a DJ. Chenda Bunkasem AKA @chendabunkasem on Twitter and Instagram researches applied computational methods inspired by theoretical neuroscience. In her most recent position, she focused on synthetic data generation for computer vision use cases, filed her first patent, and created a research group that is now partnered with NASA's Frontier Development Lab on a project called the Earth Intelligence Engine. For the past 5 years, her projects have sat at the crossroads of the creative and technology industries including human-computer interaction, games, haptics, graphics, and virtual/augmented reality. Make sure to give Chenda Bunkasem a follow to stay up to date on her cutting-edge projects and for some amazing minimalist style inspo.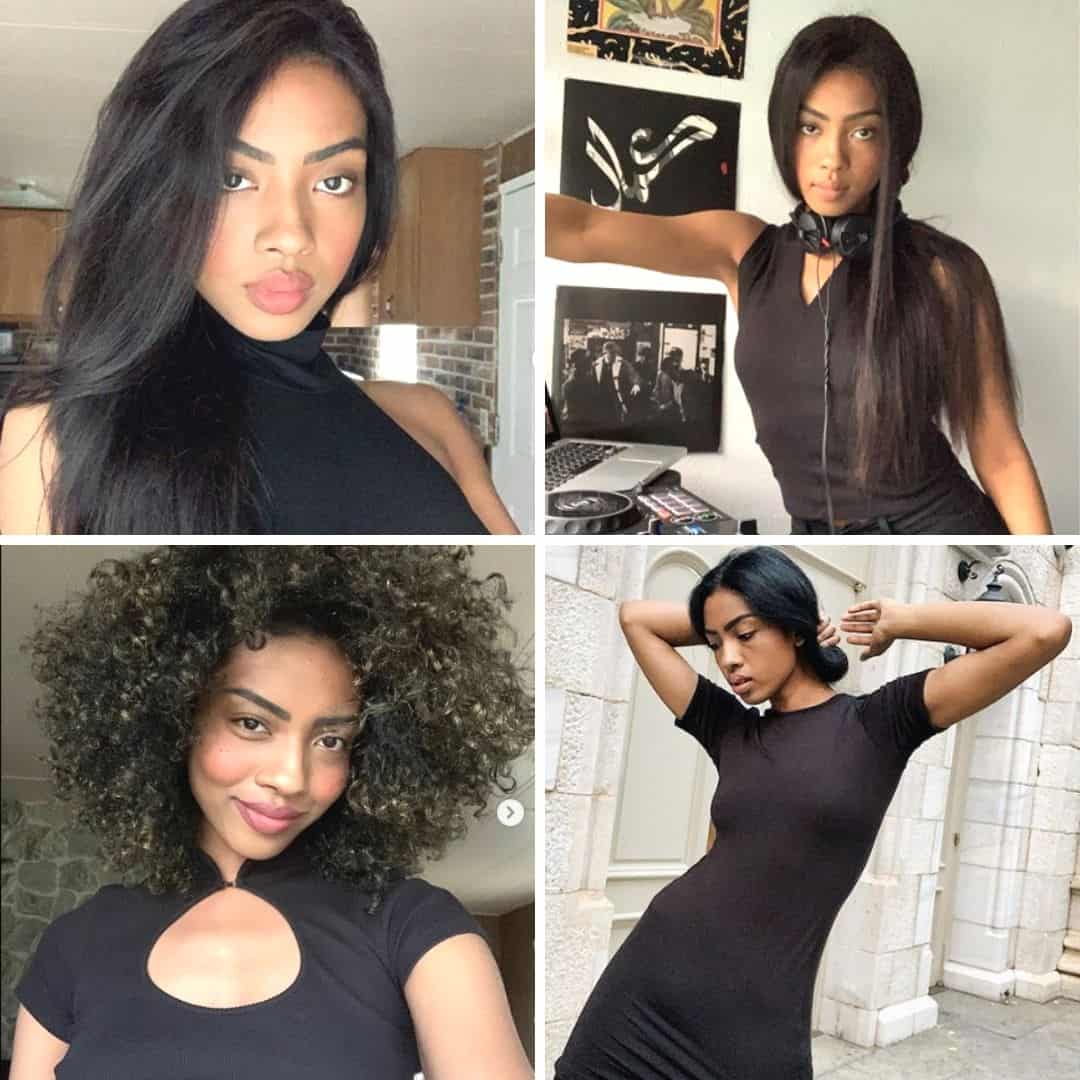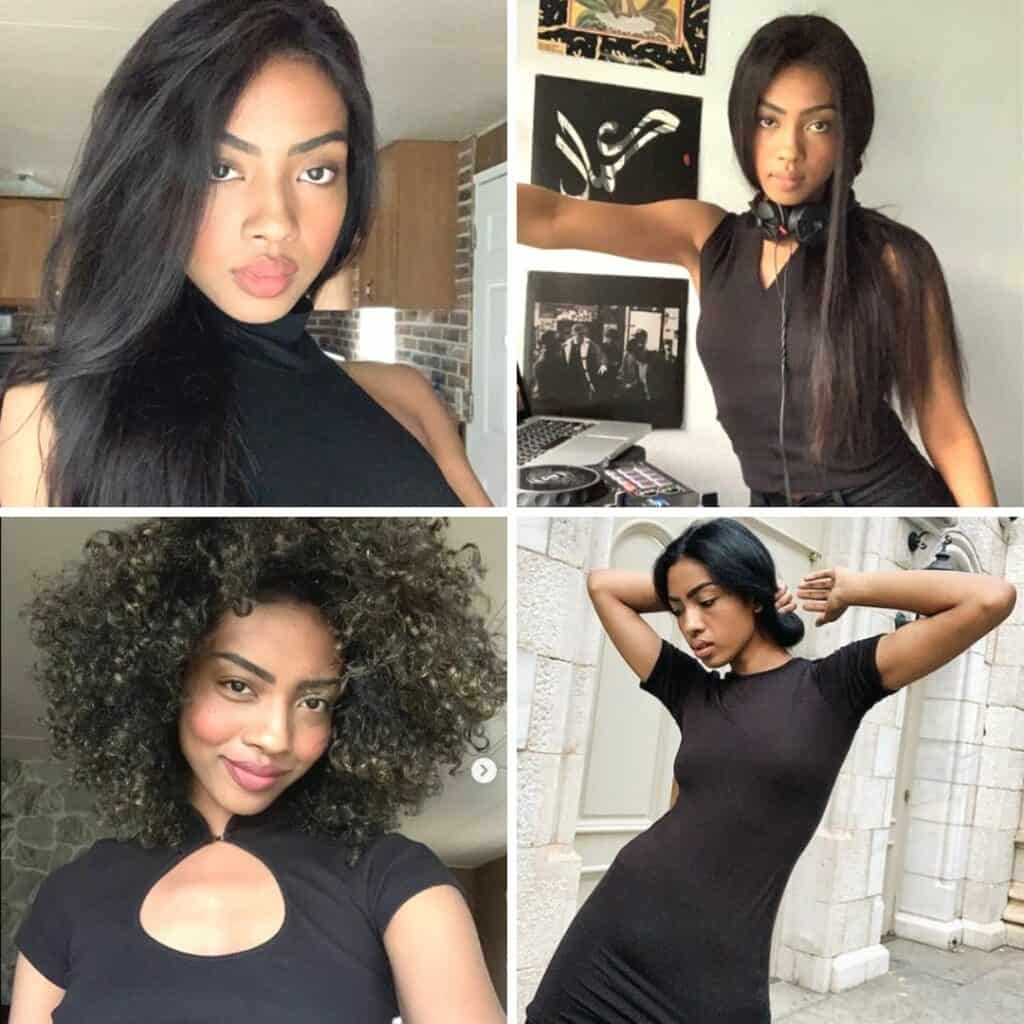 132. Earyn Mcgee
Today's #FancyScientist is a lizard biologist and aspiring Natural History TV Show Host. Earyn McGee AKA @Afro_Herper on Twitter and Instagram studies how drought and stream drying affects lizards in arid environments. You may know Earyn from running the VERY popular social media game #FindThatLizard. Every week she posts a photo of a lizard camouflaged in its natural environment and asks anyone on social media to find it. She uses this game as an opportunity to teach people about lizards and build a greater appreciation for these cool animals. Earyn is also passionate about increasing the representation of Black, Indigenous, and other People of Color doing important conservation work and hopes to do so with her own natural history show. Make sure to give Earyn a follow so you can find that lizard!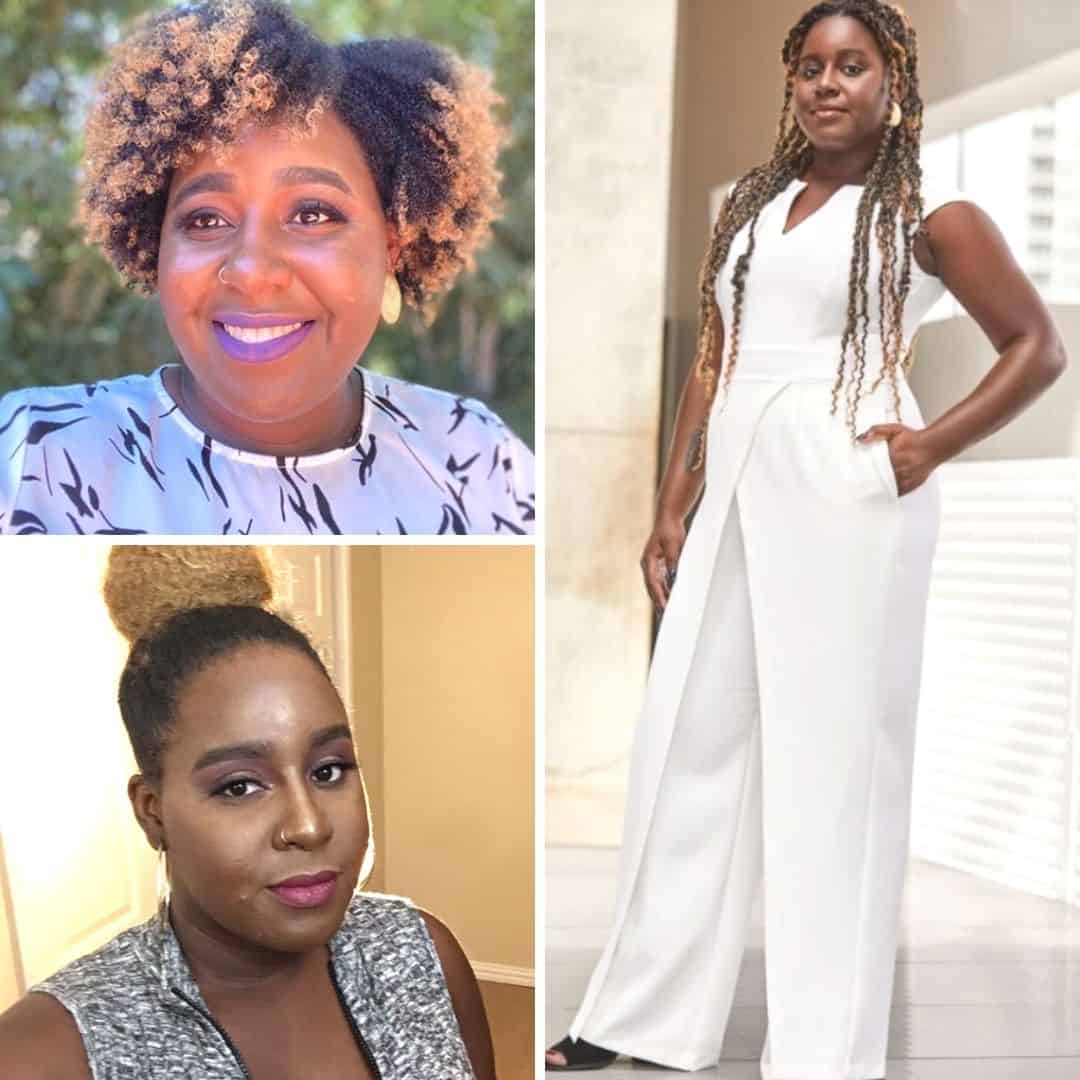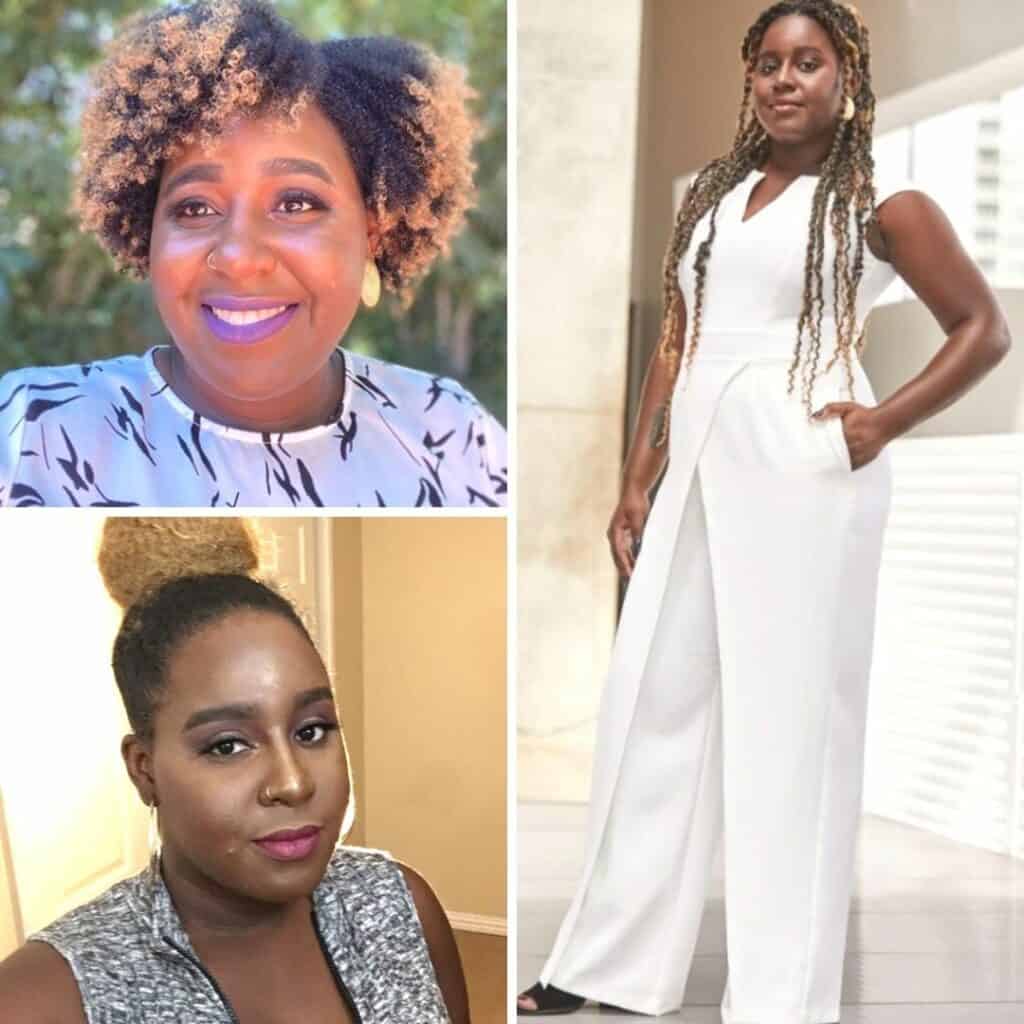 131. Ada-Rhodes Short
Today's #FancyScientist is a mechanical engineer and LGBTQIA+ advocate. Dr. Ada-Rhodes Short AKA @The_Ada_Rhodes on Twitter and Instagram has studied design, automation, and decision-making through the lens of computational cognition, modeled risk for autonomous decision making, and worked on bone and fossil reconstruction. She has nearly a decade of experience in cutting-edge robotics and artificial intelligence work for both private companies and major research universities. She currently works in a lab making robot brains and has helped make Star Wars' BB-8 a reality. In addition to her academic and industry work, she co-founded Baylor's first open LGBTQIA+ student group and ran Trans Support, which facilitated a support group and provided mutual aid services to the queer and trans community of the Willamette Valley. Make sure to give Ada-Rhodes a follow for her fun fashion, advocacy work, and cute cat.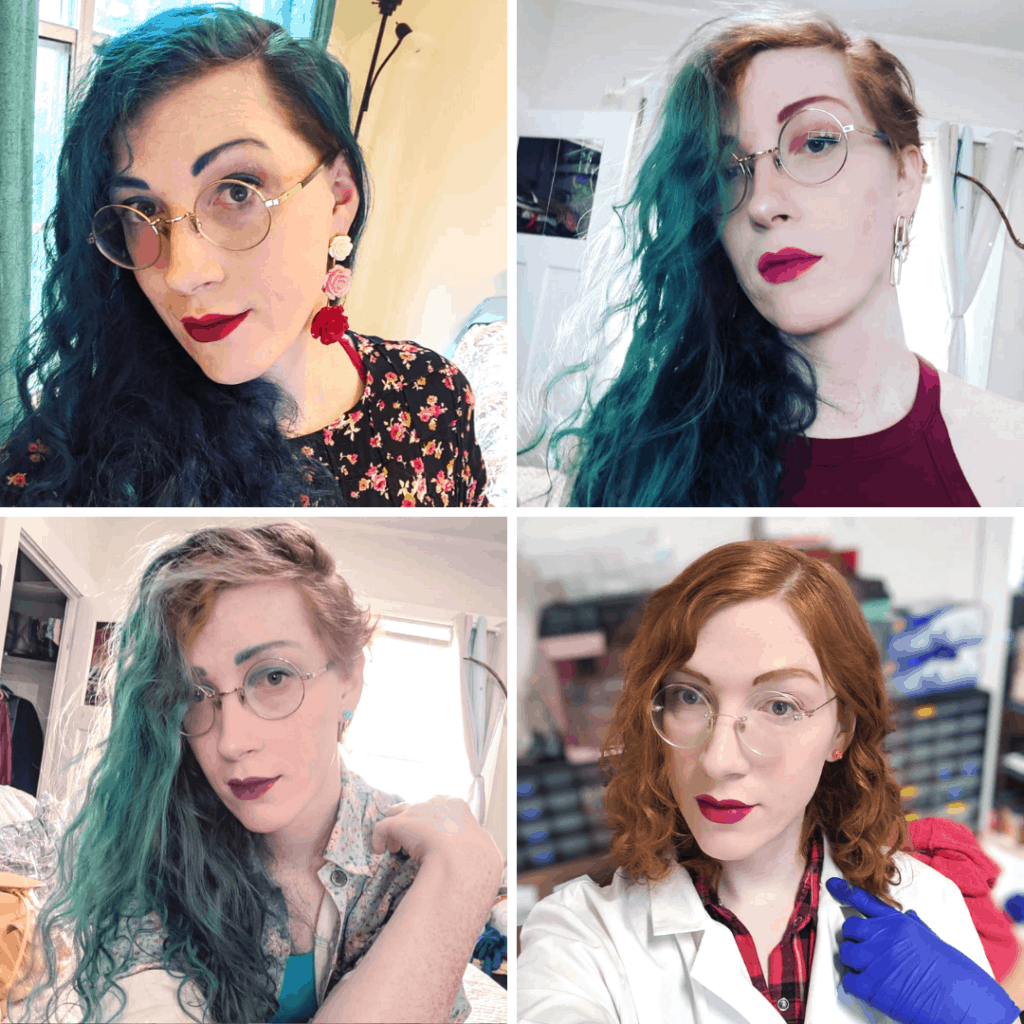 130. Everlyn Kimuli
Today's #FancyScientist works with me on the eMammal citizen science camera trapping program! Everlyn Kimuli AKA @enderi2 is passionate about nature interpretation to the young people in her community because she loves nature. She works at the @mpalalive research station in Kenya where she teaches schoolchildren how to take care of their environment and the role that they play to make the environment healthy. She involves the students with their teachers in hands-on nature-based activities and games to make the lessons fun, which helps them to remember the important lessons. One of these activities is eMammal, where she oversees all of the camera trap research from different schools in the community. The cameras set by her and her students have detected some really incredible animals including endangered species like wild dogs, Grevy's zebras, and black rhinoceroses. Her feed is full of beautiful African wildlife.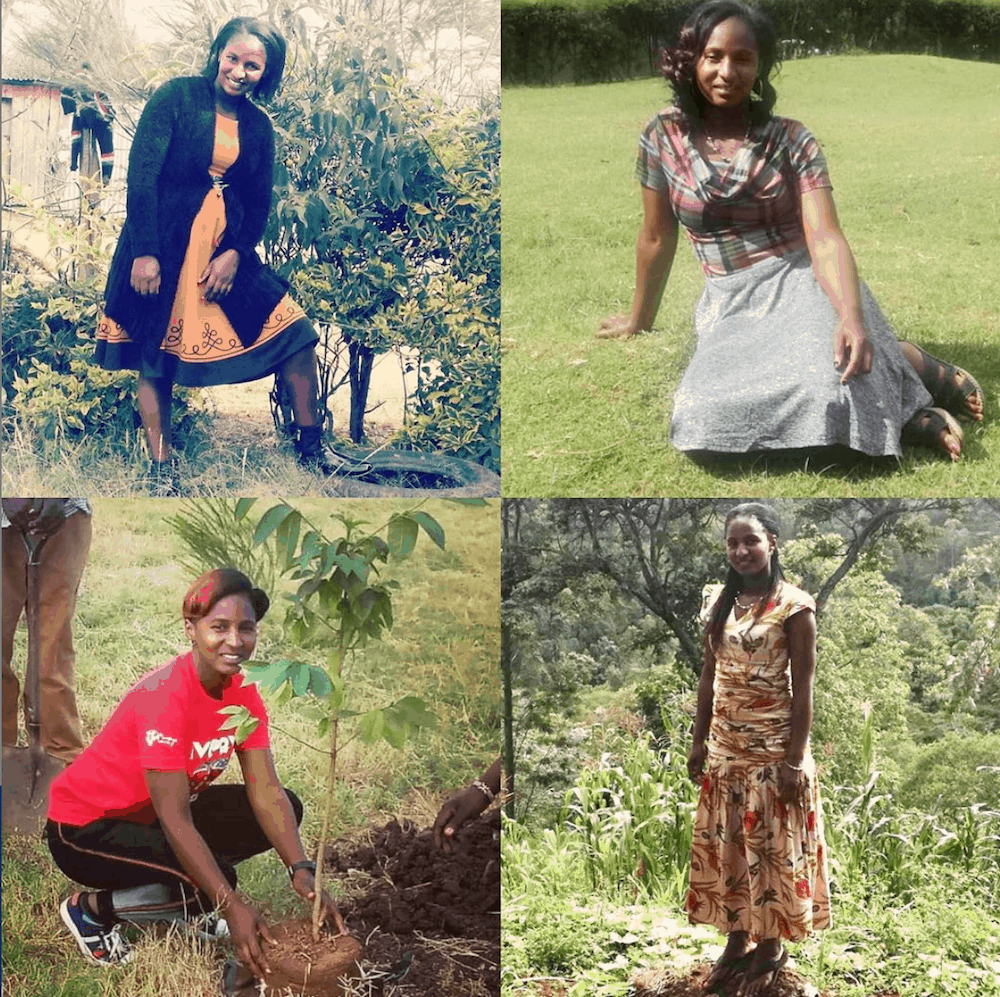 129. Sophie
Today's #FancyScientist is part scientist, part science communicator, part artist, and part model. Sophie AKA @theinfraredrum is very close to finishing up her PhD in molecular biology, which focuses on the anti-cancer properties of dietary antioxidants. She is a fantastic science communicator with a blog, YouTube channel, and many social media channels. In her spare time, she's very creative as an illustrator and a model. She's also a burgeoning author: Look out for her eBook that she is writing, "Tweeting Thesis: A Guide to Twitter Networking for PhD Students." You can check out her blog post now on the best hashtags to use to increase your followers in science communication. This scientist has some serious style!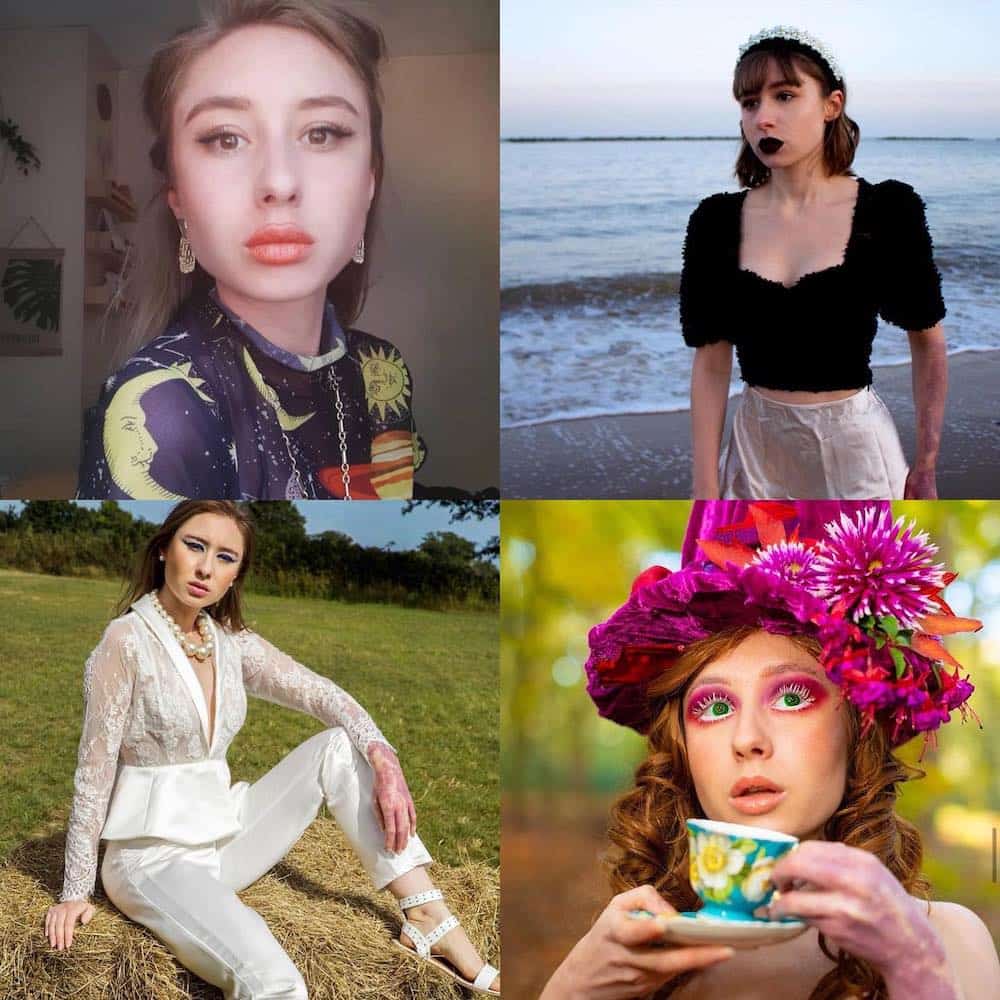 128. Anna Paltseva
I think today's #FancyScientist is our first soil scientist! Don't call it dirt, soil is like a micro-ecosystem – full of living organisms and made up of inorganic matter. Meet Anna Paltseva AKA @soil_expert and @anyapaltseva. Anna has a diverse academic background with extensive experience in geology, soils, ecology and education. Anna's research focuses on urban soil contamination and remediation. It is Anna mission to educate communities about the critical importance of soil health for growing nutritious food and medicine, for supporting healthy ecosystems, and for helping to sequester harmful greenhouse gases.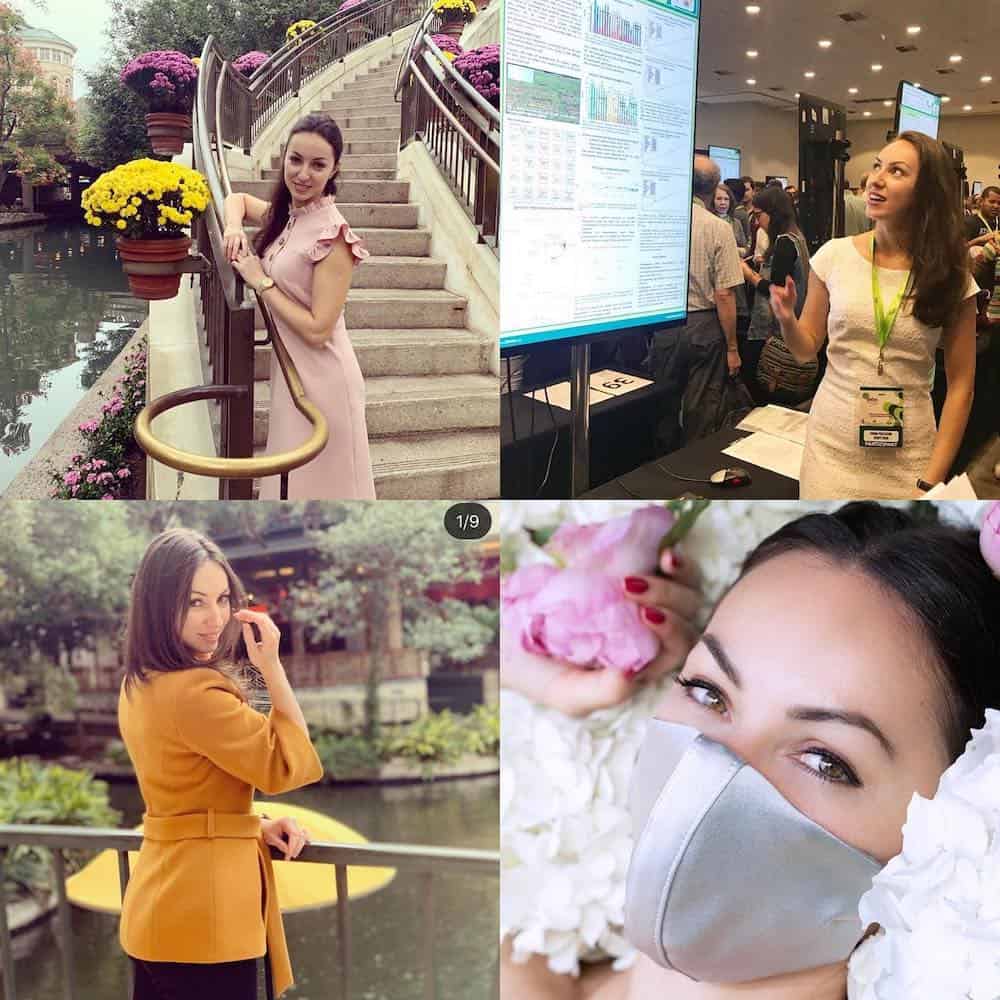 127. Stefani Crabtree
Today's #FancyScientist once contacted @voguemagazine to do a spread on stylish scientists (yes!). We are still waiting on them though to take her up on it. Meet another Stefani! (but spelled differently this time). Stefani Crabtree (@steftravels, @theblurrymirror on instagram and @StefaniCrabtree on Twitter) is an Assistant Professor in Socio-Environmental Modeling meaning her research applies complex systems science modeling methods to problems in social science and ecology. She currently studies the human place in ecosystems worldwide, the ability to use the archaeological past to calibrate the understanding of human resilience, and the feedbacks between ecosystem health and human health. Stefani not only holds one Ph.D., but 2!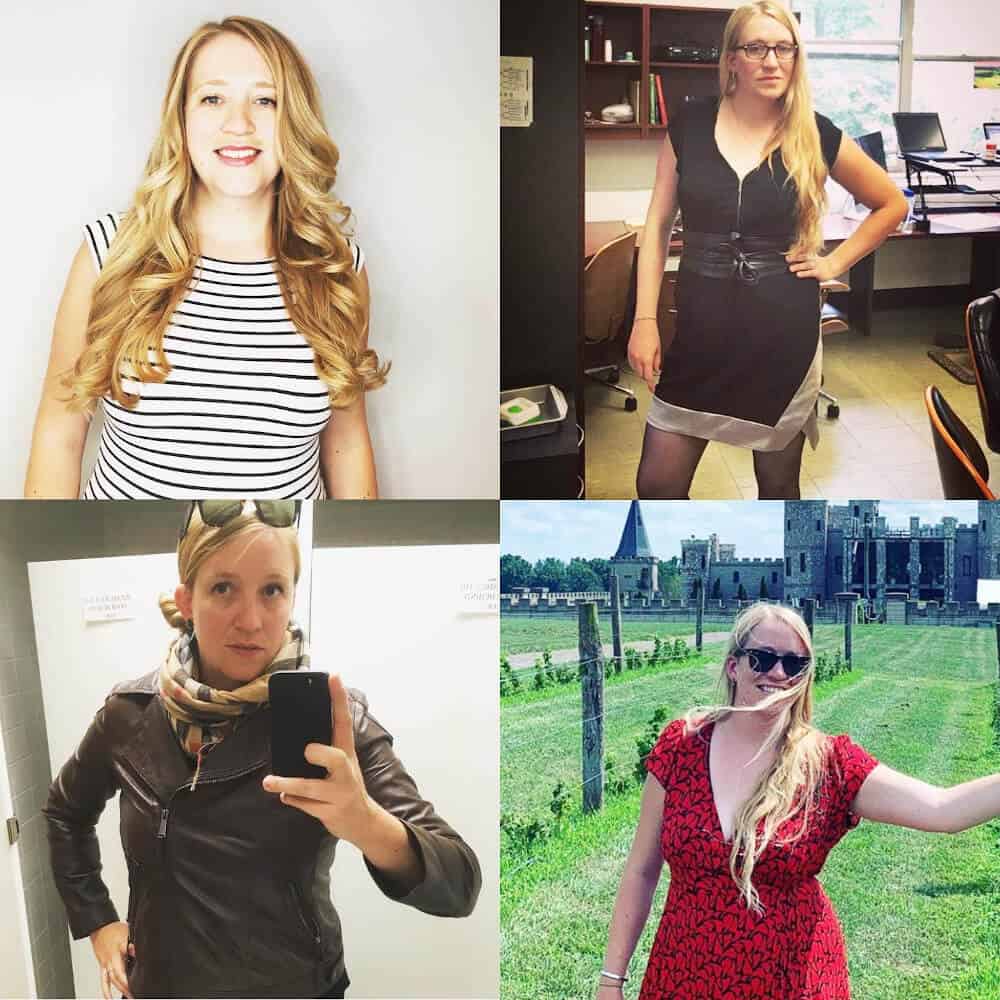 126. Symone Johnson Barkley
Today's #FancyScientist is a fashionable, yet sustainable, marine biologist. Symone Johnson Barkley AKA @ScientistSymone on Twitter and @ScientistSymone is a proud Baltimore-born scientist and educator who has had a wide range of experiences in the marine science field including research on algae, blue crabs, sand tiger and sandbar sharks. Currently, Symone manages education programs at the National Aquarium with a special emphasis on providing environmental literacy to youth in Baltimore through Meaningful Watershed Educational Experiences and out-of-school time programs. Outside of here job, Symone also leads workshops to educate people about how they can make sustainable swaps that are economically feasible. She says that "A lot of times sustainability is presented in an elitist manner and while there are a number of behaviors that do in fact require privilege, there are a significant amount of acts that any and everyone can take." (Yes girl! Love this). Symone is working to help her community be aware and control the narrative.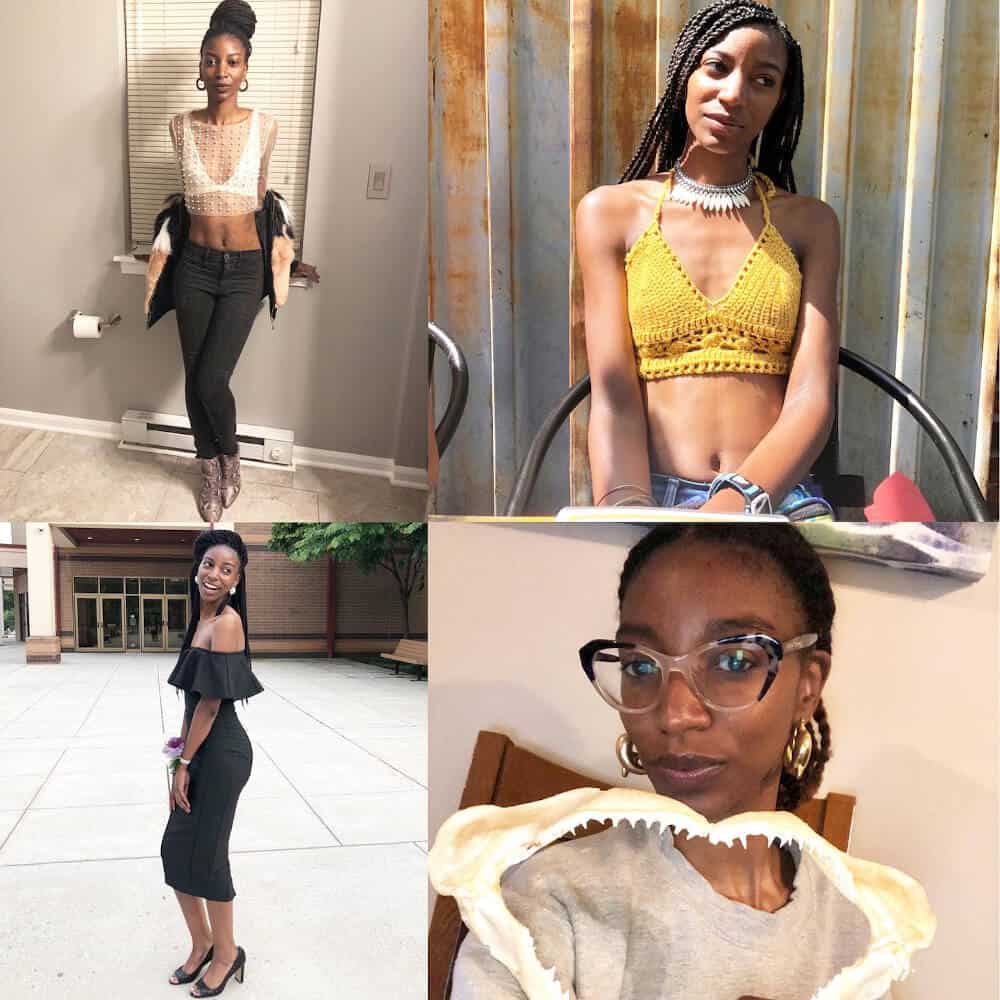 125. Sophie Bell
Today's #FancyScientist is a conservation scientist and blogger. Sophie AKA @adayinthewildlifesoph especially loves research that takes place in Africa. For her master's degree, she studied the driving factors of rhino poaching in South Africa and Kenya, and their impact on tourism. Her first visit to South Africa 3 years ago inspired her to start a blog to raise awareness around important conservation issues and make this information more accessible to people. In addition to science and blogging, her passions include education, videography and photography.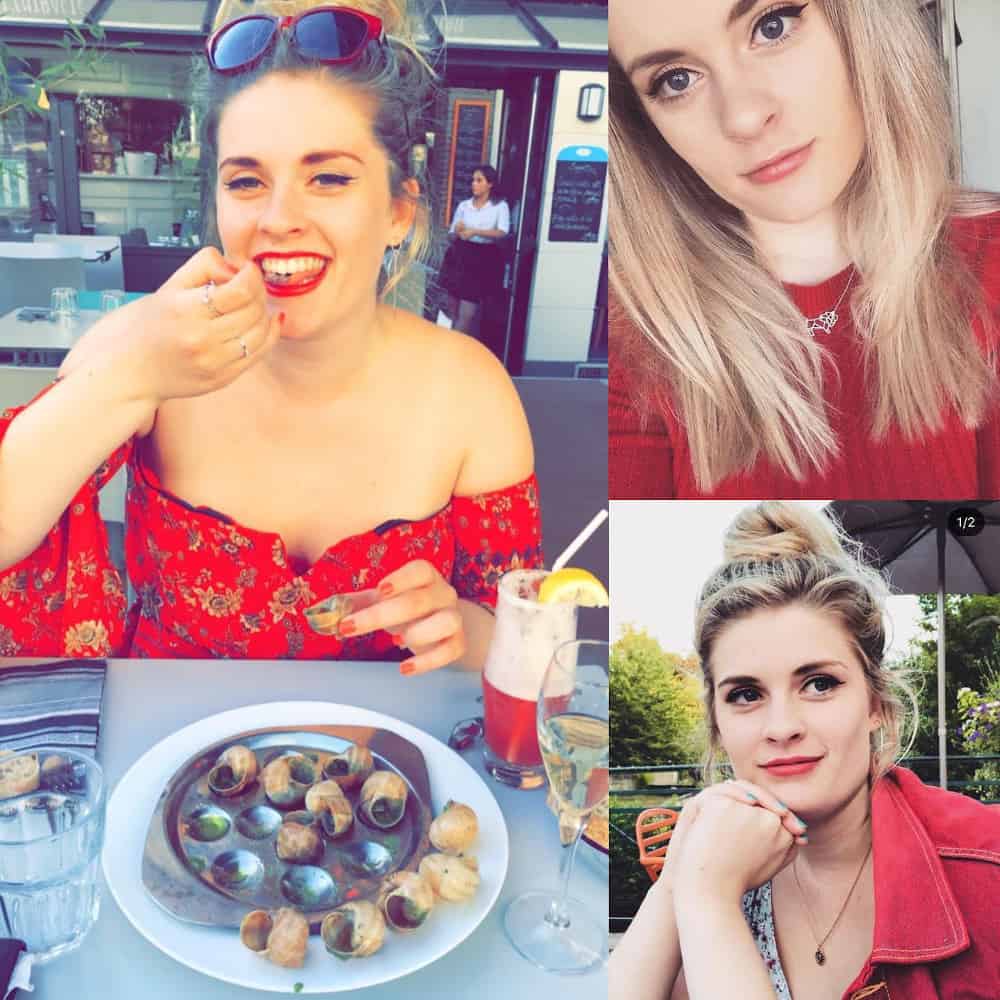 124. Lauren H. Logan
Today's #FancyScientist loves bows, tiaras, and wearing ties for conferences. Dr. Lauren H. Logan (@LHLogan1 on Twitter) is an interdisciplinary scientist with degrees in both science and engineering. Her research focuses on thermoelectric power plant water usage for cooling and its effects on aquatic stream ecology. She is also interested in the economic tradeoffs between electricity generation and environmental degradation. In addition to her fun style, she also wears pink every Wednesday and loves Halloween (me too!). Her and her husband host a yearly prom party (I should do this – my 30th theme was prom). She is a fur-mom to Gandalf, Gimli, and Greg, her two cats and hedgehog.
123. Dakota Lane
Today's #FancyScientist is Dakota Lane AKA @delaneii on Twitter. Dakota is an an undergraduate invertebrate ecology researcher who studies the interaction of neuron firing patterns and behavior. In their past research, they looked at escape mechanics in crayfish. Crayfish flick their tail and propel themselves backwards so Dakota's research focused on understanding the neuron firing pattern when they tried to escape. They also studied how natural compounds can influence these patterns, for example curare, a well known neurotoxin that blocks neurotransmitters from reaching muscle cells. Dakota enjoys sharing research with other people, especially kids because they get excited about small details. But Dakota is really are driven by the fact that their discoveries could help further life-saving studies. Dakota is also a poet, cellist (14 years), nature photographer, and filmmaker.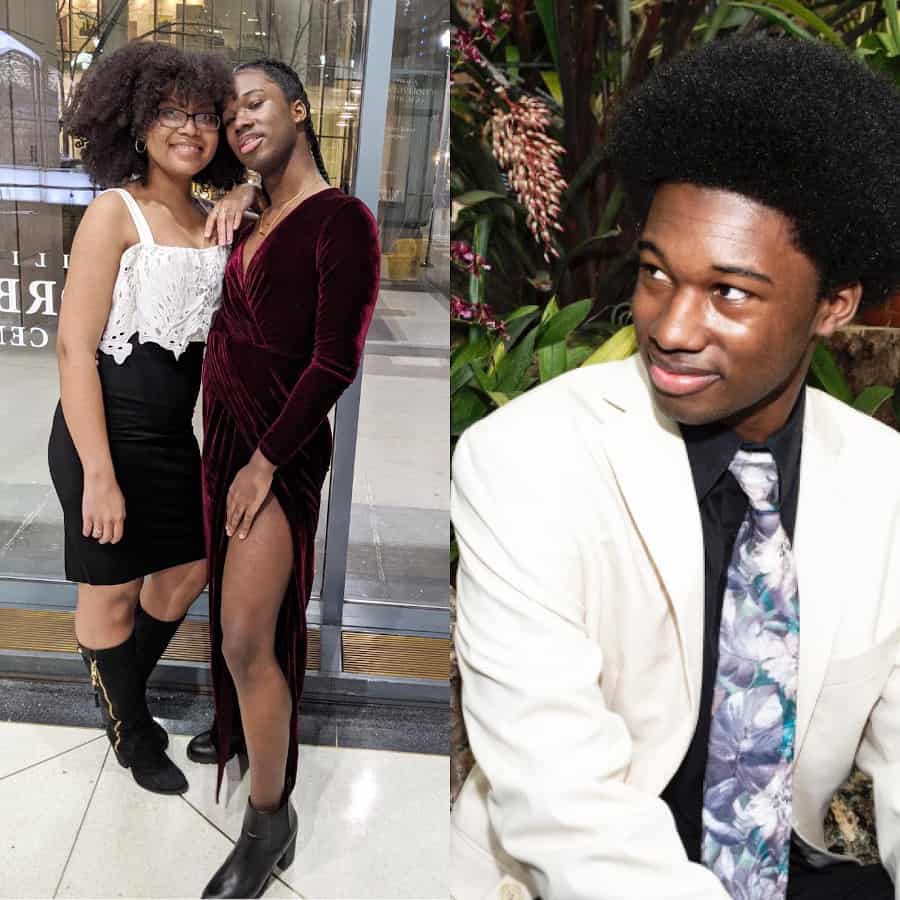 122. Joana Aggrey-Fynn
Today's #FancyScientist is very fancy, especially with her makeup. Joana Aggrey-Fynn (@FynnJoana on Twitter, @purpleme_realme on Instagram is a PhD student working in a pancreatic cancer epigenetics lab. Specifically, her research is focused on understanding the roles and therapeutic strategies of the Polycomb Repressive Complex in Pancreatic Cancer. Joana loves photography, modeling and even has a YouTube channel is based on makeup and skin care. She loves having a beat face (which means she has on a full face of gorgeous make up), long nails, reading fiction novels, and taking beautiful photos. Her makeup skills are very impressive.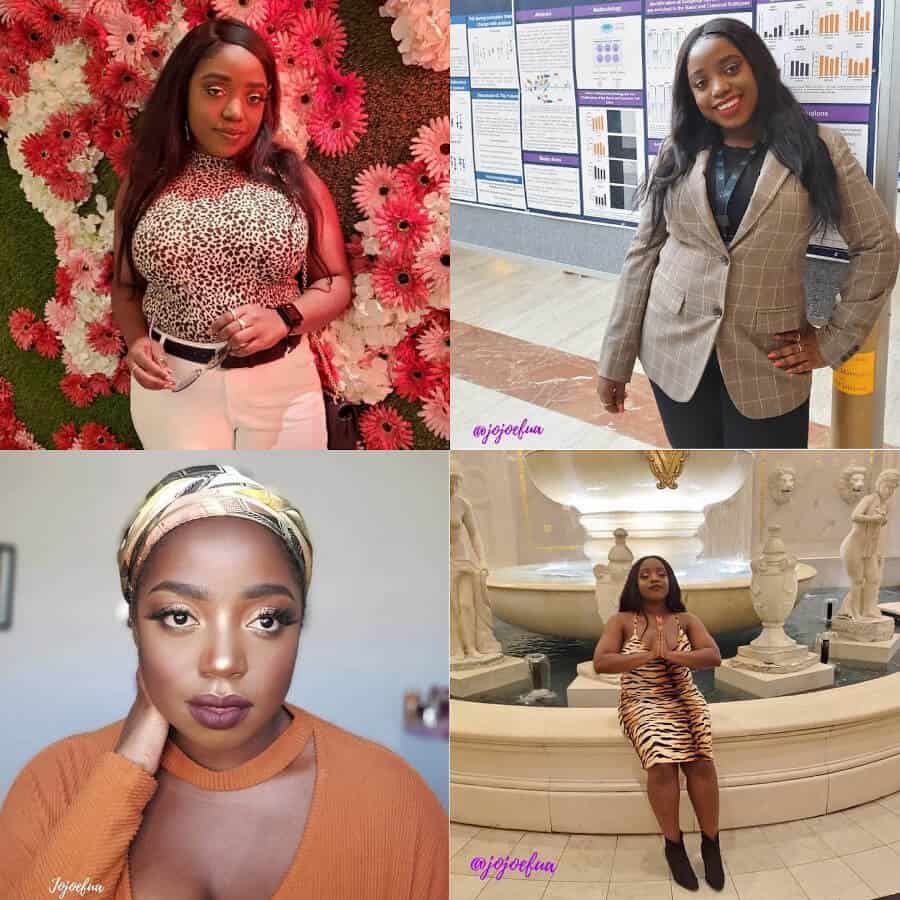 121. Stephanie Martin
Today's #FancyScientist is another Stephanie and another conservation science blogger! Stephanie Martin AKA @forestladysteph researched tropical forest ecology and is now a nature communicator. She works in journalism through presenting and content creation. Her blog, Step(h) Into Nature (I LOVE the title) highlights this incredible planet, offers conservation news, stories about her nature adventures, and job advice for careers in nature. Her whole life she has loved nature and stories and has pursued these passions to develop a unique and varied career, which has taken her all over the world. I "met" Stephanie through Pinterest, which is an underused social media platform for scientists, but highly effective. Check out her blog and pins!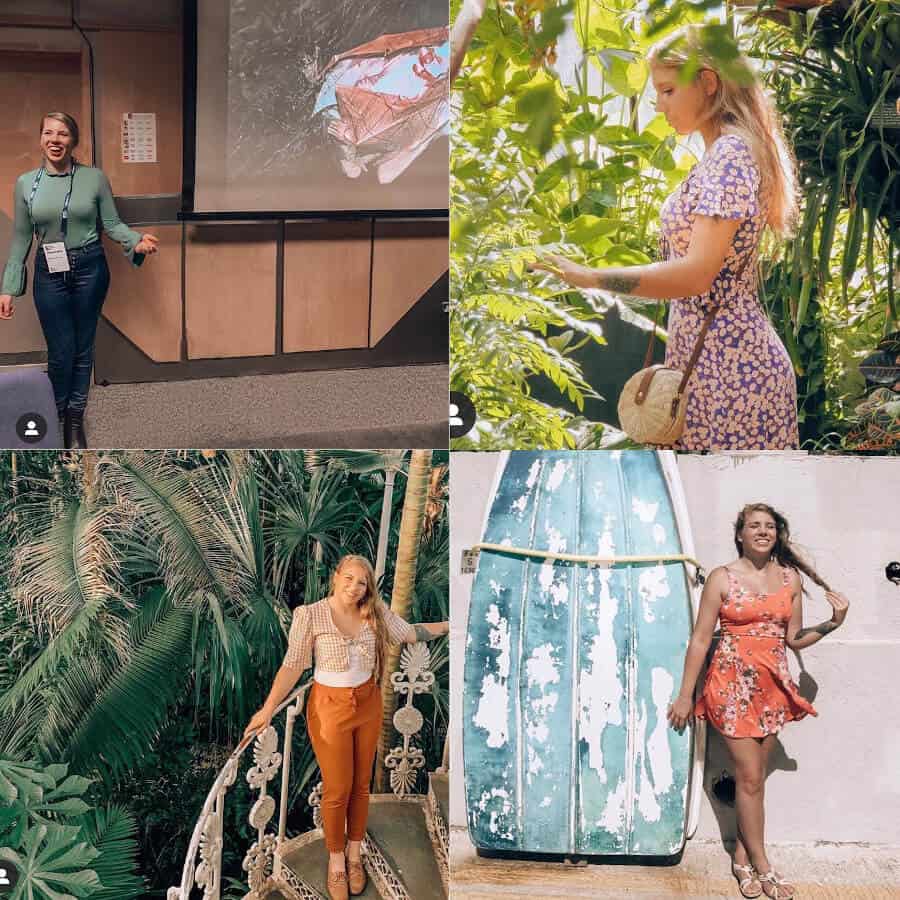 120. Kelley Voss
Today's Fancy Scientist is an octopus researcher with vintage style. @Kelley.voss studies the relationships between octopus body shape and their behavior, especially in predator-prey interactions. Specifically, she is looking at how octopuses use their arms in defense against predators like moray eels and rockfish. She wants to know how the patterns of arm amputations vary between sexes, species, and habitat. Kelley has amazing style and loves to wear vintage-inspired looks. I also love her tagline regarding fashion, "Vintage style, not vintage values."
119. Matt Davis
Today's Fancy Scientist is an ecologist and a drag queen. @Davis900 on Insta, @m_davis8802 on Twitter studies how kangaroos are using their habitats. Matt Davis mainly looks at their drinking habits in the desert region of New South Wales, Australia. To do this, he use various forms of technology, including camera traps to look at the times kangaroos are at specific sites like waterholes and GPS tracking collars to look at their movements. He also tests different ways to count kangaroo numbers to find the methods that give researchers the best estimates of their population size. Driving and helicopter surveys are the standard ways, but he is testing if drones and artificial intelligence can be used instead. In addition to all of this science, Matt is a fabulous drag queen.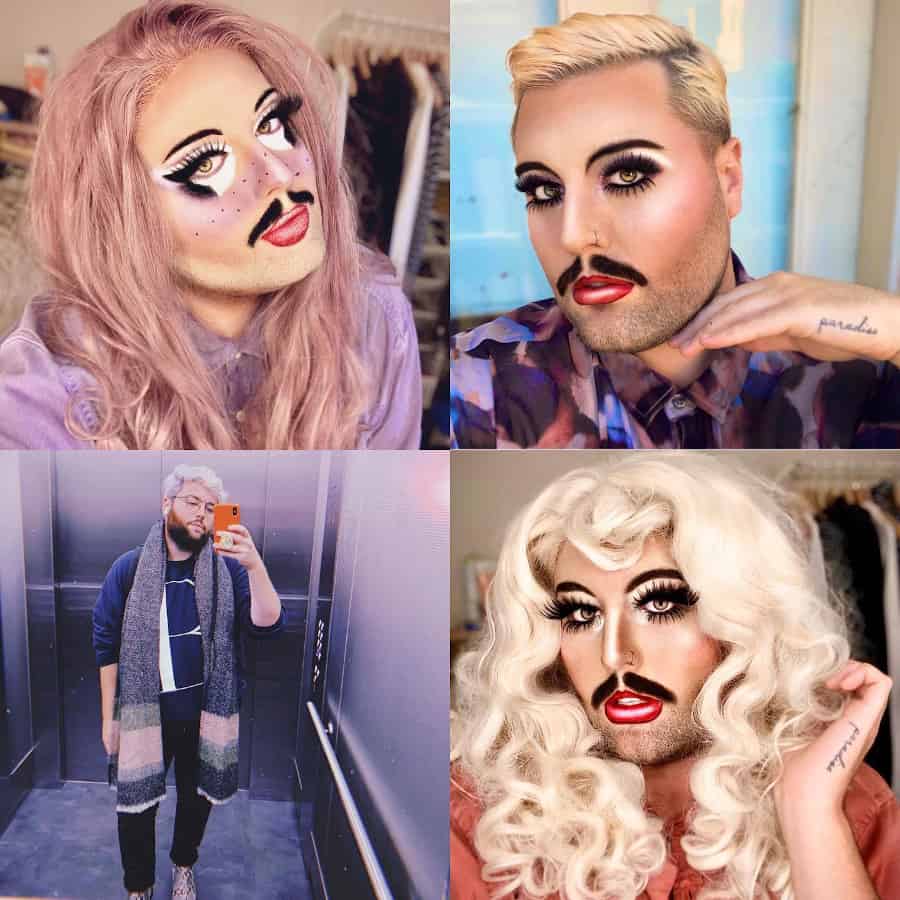 118. Merritt Moore
Today's Fancy Scientist truly shows that you can love art and science – you never have to choose. @Physicsonpointe is a professional ballet dancer and an academic quantum physicist. Merritt Moore has a PhD in Atomic and Laser Physics while pursuing a professional ballet career with the Zurich Ballet, Boston Ballet, English National Ballet, and Norwegian National Ballet to name a few. In addition to research and dance, Merritt created the group SASters (Science-Art-Sisters) to help inspire and encourage other young girls to pursue their interests in STEM, and participates in art exploring the interaction of artificial intelligence, creativity, and dance. One of her performances is a duet with an industrial robot. On top of all of that, she was also named one of Forbes 30 under 30. WOW!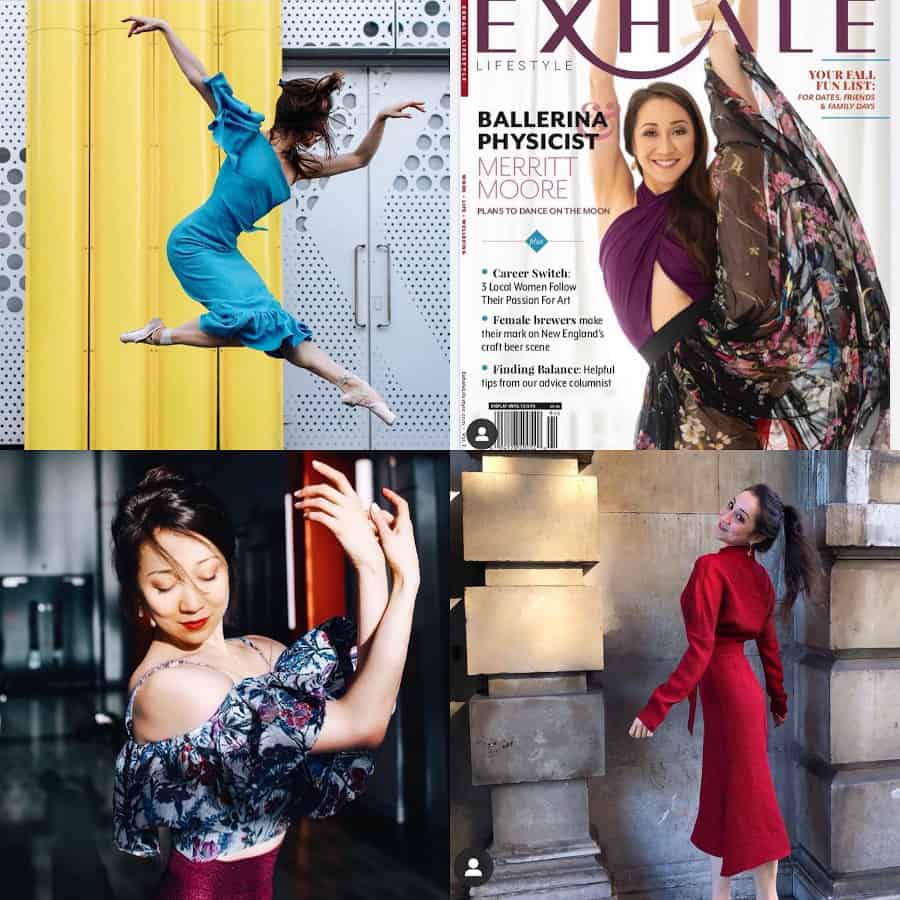 117. Stephanie Phillips
Today's Fancy Scientist is another Stephanie so that means she's automatically awesome. Stephanie Phillips AKA @OsmosisReads on Twitter is a non-traditional (32 yrs old) undergraduate student studying neuroscience. Currently, she works in a lab researching metastatic breast cancer therapies. She hopes to go to medical school and is passionate about curiosity, humanity and her dog. I get a lot of emails from people asking me if they are too old to become a scientist. Stephanie is a great example showing that you are not!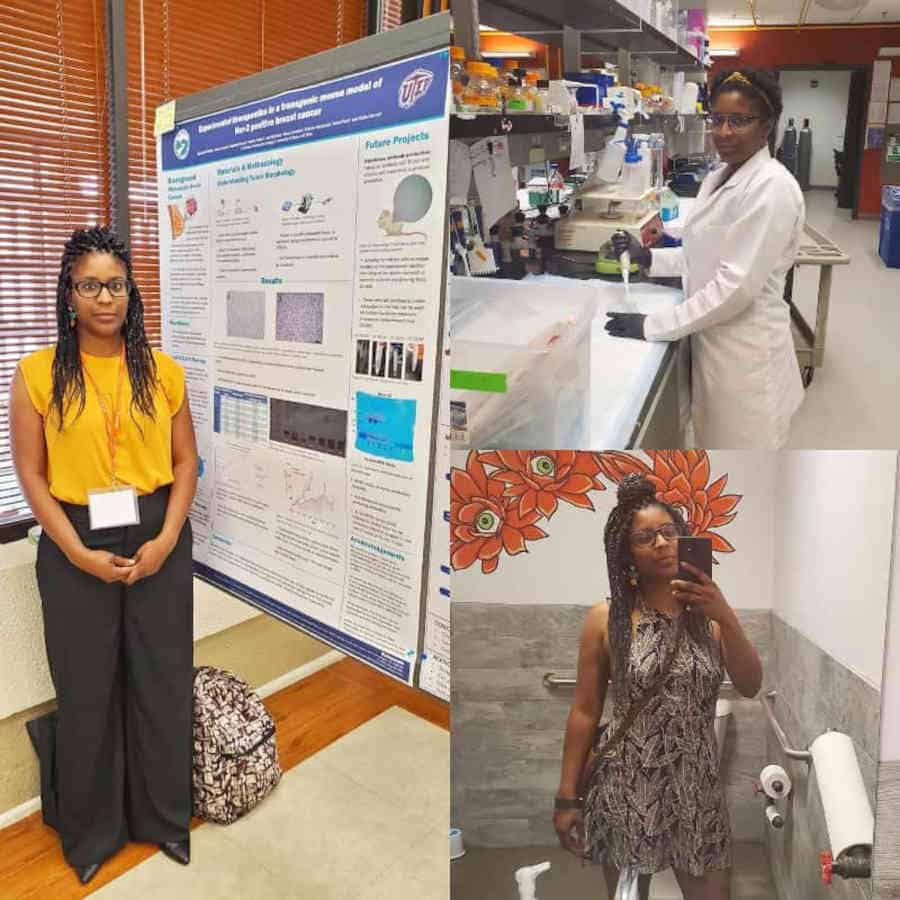 116. Jamie Benn Felix
Today's #FancyScientist is @JamieBennFelix on Twitter. Jammie is a fellow wildlife research scientist who has worked on conservation and One Health management. One Health is an initiative that recognizes the interconnection between people, animals, plants, and their shared environment. The current COVID-19 pandemic is an excellent example of how interconnected we all are. In her research, she combined her wildlife ecology background and vaccinology expertise to develop an oral anthrax vaccine to potentially protect wildlife worldwide. She also loves science communication and was a competitive cheerleader.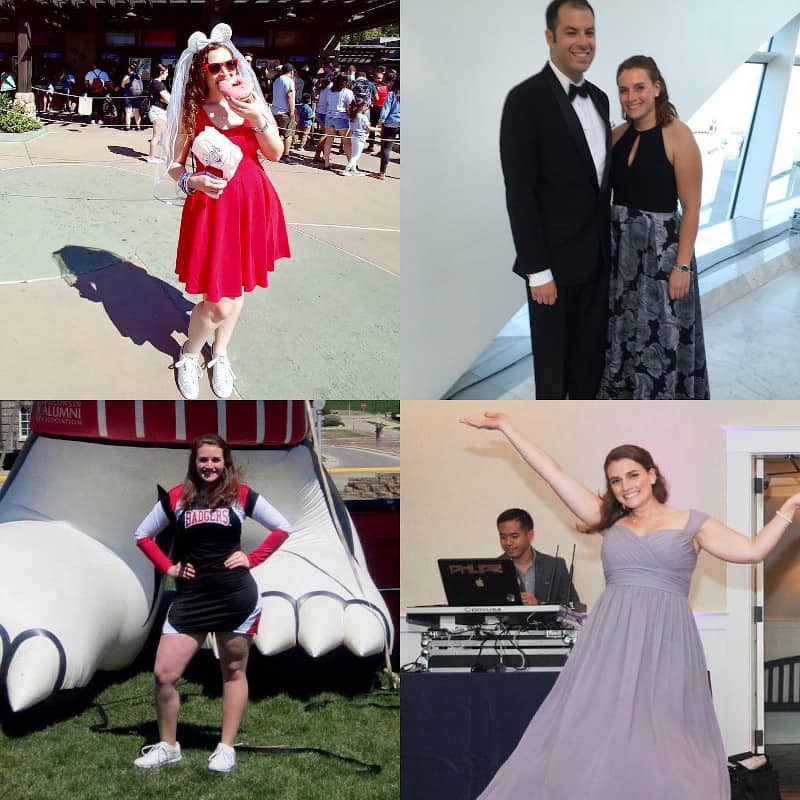 115. Maria Ibrahim
Today's #FancyScientist is Maria Ibrahim AKA @girlmeetsscience. Maria is pursing her PhD in molecular biosciences. Her research focuses on how autophagy plays a role in cancer metabolism. Autophagy is the regulated mechanism of the cell that removes unnecessary or dysfunctional components. Maria is really passionate about communicating science in a way for everyone to easily understand. Additionally, on her Insta page, she enjoys sharing tips for graduate students on things like how to pick a lab and stay organized. Make sure to check out her page to see photos of her working in lab and get great advice.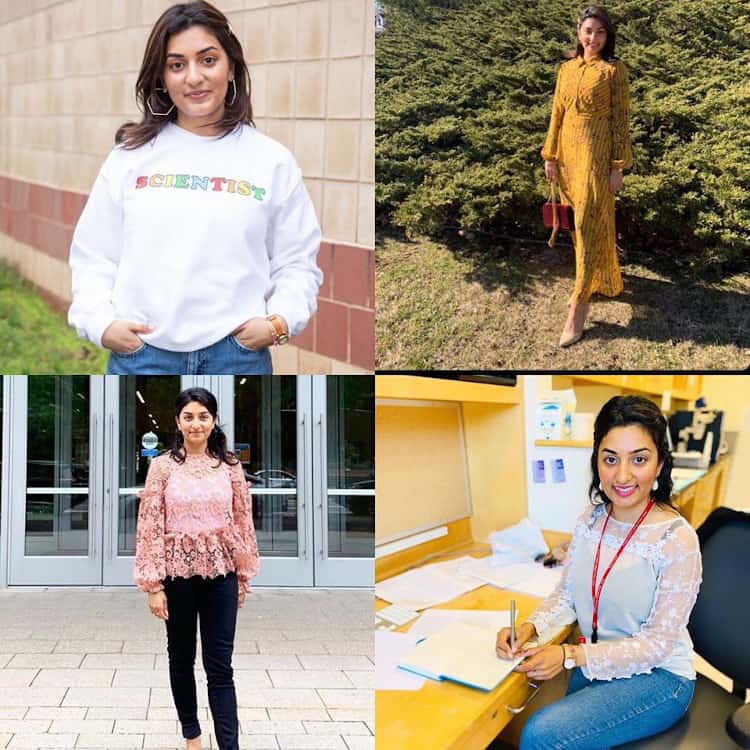 114. Isabella Mandl
Today's #FancyScientist is Dr. Bella AKA @LittleLeapers_ on Twitter. Bella is a conservation and wildlife biologist specialized in animal behavior. She has always been intrigued by animals and how they interact with their natural surroundings (me too!). She's worked with a wide range of species from geese to tortoises to fish. For her Masters research, she studied whether parrots recognized each other by voice and their faces and for her Ph.D., she studied a very endangered primate in Madagascar. She currently works with a local nonprofit developing conservation research projects. One of them is on an endemic flying fox species – the Livingstone's flying fox, of which there are only about 1200 individuals left worldwide. Bella loves living outdoors, washing in streams and climbing the odd tree, but she also loves getting dressed up and glamorous! She even wrote a blog post telling women not to be shy and hide their femininity at conferences.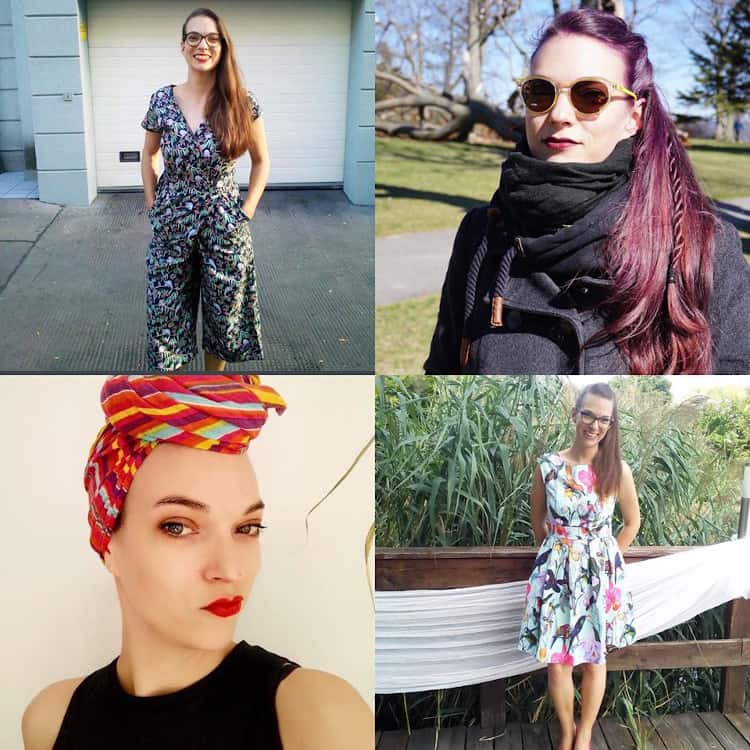 113. Ben Britton
Today's #FancyScientist is "atomic wizard" Ben Britton (@benjamin.britton on Insta, @BMatB on Twitter). Ben is part of a group of researchers specializing in materials science and engineering, primarily of metallic alloys and ceramic/metallic composites. Ben focuses on getting to the bottom of the strength – property – performance relationship of real alloys used in high value engineering applications such as nuclear power, aerospace, and oil & gas applications. He combines a range of appropriate techniques, such as digital image correlation, electron backscatter diffraction and micro-mechanical testing to understand processes such as fatigue crack initiation, plastic deformation and microstructural evolution in metallic and metallic/ceramic materials.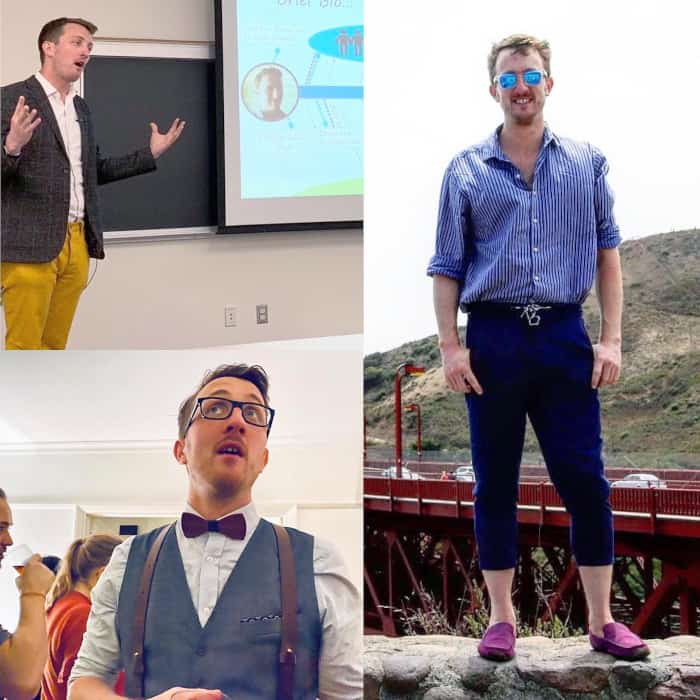 112. Maya Degrood
Today's #FancyScientist describes herself as "Elle Woods but with science and queerness." Maya Degrood AKA @MolecularMaven (Insta) and @LabLesbian (Twitter) is pursuing a career in cancer research, a long sought after passion of hers. She fell in love with DNA as a child and is now studying the molecular origins of endometrial cancers using organoids. Maya is also a science communicator through her social media and blog. She hopes to advocate for female and queer representation in STEM fields and to increase scientific literacy of the public. Outside of science, Maya is passionate about music, makeup, fashion, philosophy, and cats. We would get along great!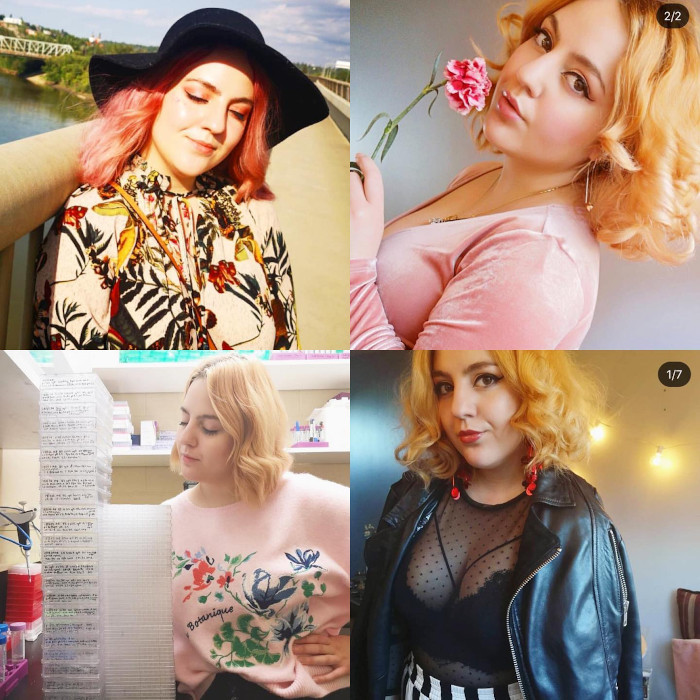 111. Poornima Peiris
Today's #FancyScientist is a scientist that oozes style. @stemcorps works with a Nanophotonics group at Harvard that studies the absorption of nanomaterial and multispectral analysis, as well as nanostructured semiconductors and metallic nanowires. These materials are used to fabricate electromechanical and photonic sensors for various applications in precision medicine, agriculture, environmental studies and microfluidics. Specifically, Poornima Peiris is focusing on developing a state of the art multispectral imaging camera/technique for a mining application. Poornima is also an engineer, artist, and advocate for the underserved and underrepresented in the STEM (science, math, engineering, and technology) community. Make sure to check out her page to see photos and important messages of her and other women in STEM.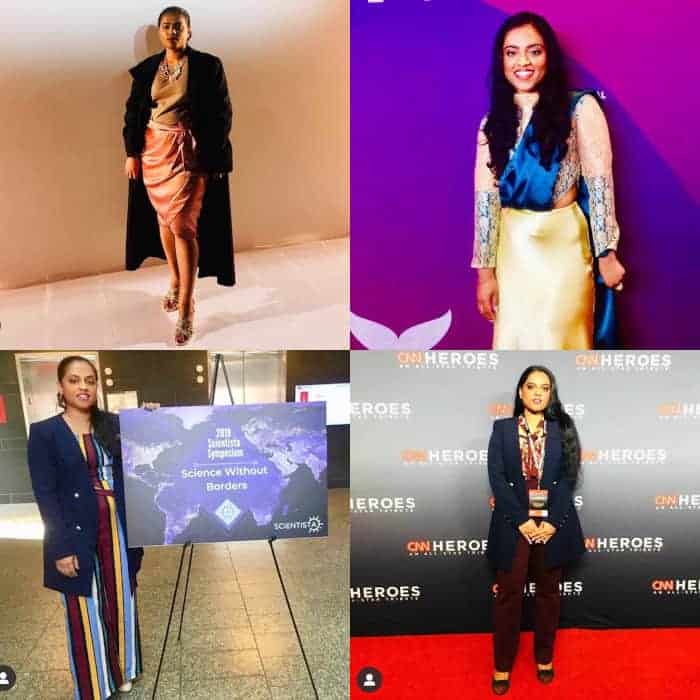 110. Dorian Frazier
Today's #FancyScientist, @dorisaurusrex (Twitter), is doing some really amazing and important research. Dorian Frazier works at the Lee Patterson Immunobiology Laboratory, which has a strong focus in transplantation immunology. Currently, her research is on knocking down beta-2-microglobulin, part of MHC class I. If successful, this could a mean a decrease in the amount of graft rejection that occurs with lung transplantation. Let's hope her research is a big success!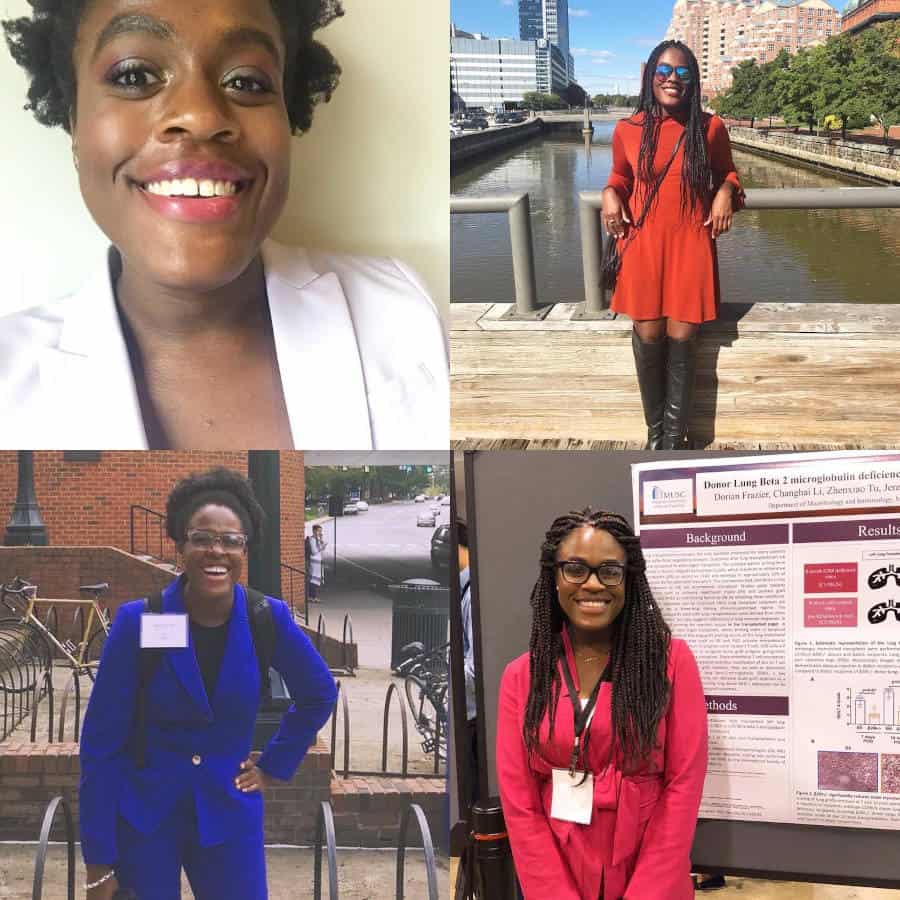 109. Elly Birchall
Today's #FancyScientist is out of this world! (Sorry, dad joke). @ellykaybee (Twitter) is an astrophysics PhD student working on star and planet formation. Elly Birchall uses a supercomputer to make simulations of the collapse of clouds of dust and gas into stars. (Um, how cool is that?) Previously she studied the early stages of planets and how they can grow from discs of dust and gas around young stars. Her other interests are baking, sewing, geology, and unicorns, and ask you can tell from her photos, the color pink. She also makes clothes including the cool space one she wore to her masters graduation.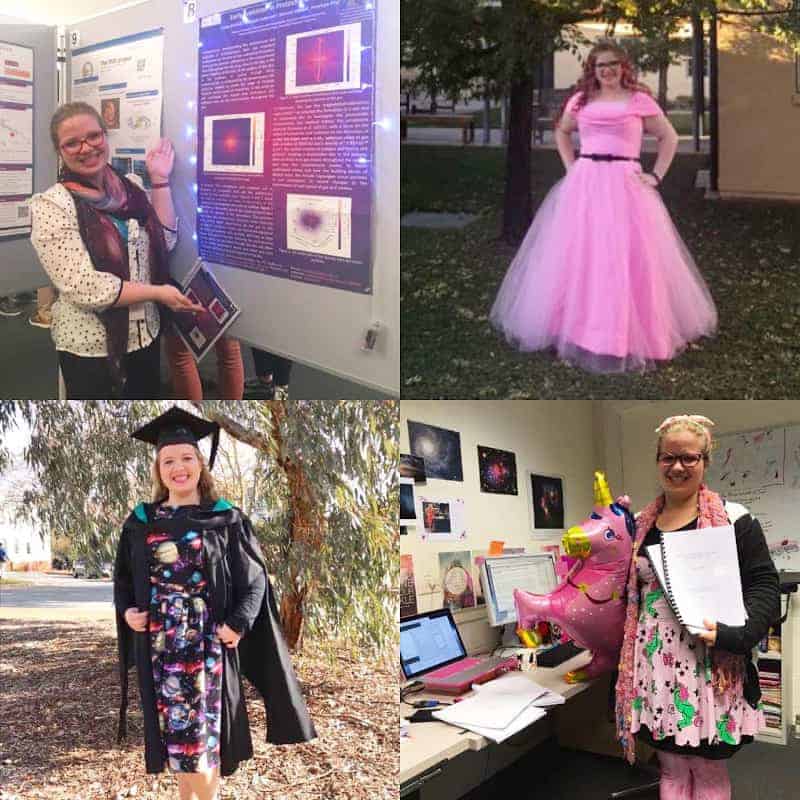 108. Kaela O'Connor
Today's #FancyScientist likes to be stylish and sustainable by shopping secondhand. @kaelaoconnor31/@girlwiththesciencetattoo studies how Alzheimer's Disease spreads in the brain. Scientists know that it always follows a very specific path around the brain but they don't know why or how, and that's exactly what Kaela's trying to figure out, which could be valuable information in new treatment options. Kaela also used to work with stem cells as a means to potentially treat stroke patients and has serotonin tattooed on her arm. This is the neurotransmitter (brain chemical) that may be responsible for feelings of happiness & calmness. Outside the lab, she foster kittens – and have had up to 7 at once! Why am I not doing this?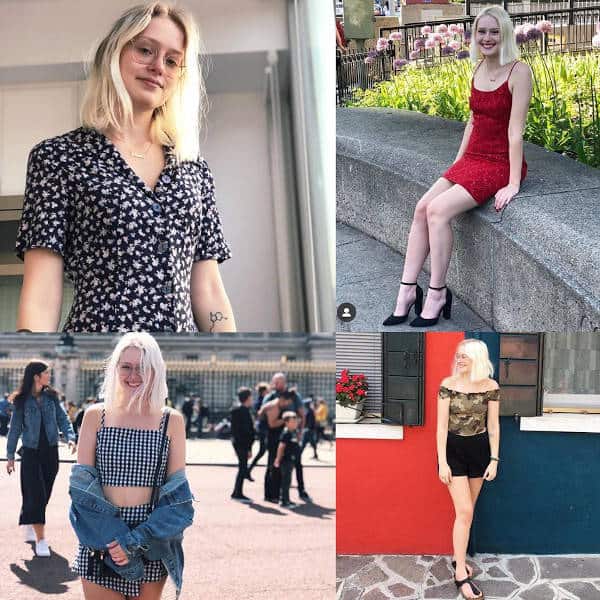 107. Divya Persaud
I fell in love with today's #FancyScientist @divyamper's style when I saw her respond to a stylish scientist thread on Twitter. Divya Persaud is a planetary scientist, writer, and composer. Her research focuses on using remote sensing for planetary geology and geophysics. She has developed new methods for remote sensing analysis, for example adapting LIDAR (Light Detection and Ranging) data for Mercury's surface geochemistry and using stereo topography to study the impact craters on and geophysics of Saturn's icy moons! (And I'm over here just looking at photos of animals). To top it all off, she has written several books of poems and made an album (They Will Be Free) about humanity's search for life in the Universe. Photos taken by Najia Khaled.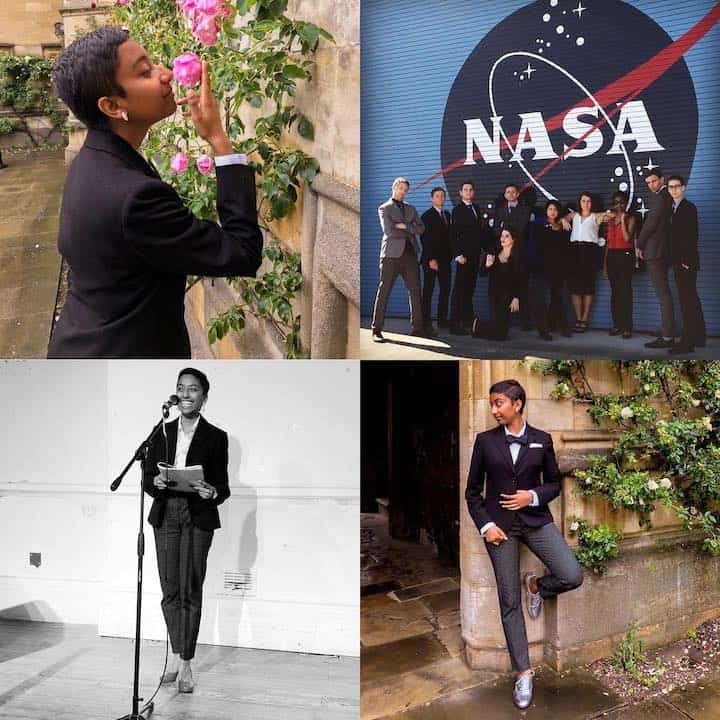 106. Taylor Evans
Today's #FancyScientist is another ultra fashionista! @stylishlytaylored believes you don't have to choose between style, science and medicine – you can have them all (preach)! And that is exactly what she does. Taylor Evans studies neurological disorders like schizophrenia and autism at Johns Hopkins. She does so by trying to understand the molecular mechanisms of environmental interactions on genes that lead to such disorders. She also runs a super stylish fashion blog at stylishlytaylored.com where you can find tons of fashion inspo, shop her styles, and be incredibly empowered. Like me, one of Taylor's goals is to break the scientist stereotype.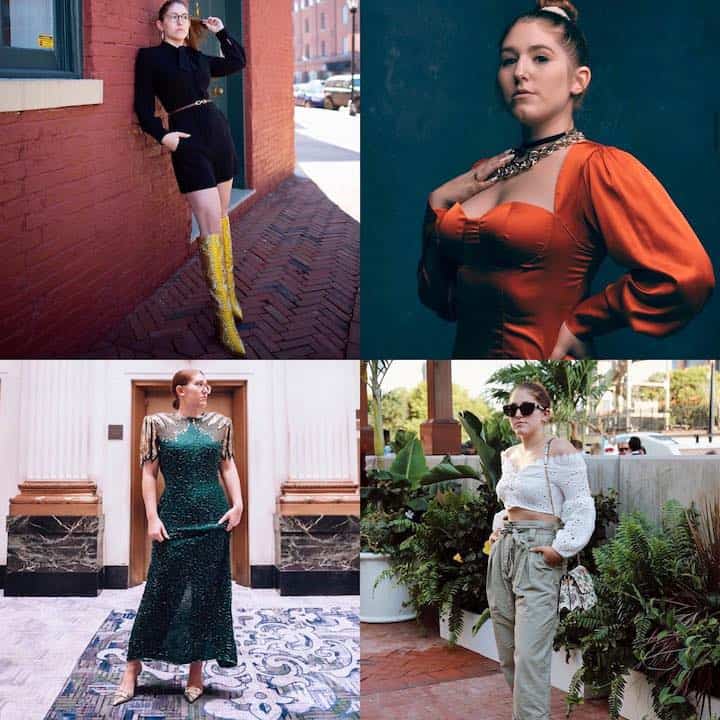 105. Silvia Arossa
Today's #FancyScienitst is @Sissabio! Silvia Arossa is a super fashionable marine biologist currently getting her Ph.D. For her master's she worked on sea anemones (an animal I love): their life cycle, symbiosis with zooxanthellae and Reactive Oxygen Species production. Afterwards, she investigated the effects of environmental contaminants on fish. Environmental pollution and its effects on both environment and aquatic organisms have been the common theme of her whole career. She is interested in deepening our knowledge about plastic pollution and how this contaminant can affect both marine biota and oceans. Want to see more of Silvia's fabulous outfits? She has a YouTube channel as well where you can see more of her perfectly put together outfits.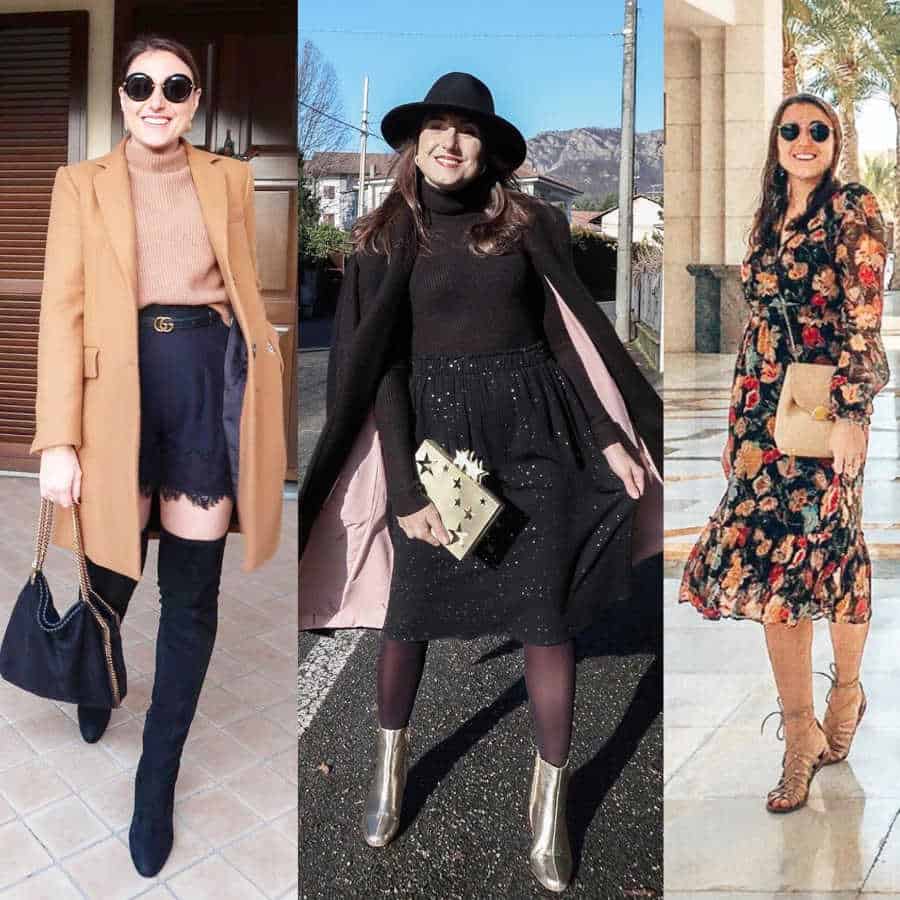 104. Brittney Elizabeth Stoneburg
One of the things I love about featuring a different fancy scientist each week is that they each have their own unique sense of style. I just adore @Brittandbone's vintage looks and especially her incorporation of menswear! Brittney is the Outreach & Communications Coordinator for the Western Science Center, cofounder of @CosplayforScience, and a paleontologist who conducts research on horses and mastodons. She is currently studying for her MSc in Environmental Studies and is increasingly interested in the intersection between paleontology and the humanities. Make sure to take some time today to scroll through her feed to see some of her amazing looks!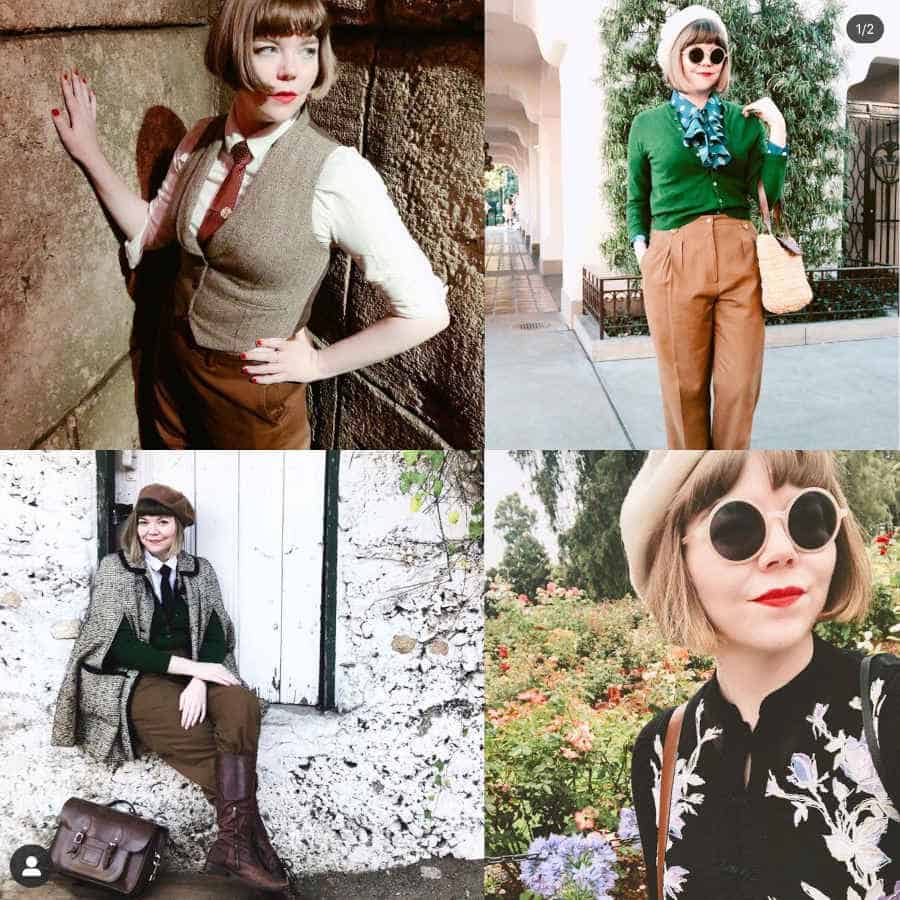 103. Briana Bohannon
Today's #FancyScientist studies some complex stuff! @seabreezelife is a biophysicist investigating inhibitory circuit plasticity in the rodent somatosensory cortex. This is the part of the brain that receives and processes sensory information. Briana Bohannon is interested in and studies how specific cell types, with unique biophysical properties, contribute to circuit function in health and in psychiatric/neurological conditions. When she is not in the lab, you find her doing some super cool yoga poses!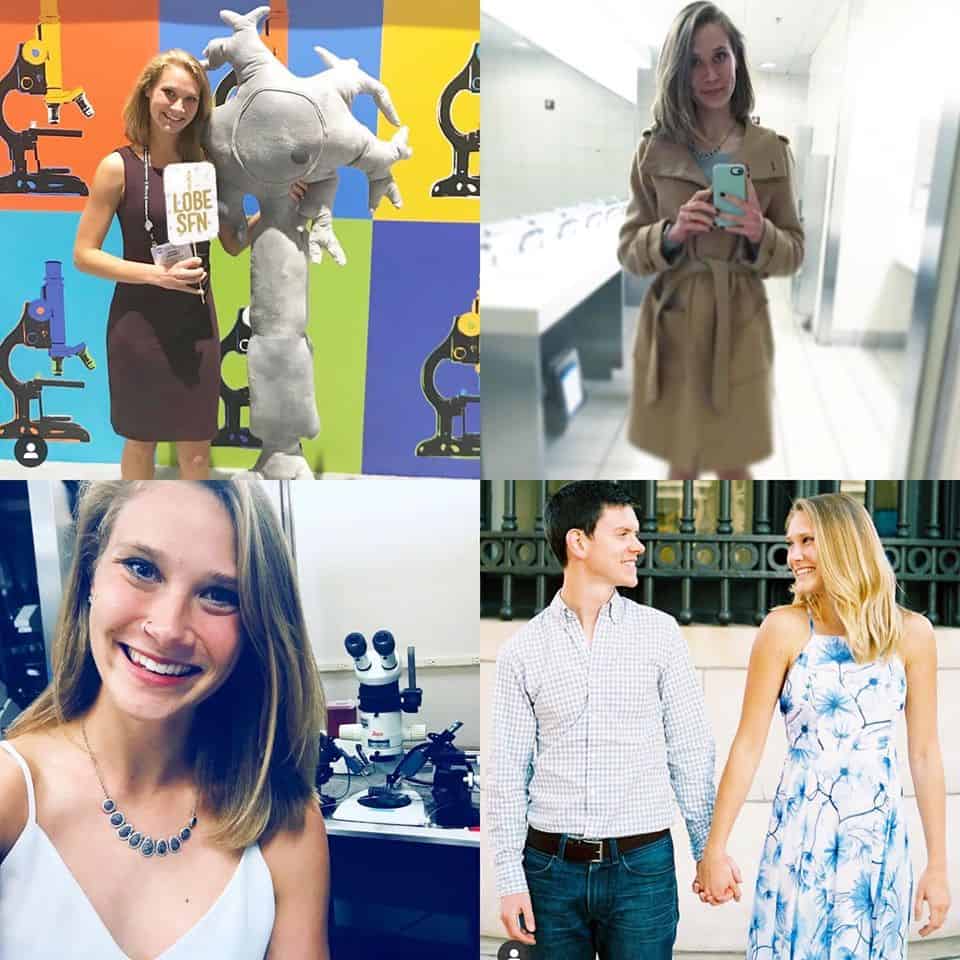 102. Tierney Brosius
Today's #FancyScientist is probably our most biodiverse fashionista yet, especially when it comes to insects. Tierney Brosius AKA @Dr.Beetle is an Associate Professor of Biology who studies insects. No surprises there????. She is interested in insect conservation, urban ecology, and cultural entomology. Her goal is to understand how the lack of naturally occurring fires and urbanization interact to influence forest ecosystem composition and structure amongst different species. I had such a hard time choosing from all of her photos, so you need to check out her insta yourself. Many of the items are made by her!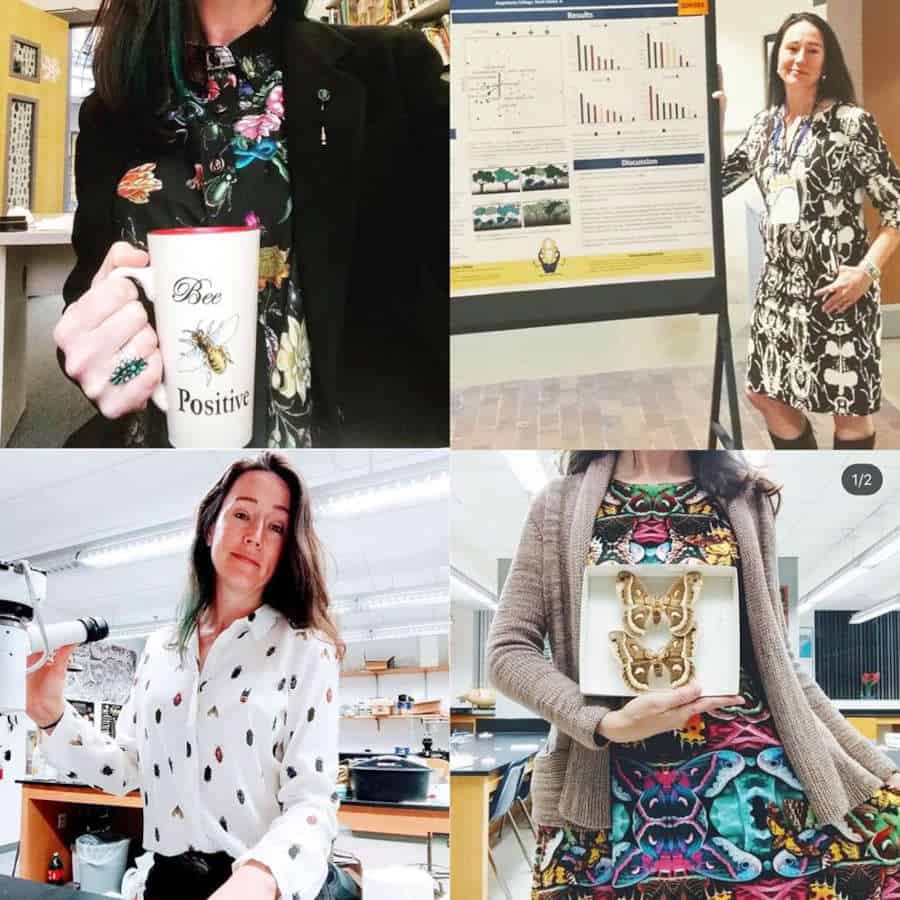 101. Leah Gaines-Sewell
I simply love today's #FancyScientist's Instagram handle: @MuddyMermaid. Leah Gaines-Sewell is a stream ecologist studying how hydrologic variations affect food chain lengths in desert streams. In her masters' research, she studied bayou killfish, which is not a good description of this fish! I had to google it and it is cute and little. Leah has worked for 10 years as a marine educator teaching barrier island ecology and even led shark research and tagging trips for middle and high schoolers. Man, those kids are lucky! Leah's love of coastal ecosystems came from growing up fishing and beach combing along the Mississippi Gulf Coast. (Side note: I love beach-combing too). While her heart will always be at the beach, enjoys spending her time spent hiking and exploring the Sonoran Desert streams.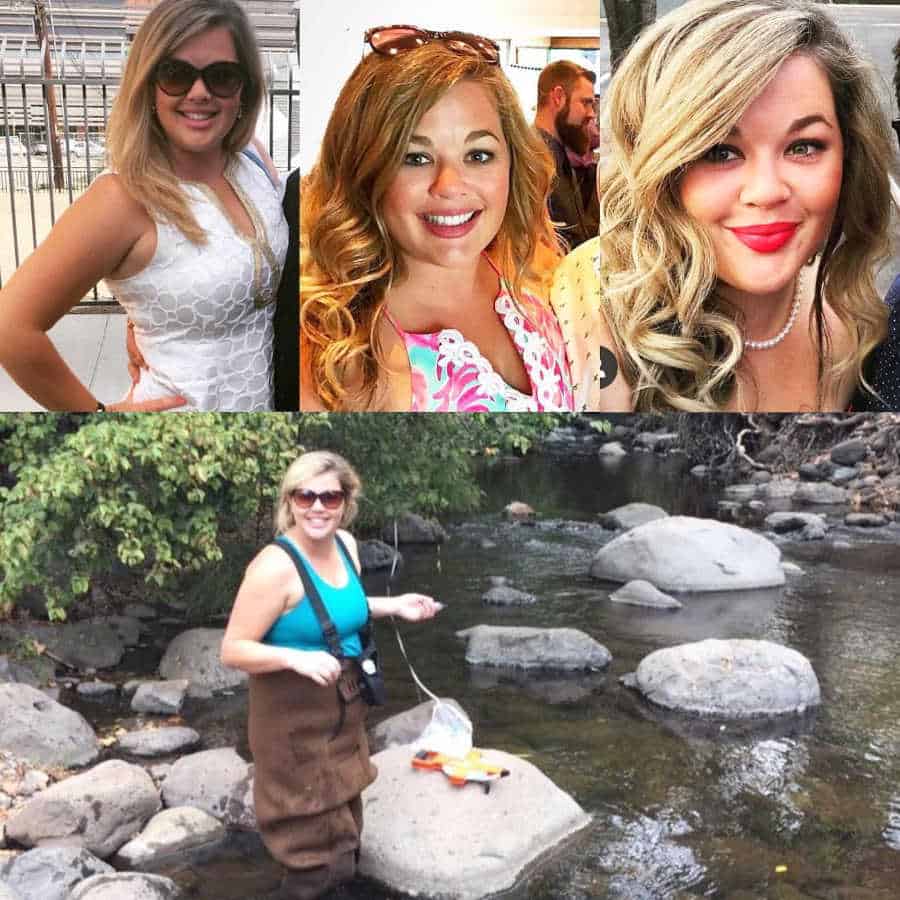 100. Eva Bloom
Today's #FancyScientist is social scientist and YouTube sensation @WhatsMyBodyDoing. Eva Bloom recently graduated with a Masters studying the sexting habits among young women. She found that women who sexted were more likely to communicate about their sexual health, and women who sexted weekly or more were more sexually satisfied. She hopes that the research she conducts destigmatizes sexting and highlights the power of technology to facilitate communication about sexuality! She also does this through her amazing YouTube channel of the same name.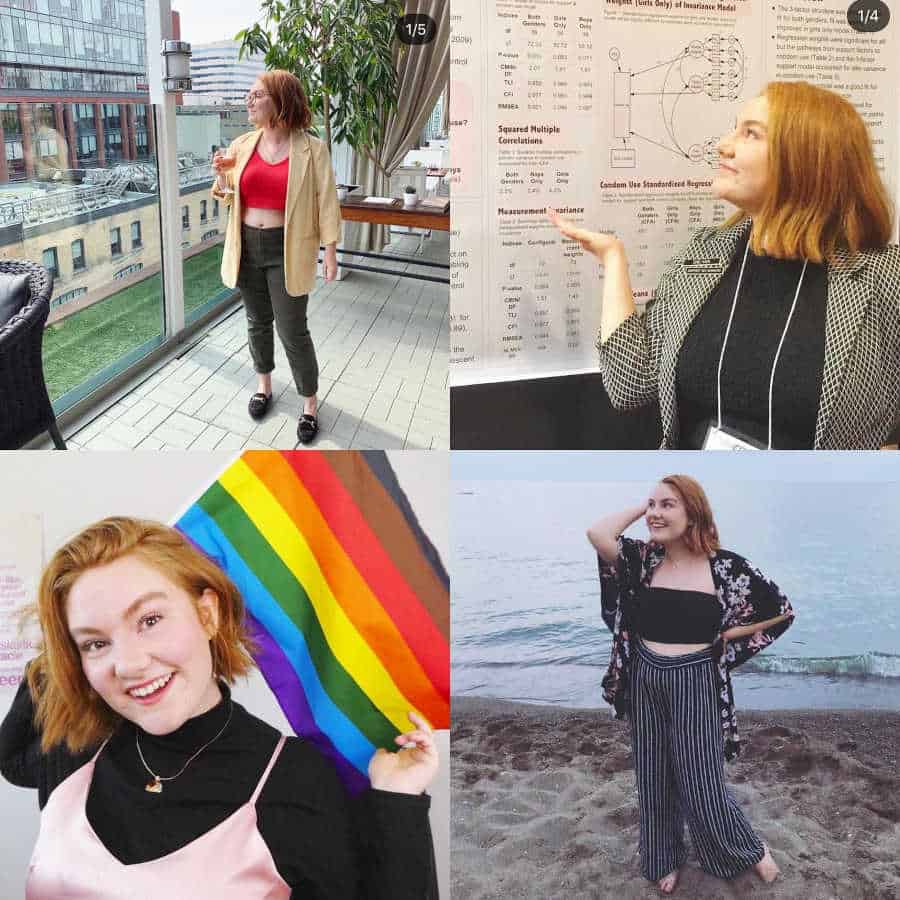 99. Andrew Budsock
Today's #FancyScientist is @AndrewBudsock! Andrew recently graduated with a Master's degree in conservation biology investigating the impact of drought on tropical forests using remote sensing and statistical modeling. In addition to academia, he is a magazine editor and columnist (Impakter Magazine), a U.S. State Department Fellow, and Environment and Sustainability Delegate at the Harvard Project for Asian and International Relations (wow!). With extensive global experience in the private and nonprofit sectors, he has a diverse background in foreign language, writing, research, and analytics. He wants to take his scientific background into the private sector to apply data-driven approaches to incorporating sustainability into business strategies. Yes, I love it!????????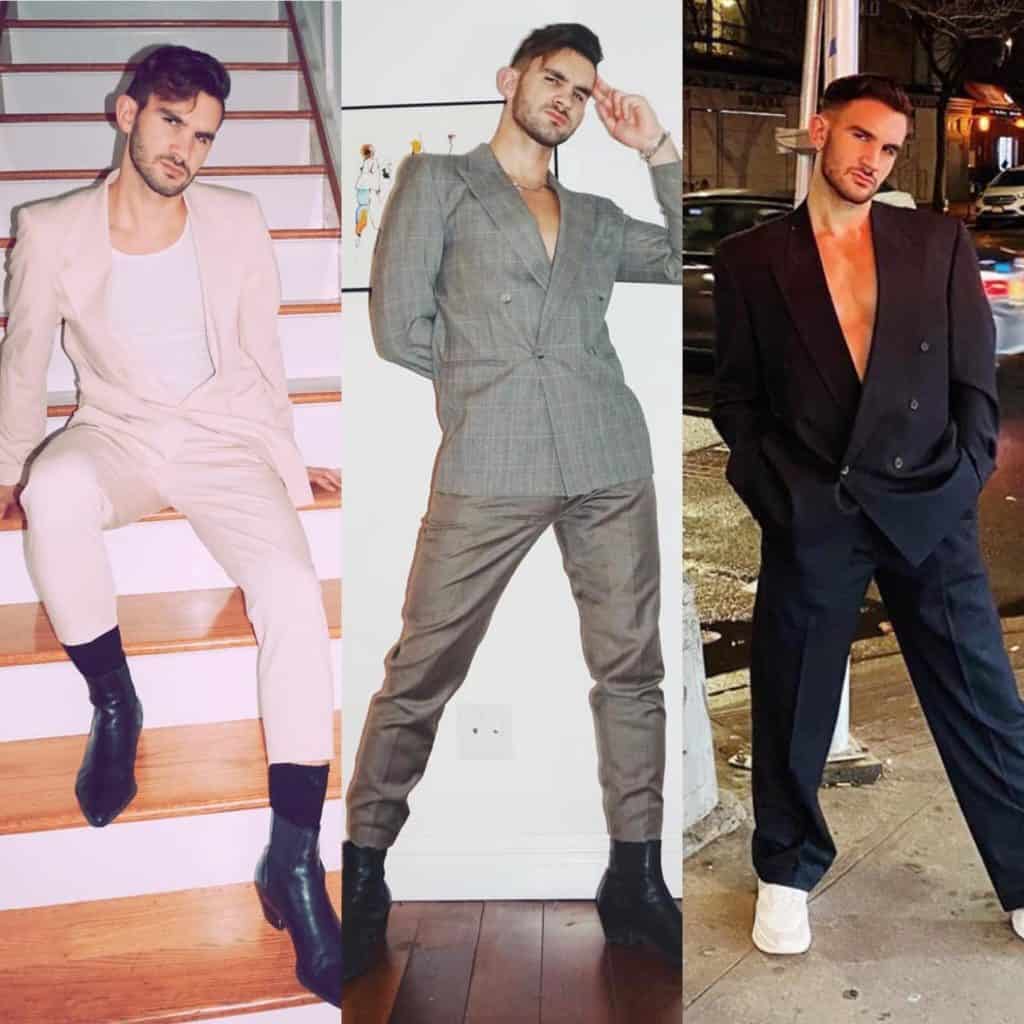 98. Christine Streeter
Today's #FancyScientist @scholarculture AKA Christine Streeter studies what precarious employment in Ontario looks like for youth across social dimensions, locations and contexts. Through her research, she will be able to identify factors that contribute to precarious employment, and indicate the most common ones in various industries, occupations and geographical locations. She hopes to use her research to improve employment outcomes for youth in the Ontario labour market. If that wasn't enough, she also runs Scholar culture, a blog for scholars who are searching for motivation, tools, and a space to socialize with others who are "not too cool for school". Scholar culture is a place for the grad school community to come together and share their experiences to increase their confidence and happiness as scholars. They discuss promising practices and strategies to help our grad school and personal life coexist.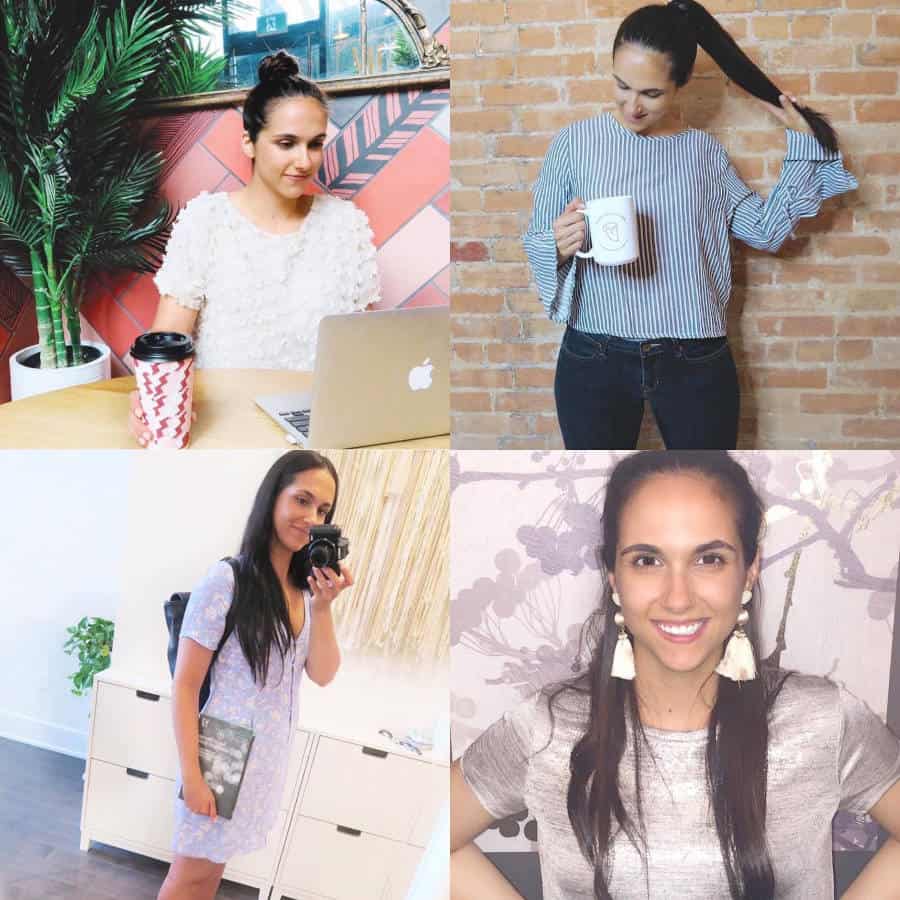 97. Olivia Kugler-Umaña
Today's #FancyScientist is super fancy in the makeup arena. So fancy that it is her Instagram handle: @scientistinmakeup. Olivia Kugler-Umaña is 1st generation Ph.D. Candidate Salvadoreña studying immunology. She also works for the nonprofit Piña Soul, which advocates for the healing of Indigenous landscapes and environments through environmental restoration & Indigenous science. As a child, she was raised in a tight-knit Salvadoran community composed of undocumented and working-class immigrants. She strongly believes in the power of community and the need to center Indigenous voices in the case of environmental conservation and climate change. In her free time, she loves to use the power of social media to boost Indigenous artist work and creates make-up looks inspired by their work.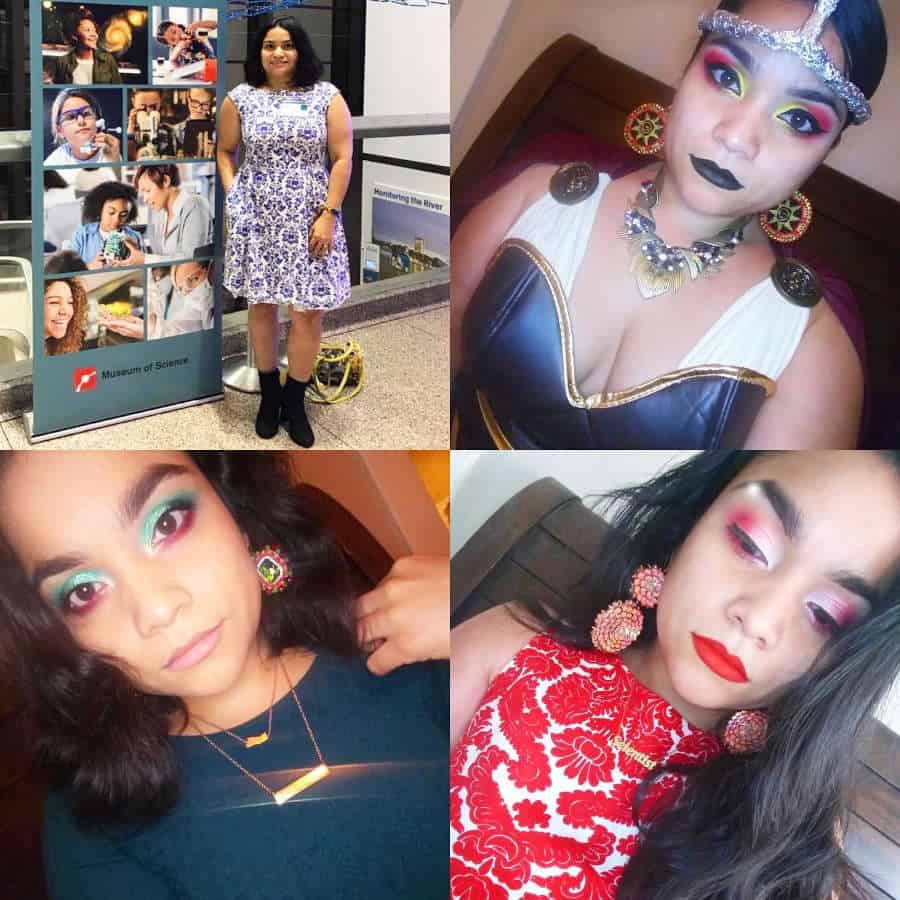 96. Robin Hawyard
Today's #FancyScientist shares a lot of the same values as me – a strong interest in conservation and eduction. Robin Hayward AKA @CanopyRobin is a PhD researcher in tropical ecology, studying the ways that rainforest tree communities recover after logging. They have worked in the forests of Dominica and Indonesia, and first discovered their enthusiasm for science communication by working with school groups in the field. Since then, they have continued to work with schools around the world to teach science and are always looking for more opportunities to get people interested in nature (me too!)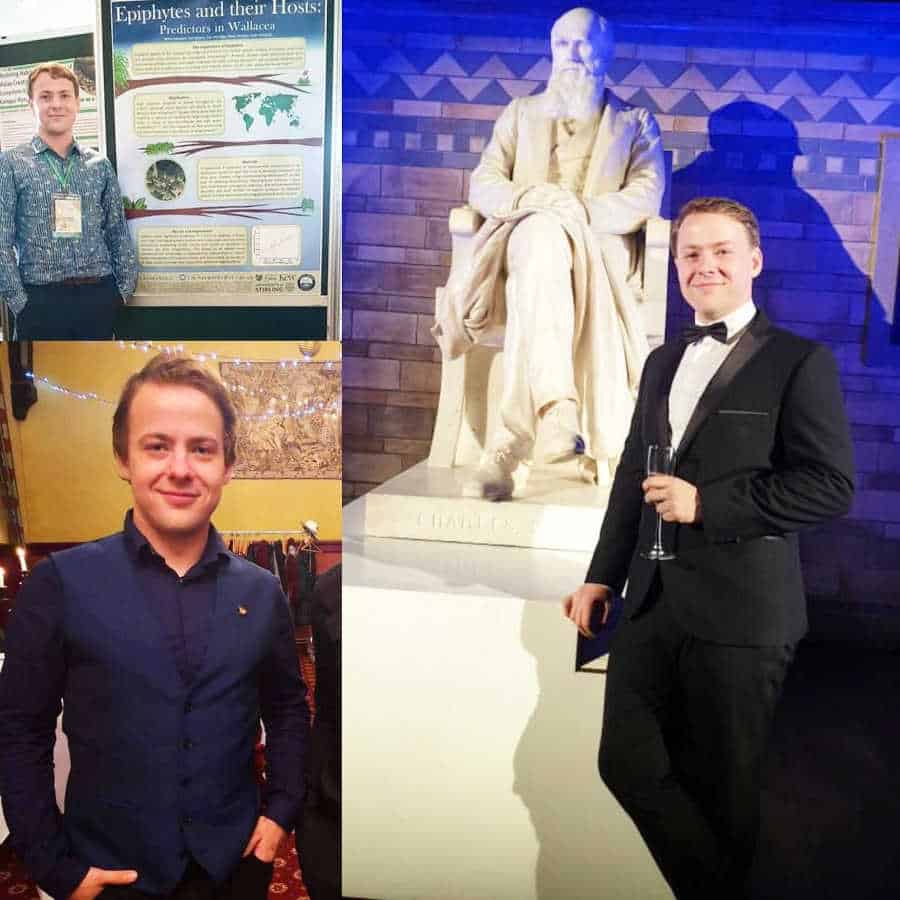 95. Ella Beaudoin
Our first archeologist for #FancyFriday! And @simple_homo_slaypien doesn't look anything like Indian Jones. Ella Beaudoin is a Paleolithic archaeologist whose research interests span from cultural adaption and resistance to colonialism to early hominin cultural evolution and landscape use. She has conducts her research in the US, Kenya (yay!), and South Africa. She now works at the Smithsonian as the manager for a National Science Foundation-funded education research project focusing on the teaching and learning of evolution in Alabama high school classrooms.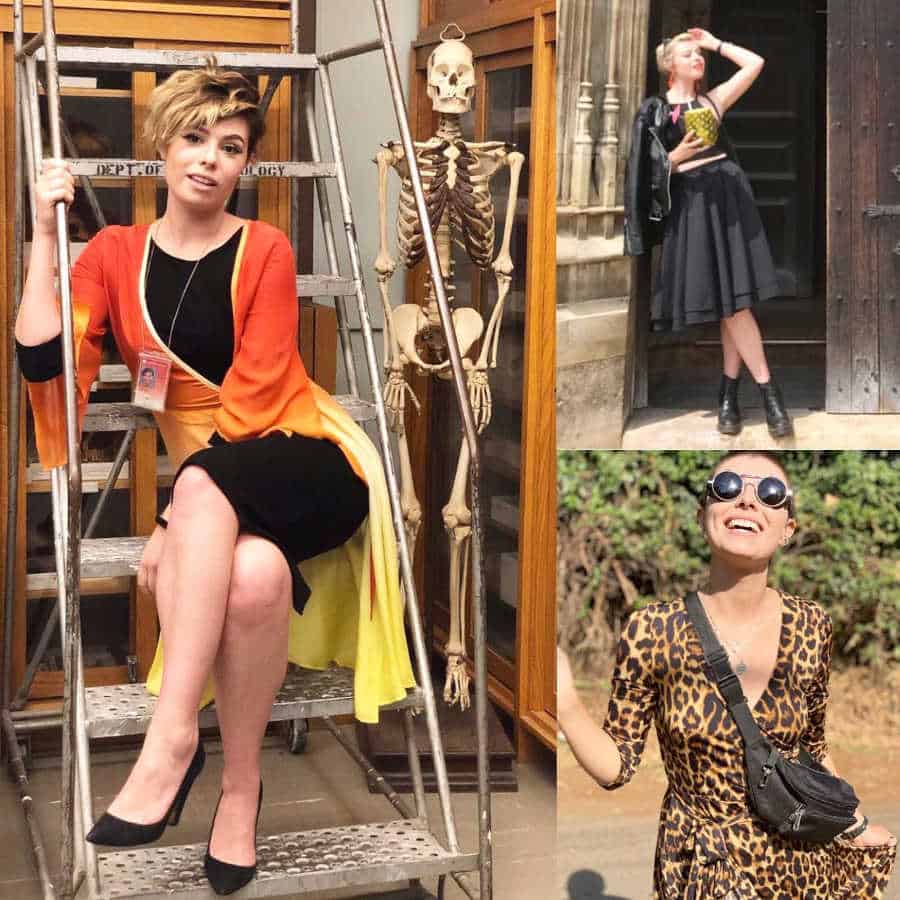 94. JJ Eldridge
You know how much I love biodiverse fashion, well today our #FancyScientist's fashion is out of this world (LOL, bad pun). But for real, @astro_jje has some super fun space-inspired clothes. Dr. JJ Eldridge is a Senior Lecturer in Physics at the University of Auckland. She studies the lives and deaths of stars – from those in our own Galaxy to those in galaxies at the edge of the observable Universe. She is particularly interested in the the effects of binary interactions on the lives of binary stars and how these change the appearance of galaxies and alter the rates of different types of supernovae and gravitational wave events. She also enjoys exploring the myths of gender binary here on Earth and is a speaker, sci-fi addict, and feminist.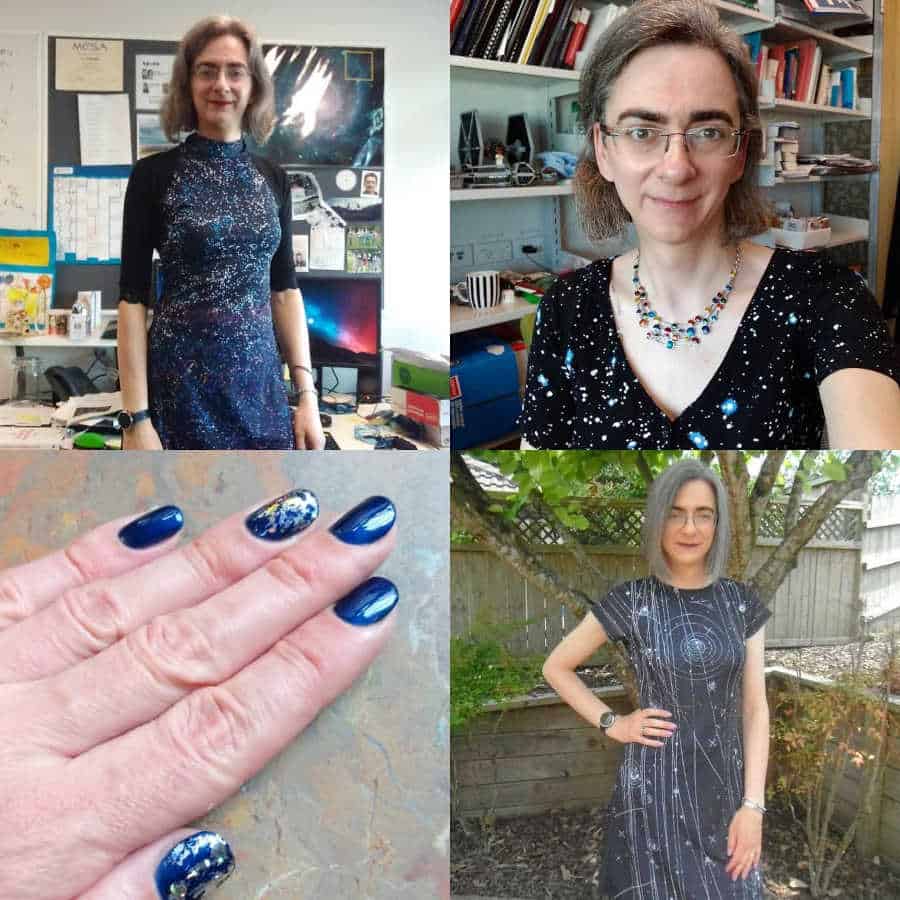 93. Sarah Bell
Today's fancy scientist is wild about animals and wild about fashion! @sarahsgonewild studies the intersection between people's disbelief in the Ebola virus and perceptions of wildlife in Sierra Leone, West Africa. During her PhD she also founded a wildlife conservation organization (OMG!), the Pan Verus Project. They conducts wildlife research and offers educational and training opportunities to Sierra Leoneans of all ages and education levels, allowing them to engage more fully in the conservation and sustainable development of their own environment. Finally, she also volunteers as the Oxford University of Natural History Museum's social media content creator because she loves sharing all of the fascinating research going on behind the scenes of the museum with the public.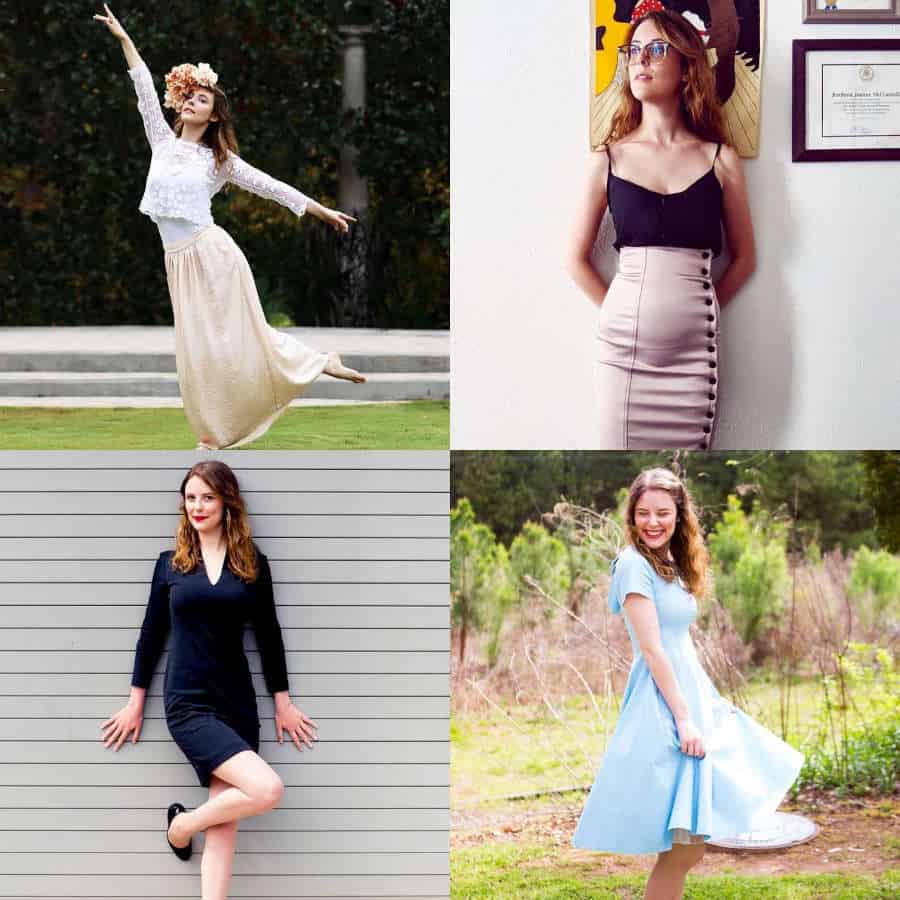 92. Barbara Del Castello
Today's #fancyscientist is @lifewithbabs! Barbara Del Castello is another fashionista with a lot of looks and styles. She is a PhD candidate studying the genetics of parathyroid development (as a sufferer of Hashimoto's/hypothyroidism, I greatly appreciate this!) Her lab is the only lab in the world to do so! Barbara is also President of UGA's Women in Science organization and is super passionate about equality in STEM and Science Policy. You'll even see photos of her at Capitol Hill!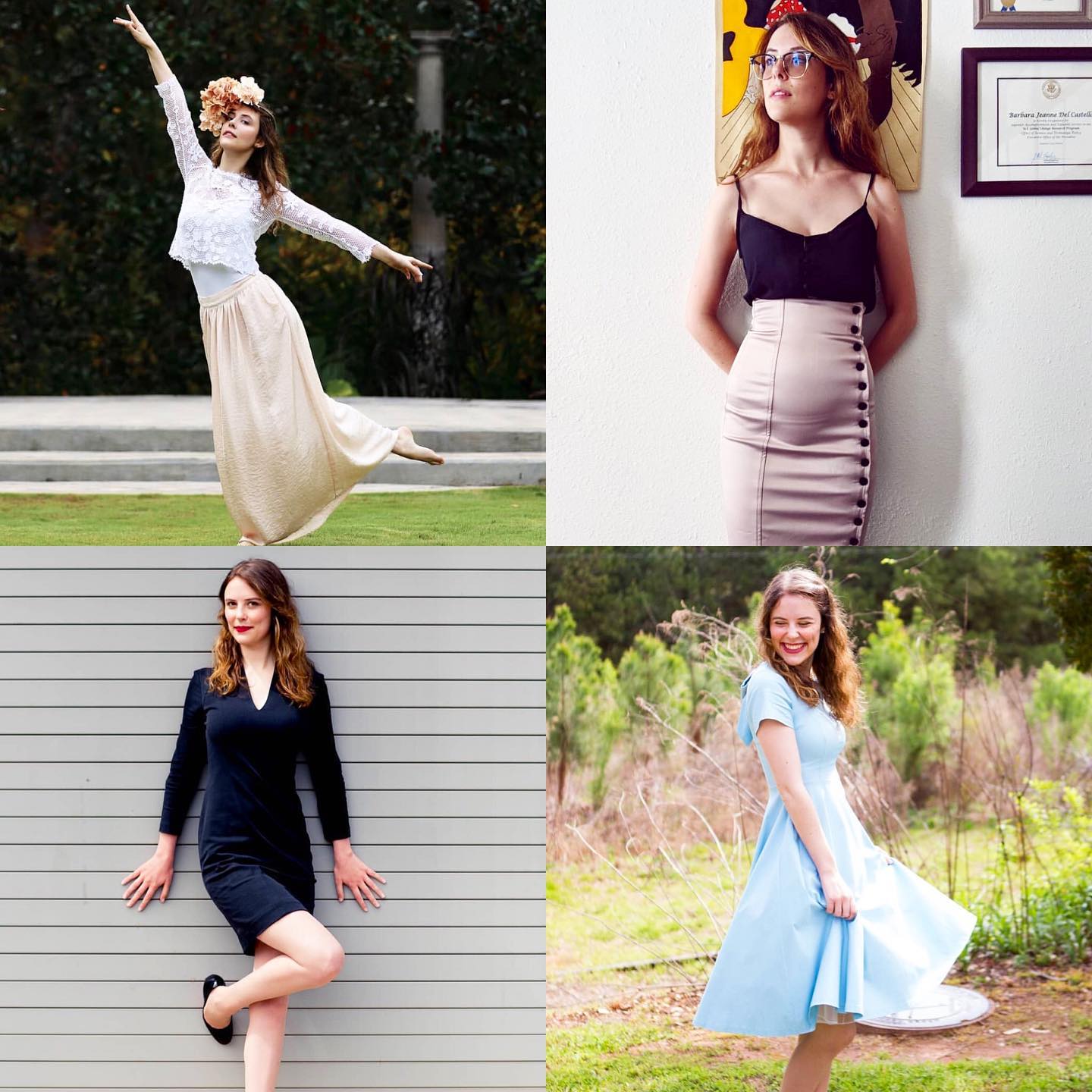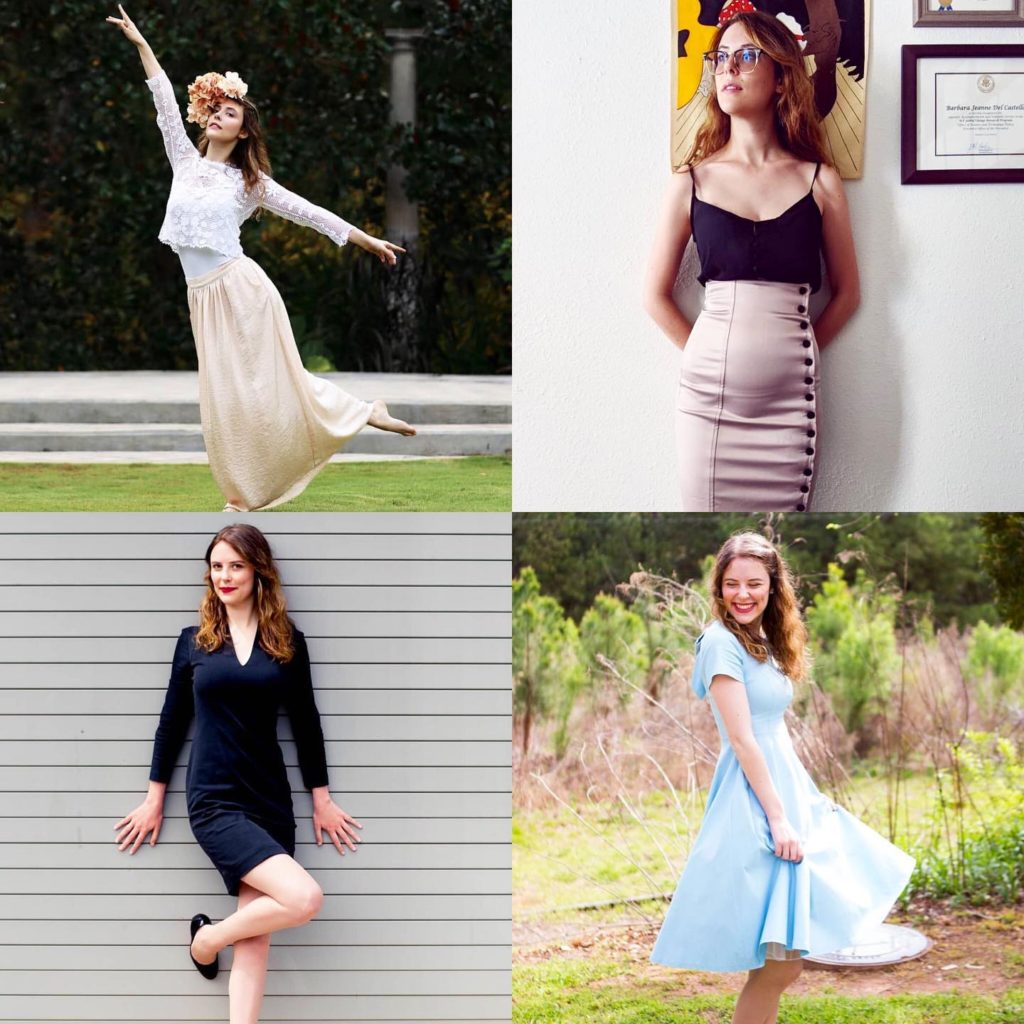 91. Sarah the PhD Princess
Today's #FancyScientist caught my eye with 2 things I love: princesses and Disney (I used to work at Animal Kingdom). The @thephdprincess loves Disney so much that she weaves in the science of different characters, movies, and park attractions. It's really amazing how much science she gets in there! This often involves Disneybounding (she has annual passes even though she lives in Chicago), or dressing up as Disney characters using everyday clothes and accessories. Sarah studies learning sciences. Specifically, she researches secondary math teachers' evaluations of online educational resources. Her long-term goal is to work for a research institution (maybe even the Disney Conservation Fund?) getting the public excited about science.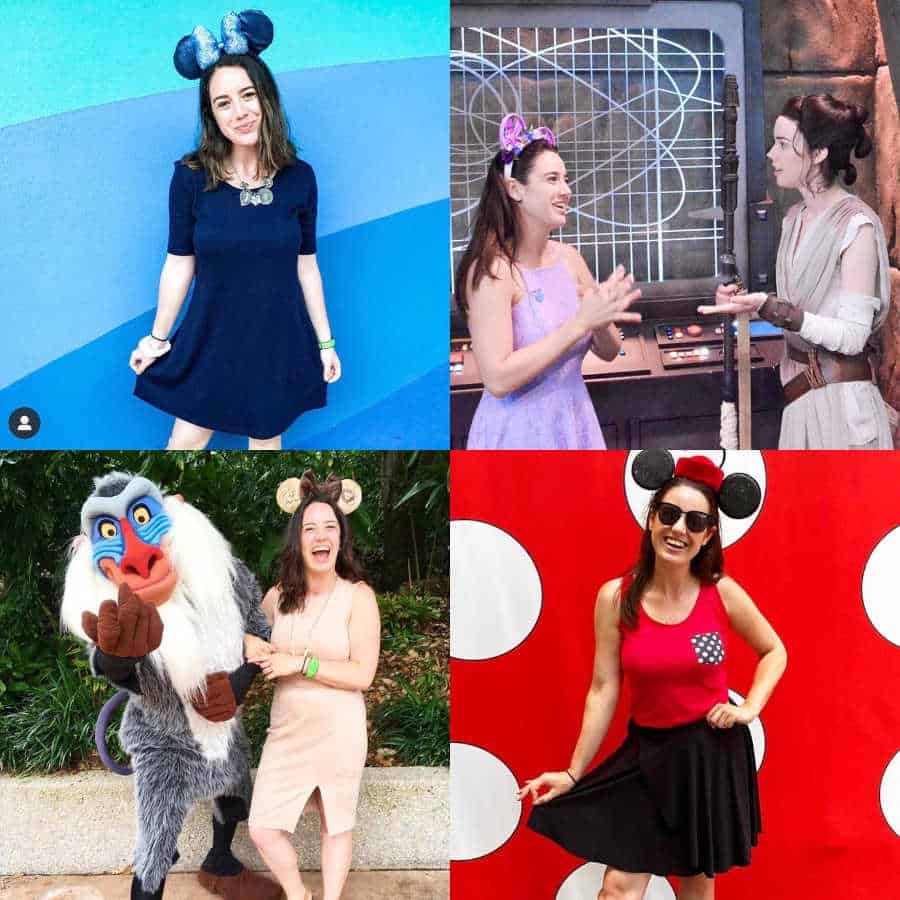 90. Anna Zakrisson
Today's #FancyScientist is another fashion chameleon. Her photos showcase a spectrum of lewks and a range of styles. @annazakrisson she studied marine ecology, specifically nutrient cycles and cyanobacteria for her Ph.D. Now she promotes scientific literacy and skeptical thinking. Anna wants people to "re-learn their childish awe of the world" and does this by working with artists and musicians as a performance lecture. She describes her place in the world as between systems; "to act as a link between scientists and non-scientists; academia and business; high school dropouts and professors." She also has her own consulting and macerating business and is a scientrepreneur (a term I came up with for people like me: scientist + entrepreneur) like me. I especially love this quote from her "You can be both creative and science-minded. You don't have to pick a side."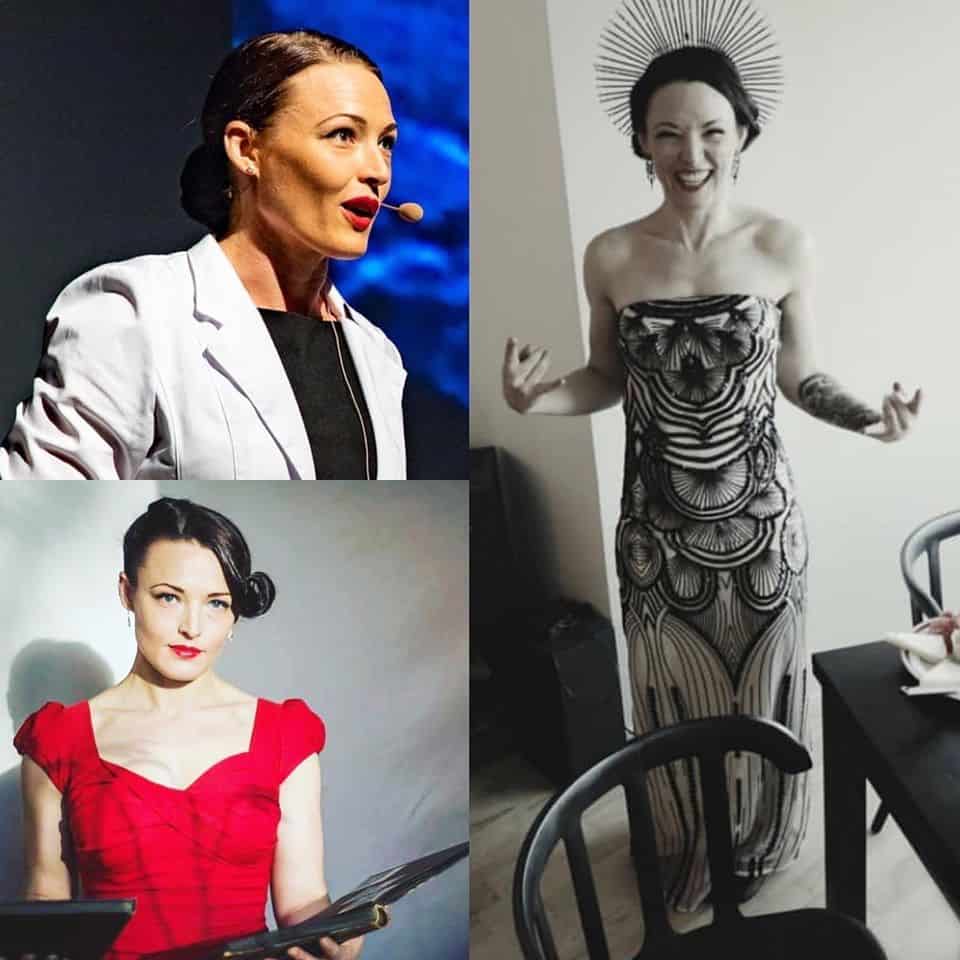 89. Elizabeth Mendes
Today's #FancyScientist is a scientist and a patent writer: @thepatentscientist. Elizabeth studies biomolecular sciences, does research on Rheumatoid arthritis, and works with dopamine signaling in C. Elegans (a nematode that's a model system). Outside of school and the lab (as if that is not enough), she also work as a technical Patent writer! She helps her attorney draft and put together patents for novel inventions in the biotech and cannabis industries. Her long-term goal is to work in the patent industry and be heavily involved in technology transfer and innovation. I love seeing all of the applications of science through this weekly feature. I am constantly surprised!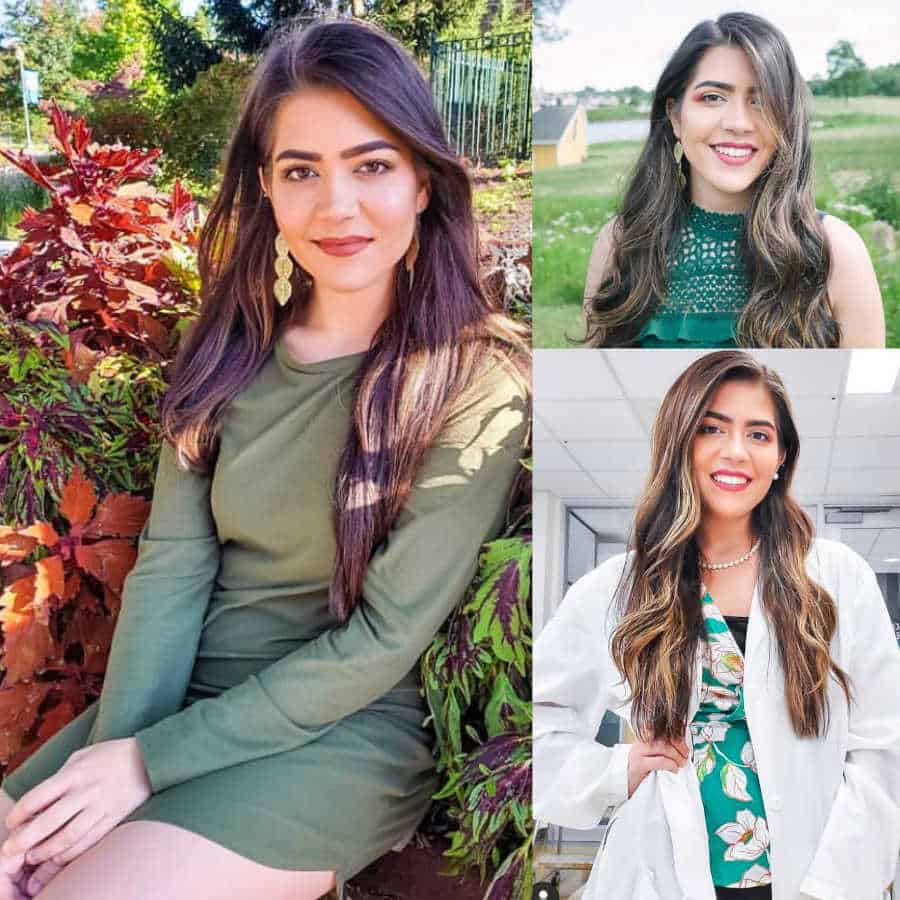 88. Tahlia Perry
Today's #FancyScientist is another one that I met in real life – at the Citizen Science Conference. @Tahliajperry studies echidnas, one of only 2 egg-laying mammals in the world, and is using molecular tools (like DNA sequencing) to help with echidna conservation. Because echidnas are very hard to study in the wild, Tahlia created a citizen science project called #EchidnaCSI where thousands of people have submitted echidna sightings from across Australia and even collected their poo! There's an abundance of DNA and hormones in the poo, which can tell you all about an animals' lifestyle and health. Tahlia is super passionate about wildlife conservation, women in STEM and science communication – talking about her science anytime she can. When she's not science-ing you'll catch her with a glass of wine (or 3), she loves to travel and is a major music theatre nerd. Me too!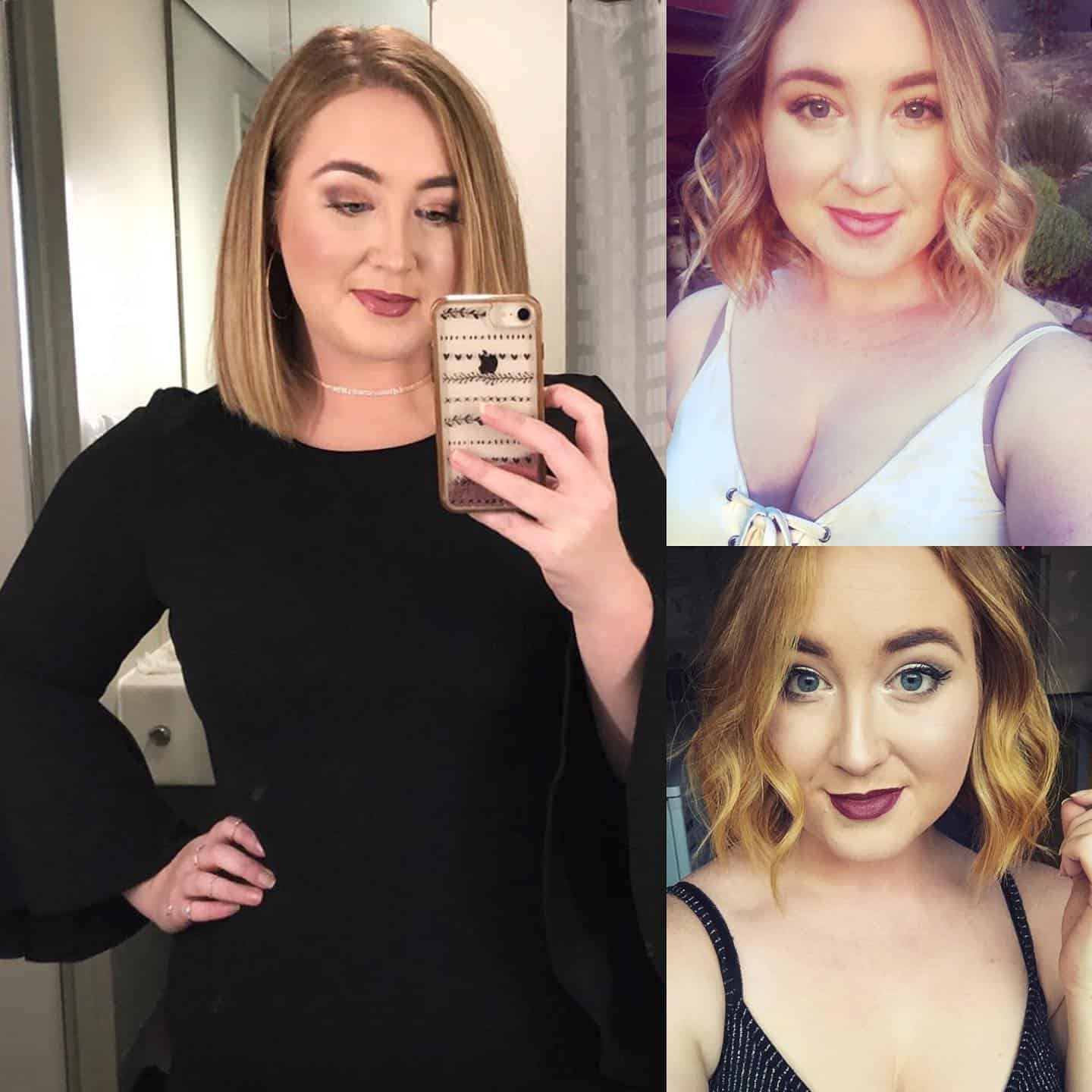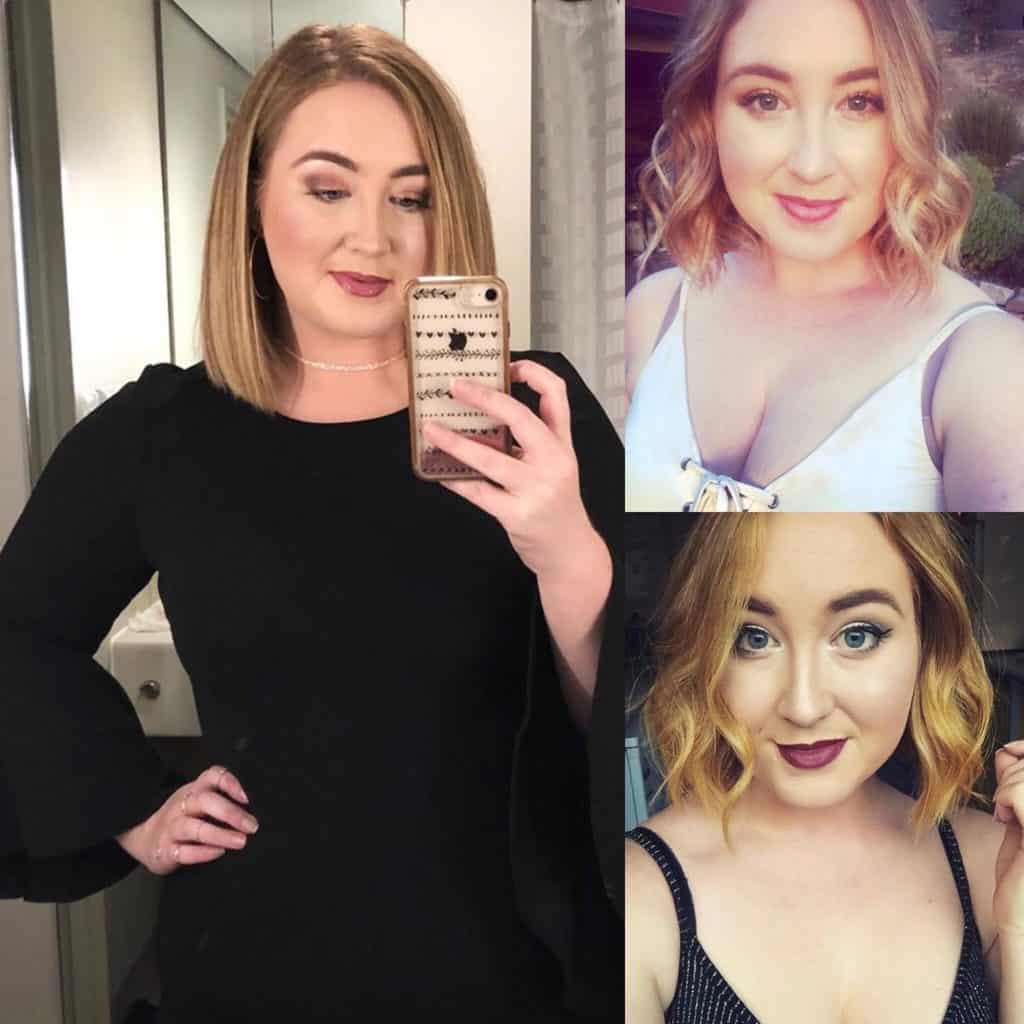 87. Ceri Brenner
Today's #FancyScientist is @ceribrenner! She is a senior scientist who specializes in high power (PW-class) laser-plasma interaction physics and laser-based acceleration of electrons and ions for generation of laser-driven sources of MeV x-rays and neutrons (um, wow!). She has particular interest in nuclear and aerospace applications. For example, using high-power lasers for scanning nuclear waste containers to give 3D visualizations of the hazardous material inside. As acting group leader, she develops and implements the innovation and impact strategy of the Central Laser Facility, by leading a cross-facility team consisting of scientists and engagement officers working alongside industry partners for innovation projects. Again, WOW. And check out her laser manicure!
86. Rowan Collins
Today's #FancyScientist caught my eye from their amazing makeup looks! @queermoth is an entomologist and is particularly interested in the evolution of and interactions between insect hosts and parasitoids. Projects Rowan is currently working on includes the transmission of fire blight (a bacterial disease that can kill plants) by Anthomyiid flies, the influence of pest insects such as tarnished plant bug on low-tunnel-enclosed strawberries, and the invasion of Drosophila suzukii (a fruit fly). They hope to eventually become a professor and a mentor to young LGBTQ people in science. Their favorite bug is the rusty tussock moth (Orgyia antiqua), and they share their home with their fiancée, a mouthy cat, and too many hissing roaches.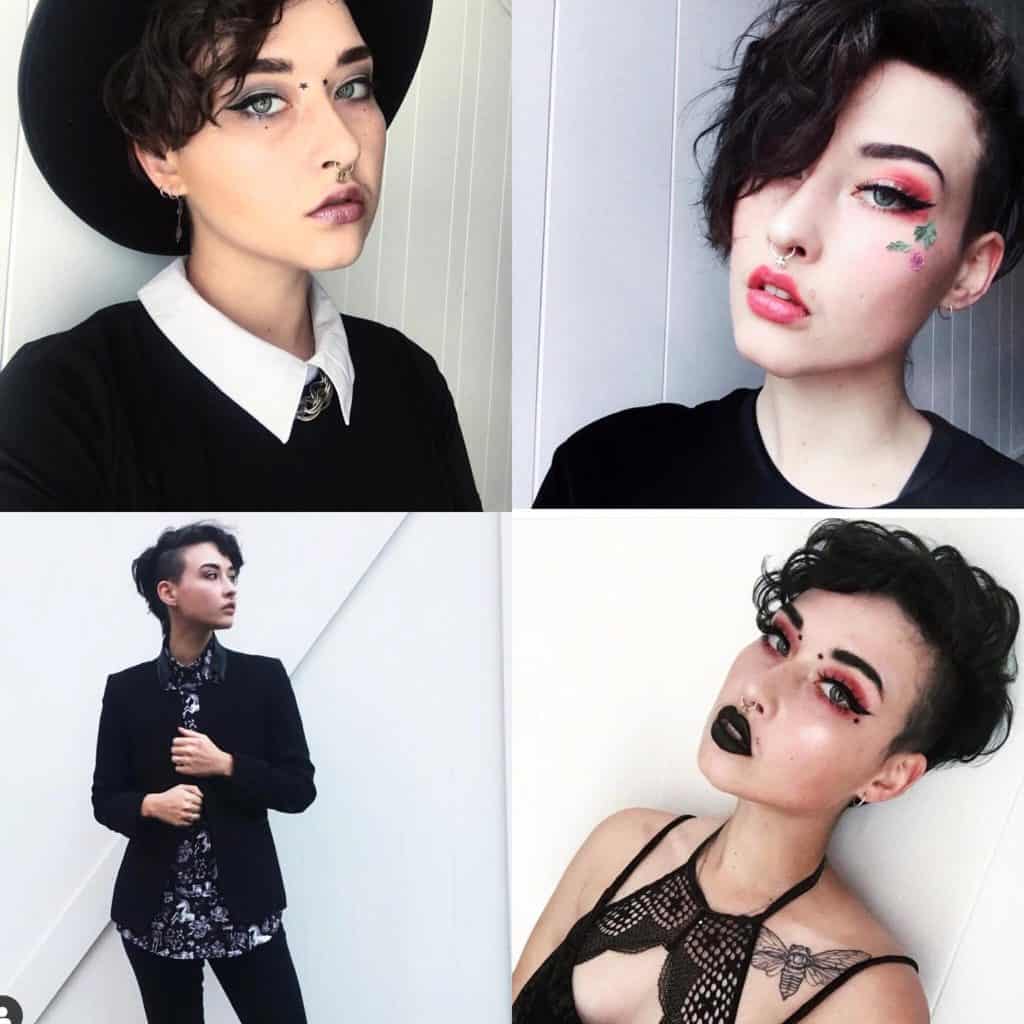 85. Dr. Von P
Today's #fancyscientist has so much style that she even looks like a different person on different photos of her feed! She is @dr.dvonp, a social psychologist and sexual and mental health advocate. She's dedicated the majority of her work in examining psychological mechanism's impact in health decision-making and applying these findings to real-world interventions. More specifically, she investigates both explicit and implicit psychological factors impacting HIV prevention strategies, such as HIV testing and PrEP initiation. I have so much respect for @dr.vonp's fashion game AND her attitude. I especially love this statement on her post where she is wearing the pastel rainbow-colored wig: "Did your professors ever look like this? Yeah mind didn't either ???? honestly a motivating factor for me at work is the ability to look any way I want on any given day and not care one bit what anyone thinks because my CV speaks for itself. I hate feeling limited in my self-expression because I'm supposed to be an academic 24/7, and academics definitely aren't supposed to be giving you thirst traps on the weekend. I go back and forth with these feelings a lot but I have decided to just let you all see every aspect of me as a person beyond my title. Hopefully soon it won't be so weird to have a professor that wears unicorn wigs in her down time and also can slay a data analysis the next day."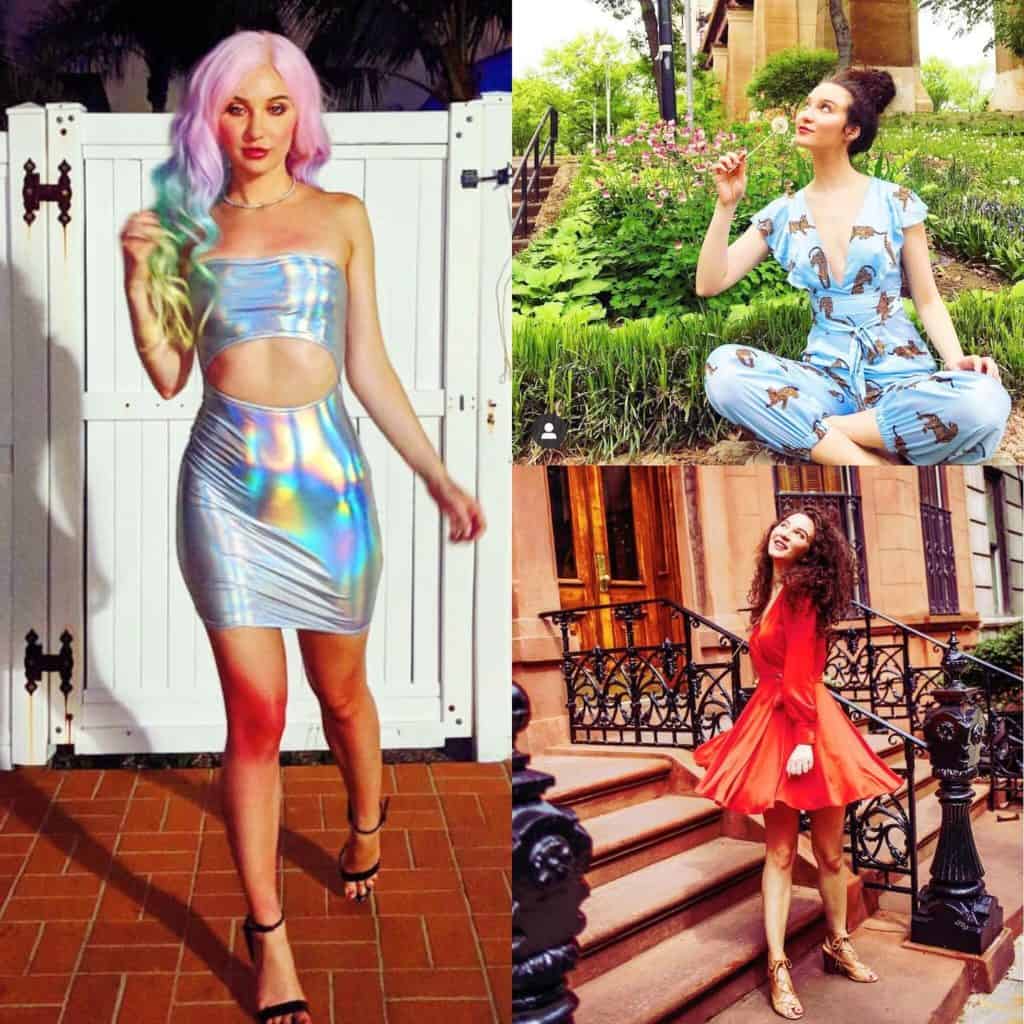 84. Holly O'Donnell
It's #FancyFriday! This week's #FancyScientist may not look so fancy because she posts a lot of photos of her in the field – but don't let that fool you! @hollyodonnell_conservationist is a conservation biologist who studies mammals large and small. She's worked in Paraguay and Peru extensively, studying how mammal abundance varies across different land use types such as reserves, ecotourism lodges, and extractive industries. She now works as a research assistant studying spotted hyenas for the Trans Kalahari Predator Program at WildCRU Wildlife Conservation Research Unit). She still returns to Peru every summer as an expedition guide, where her speciality (besides mammals) is frogs! She hopes to begin a PhD shortly.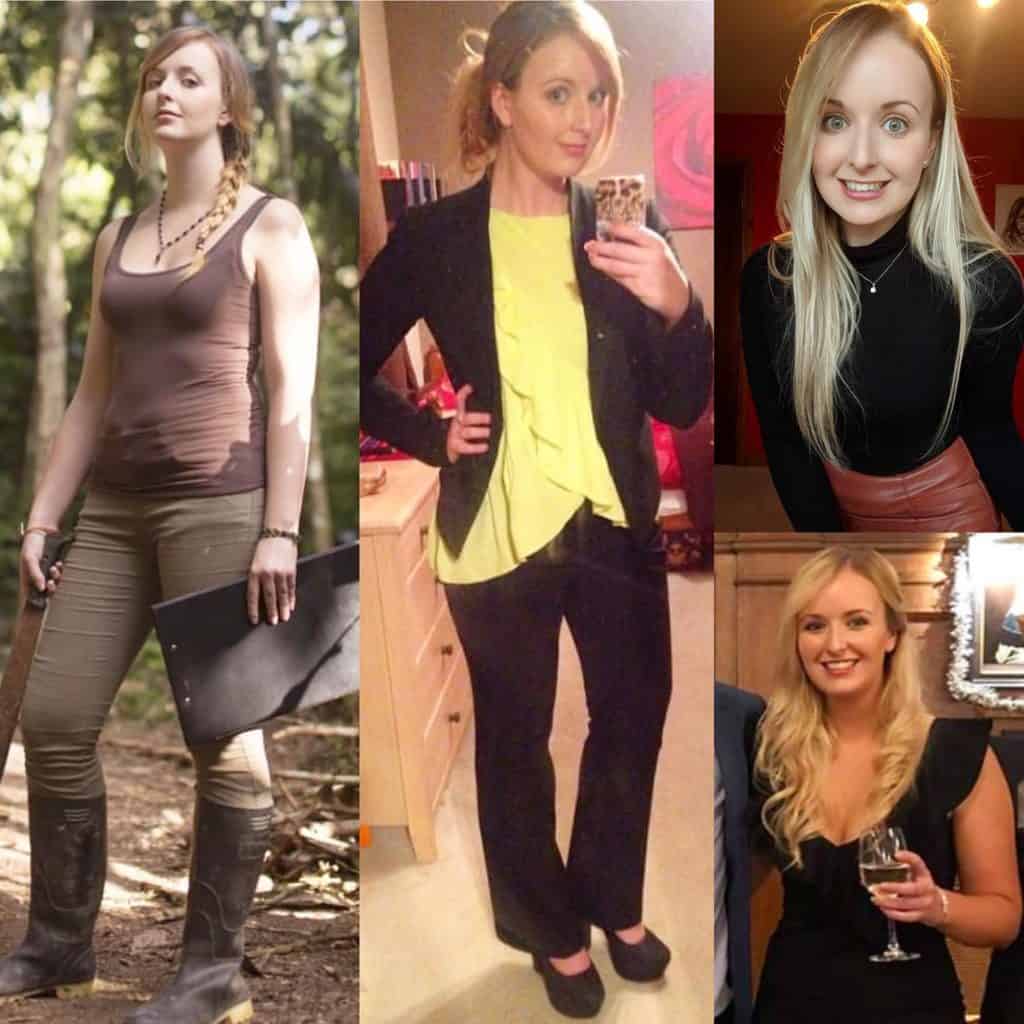 83. Ashley Hall
Today's #FancyScientist is one of the nicest people on Instagram and has tons of biodiverse style! @lady_naturalist is a multi-faceted scientist: a zooarchaeologist by degree and a paleontologist by training, but has spent her career focusing on informal education in zoos and natural history museums. Her love for educating the public especially through social media has led her to her current role as the Marketing Coordinator for the Nature Center at Shaker Lakes. Ashley's describes her style as "creepy cute" (LOL). Black is her favorite color, but she mixes in fun pops of science-themed jewelry and lots of pink. And you can always know it's her from her signature platinum blonde hair and cat eye eyeliner. She loves science fashion so much, that she has a second account dedicated completely to it: @dresslikeascientist. She and other scientists curate photos of science-inspired fashion and home accents.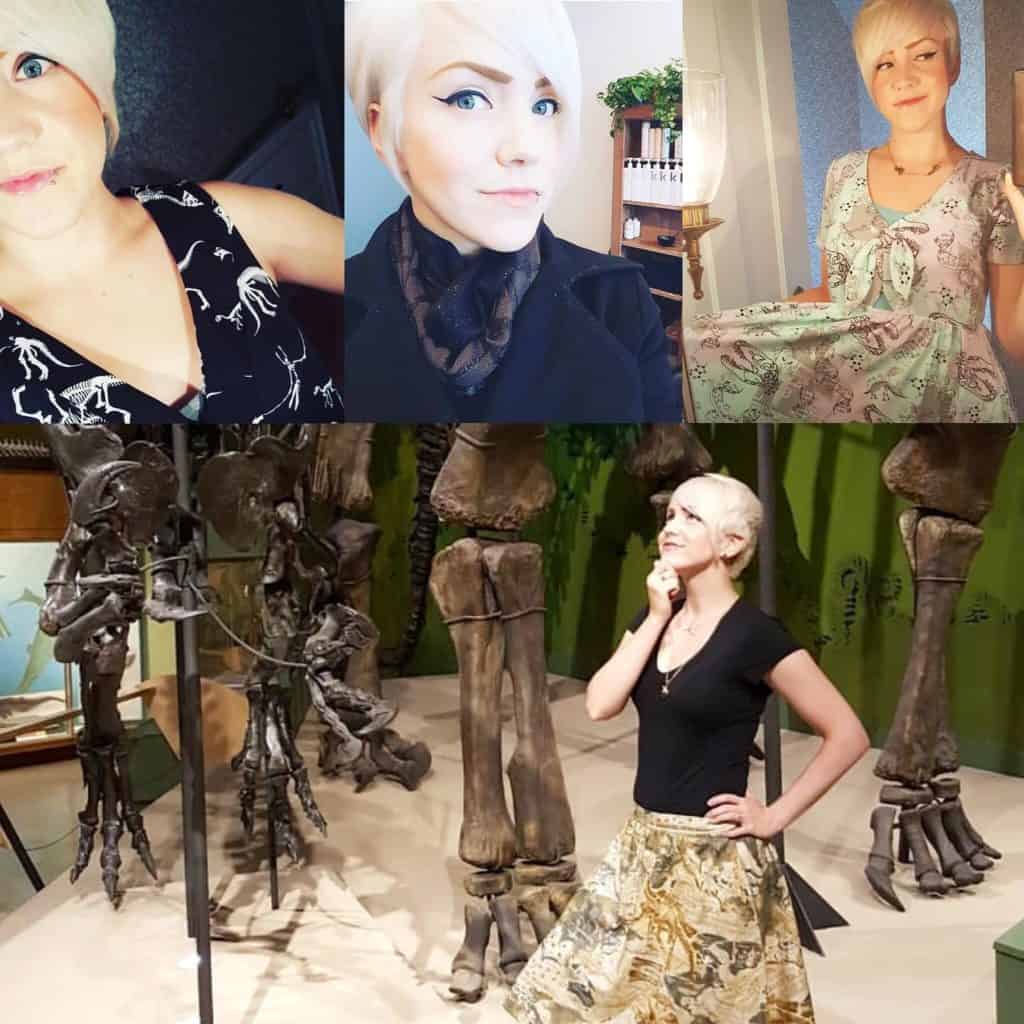 82. Caileen Brison
Today's #FancyScientist, @caimarison, is an enologist at Big Basin Vineyards and PhD student in at UC Santa Cruz. I had to look up the first word myself. An enologist is someone who studies the science of wine. How fun (and fancy)! Caileen works with the winemaking team to ensure the fidelity and stability of aging wines from harvest to bottle. This includes methods such as chemosensory analysis, microbiological plating, and cellar management. In Caileen's Ph.D. research, she focuses on researching the mechanisms behind cell cycle regulation. She is specifically interested in on how post-translational modifications regulate the activity and interactions of a central transcription factor. Fun fact – like me, Caileen had a theater major in college, but decided to switch to science because she felt like she could better society as a whole and pursue her other passion in life – curiosity. I personally hope she stays curious about wine.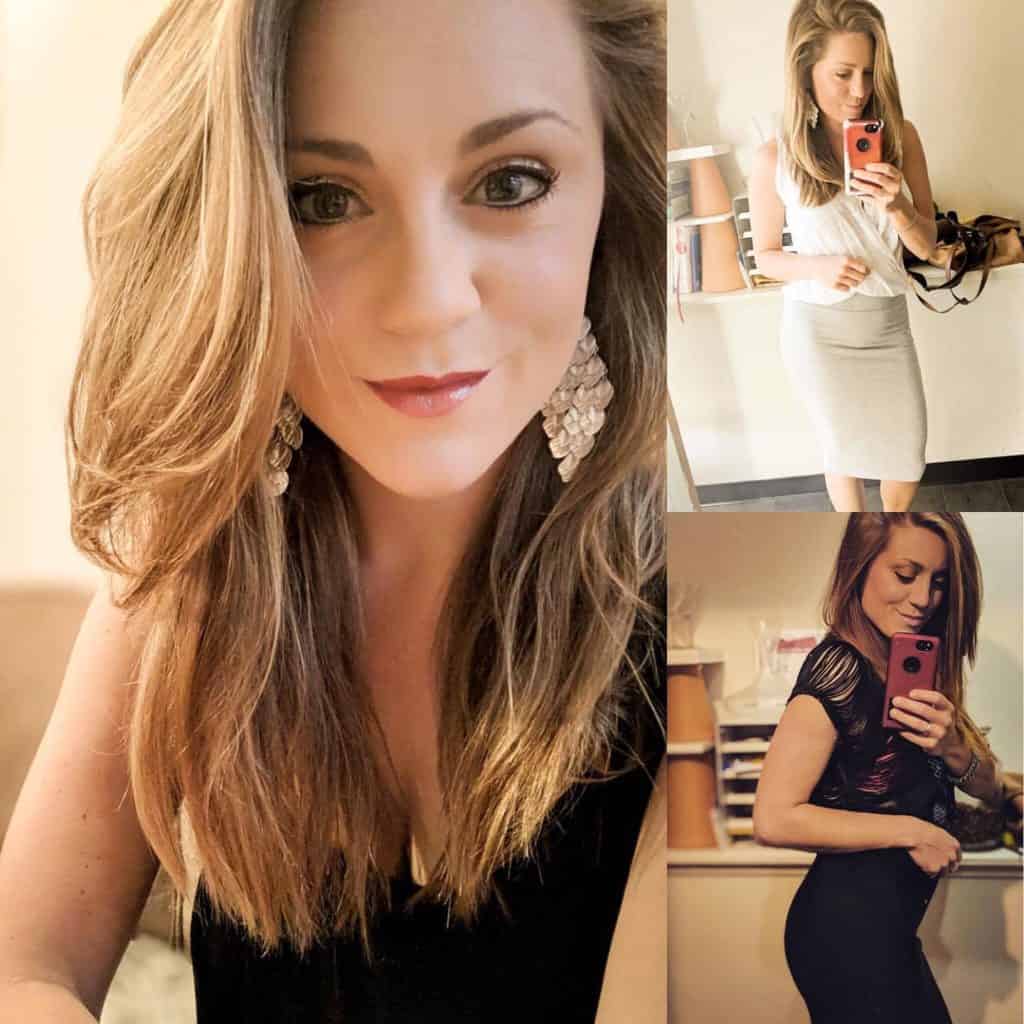 81. Shani at the Grad Perspective
We have our first chemical engineer! Today's #FancyScientist, @gradperspective, works on improving the delivery of drugs using polymers. She does this by creating tiny microscopic plastic capsules called polymer nanoparticles. Inside these capsules, she can insert one or multiple drugs. The nanoparticles protect the body from any negative effects of the drugs and target the drug to specific areas. Her research is focused on understanding the effect of delivering multiple drugs in different sequences. She relates this to pizzaa! (I love this) "When we make pizza we have a specific order for how we make it to make it taste good: make a dough, add sauce, then cheese! So my idea is that we can find an optimal sequence of delivering drugs that can interact in a specific way with our cells to produce the most beneficial effects." Outside of the lab, she enjoys fashion, crafts, and blogging. Check out her blog!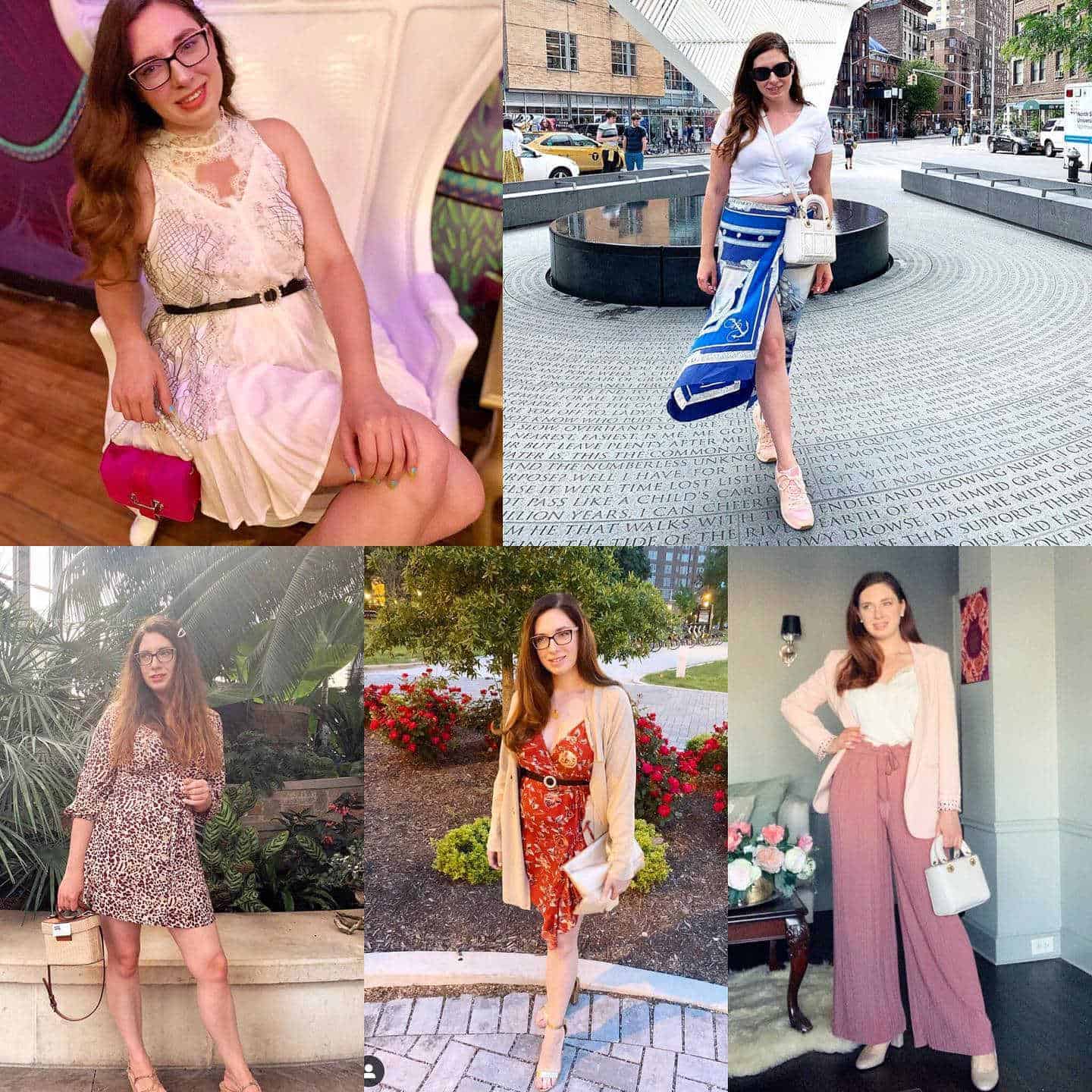 80. Niba Nirmal
Today's #FancyScientist is ANOTHER model and again, a fancy scientist with too many photos to choose from. You absolutely have to visit her account to see all of her amazing fashion and photos. @notesbyniba studies genes, specifically how plants adjust their genes for growing properly. Her research focuses on the creation, manipulation, and fine-tuning of genetic networks in synthetic biology. She studies the positive feedback loop in the root gene regulatory network within Arabidopsis (a specific plant), which controls cell differentiation. She believes that by discovering more about the biology of plant genes, we can learn more about our own genes as well!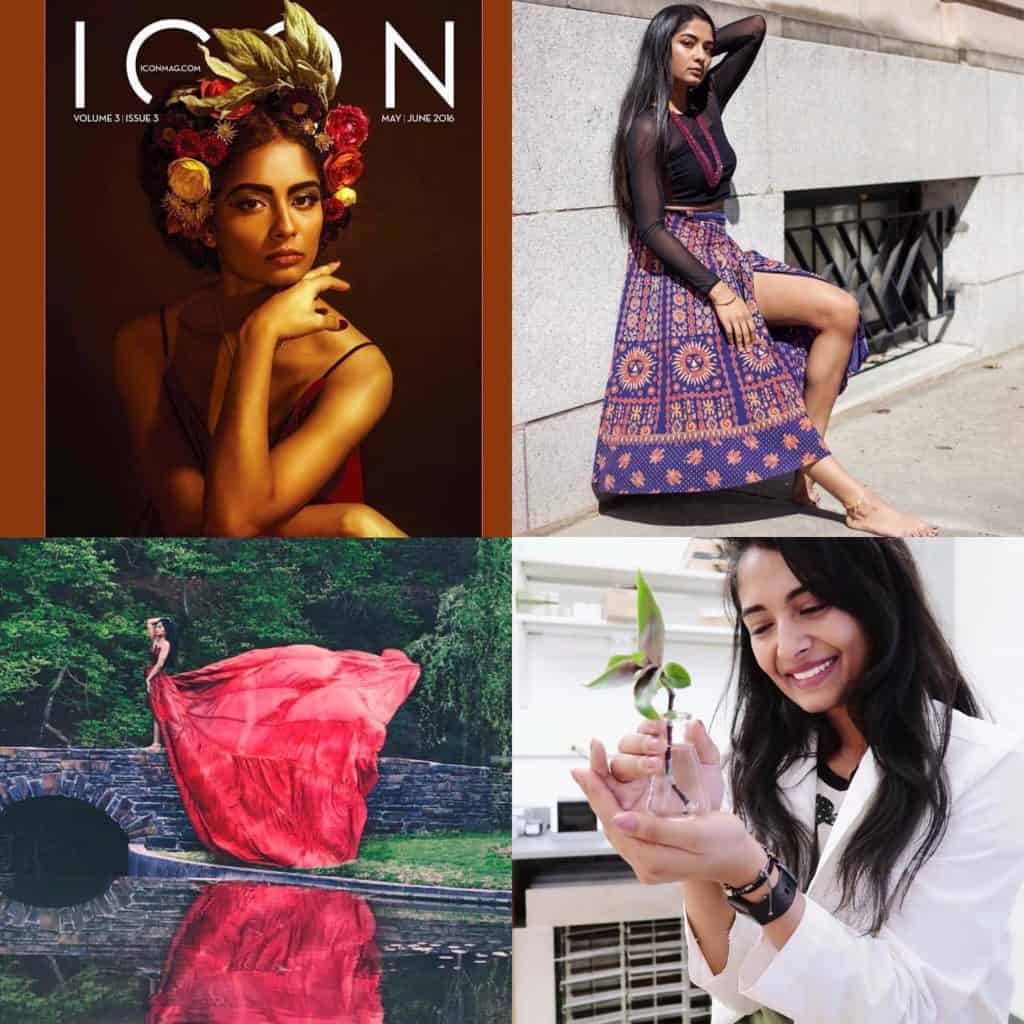 79. Elizabeth Delery
Today's #FancyScientist is a medical researcher passionate about science: @PhDelery. Elizabeth Delery is a postdoctoral researcher interested in the neurobiology of pain and addiction, and the subsequent neuroinflammation, to discover therapeutics to increase quality of life. Her research examines the effects of HIV, alcoholism, and opioid addiction on neuroinflammation, and vice versa, using a simian (monkey) model of HIV. Elizabeth is also passionate about celebrating women in STEM and has pinned stories about some amazing female scientists on Instagram.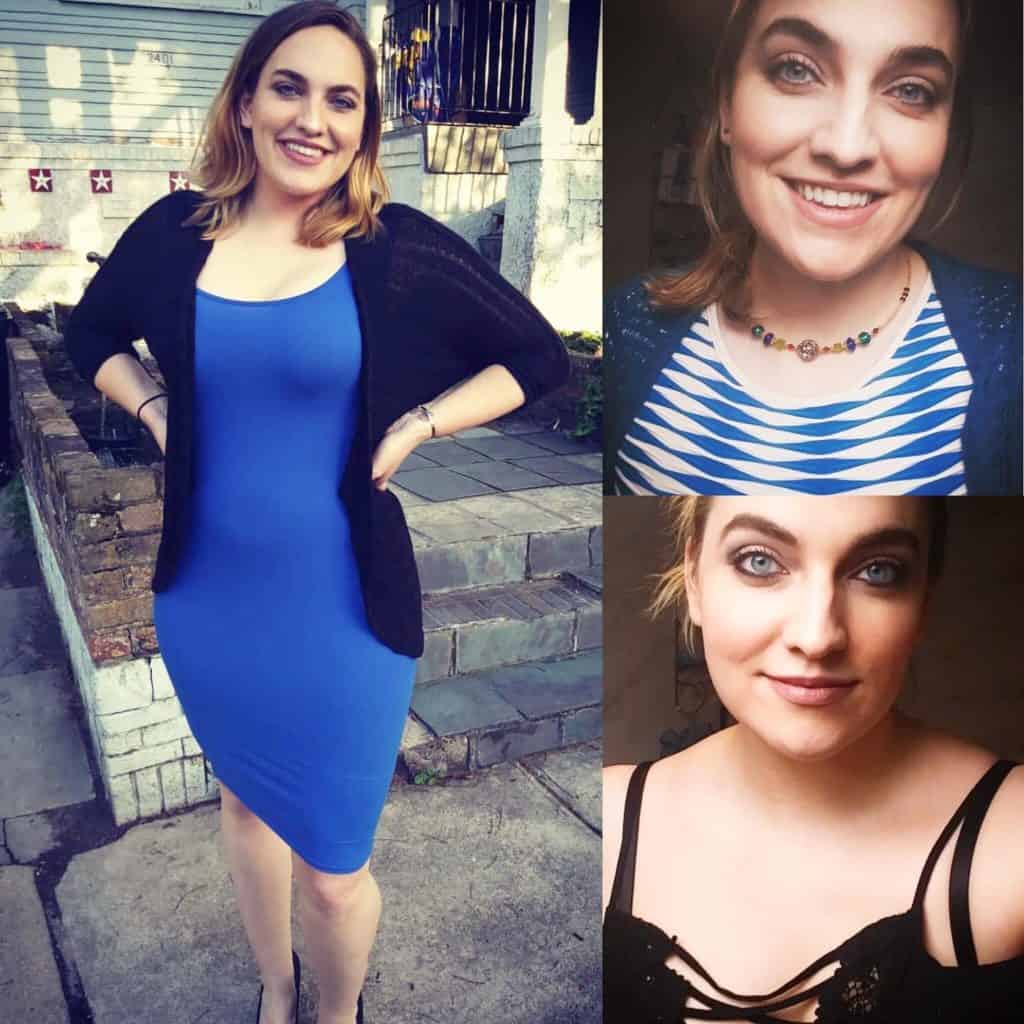 78. Courtney McGeachy
Today's #FancyScientist does amazing work for our oceans! @peachmcgeach is a Senior Associate with the Pew Marine Fellows Program where she oversees the management and administration of Pew fellowships and works to support and enhance social science connections to the program. Courtney has also worked for the National Fish and Wildlife Foundation where she managed The Fishing for Energy program, Emergency Prescott/Marine Mammal Stranding, and the Killer Whale Research and Conservation Fund. She studied marine and environmental science her current passion is Incorporating social and citizen science in global marine conservation.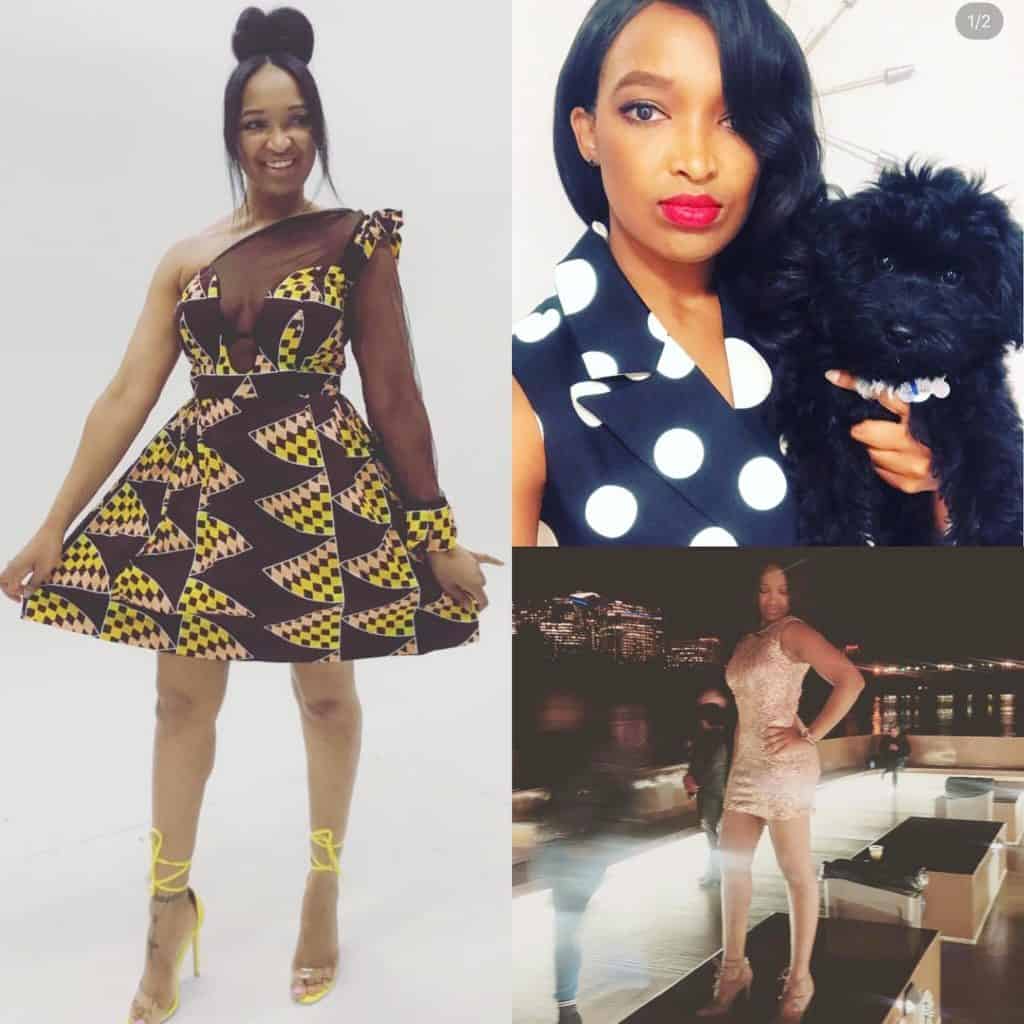 77. Melissa Cristina Marquez
Today's #fancyscientist is not only a fancy scientist, but a fancy artist and podcaster as well. @melissacristinamarquez is a marine biologist who studies the habitat use of sharks, trying to figure out why sharks are where they are, and investigates how people feel about these predators and if there have been changes over time due to social media and films. Melissa has her own Etsy shop where she uses digital water color art to bring the beautiful skins of sharks and their relatives to life and is highly engaged in outreach. She created "The Fins United Initiative" to provide scientifically accurate and free materials for teachers worldwide. In her podcast, ConCiencia Azul, she addresses marine conservation to the Hispanic public in Spanish. She talks about many issues related to marine conservation and issues that affect Latin American countries in particular.
76. Annora Thoeng
@NoraFinds is another #fancyscientist with incredible fashion sense! Again, I had the hardest time choosing photos. Her expertise is in vintage fashion as she is obsessed with bygone eras. She studied medical science and specialized in molecular biology and protein work. Her research in various labs consisted of cancer and Drosophila (fruit fly) studies and studying the C9orf72 mutation in frontotemporal dementia (FTD) and amyotrophic lateral sclerosis (ALS). The C9orf72 gene is a common cause of both FTD and ALS. As a vintage fashionista and scientist, she likes to use her instagram feed to break stereotypes about both.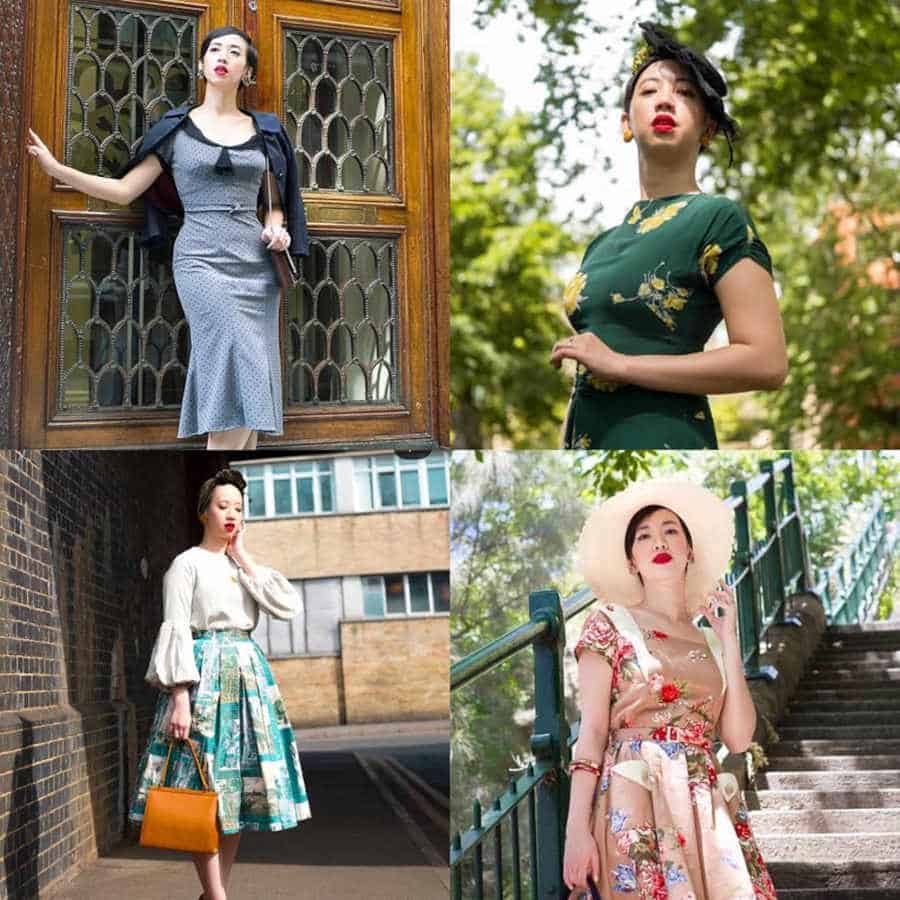 75. Louise Bullen
I am so in love with @Louisebullen03's style! She is a #fancyscientist who really knows how to to work some biodiverse fashion including snakeskin, leopard, and zebra prints. Louise Bullen is studying stem cell biology for her Ph.D. She's especially interested in the mechanisms that cause a cell to reprogram from and adult stage cells to an embryonic-like state called induced pluripotency. She's especially interested in this can give researchers insight into disease mechanisms, particularly neurodegenerative diseases. Louise not only does super important work, but her insta makes me really want to step up my fashion game!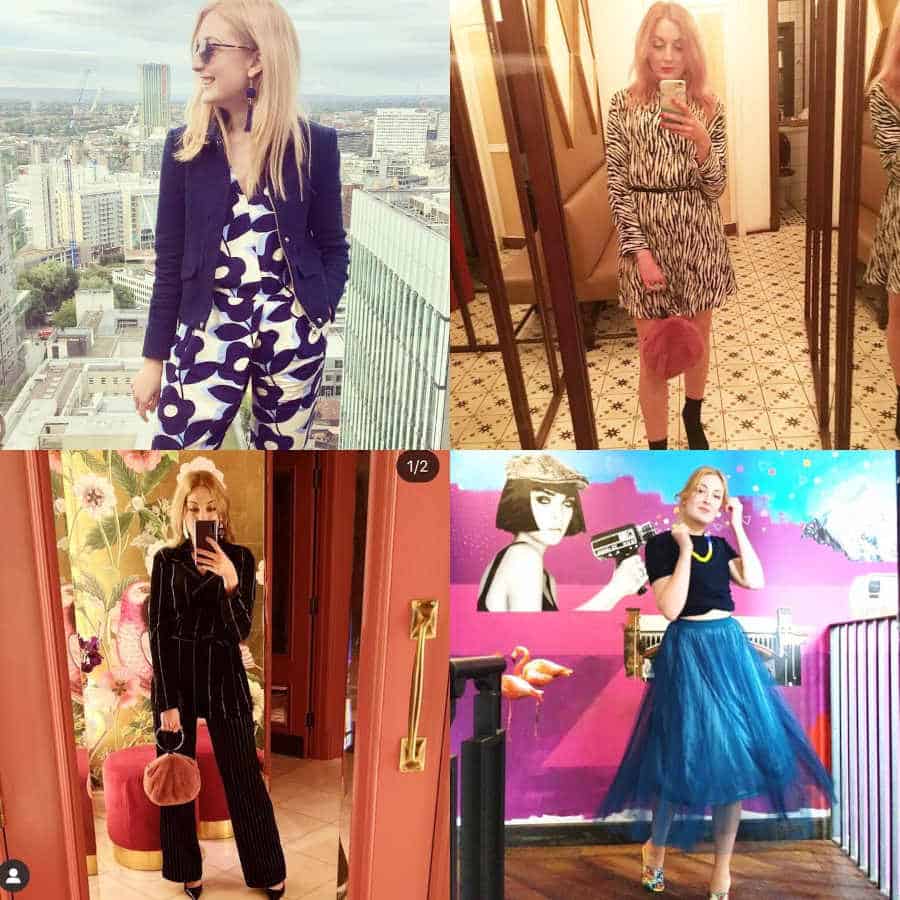 74. Alyson Brokaw
@alyb_batgirl is a #fancyscientist who loves to embrace #biodiversefashion. I first noticed her when she participated in my biodiverse fashion challenge and you can see some of my favorite pieces that she wears here. Alyson Brokaw is a doctoral student who studies – you guessed it – bats! She's broadly interested in animal behavior, physiology, communication and sensory ecology. With over 1200 different species located around the world, bats are an amazing group of animals to investigate these topics. Bats make up ~25% of all mammal species! You can find tons of amazing bat photos and facts on her insta.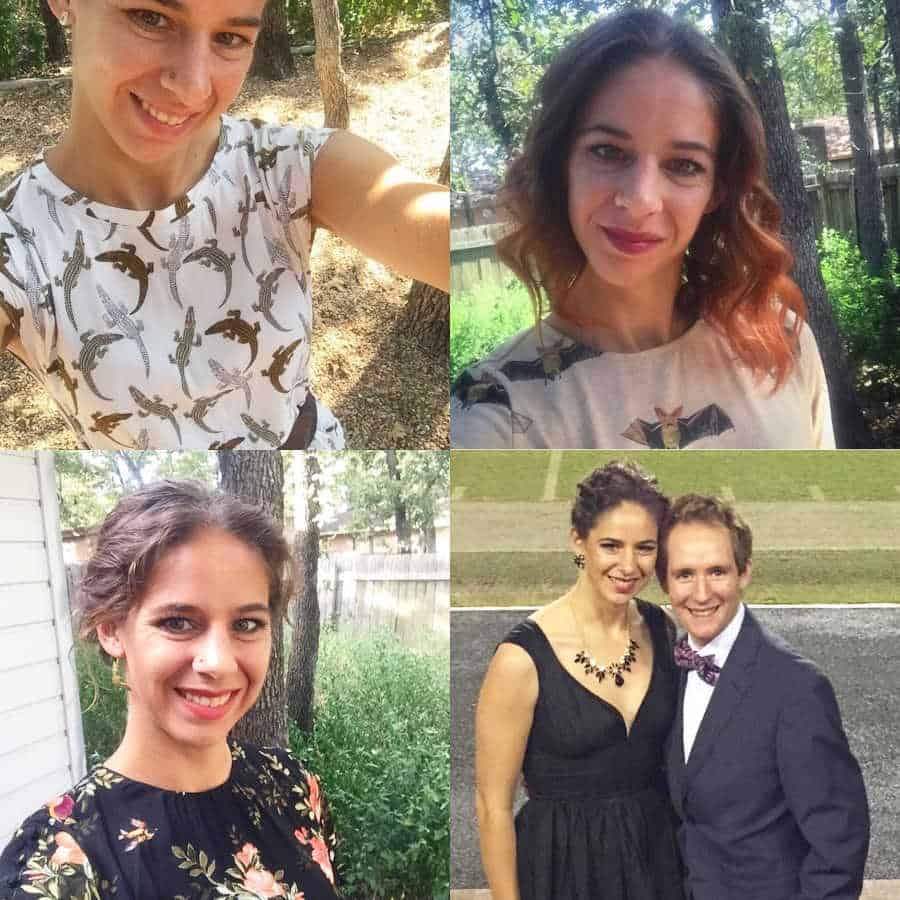 73. Susan Finkbeiner
@scientificmodel is a true #fancyscientist! Susan Finkbeiner (@fink_about_it on Twitter) has two jobs: an international model and scientist. In her TEDx talk, she discusses living a "dual life," and challenges the stereotypes of both professions. As a scientist, her research involves understanding the variation (in color and patterns) across a rapidly diversifying lineage of butterflies. The central goal is to understand the ecological and evolutionary processes that shaped the temporal and spatial patterns of biodiversity. I had a very hard choosing the photos for this one too, but I HAD to include a photo of her in a beetle elytra (modified, hardened forewing) headdress by designer @sigrun_vikingart.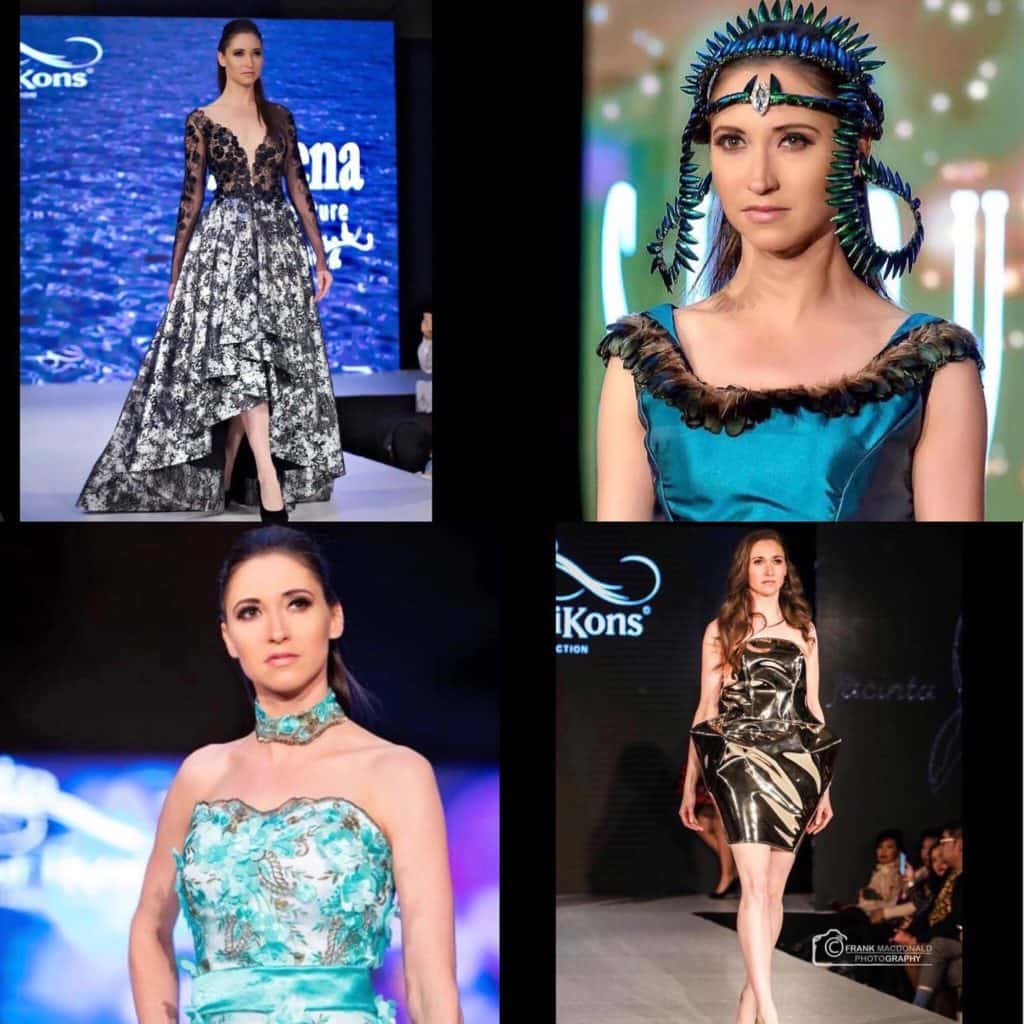 72. Nika Larian
I had such a hard time choosing photos for today's #FancyScientist! Make sure you go to her feed at @nikalarian to check out all of her amazing outfits. Nika Larian is a Ph.D. candidate in pharmacology and nutritional sciences studying nutritional interventions for cachexia. This is the weight loss and wasting away of fat and lean mass associated with chronic critical illnesses such as sepsis and cancer. She is particularly interested in the role of pyocyanin, a blue-pigmented virulence factor released by sepsis-causing Pseudomonas aeruginosa (a bacterium). Nika is also passionate about community outreach and received a grant to provide nutrition education and cooking classes to local youth! So cool! Outside of the lab, Nika is an advocate for science policy and serves as the Assistant Director of Legislative Affairs for the National Association of Graduate-Professional Students. You can see photos of her at Capitol Hill on her feed!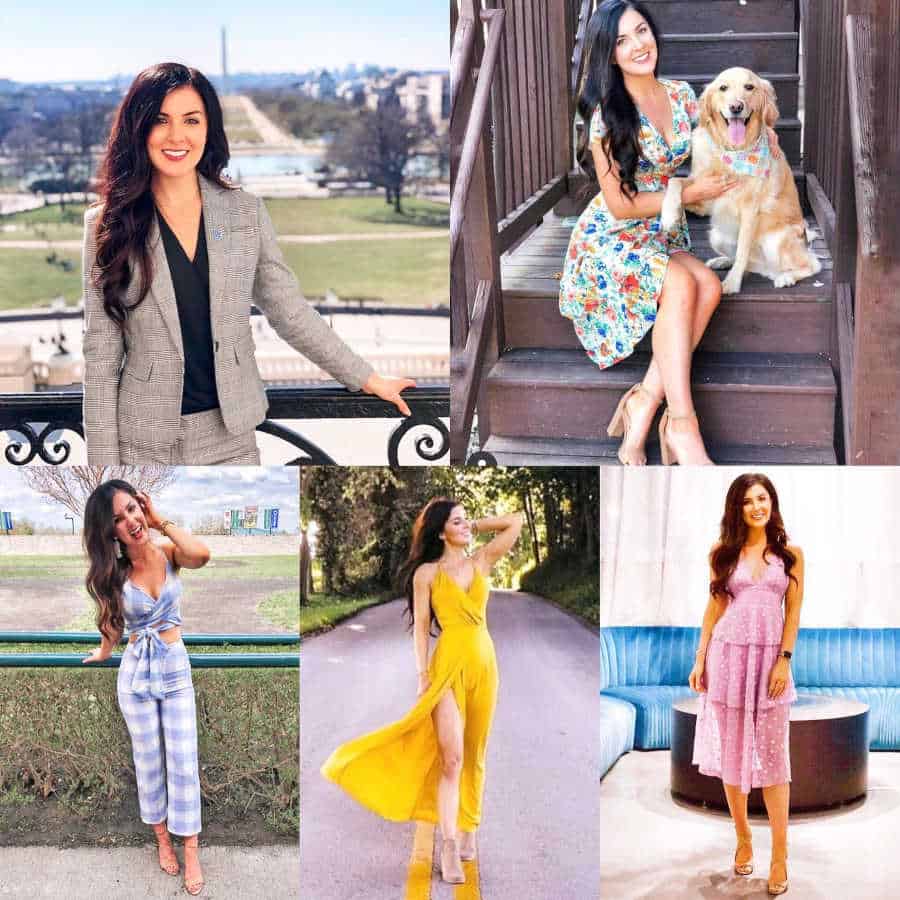 71. Rhiannon Morris
Today's #FancyScientist got her start on Instagram by posting a of something sciencey every day for a year and has had quite the following since then (17K followers!)! @sci.with.rhi is a biochemist and crystallographer studying signaling in blood cancers. Her research looks at the JAK-STAT pathway, which is a series of interactions between proteins within a cell that play a role in immunity, cell division and death, and the formation of tumors. Outside of the lab, Rhiannon is passionate about communicating science (as you can see from her insta account) and is especially interested in advocating for women in STEM. She also loves coffee, cheese, and dogs (not necessarily in that order).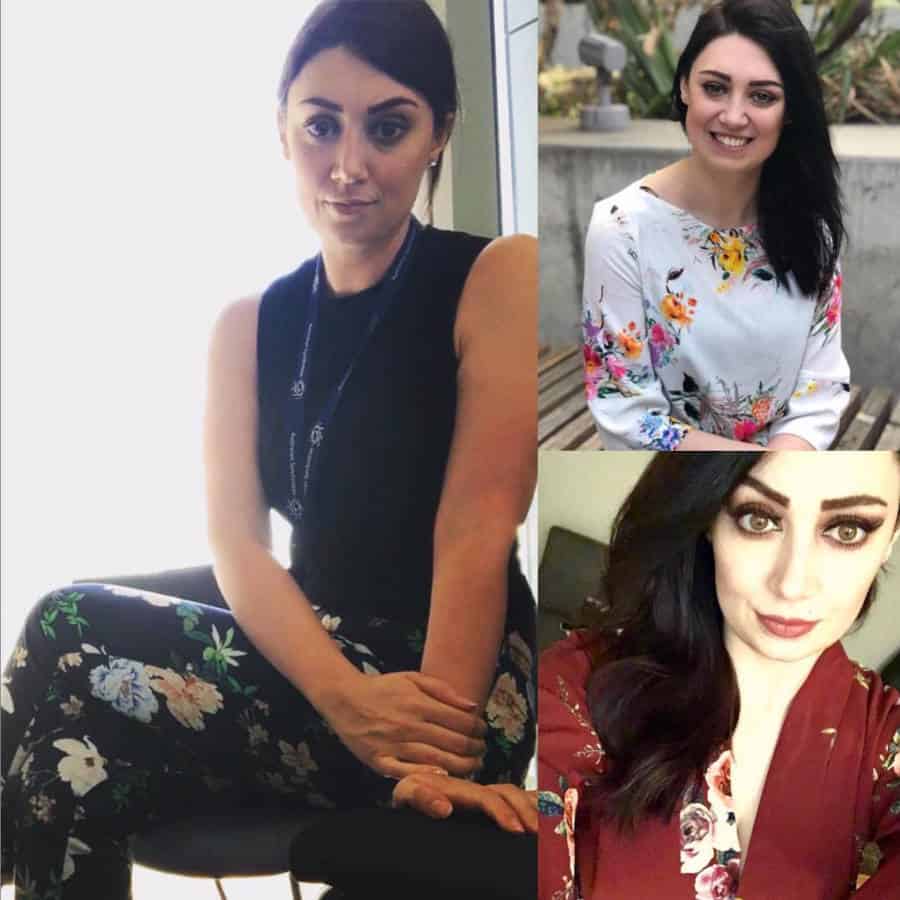 70. Naomi Koh Belic
Today's #fancyscientist loves to break stereotypes about what women in science are supposed to look like. Like me, @naomikohbelic used shy away from looking too "girly" at science events thinking people wouldn't take her seriously. And also like me, she stopped caring and started being herself! Naomi Koh Belic is a stem cell researcher, science communicator and university educator. Her research involves stem cells that are harvested from adipose tissue (fat!) which can be extracted from liposuctioB. These stem cells can differentiate into neurons, the building blocks of your brain and spinal cord. Your body however has a limited capacity to regenerate neurons on its own in response to trauma or neurodegenerative diseases. Her research focuses on using adipose stem cells to better understand Multiple sclerosis, the most common cause of chronic neurological disability in young adults. I'm addition to being an amazing scientist, she is also heavily involved in science communication and gives lots of talks and posts videos on her website.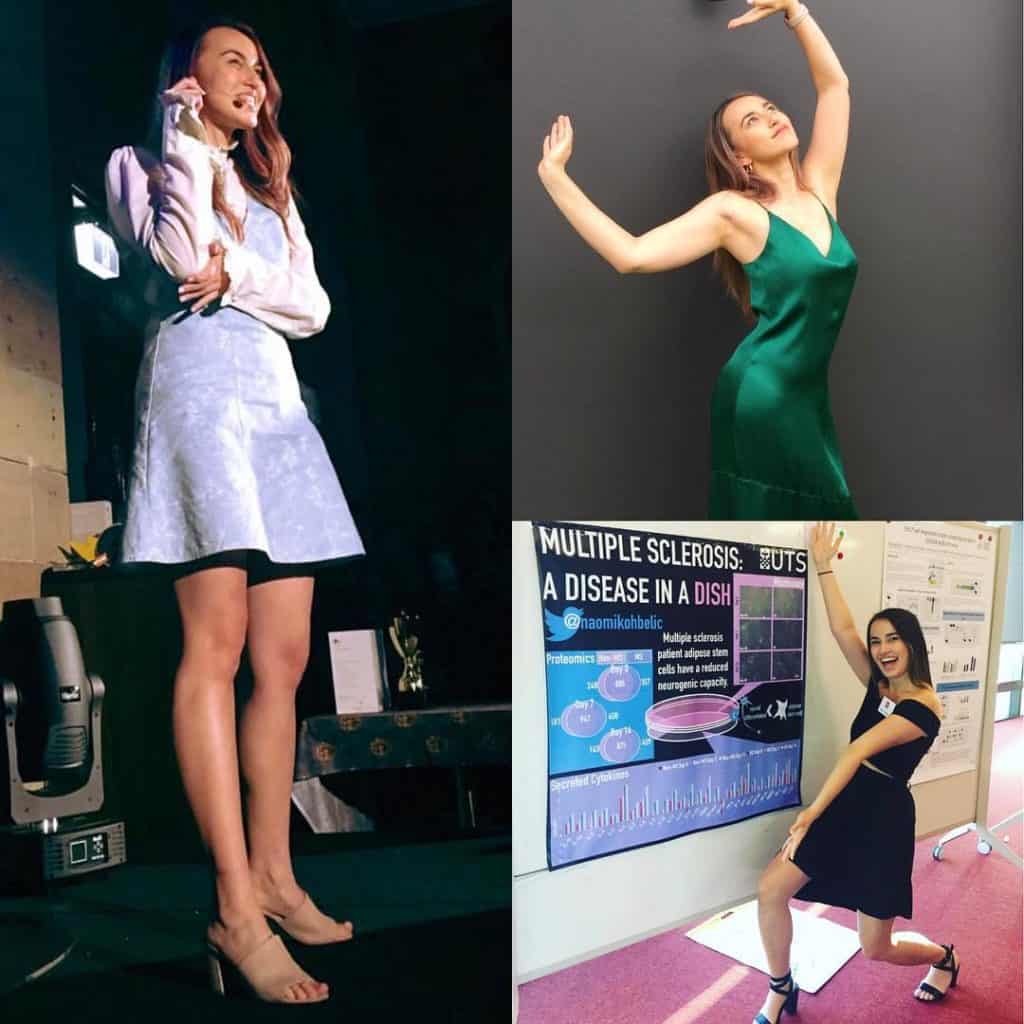 69. Daisy Shu
Today's #FancyScientist is @eyedaisyshu! Daisy studies the cellular and molecular mechanisms involved in ocular (relating to the eye) wound healing. The aim of her research is to explore how excessive wound healing results in scar formation, which drives the formation of fibrotic eye diseases. Using molecular biology techniques analysing protein and gene expression, her research seeks to eavesdrop on the cellular conversation mediating the wound healing response (I LOVE how she phrases this!). This can help with treatments. For example, she worked on a project exploring the wound healing mechanisms following glaucoma filtration surgery. The most critical determinant of the success of glaucoma surgery is scar formation and by understanding the signaling pathways involved in scarring, novel anti-fibrotic agents can be developed to maximize the surgical success. Finally, I am totally obsessed with her dress on the right!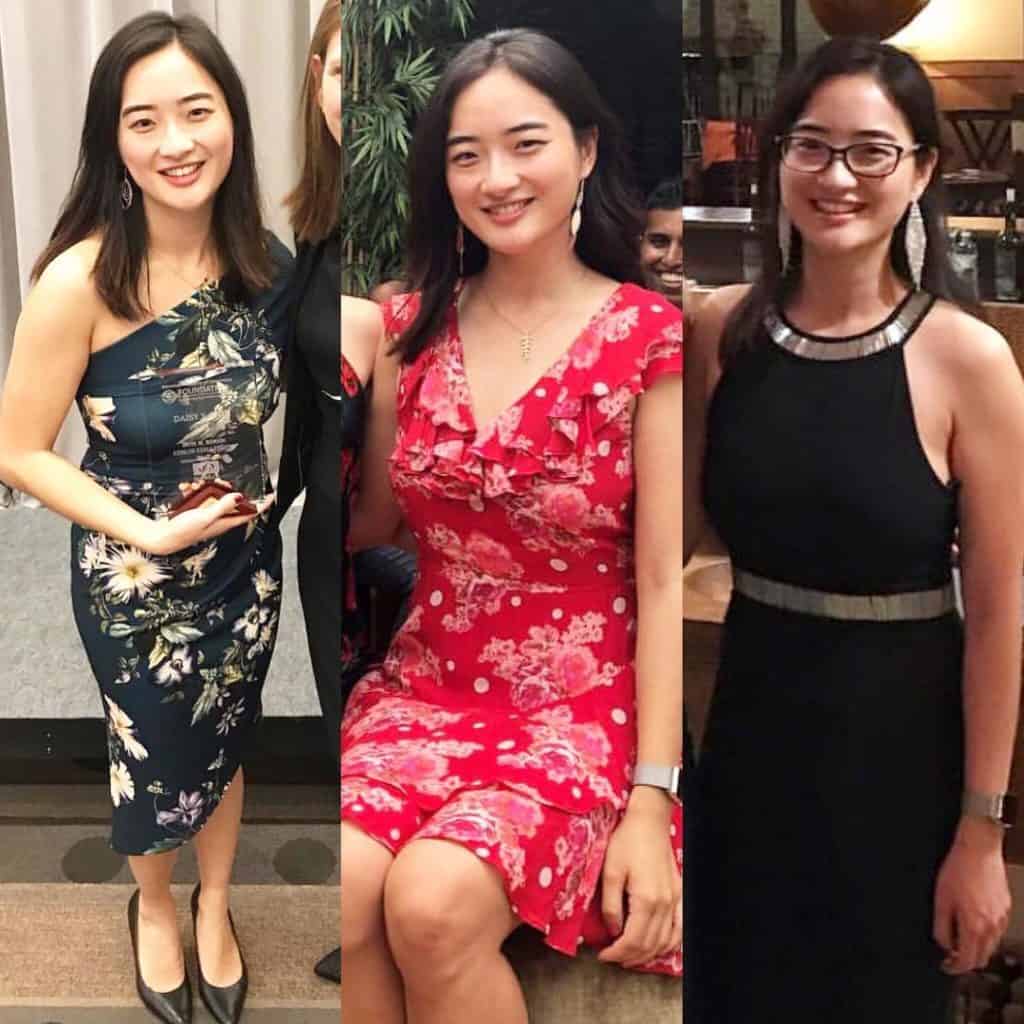 68. Rukia Henry
Today's #FancyScientist is @lifewithrukia! Rukia is an international, first-year Molecular Biosciences Ph.D. student studying cancer biology. She created the blog "Life with Rukia," to share how she is navigating through graduate school. She delayed her decision to get a Ph.D. because at first she didn't consider it a suitable career option. Growing up in Guyana, she never saw scientists who looked like her or were from the Caribbean. Her goal is to create content that not only showcases the amazing world of science and her pursuit of a Ph.D., but also features her love for God, fashion, beauty, and health. She hopes that young women of color can be empowered to know that they can be scientists too!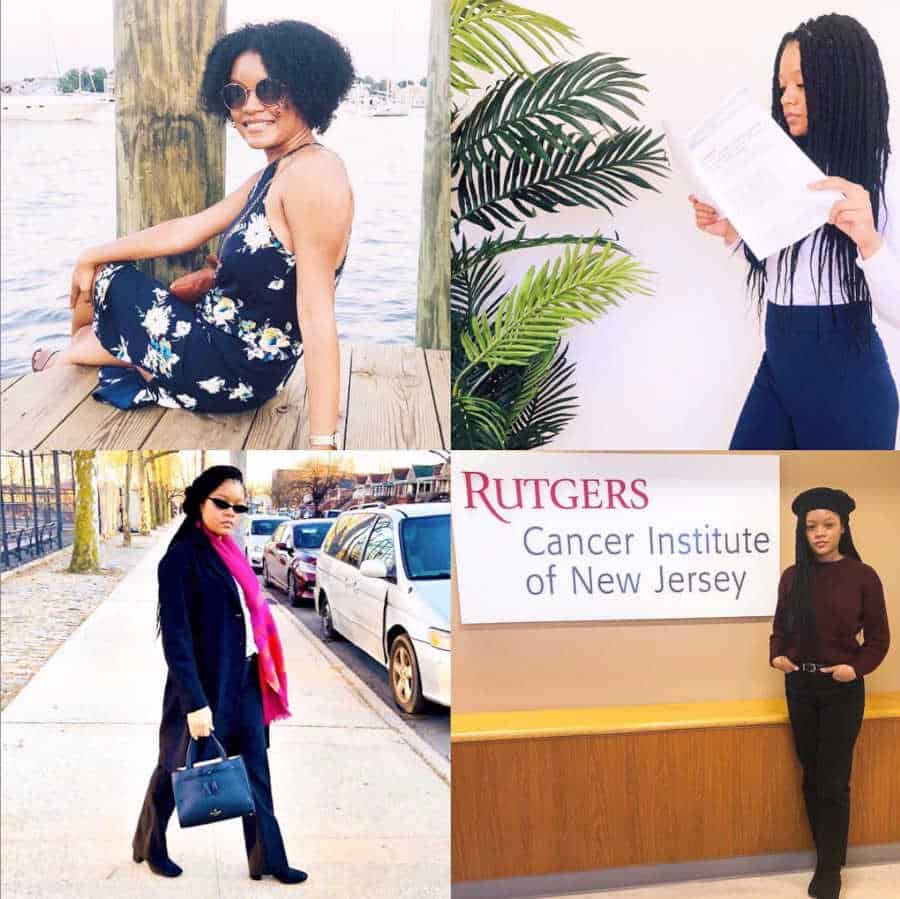 67. Debbie Gale Mitchell
I learned of today's #fancyscientist because she had some amazing chemistry-inspired makeup that someone tweeted to me: carbon as diamond and graphite (bottom left). @heydebigale (on Twitter) is a biophyisical/inorganic chemist interested in using electron paramagnetic resonance (EPR) spectroscopy to monitor fast biochemical reactions including redox and free radical chemistry. EPR is a a technique used to study chemical species with unpaired electrons. She is working to apply EPR imaging to monitor these reactions spatially and in real time. Bringing EPR to a broad audience is an interest of hers. She tweets about it and is developing labs for undergraduates on EPR. She believes chemistry is central to all aspects of science and medicine and therefore is always looking for better ways to help my students learn and apply chemistry. As you can tell, her science outreach is not just limited to her students and she goes above and beyond with social media and fun makeup.
66. Georgia Atkins-Smith
Today's #fancyscientist is @someblondescientist. Georgia Atkins-Smith studied biochemistry and Immunology, investigating how key white blood cells in the immune system undergo a dramatic dance of death to generate small fragments. She uncovered key regulators of this process, its role in homeostasis and infectious disease, and developed novel methods researchers can use to study the disassembly process. Now, in her postdoc, she is further dissecting our understanding of cell death during the progression and treatments of blood cancer. In addition to research, she is also a passionate science communicator and advocate of women in STEM. She believes all scientists have a responsibility to communicate what we do, and communicate it honestly.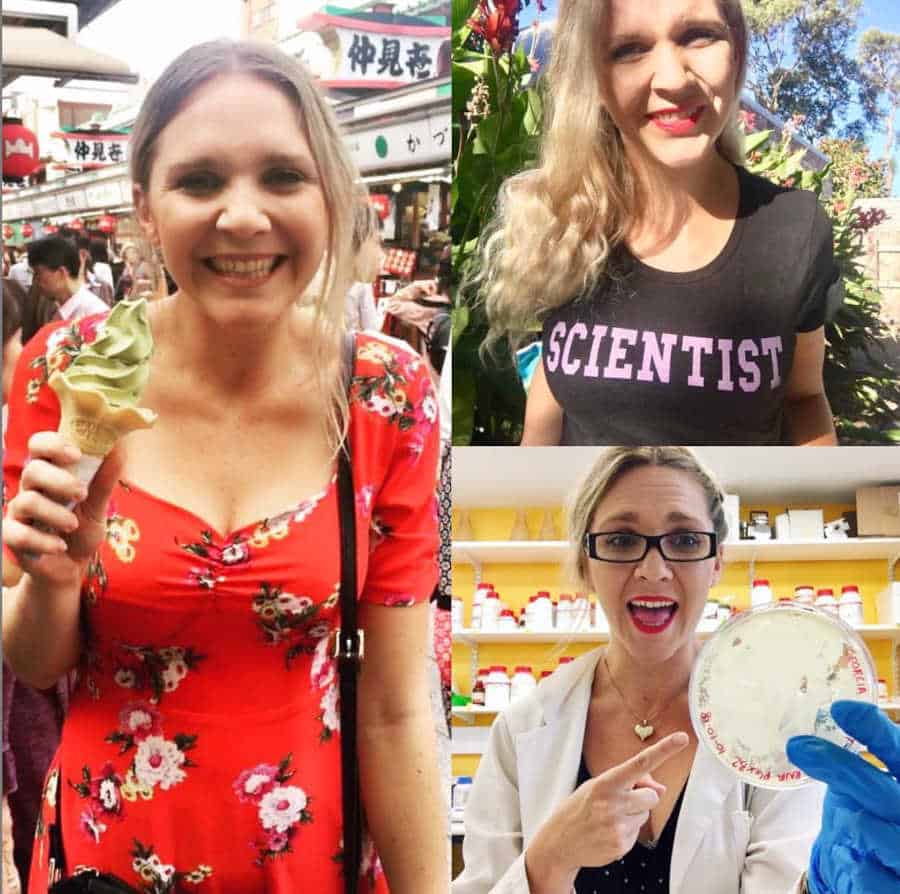 65. Samantha Ballard
Today's #FancyScientist is usually in a bikini, but I could still tell she was fancy! @air.sea.sam studies the coastal air-sea environment and uses spaceborne Synthetic Aperature Radar (SAR) images for wind and wave retrievals to explore surface roughness patterns in the coastal zone. Her goal is to improve SAR wind retrieval algorithms, which are developed for the open ocean, in coastal areas, where the relationship between surface roughness, wind and waves is more complex and less understood. She is a master coder and knows R, Matlab, Python, IDL and Fortran. I'm sure she spends a lot of time with her computer, but you can't tell by her insta – she's always on the beach or by the water!!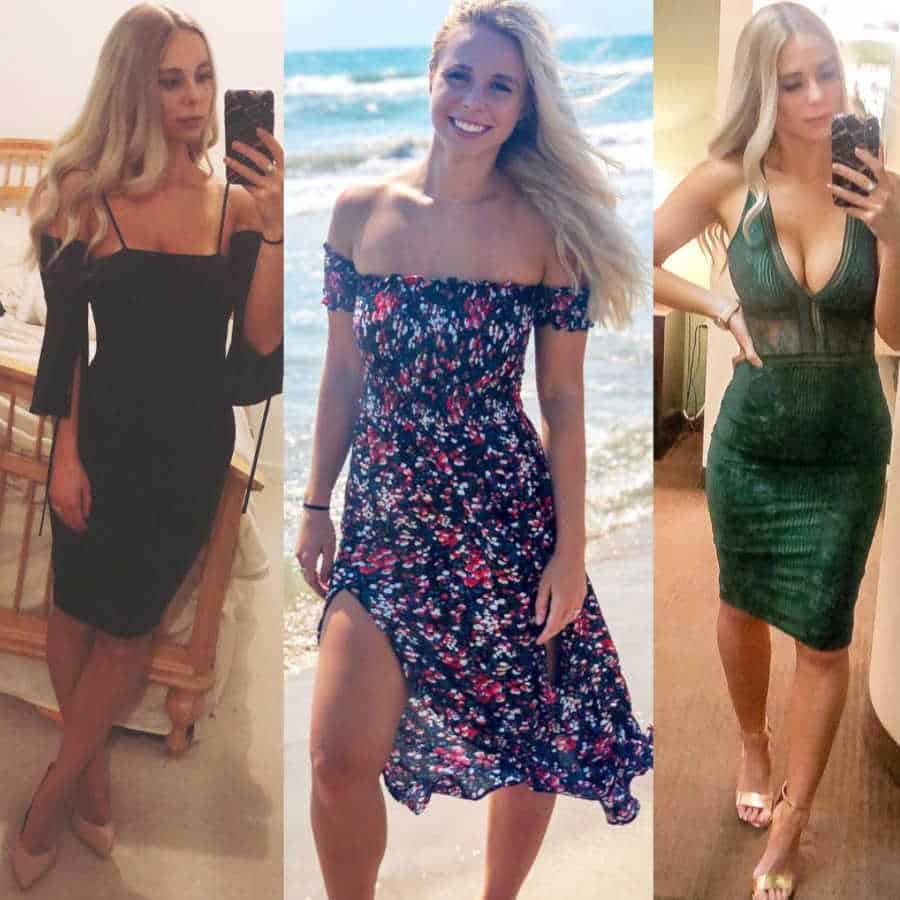 64. Lila Higgins
In honor of the Citizen Science Association's conference, this week's #fancyscientist is an expert in citizen science (AKA community science): @colilaoptera. Lila Higgins is an entomologist and museum educator and can usually be spotted in her signature black hat and red lipstick. At the Natural History Museum of Los Angeles County, she oversees the Community Science office, focusing on bringing urban nature and community science to the public in new ways. She co-founded the City Nature Challenge, a global effort to document biodiversity in the world's cities. To date 150+ cities have taken part, with over 18,000 people collecting almost 600,000 wildlife observations!! These data help us understand urban nature and work towards making our cities better for humans and wildlife. @colilaoptera'a insta is full of so many amazing finds in nature!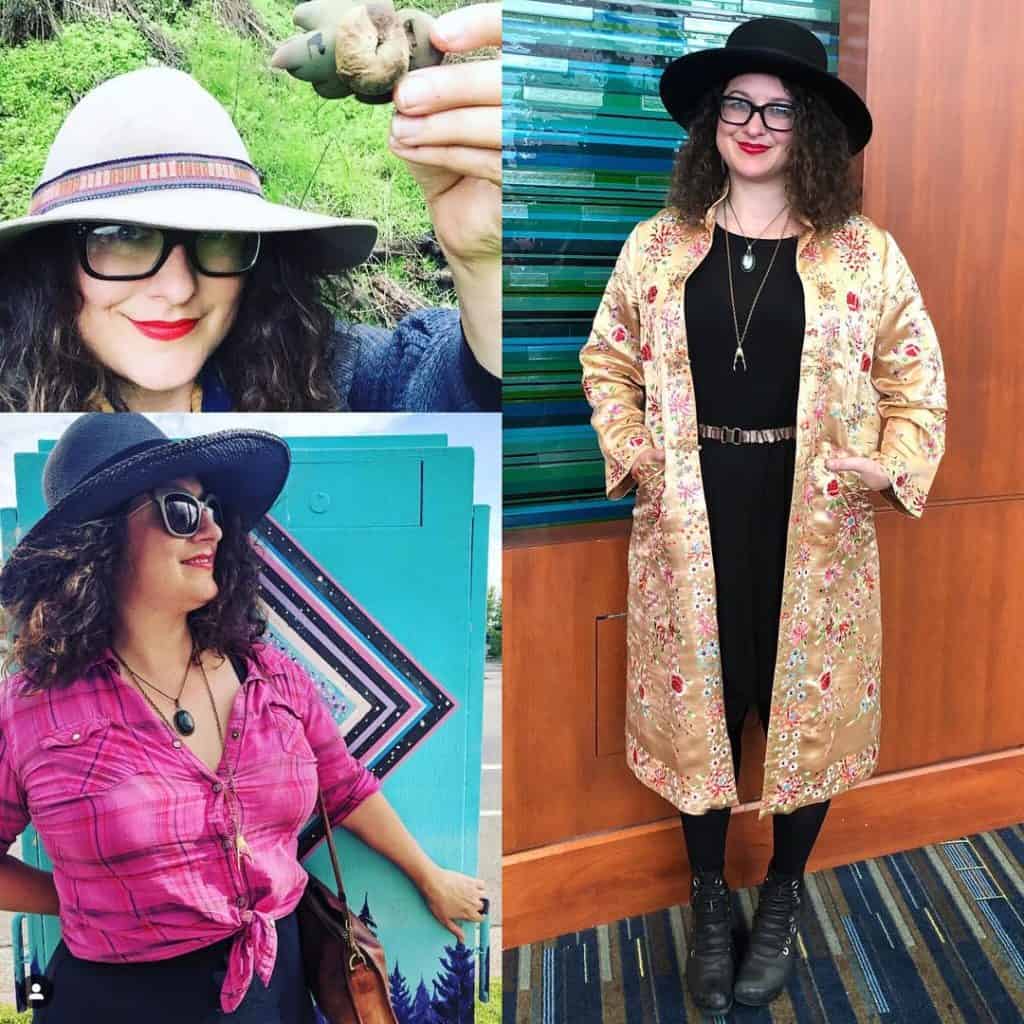 63. Lauren Callender
Today's #fancyscientist is immunologist @lozcallender_ ! Lauren studies the effects of ageing and age-related diseases on the human immune system. She is passionate about science communication and an amazing artist. This is reflected in her YouTube channel called "ScienceScribbles" where she teaches about scientific concepts by drawing along. If you look through her feed you'll see she has a strong selfie game too.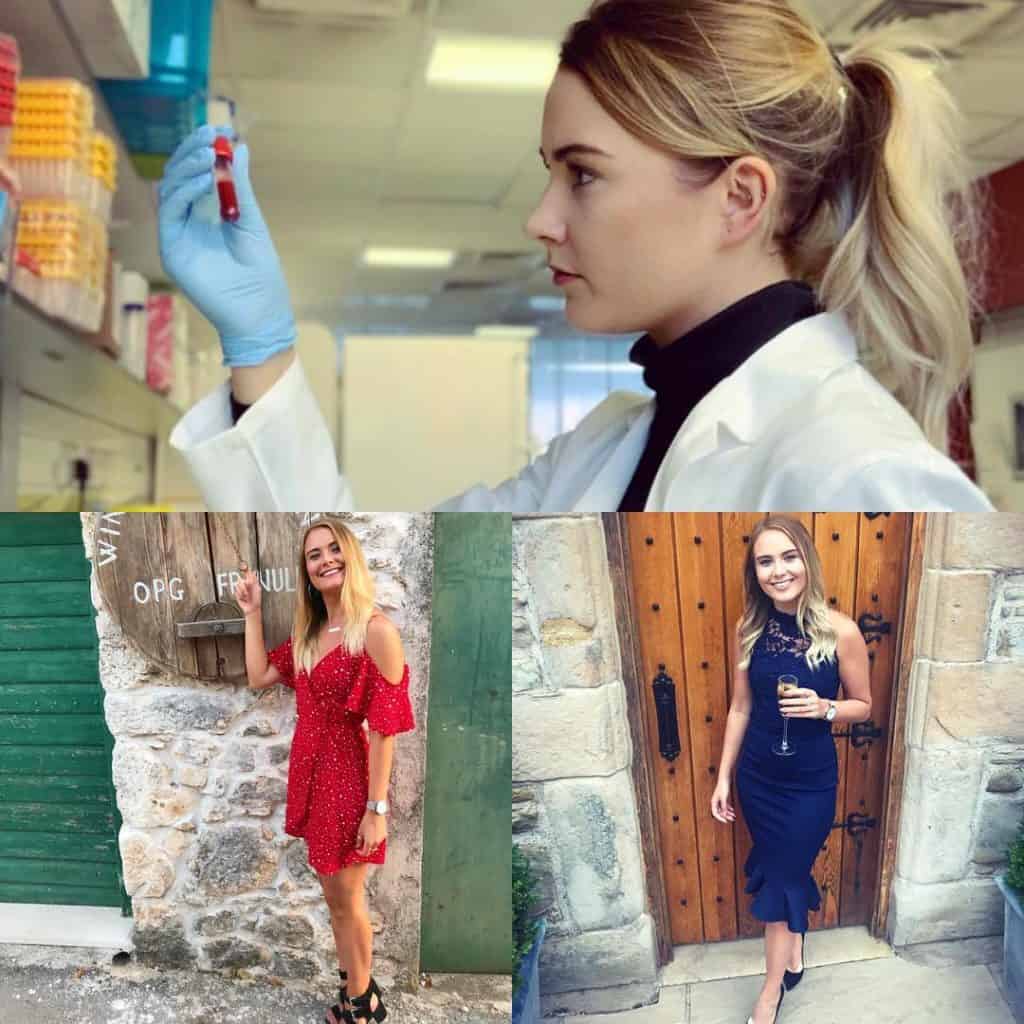 62. Julia Ravey
Today's #fancyscientist is next level fancy! I mean, look at those photos! Julia (@me_mycells_andi) is a PhD student researching Alzheimer's disease neurobiology. She is an amazing science communicator on Instagram and also writes a blog on all things neuroscience in relation to normal life – for example, the neuroscience of exercise. Her hope is to help others engage in science by making her content accessible to everyone. She would love for more people to understand the ins and outs of the neurodegenerative diseases that affect people so deeply. She also is quite the artist and has fun drawings, including a dendritic Christmas tree!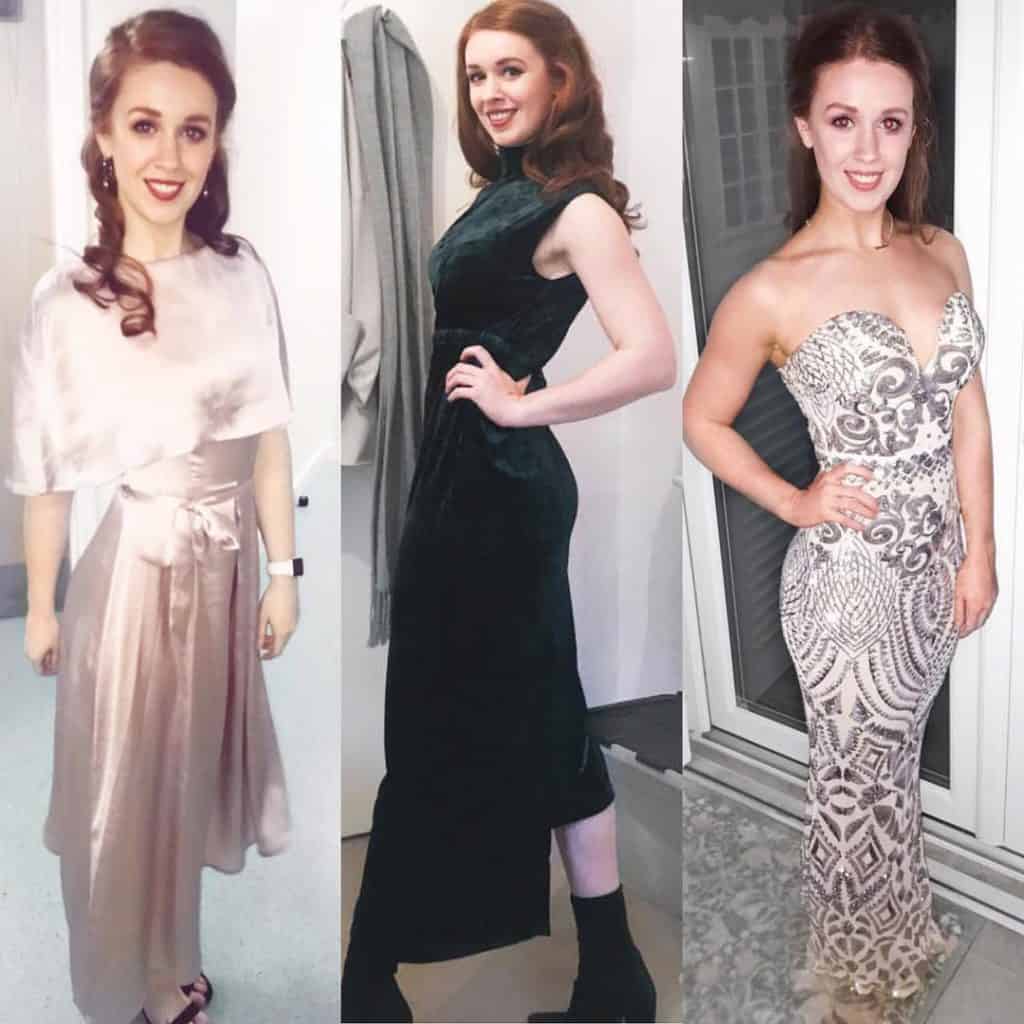 61. Kristin
Today's #fancyscientist has such a fun insta feed – so much natural history information, a hiking kitty, and so many funny lab stories. @kaydubsthehikingscientist is a plant pathologist that studies Ascomycotan fungi and how they cause diseases to forest trees. She gets to spend half of her time in the forest looking for specific plants, fungi, and insects, while the other half of her time is spent in the lab. She really enjoys hiking in the remote wilderness and learning about the ecosystem she is in and you can certainly tell by her Instagram feed!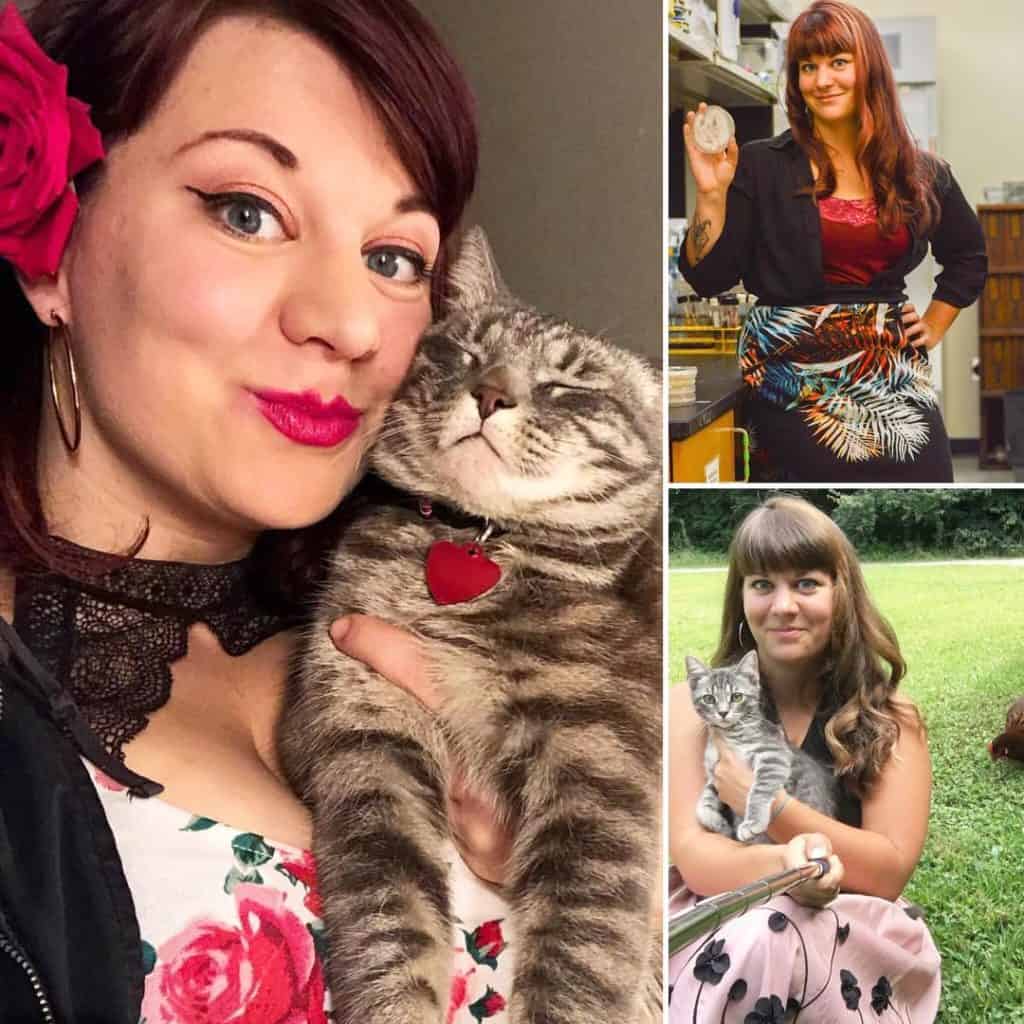 60. Megan Prescott
Who says that art and science don't mix? Today's #fancyscientist's account is at the intersection of science, art, and popular culture. @designingscience interprets scientific concepts through fashion design, explores the science in our everyday lives, and shows the real side of grad school through the "occasional melt down in her stories" (haha, her words, not mine!). Megan Prescott is a PhD candidate in microbiology studying the bacteria that causes tuberculosis to find new candidates for vaccines. She even has pants inspired by bacteria! She is also committed to active changes that will improve the lives of scientists, and even created a grant for childcare support for women scientists attending conferences!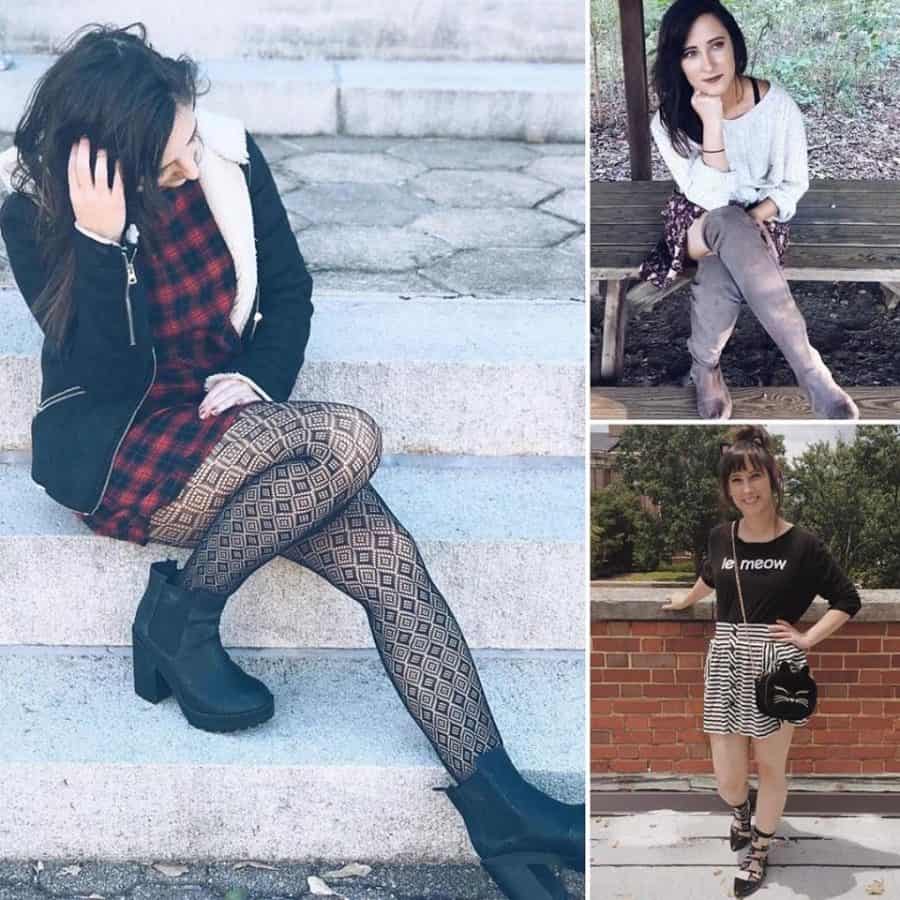 59. Sara Ruane
When I posted about my love for the online consignment store the Real Real, this #fancyscientist, tweeted right back with a photo of her closet full of Chanel (swipe right to see it #closetgoals). @Sara_and_snakes (on Twitter) is an assistant professor at Rutgers University-Newark interested in reptile systematics, especially of – you guessed it – snakes. Her research focuses on the phylogenetics of a family of snakes in Madagascar. She uses molecular data and traditional Sanger-sequencing approaches, as well as ecological and morphological data to aid in understanding what factors promote speciation in these snakes. Sara's love of snakes come through in her fashion. Check out her snake tights!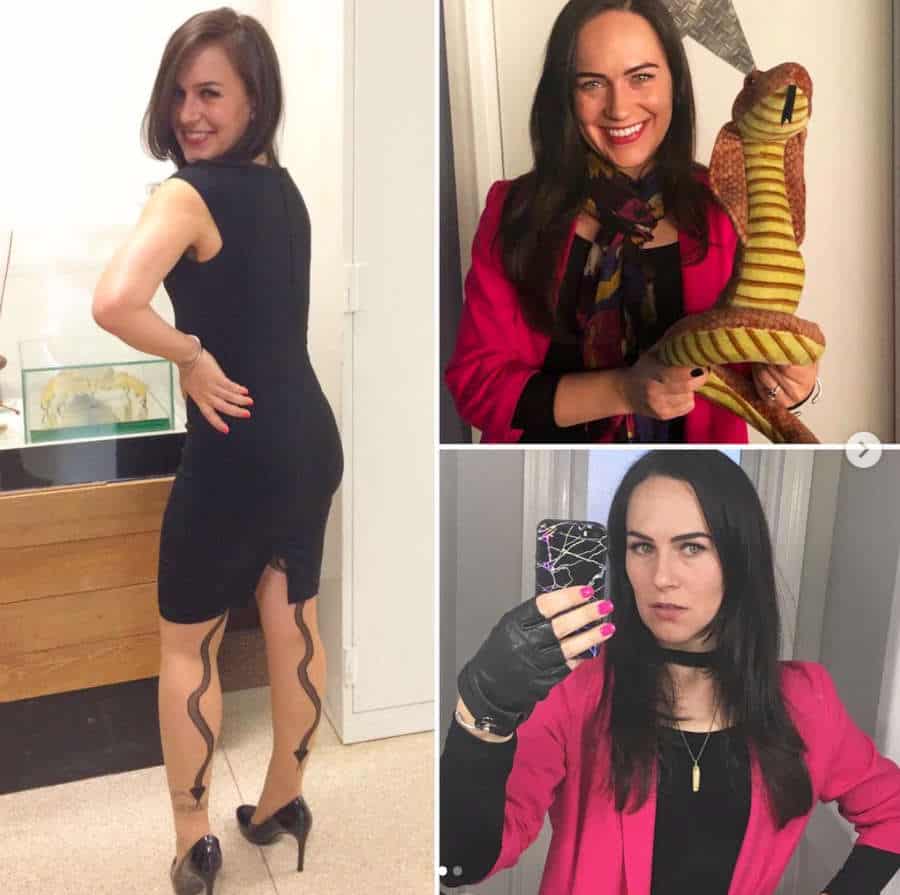 58. Sam Zwicker
I found today's #fancyscientist because she had a post about being in a fashion show to support conservation! How cool is that? I had to reach out! @sjzwicker is a scientist AND executive director. Her Ph.D. research involves assessing the effects of land use change on felids and their prey in the Amazon, estimating densities of jaguar populations, and research on the reintroduction of threatened species. She founded @HojaNueva, a nonprofit center for research, conservation, and education in Peru and cofounded @FashionforConservation, an organization which aims to reverse fashion's impact on the planet by putting a media spotlight on critical environmental topics while raising funds to support on the ground conservation efforts. This woman is seriously speaking my language!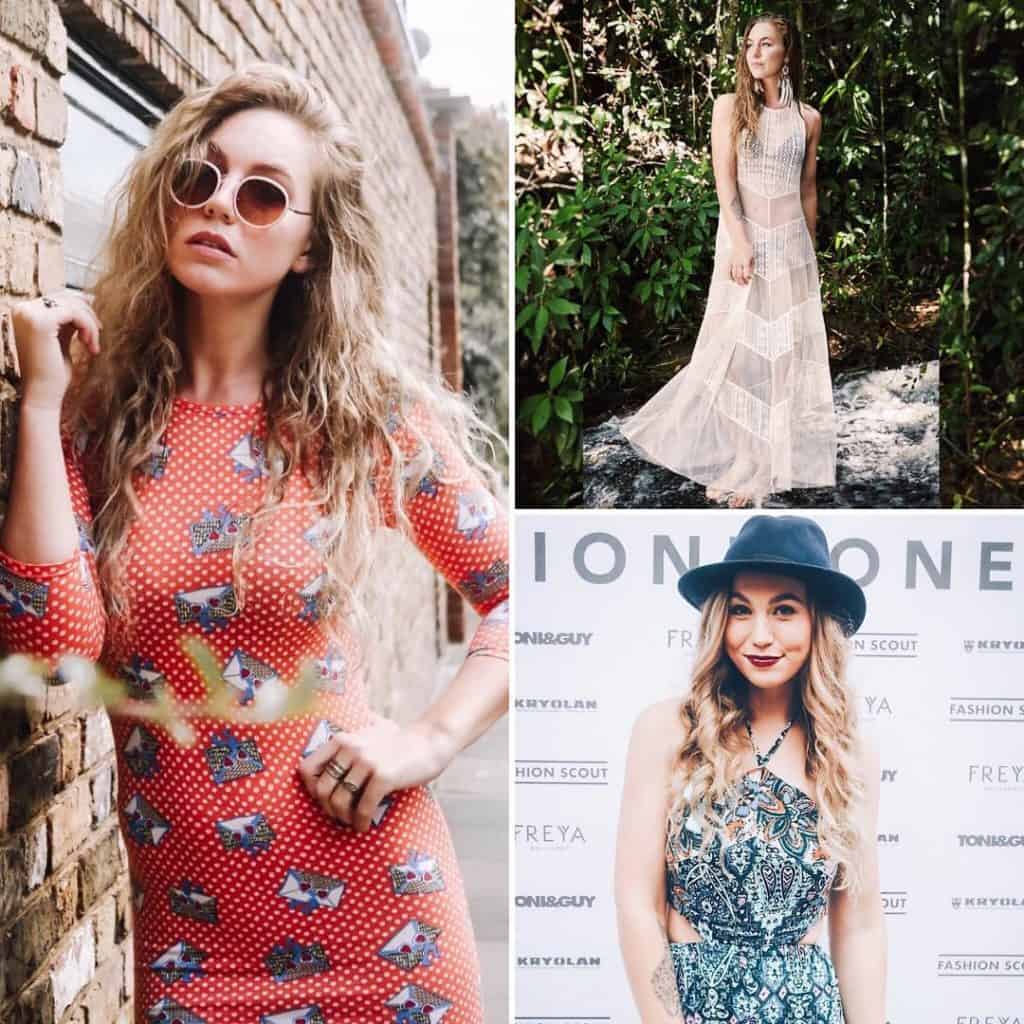 57. Amanda Hipps
I KNEW today's #FancyScientist was fancy even though she mostly posts photos from the field (hint: I saw her nails). I love @biophiliamanda's instagram! Not only because it is filled up with SUPER cute photos and videos of gopher tortoises, but she also has fantastic conservation messages. Although Amanda's feed is full of tortoises, she actually studies the animals that depend on their burrows (outside of the tortoises themselves) and how they help the tortoises. Some insects feed only on gopher tortoise dung (ew), but these insects provide important dung removal services within the burrow. They may benefit the tortoises by reducing pest flies and parasite loads. Amanda is studying their range and habitat requirements to determine which species can be found in Southeast Florida and where. These insects are found nowhere else in the world, but these burrows! Amanda also showcases a lot of other Florida critters found in or near the borrows such as snakes, frogs, lizards, and even my favorite – manatees! Her feed is super fun.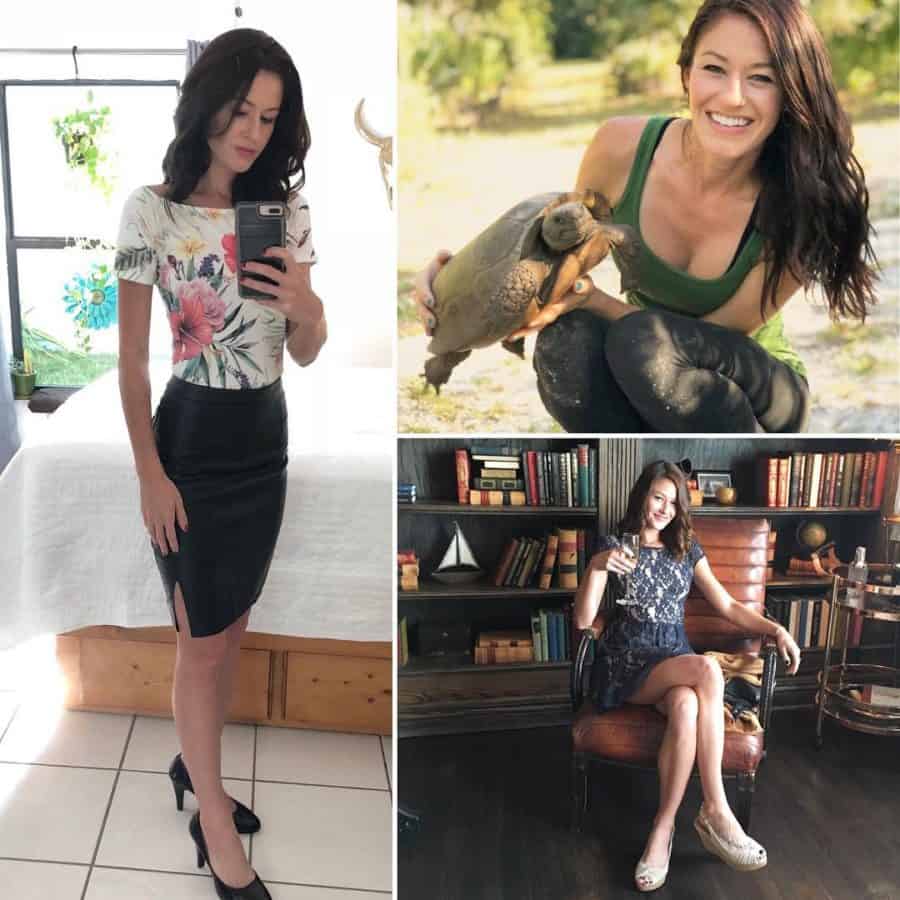 56. Colby Ford
Today's #FancyScientist is Dr. Colby Ford AKA @c01.by. His handle is perfect for what he does. Colby is a computational biomathematician and data scientist with a passion for mathematics and genomics research. He uses machine learning and visual analytics to help with the research. He currently works as a researcher in the Department of Bioinformatics an Genomics at UNCC and as a data scientist for BlueGranite, a Microsoft partner consulting firm focused on delivering data and AI solutions. His resume is seriously amazing; it spans multiple programing languages, advanced statistics, web design and even music. And he is stylish. I have a hard time with just one programming language.
55. Teresa
Today's #FancyScientist does medical research for some of our most special friends (if you're me): cats and dogs! @tluci88 is a doctor of veterinary medicine with interests in endocrinology, immune mediated disease, and minimally invasive procedures using endoscopy. Teresa's research includes understanding a serum biochemical marker to facilitate diagnosing pancreatitis in cats and dogs. Her favorite part of being a vet is the problem-solving aspect of obtaining a diagnosis. She spends her free time listening to heavy metal, watching horror movies, and loves all things spooky.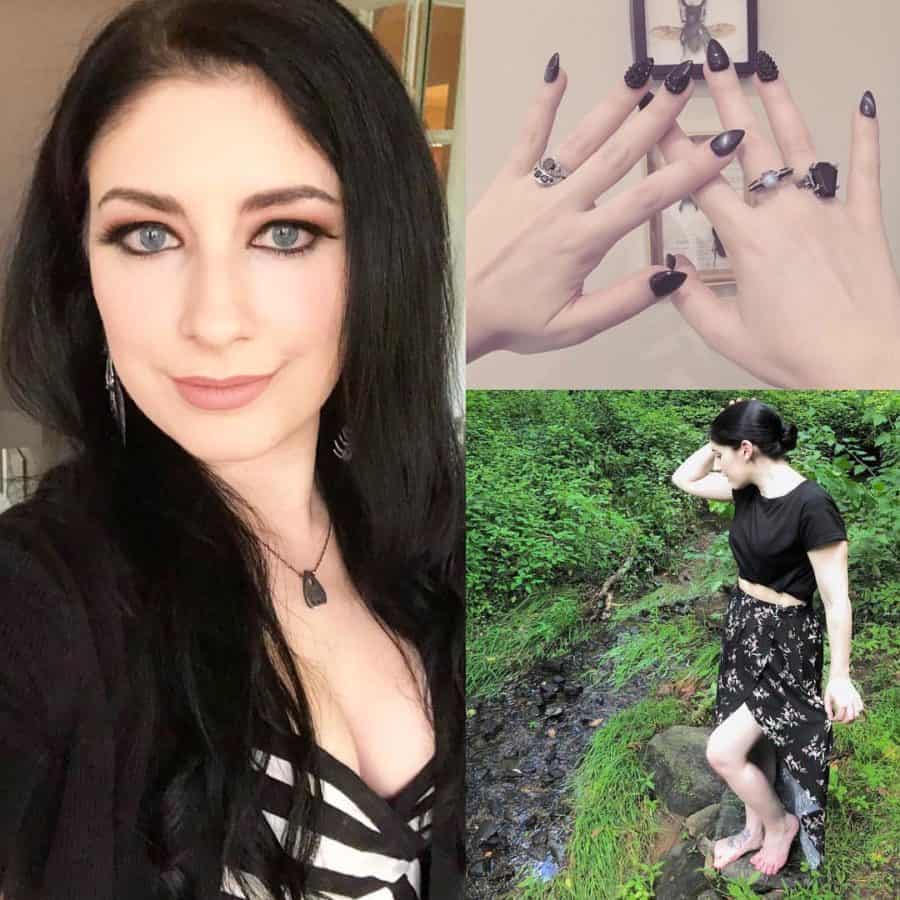 54. Nicholas Montoni
Today's #FancyScientist is @nickmontoni, a Physical Chemist studying light-matter interactions at the nanometer scale. He is another scientist I found from @500queerscientists, and as a graduate student, Nick was an advocate for LGBTQ+ and other underrepresented students in STEM. Nick now works as a freelance science policy consultant and is pursuing a career in science policy and public service. After hearing some inspiring talks from Science and Technology Policy Fellows in the American Association for the Advancement of Science program, Nick had a career change. His goal is to ensure that science can be done by and used for the benefit of everyone. Finally, he wears amazing biodiverse shirts.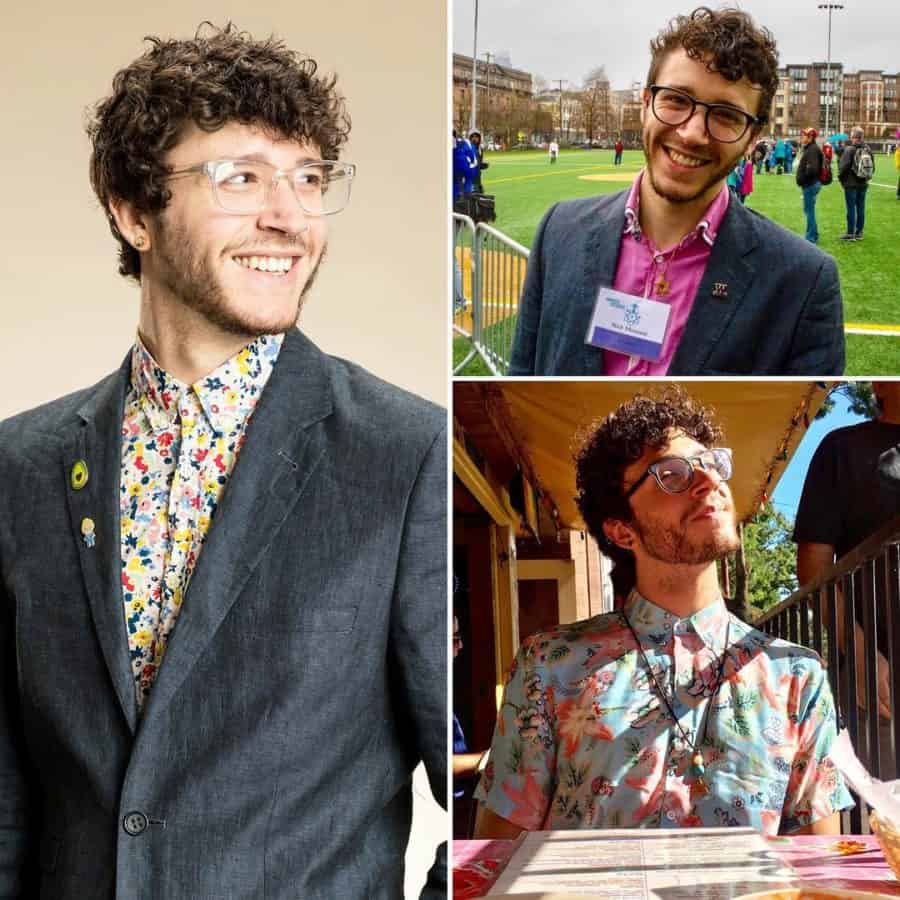 53. Cristian Sandoval
I found today's #FancyScientist through the amazing account @500queerscientists. Cristian Sandoval, @keepingupwithmycamera, is a medical technologist and Ph.D. candidate at the University of La Frontera in Chile. His research is in molecular biology within the medical field and is very vast. His publications range from burn treatments to alcohol consumption effects on cancer to the effects of stress on livers, spleens, and adrenal glands. Cristian first discovered his love for science in college and "found the best way to shine and to do amazing things" was through science. He is currently looking for a postdoctoral position and a new place to do research and improve his scientific skills. "I know the power is in our hands and we can change the world." YES, we can!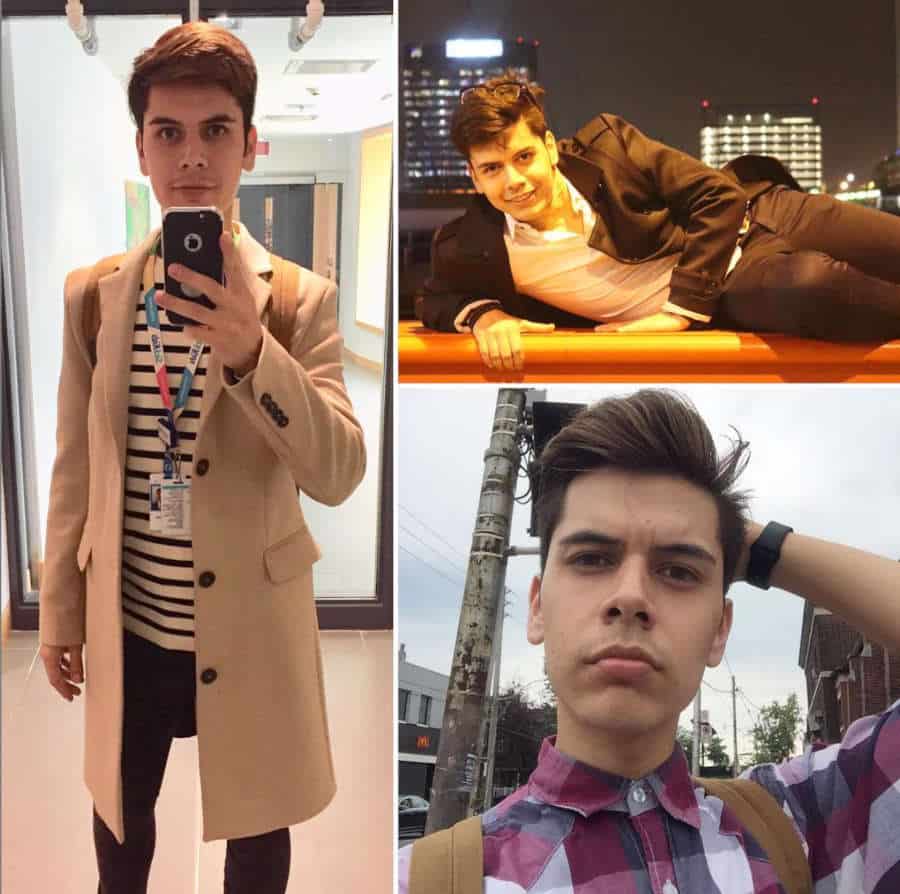 52. Vanessa Cesário
I am super excited about today's #FancyScientist because I work in a museum! @thestylishphd is working on a degree in Digital Media in Portugal. Vanessa is investigating the experiences of teenage visitors inside natural history and science museums. Specifically, she is trying to understand how combining digital storytelling and gamification can enhance their experiences. Vanessa believes that digital and interactive content for children and teens has immense potential to be uncovered and further developed inside museums! I agree and can't wait to see her results.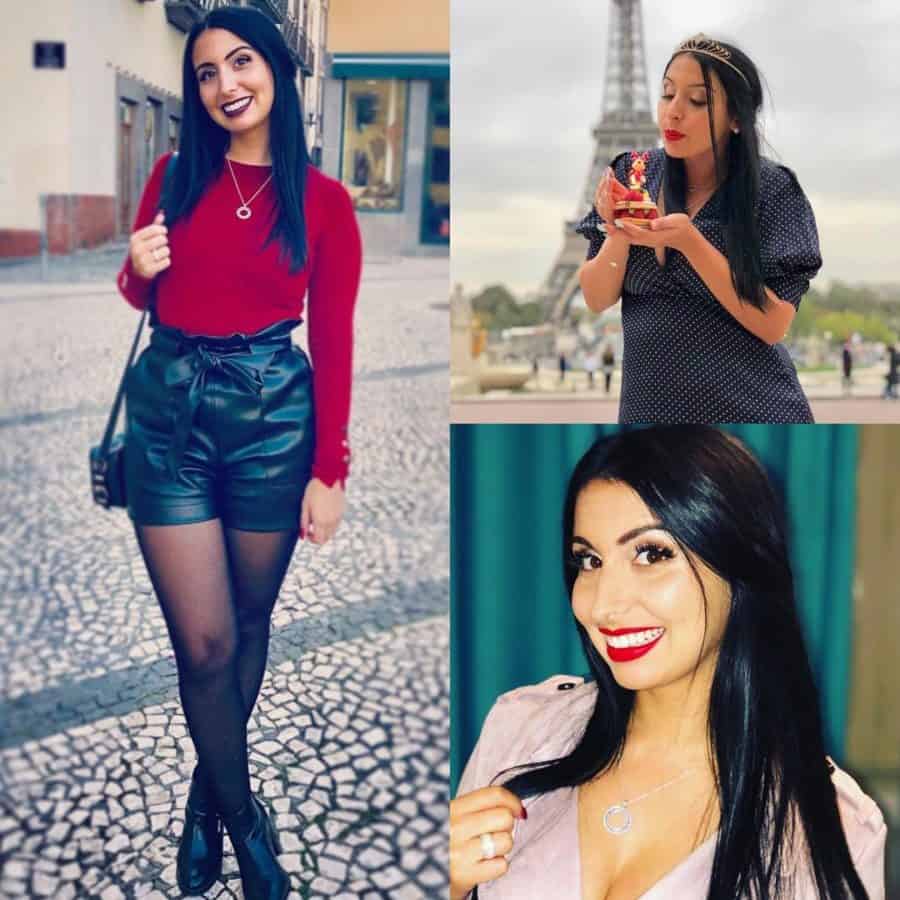 51. Montgomery Spillane
Today's #FancyScientist, @garb.by.gumbo, is part scientist, part fashion designer. She uses her love of geology to inspire fashion, specifically textile designs. Her designs are based on micropetrographs, which are thin sections of rock used to determine the mineralogy of the rock in question. She puts them on scarves, bags, leggings, and even phone cases. I am definitely a print girl and I am in love with these kaleidoscope-esque looks! By day, @Garb.by.gumbo has a very important job that affects us directly in our daily lives. She is a consulting geologist whose work involves monitoring important environmental protections (AKA regulations) for us. She conducts assessments and remediation of properties that are affected by hazardous substance or pollutants, and more recently, she started working on coal combustion residual rule monitoring. Aren't these fancy scientists so surprising?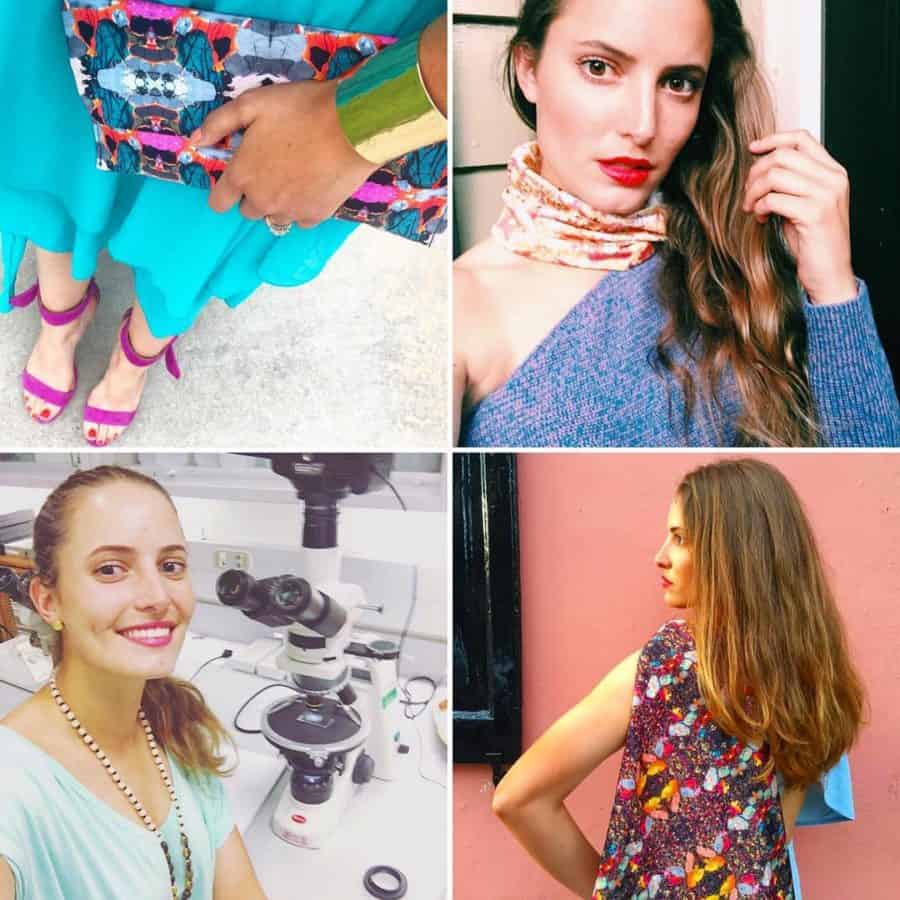 50. Lisa Buckley
Today's #FancyScientist is all about makeup, especially eyes – my favorite! @LisaVipes does #BirdGlamour, where makes up her face to look as glamorous as different birds????. While I am biased towards mammals, they are some of the least fancy animals. Birds on the other hand, can be super fancy with lots of color and shimmer. Lisa recreates these looks and even poses in their habitat! Lisa is a vertebrate paleontologist that studies the tracks and traces of of Cretaceous-age dinosaurs and extinct birds. Part of her research involves remote field work where she observes birds interacting with the environment in their natural habitats. She documents and collects replicas of their traces and tracks and uses that information to better understand the fossil tracks of ancient birds. In addition to #BirdGlamour, she also runs #NameThatTrack on Twitter, a fun game to help people use and refine their tracking skills.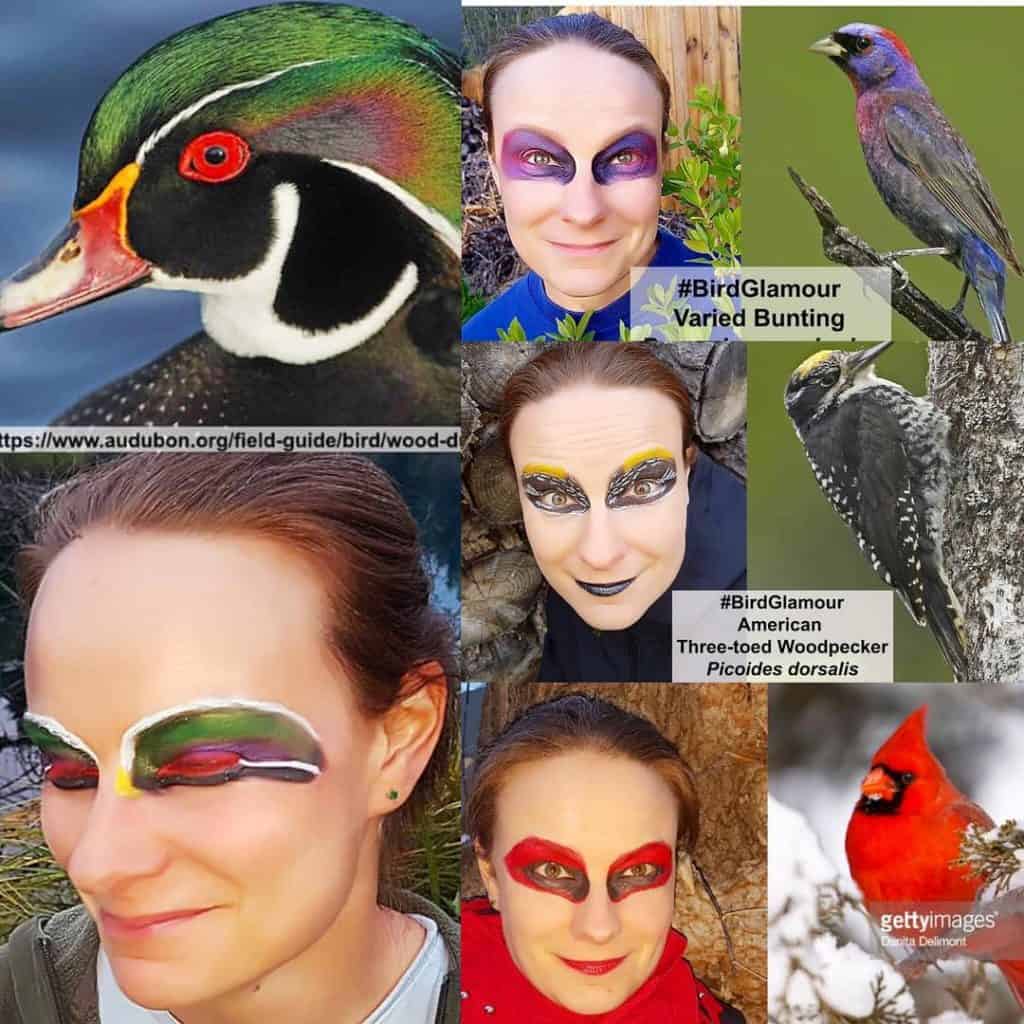 49. Hilary Nicholson
Today's #FancyScientist is Hilary Nicholson who is a member of the Science Cheerleaders! I saw the Science Cheerleaders perform at @usasciencefest. They are a non-profit comprised of 300+ current and former NFL, NBA and college cheerleaders pursuing STEM careers. The goal of the Science Cheerleaders is to challenge stereotypes about scientists, engineers and cheerleaders and engage people in citizen science and inspire young women to consider careers in STEM. Hilary is a Medical Oncology Research Fellow at the Dana-Farber Cancer Institue/Harvard Medical School. She works on research to increase the specificity of chemotherapy through synthetic lethality, which is an interaction between two genes where when either gene is perturbed alone it is viable, but when both genes are perturbed simultaneously, it results in the loss of viability. These interactions with tumour-specific mutations can be used to develop anticancer treatments. Hilary cheered for the Colgate Raiders in college and faced stereotypes about being a scientist and cheerleader. She now works hard to try to break them in both fields!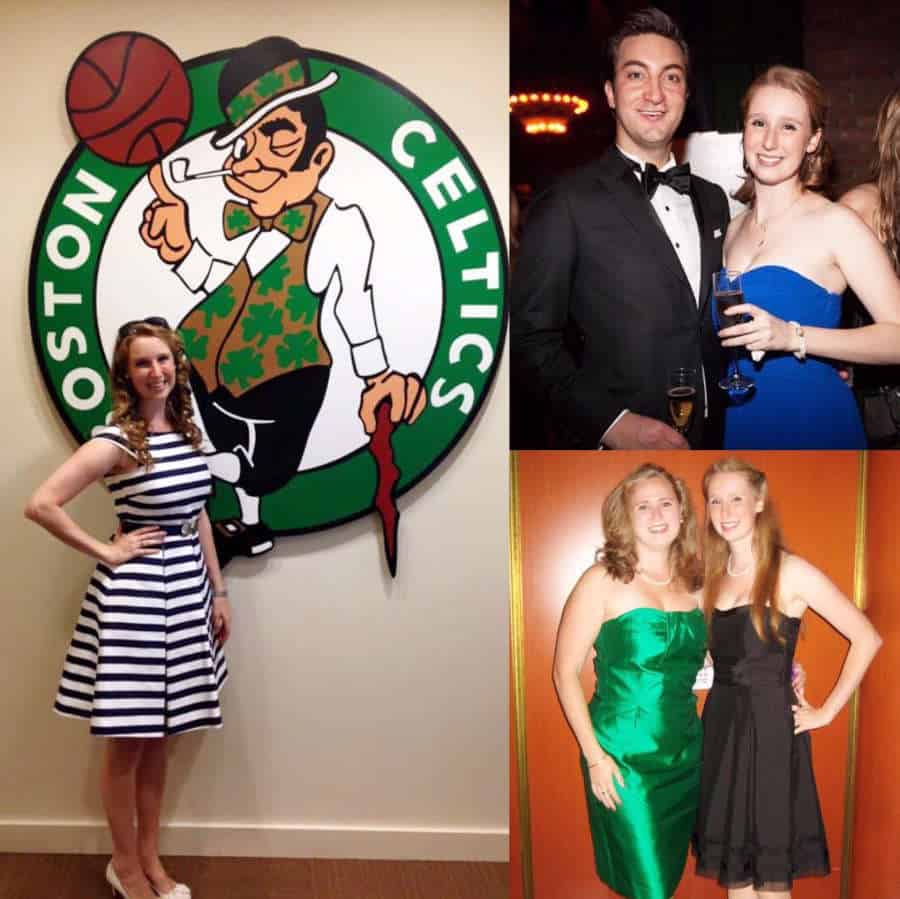 48. Faviola Dadis
Guys, today's #FancyScientist is so fancy she used to be a model! @neurosciencebarbie spent her first career as a an international model for 15 years and three running a PR firm in Shanghai, Hong Kong, and Tokyo. Faviola decided to make a drastic change though, and returned to university full-time to become a clinical neuroscientist studying cognitive deficits in stroke patients. Faviola is now a doctoral candidate and her research focuses on traditional and virtual reality neurorehabilitation with stroke patients. She is also an entrepreneur like last week's fancy scientist! She funded her research through a medtech startup company called NeuroReality, which specializes in the development of medical software using virtual reality to create an immersive and gamified neurorehabilitation program for individuals who experience cognitive deficits following a stroke. What can't this girl do?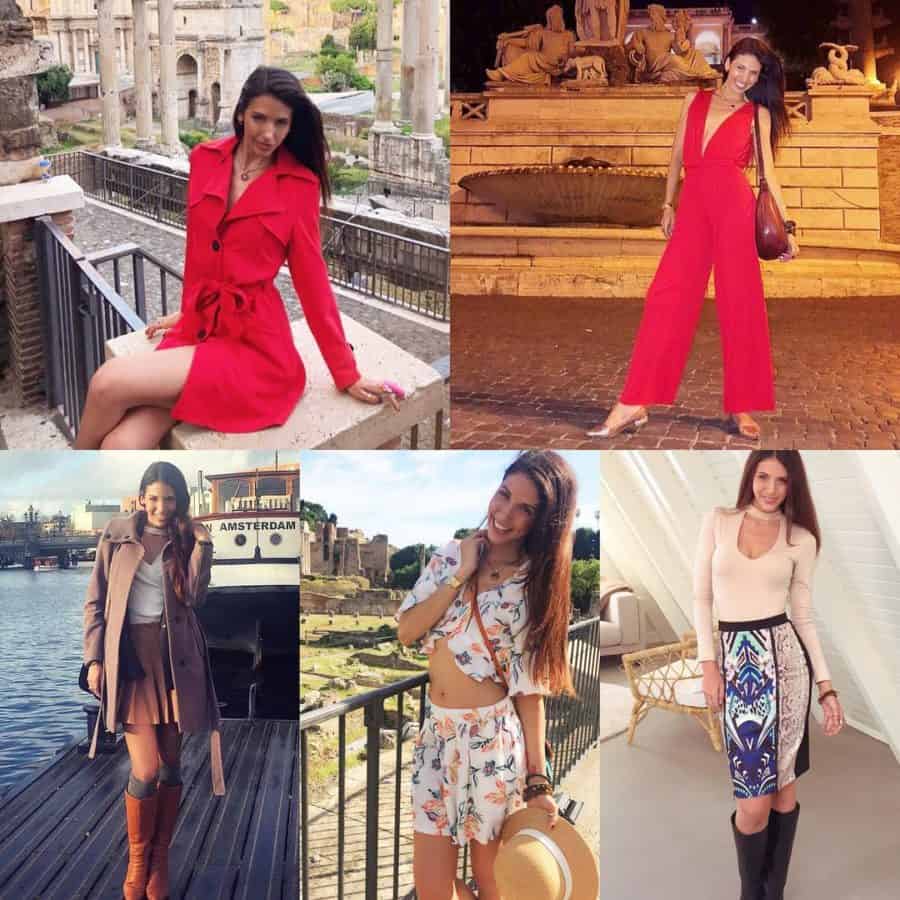 47. W. Shawn Carbonell
His Instagram name says it all – he dropped out from his dream of becoming a neurosurgeon. But that wasn't because @brainsurgerydropout didn't have passion, it's because he wanted to be a bigger part of the solution! #FancyScientist Dr. Shawn Carbonell saw too many people die from brain cancer and started his own biopharma company. Along with his wife @fashionsurgeon, he is now researching and creating new classes of drug therapies for patients! His vision is for his drugs to be one of the go-to tools for oncologists to treat virtually any cancer. Not only do he and his wife run a company together, but they also dress up together. But my favorite part of @brainsurgerydropout's style is his cat pocket square. Obsessed!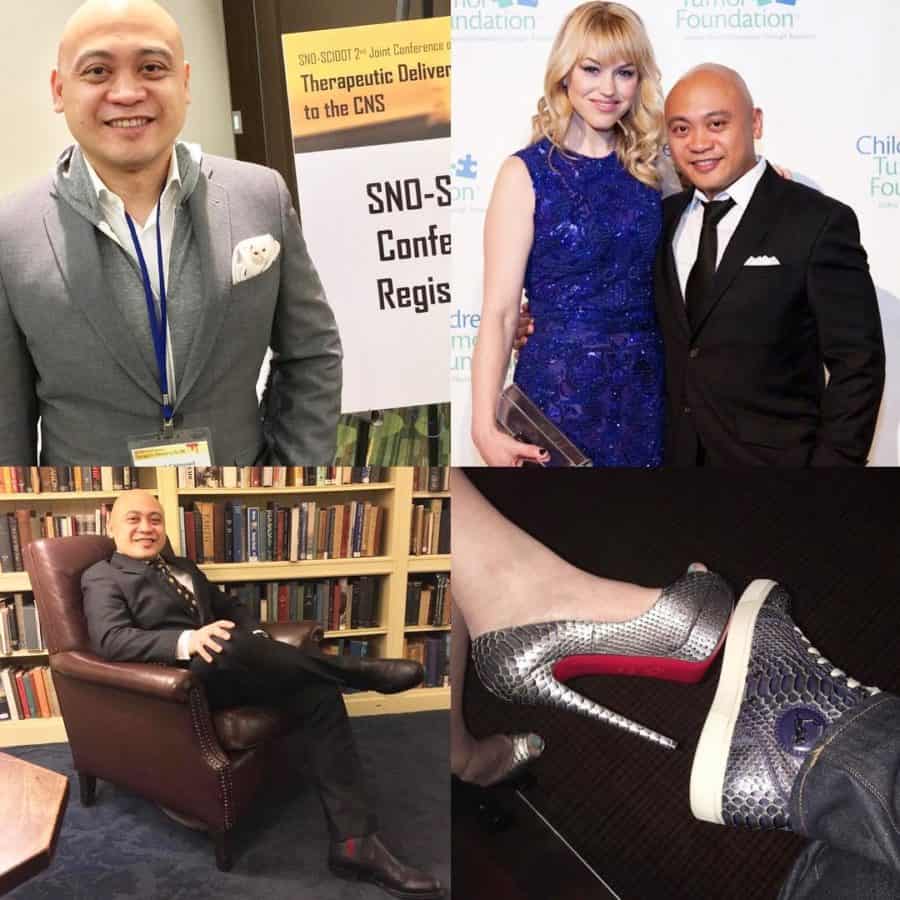 46. Christy Lane
Today's #FancyScientist is not only a scientist, but also an entrepreneur as you can tell by her handle: @thetravelingmompreneur. Christy has a PhD in Rehabilitation Medicine and studies exercise as medicine for clinical populations. She is especially interested in the abilities of wearable technology to promote behavioral changes. This is where the entrepreneur side kicks in: She founded and is the Co-CEO of Vivametrica, an insuretech company that uses data from wearable devices to predict mortality and disease risks, and engage customers in wellness. It's also clear from Christy's instagram that she is a very good mom and loves Disney (like me!).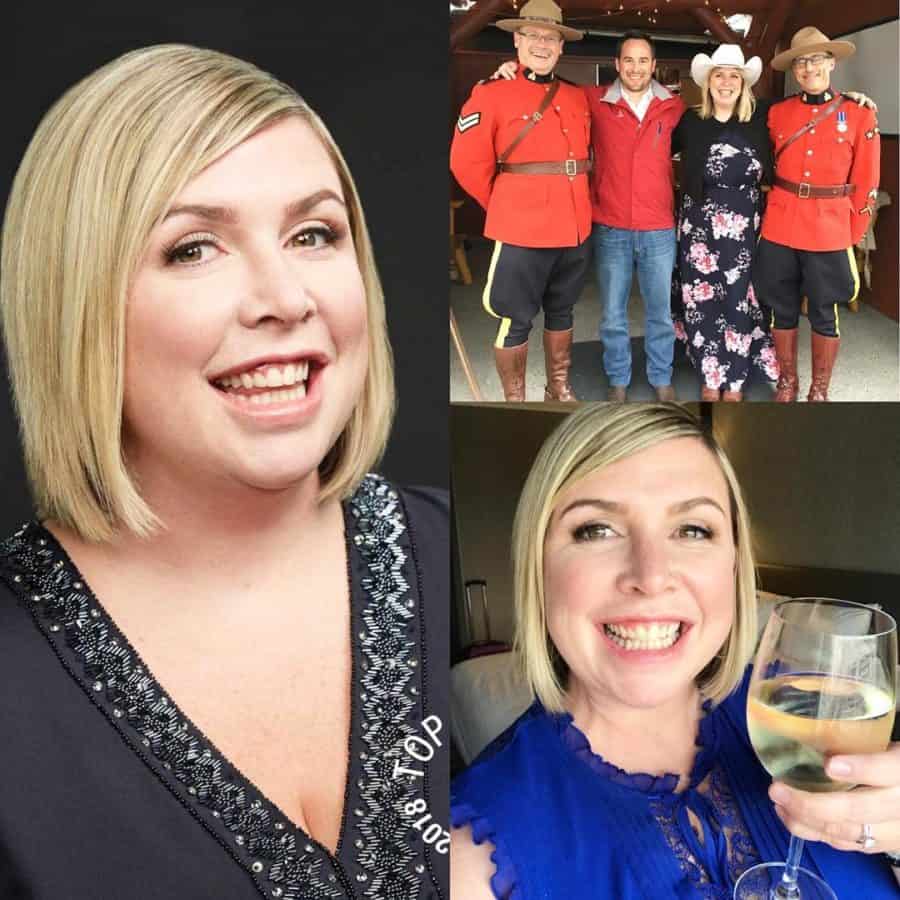 45. Katelynn Perrault
Today's #FancyScientist is @kateprofesses! Katelynn is an Assistant Professor of Forensic Science and Chemistry at Chaminade University in Hawaii (jealous!). Check out how cool her research is – she has done extensive work profiling the volatile organic compounds that form the odor from decomposing remains! Why would we need to study such gross smells? Well it turns out her research is essential in understanding the sensory mechanisms behind scent-detection in canines. In other words, this helps us understand how dogs can detect decomposing bodies. How cool is that? In addition to posting photos of her in the lab, it's clear that Katelynn also loves the outdoors. You'll find photos of her hiking, surfing, and doing yoga on the beach in Hawaii. Did I mention that I am jealous?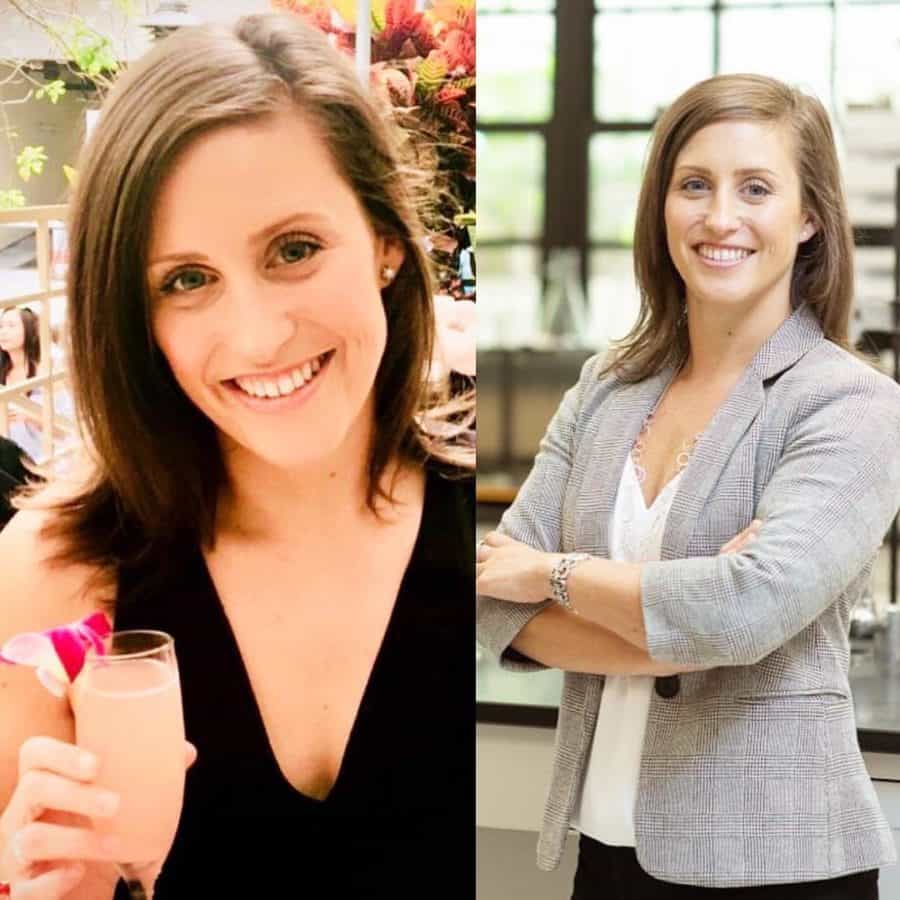 44. Kristina Poljak
Today's #FancyScientist is a scientist by day and blogger/fashionista by night! Kristina AKA @beneaththecoat describes herself as "a scientist who, in daily laboratory work, beneath her lab coat hides a wonderful world of colours, textiles and designs." I can relate! (except I don't wear a lab coat). Kristina works at the Medical Research Council Laboratory of Molecular Biology in Cambridge, UK. She is currently investigating the role of distinct cargo receptors in protein trafficking through and out of the cells. In other words, how the cell makes sure that every protein, once it has been made new, makes it to its destination. Kristina has an amazing blog full of fashion and travel posts. Her blog is dedicated to "all of you who like to play fashion and are not afraid to show it." Can I get amen?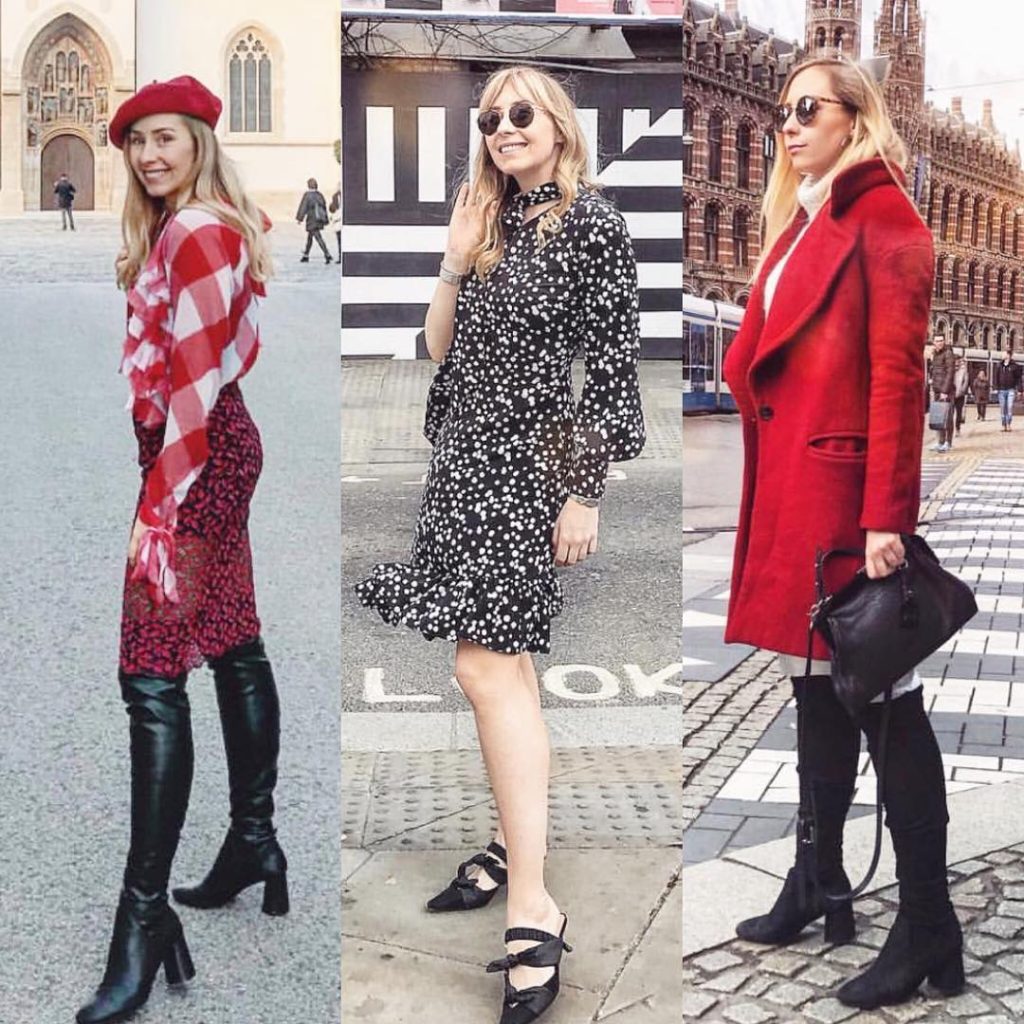 43. Helen: Makeup with Chemistry
Today's #FancyScientist is very fancy on the face. @makeupwithchemistry is a – you guessed it – chemist! Helen's Instagram started with her research, but she's expanded into posting about beauty from a chemist's perspective. Her research focuses on the energy exchange at the gas liquid interface, which has applications to liquid aerosol particles in the atmosphere. Her beauty posts include a #thursdaystheory where she shares infographics about beauty products or ingredients. My favorite posts are her eyeshadow posts. Not only is she an amazing makeup artist, but she also uses them to explain scientific concepts. If you want more from Helen, she just launched a YouTube channel delving into these concepts more as well as results she gathers from testing make up in her lab.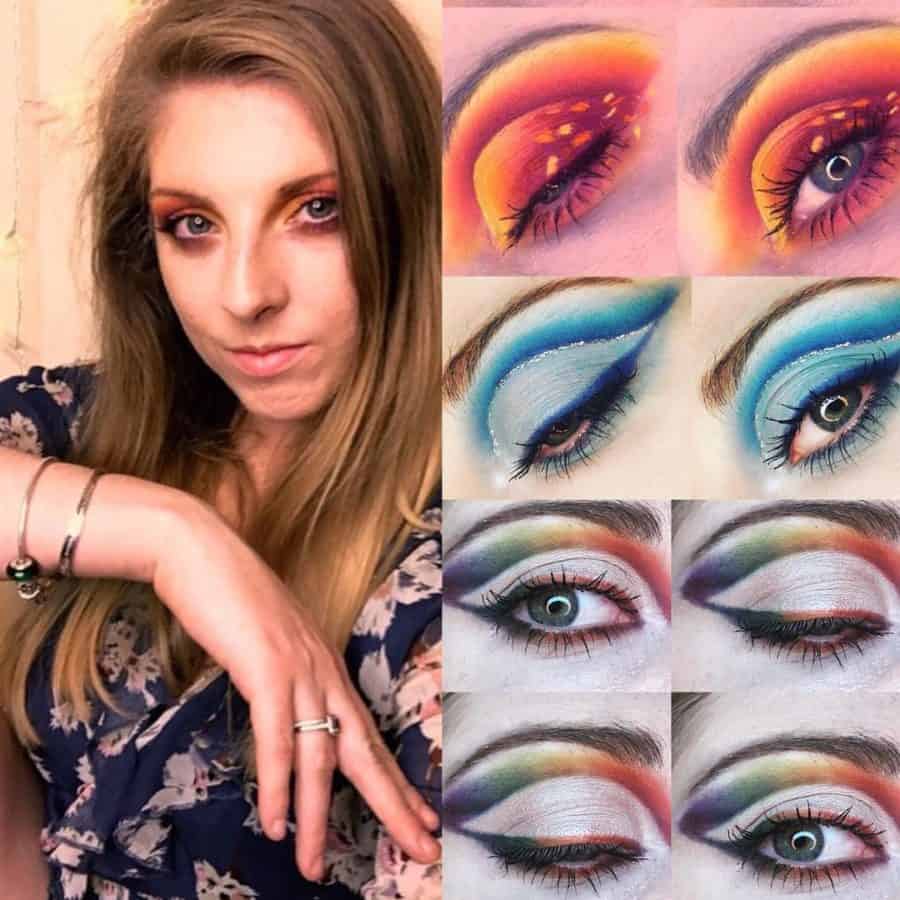 42. Daniel Toker
Today's #FancyScientist is @the_brain_scientist. Daniel's research is SUPER cool. He breaks down brains! (The science of that is.) He studies the neural underpinning of consciousness using insights from graph theory and information theory. In other words, his goal is to better understand what the brain is doing when it's conscious, and what changes when it's not. He is an avid fan of using social media for science communication. His Instagram account is amazing obviously, he blogs about brains, and he has at least TWO brain ties! Image of rainbow brain from Jack Gallant.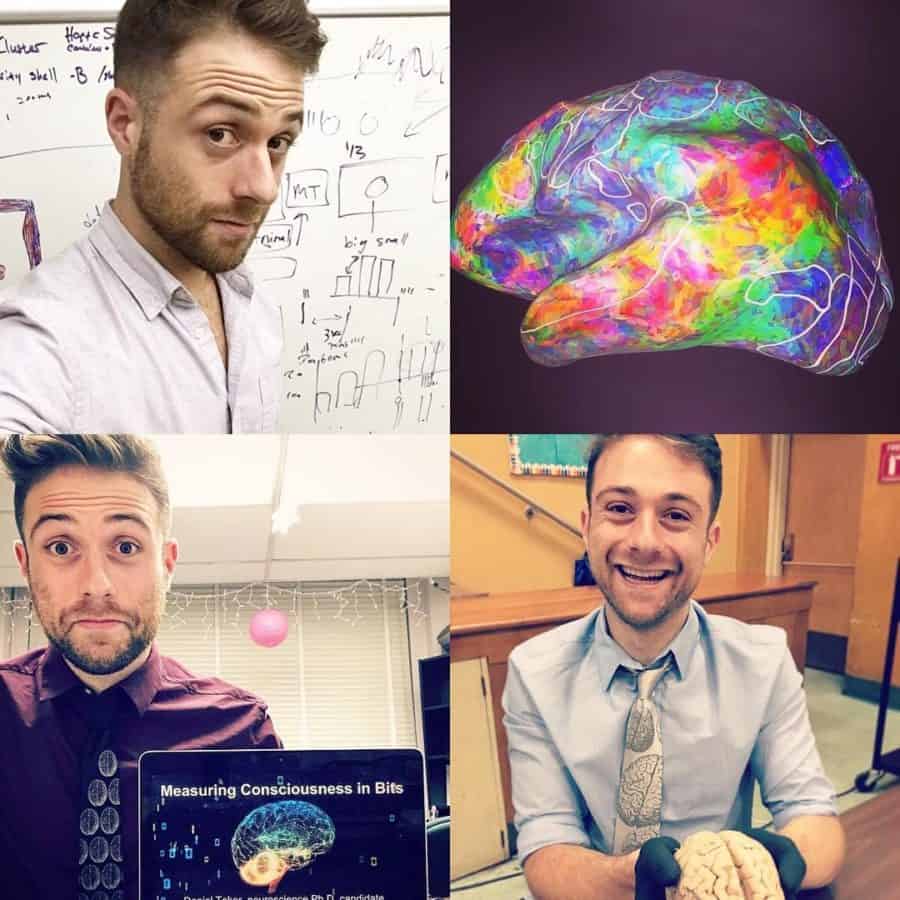 41. Friderike Möller
Today's #FancyScientist is not on Instagram, but you can find her on Twitter under @DrMoon. Dr. Friderike Möller is another neuroscientist, but she left the bench to share her passion for science with young minds (something I love to do too!) at @scienceworldca in Vancouver. She is the Program Specialist for the "Scientist and Innovators in the Schools" program and the curator of the Body Works gallery. I found Friderike through @500queerscientists, a campaign to bring attention to the LGBTQ+ STEM community. Follow @DrMoon and give @500queerscientists a follow too to see other amazing queer scientists!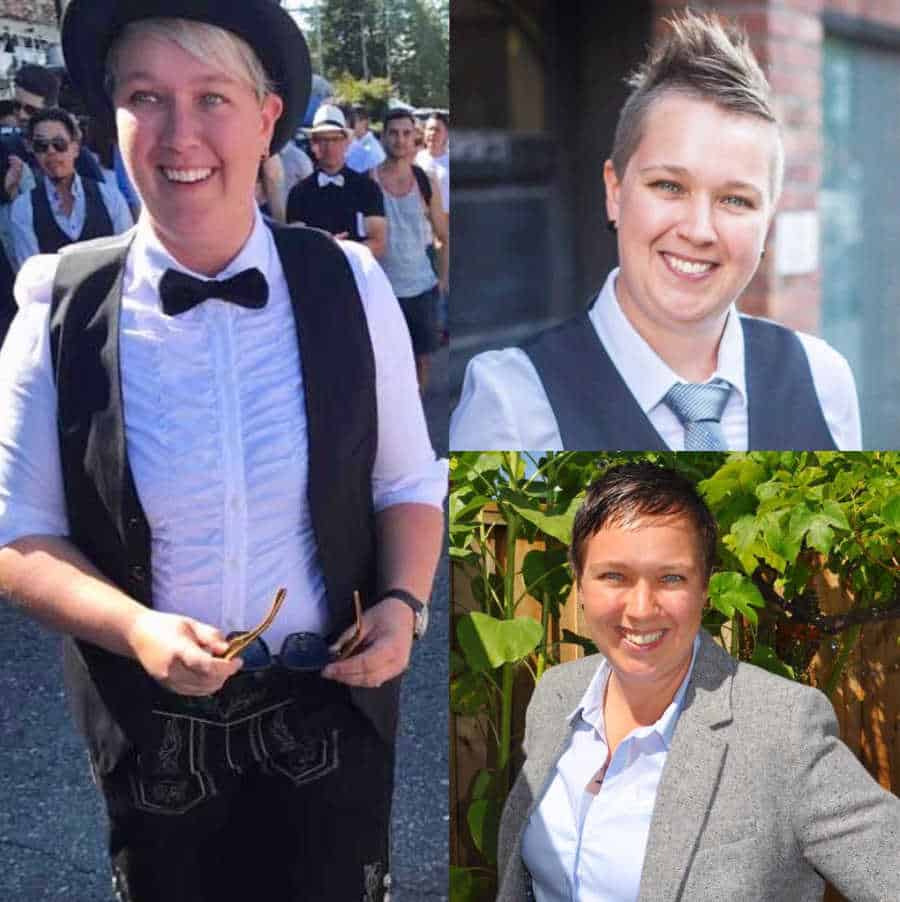 40. Vanesa Stojanovska
Today's #FancyScientist is @neurosciencewithness! Dr. Vanesa Stojanovska is a recent PhD grad that studied neuroscience and immunology. She is now conducting research that will help premature babies breathe at birth. Her research focuses on how inflammation during pregnancy affects the nerves that control our breathing, and whether anti-inflammatory treatments can restore breathing functions. Follow her for the coolest lab and microscope photos with easy-to-understand explanations for non-neuroscientists like me. You know you are a fancy scientist when your nails are on point in the lab and you have sparkly shoes in the background.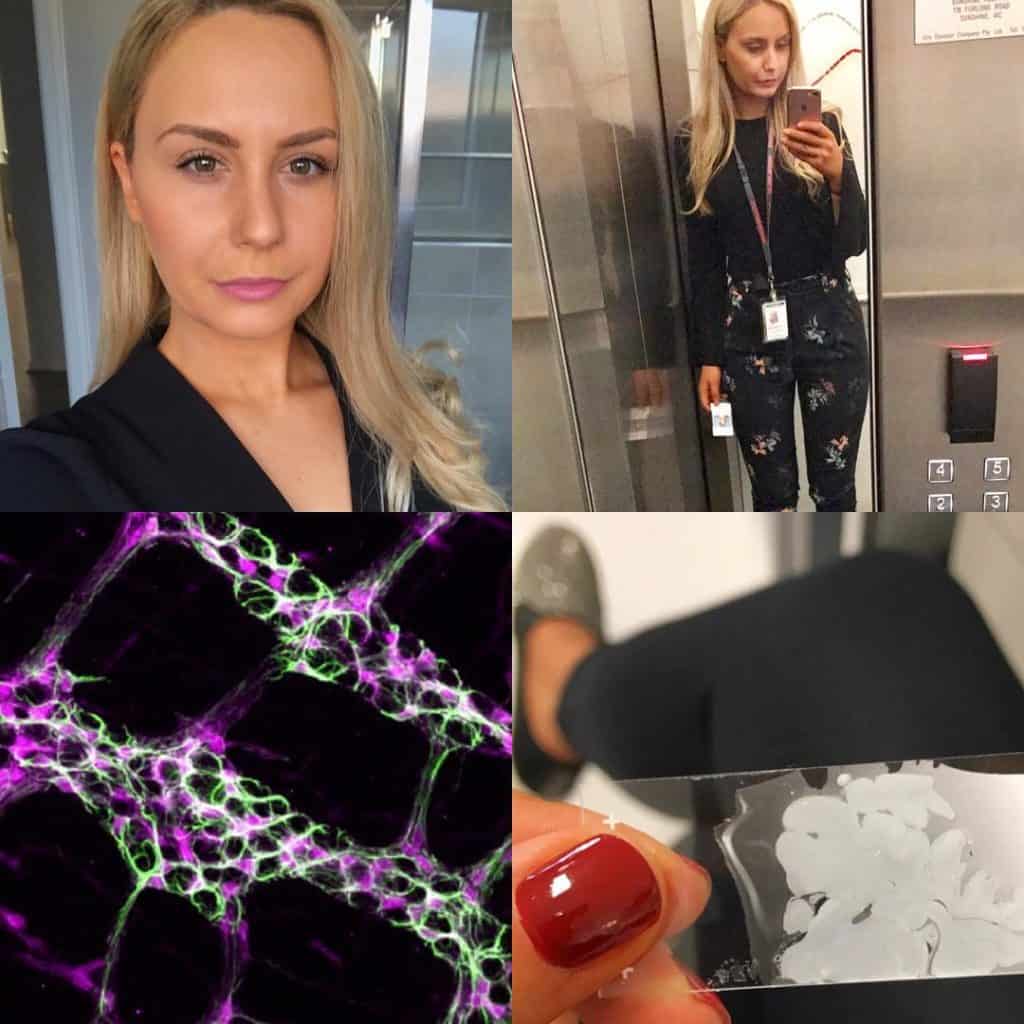 39. Kelsie Putman Hughes
Today's #FancyScientist is our first geologist! @CorvidBlue studied how sea water temperatures fluctuated across time over 400 million years ago. She did this using stable isotope mass spectrometry on conodonts, which are extinct, eel-like animals that leave fossils. It blows my mind that we can find things out from that long ago. She found that there was an inland sea in North America sea during this time. She spends her spare time working on a photography project called "Our Land," which focuses on the land use and issues facing public lands. Her friends call her the "lipstick geologist."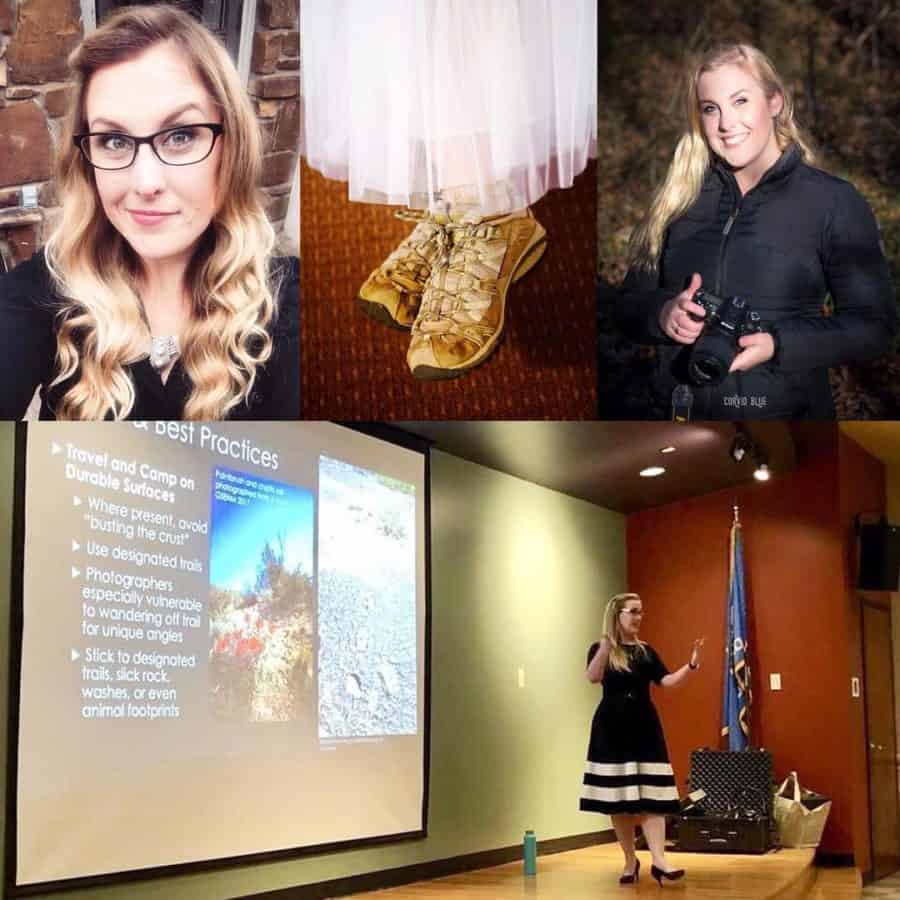 38. Susanna L. Harris
Today's #FancyScientist is someone I greatly respect, @susannalharris. Susanna is a PhD Candidate studying bacteria communities in plants. She believes that bacterial interactions might affect the ability of a plant to colonize and also change the health of the plant. Understanding these processes could inform agricultural practices and potentially replace chemical pesticides with bacterial probiotics! Not only is her researche super cool, but I admire her for her work in supporting the academic community and their struggles with mental health (which is huge!). She founded The PhDepression LLC to increase visibility and provide resources to those dealing with mental illness in Higher Education. In addition to her account, you follow @ph_d_epression. I love the tie-dyed lab coat!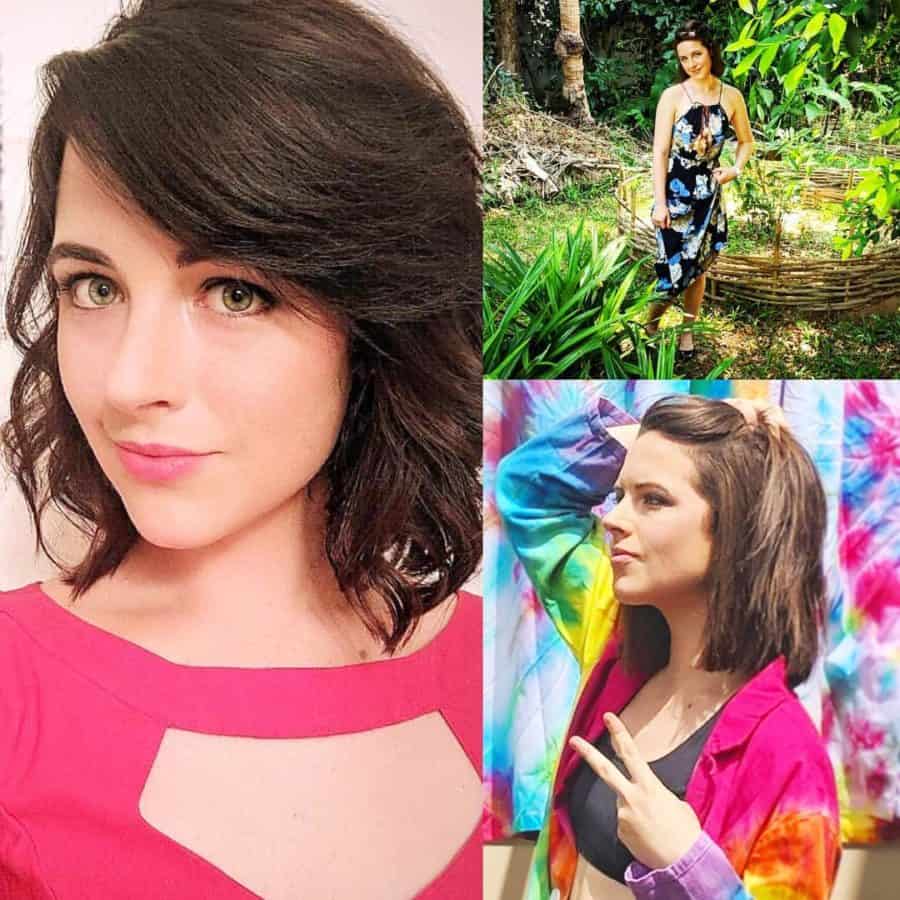 37. Priyamvada Natarajan
I found today's #FancyScientist by watching a NOVA episode on black holes and was so impressed by her! Dr. Priyamvada Natarajan is a theoretical astrophysicist and professor at Yale University whose interests span cosmology, gravitational lensing, and black hole physics. Her research involves mapping dark matter in the universe, especially within clusters of galaxies, which are the largest known repositories of dark matter. Not only is she an accomplished scientist, but incredibly prolific in her public speaking and writing with published articles on CNN, The Huffington Post, and The Washington Post. You can also watch her on PBS. Also, how amazing is that necklace?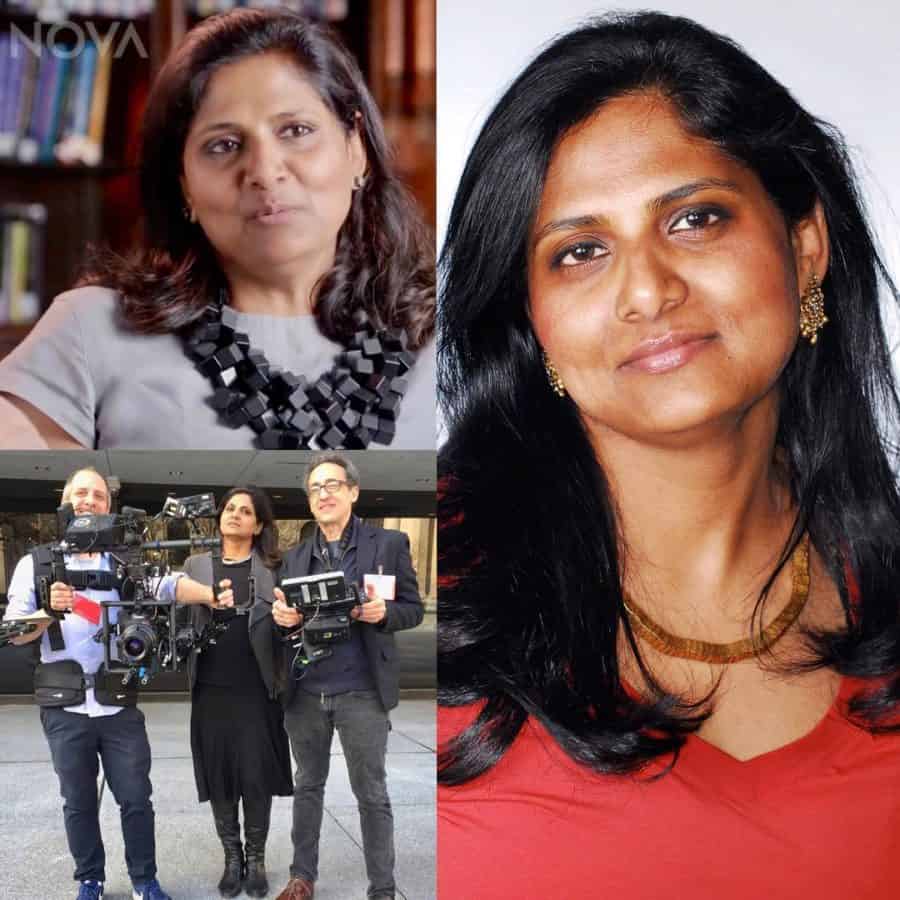 36. Tyrone Hayes
Today's #FancyScientist is not on Instagram, but is one that definitely has style (he is wearing !). Much of Dr. Hayes' work revolves on the effects of the herbicide atrazine in the environment. He studied frogs, which are often a good indicator of environmental health. Because of their amphibious lifestyle, their skin is permeable to water, and they can therefore absorb and feel the effects of things we put in the water more readily. Hayes' research found that atrazine was an endocrine-disrupter for frogs; it made male frogs more feminine. While continuing his scientific research, he advocated against the use of atrazine and even came up with an anti-atrazine rap. Sygenta, the company that makes atrazine, was not amused and has attacked Hayes' scientific credibility. The thing is, that the studies that show that atrazine doesn't impact frogs are all funded by Sygenta. Hayes is bold in two ways: not only is he taking on a large company, he also is an advocate for public health. Scientists are expected to be completely unbiased in their research, which he claims to be, however, some scientists worry that when one takes on an advocacy role, they can appear to lose scientific credibility. Hayes is a professor with hundreds of papers in peer-reviewed journals, so he is legit, but he still gets criticized.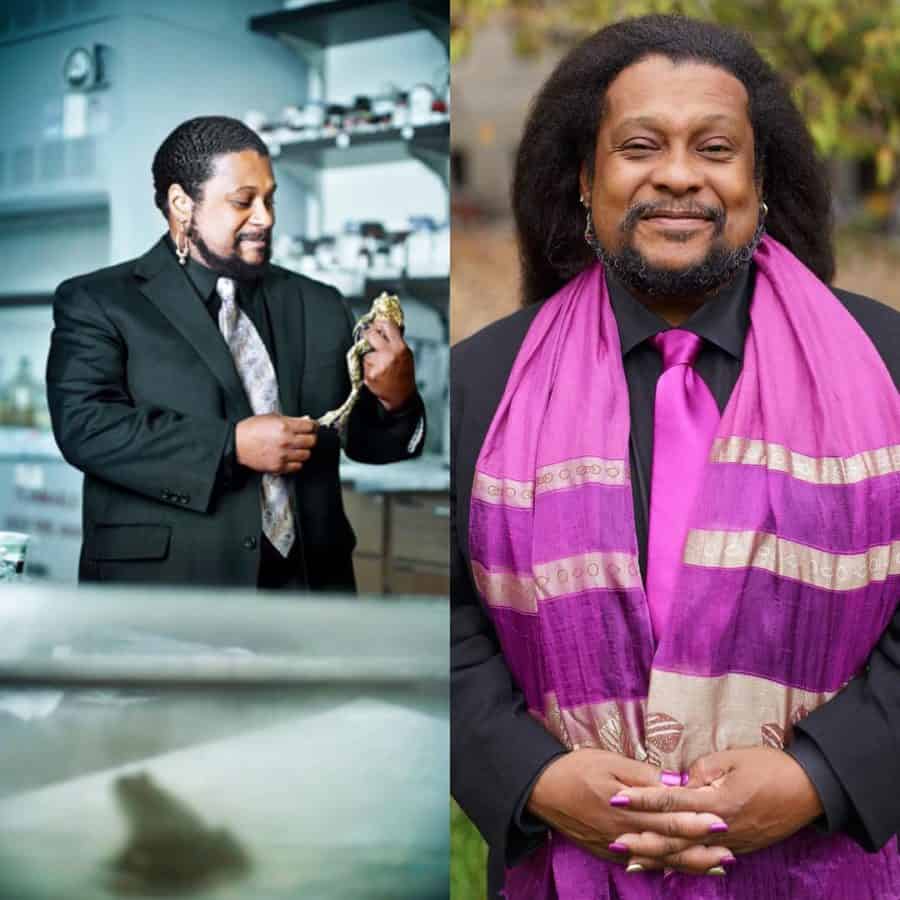 35. Farah S.
Today's #FancyScientist is a doctor and may even be a Dr. doctor. @dresmerelda is an Infectious Diseases and Microbiology doctor in the UK undertaking a National Institute for Health Research project in the hopes of doing a PhD in the near future. She studies the gut microbiome, a community of microbes (bacteria, viruses, and fungi) that naturally lives inside us. Her research looks at the effect of antibiotics on the gut microbiome and human breath and her methods include extracting DNA from stool and running chromatography on breath samples. Her style is vintage, hippy/boho, and a mix of the two, and keeping up with dying her hair is pretty essential.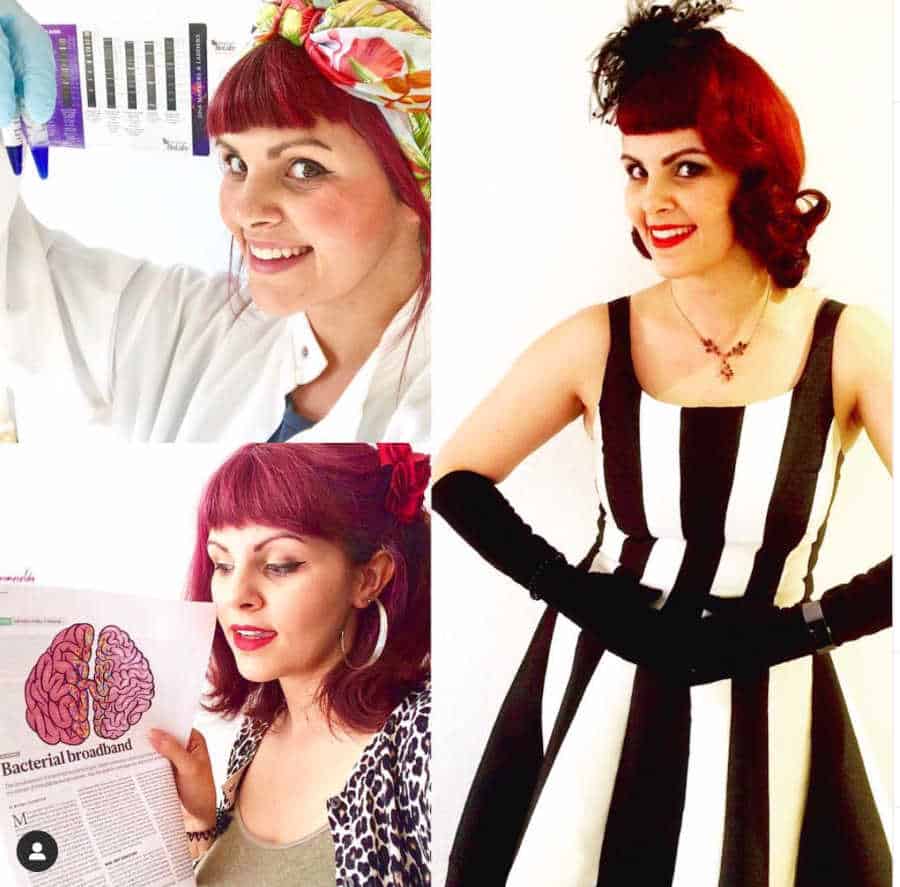 34. Katy Wimberly
I love working on #FancyFriday #FancyScientist because I get to meet so many fancy scientists outside of my field! Today's is @astronomouse, a PhD student studying the evolution of galaxies! How cool does her work sound? She studies "quenched" (suppressed) star formations on a galactic scale using optical observations and cosmological simulations. She also loves outreach and focuses her efforts on underrepresented minorities and on special needs children (including those on the Autism Spectrum and with Down Syndrome). You can tell from her insta that this scientist has some major style and of course I love her star-and-moon-studded jumpsuit.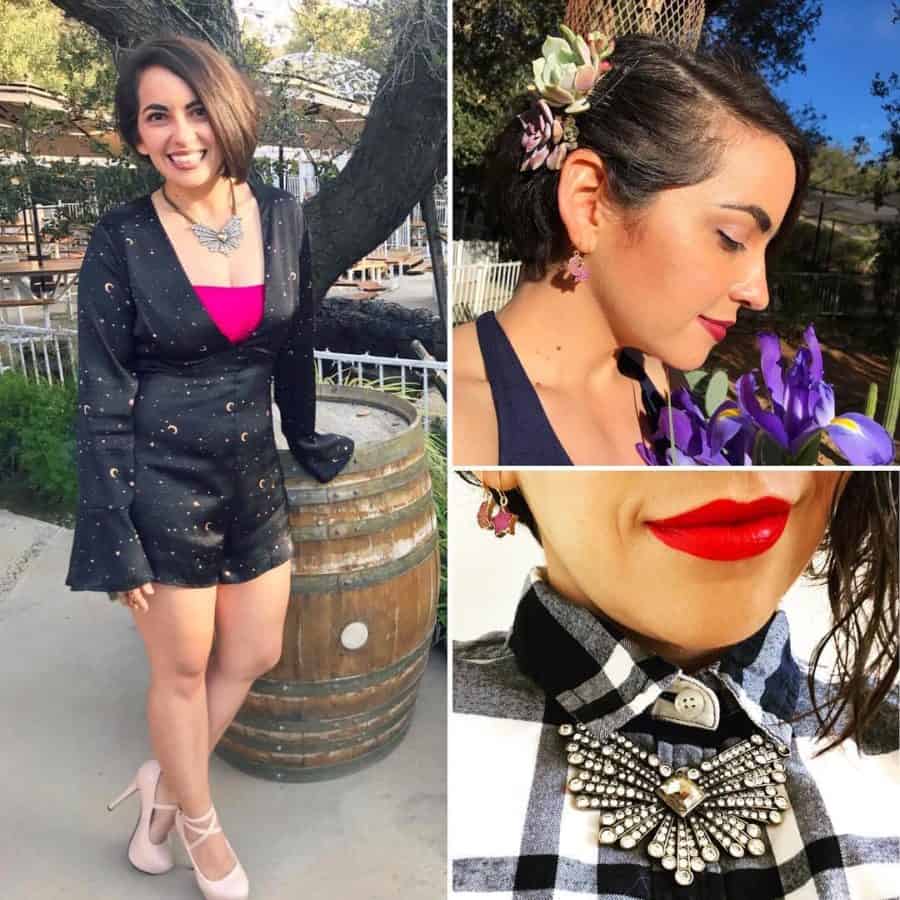 33. Teresa Ambrosio
Today's #FancyScientist is chemist and blogger @teresa_ambrosio_com. Teresa's research focuses on C-H activations, which means she is trying to find new chemical methods to activate this strong and stable bond. Because it is so stable, the only way to transform the C-H bond is to use nasty and toxic reagents. The aim of her PhD is therefore to find more sustainable reactions to activate the bond. She uses inspiration from nature and tries to recreate them in the lab. Teresa is the only female in her lab and is passionate about the #stillascientist movement. She says 'It is always forgotten that female scientists are female before being anything else. We want to feel female too, we want to look attractive too and this does not mean we aren't good at doing research. It's just our nature!"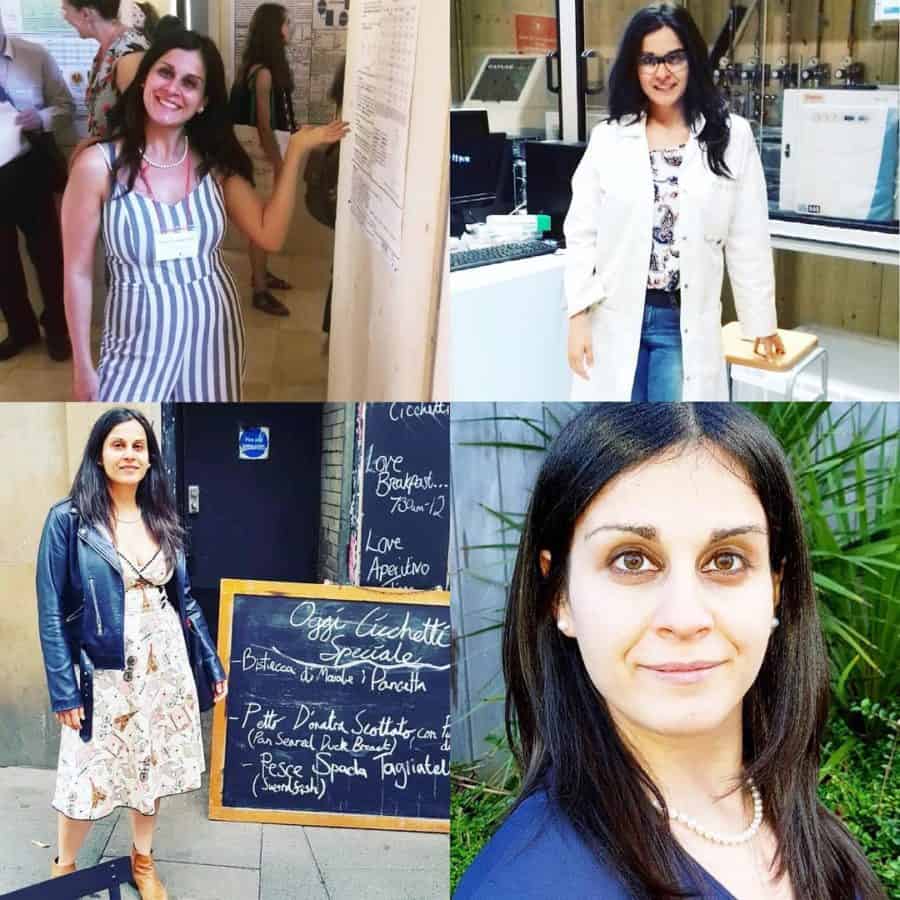 32. Casey Ah-Cann
It's #FancyScientist time! Today it's @scientistcase, a PhD student working on in utero lung development in Australia. Casey is interested in how processes work within in the womb to see if they can be translated into an understanding of disease later in life. She explains that "because development in utero happens so quickly and precisely many of the same mechanisms that regulate normal development can become unregulated by mutations later in life and causes disease (like cancer)." Casey is also very passionate about science communication and doesn't like how scientists are often portrayed as "stuffy old white men who can't speak to other humans" (LOL, totally agree!), so she gives tours of her institute to the public and mentors high school students. I also love the photo of her combining fancy with a lab coat. Oh, and she also dressed up as a jellyfish with GFP (green fluorescent protein)! Outside of science, she knows how to turn "off" and spends time with friends and family, gardening, learning how to surf on the Australian coast (jealous).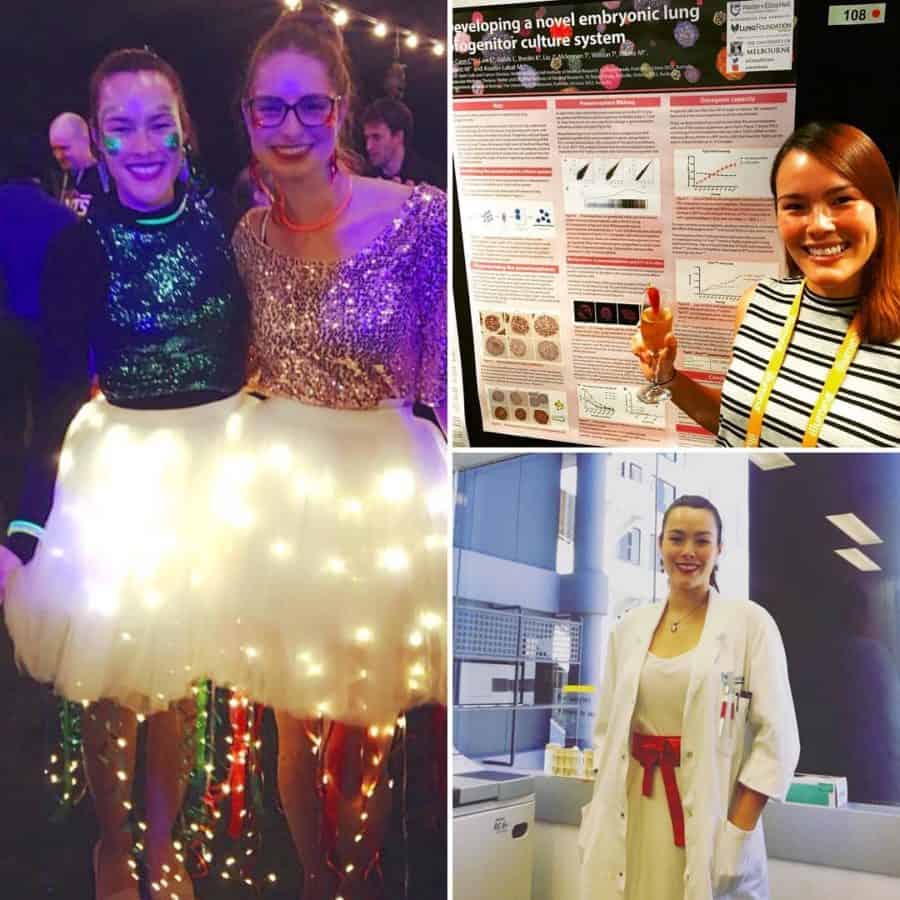 31. Meriame Berboucha
Today's #FancyScientist is no Sheldon Cooper! @girl_in_a_physics_world is a super fancy physicist. She loves high power lasers and her research focuses on using these lasers for better particle accelerators and imaging. She's a very prolific science communicator with her own blog, writes for Forbes , and started a science club at a local school. She also has fantastic and empowering messages on her instagram about the discrimination that women face concerning what women should look like in the sciences. Make sure to give her a follow!
30. Sanae Ferreira
Today's #FancyScientist is @bluebootsgo AKA Sanae Ferreira! I would describe Sanae's insta feed in one word – FUN! Sanae is finishing her PhD in Nutrition and Metabolism, specializing in nutritional epidemiology and preventive medicine. Her research objectives focuses on adverse exposures and causes of obesity in children, and she wants to develop interventions to counter such adverse exposures.She has worked in the health and beauty industries for over 10 years as a researcher (! she looks so young). She also is a VERY prolific blogger, written, and artist. Check out her blog "Where the Blue Boots Go" at https://bluebootsgo.com.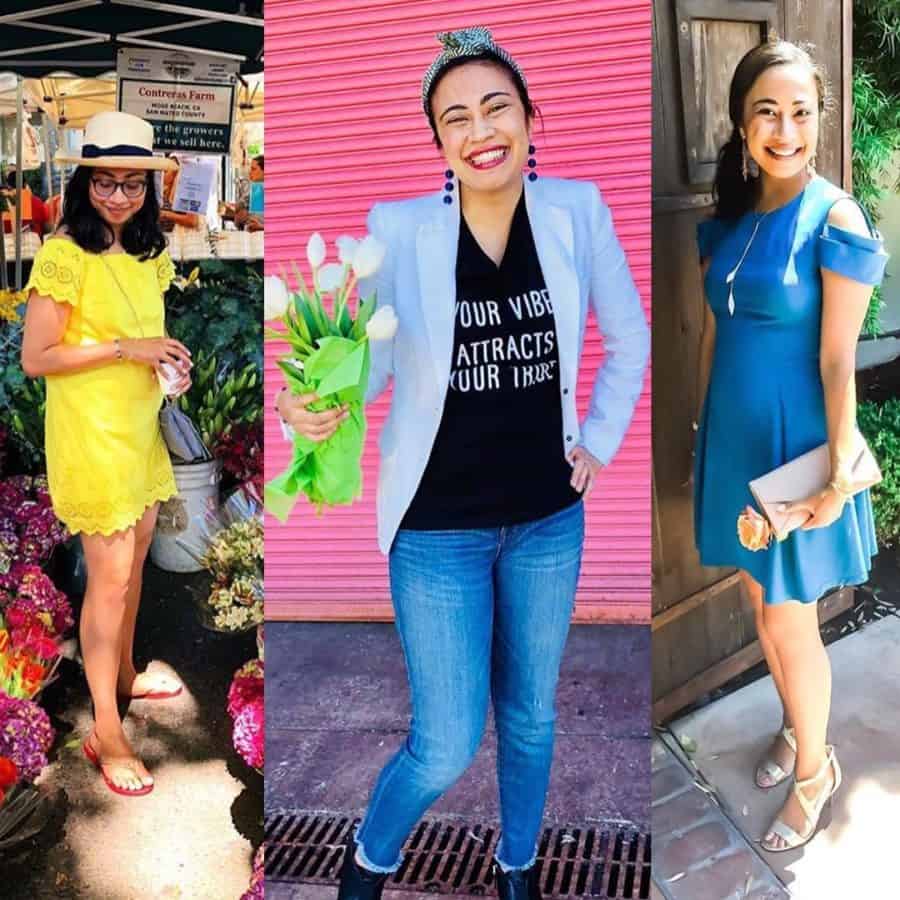 29. Treva Brown
Last week I featured an aspiring NASA scientist, and today's #FancyScientist is one! Dr. Treva Brown (@diva_treva) is a materials scientist who works at the @nasa Stennis Space Center. Her PhD focused on inorganic chemistry, with an emphasis on nanomechanical investigations and characterizations using atomic force and transmission electron microscopy. In other words, she uses techniques in atomic force microscopy to investigate the surface of materials at the nanometer scale. She has a passion for STEM outreach, dance, zumba, the color pink, and organizes a "Party in Pink Zumbathon" benefit for breast cancer awareness. On top of all of that, she has a book coming out soon! Look for "Fit and Fabulous PhDiva."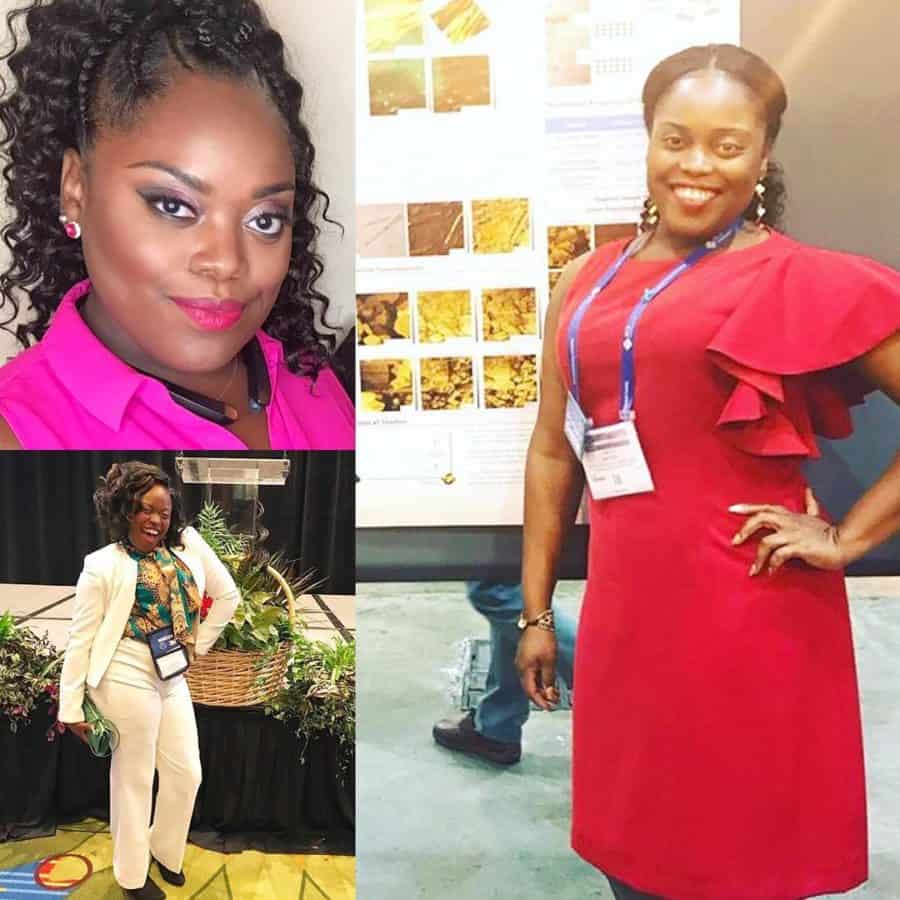 28. Anya Tassy
I am so excited about today's #FancyScientist. When I reached out to @anyatassy, I had no idea how young she was. She is ONLY 17!!! She is dual enrolled in university and high school and has already finished the first two years of her bachelor's degree! Astrophysics is her passion, but her university does not offer astronomy classes, which is why physics is her major. But don't worry – she plans to get her PhD in physics and astronomy! On top of that, she also works for Wright-Patterson Air Force Base conducting research for aircraft electrical systems. It is her dream to work for NASA and I'll say she is well on her way!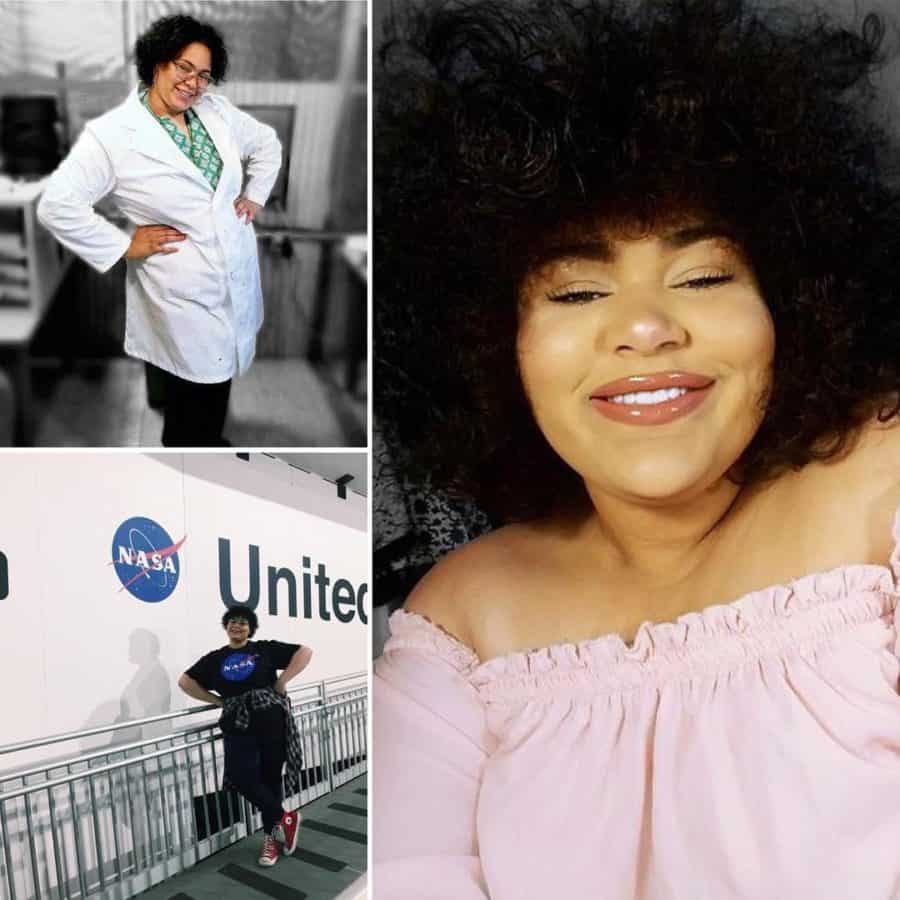 27. Meridith Bartley
Today's #FancyScientist has major style! @alwaysscientist is a PhD student in Statistics working on modeling animal movement and interactions. She made her way into stats through her love of wildlife science and I am very sure she will have no problem getting a job when she graduates because every scientist/university wants to work with statisticians! She requested that I include one of her wedding photos (bottom center) because she felt "maximum fancy" that day. I agree. Now that she's moved to stats and doesn't have lab or field work anymore, she can more freely express her fanciness and expand her style. When she isn't researching or teaching, she loves tending to her ever-growing apartment garden and traveling with her husband.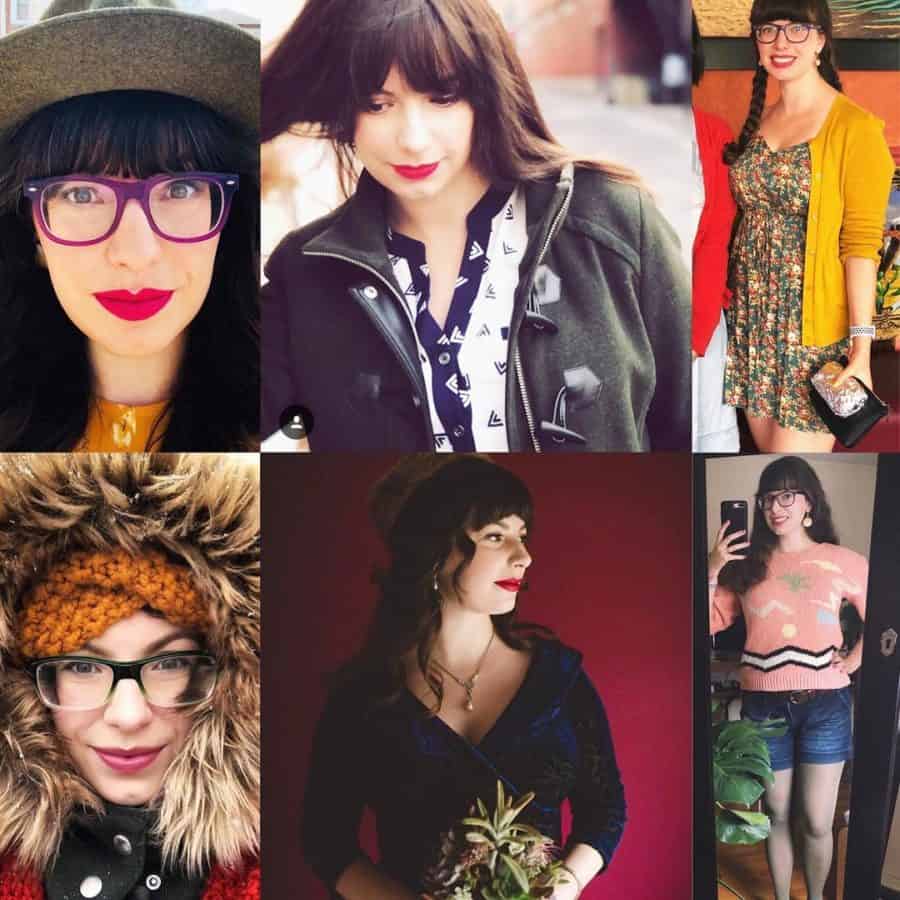 26. Imogene Cancellare
When I met @biologistimogene last year I knew right off the bat she was a #fancyscientist – presenting on science communication in a pencil skirt and high heels! Imogene is a PhD student studying the genetic structure of snow leopards across Asia. She has an AMAZING instagram feed (if you aren't following her you should) and a few weeks ago she brought attention to the negative stereotypes fancy scientists face. Someone told her she watered down her message simply through the WAY SHE LOOKED. In response, she started the hashtag #StillAScientist- "to show that regardless of what you look like, what you like, the quality of your science isn't impacted." Yass girl! Use this hashtag whenever you post a photo of yourself breaking the rules of what a scientist should look like.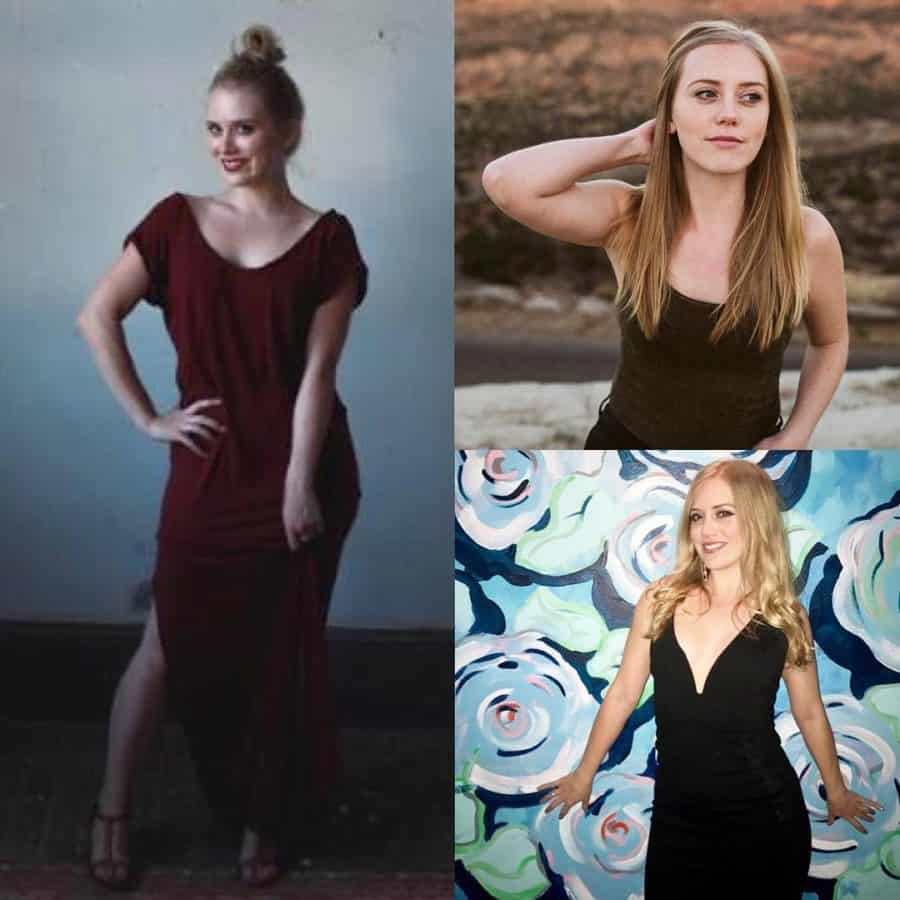 25. Albert Welch Jr.
Being fancy is not limited to females! I love featuring our males (I know you're out there!) and other genders. Today's #FancyScientist, @black_scientist_585, has a diverse background in biotechnology, biology, chemistry, and forensic science. He currently works for Ortho Clinical Dianostics in the research and development section for infectious diseases. This company works in in vitro diagnostics, testing platforms and clinical assay tests to monitor disease progression. He's married and a father of three. The goal of his instagram account is to reach out specially to black and latino communities to show them the amazing world of science! He also likes to feature current and historical African American scientists on his account.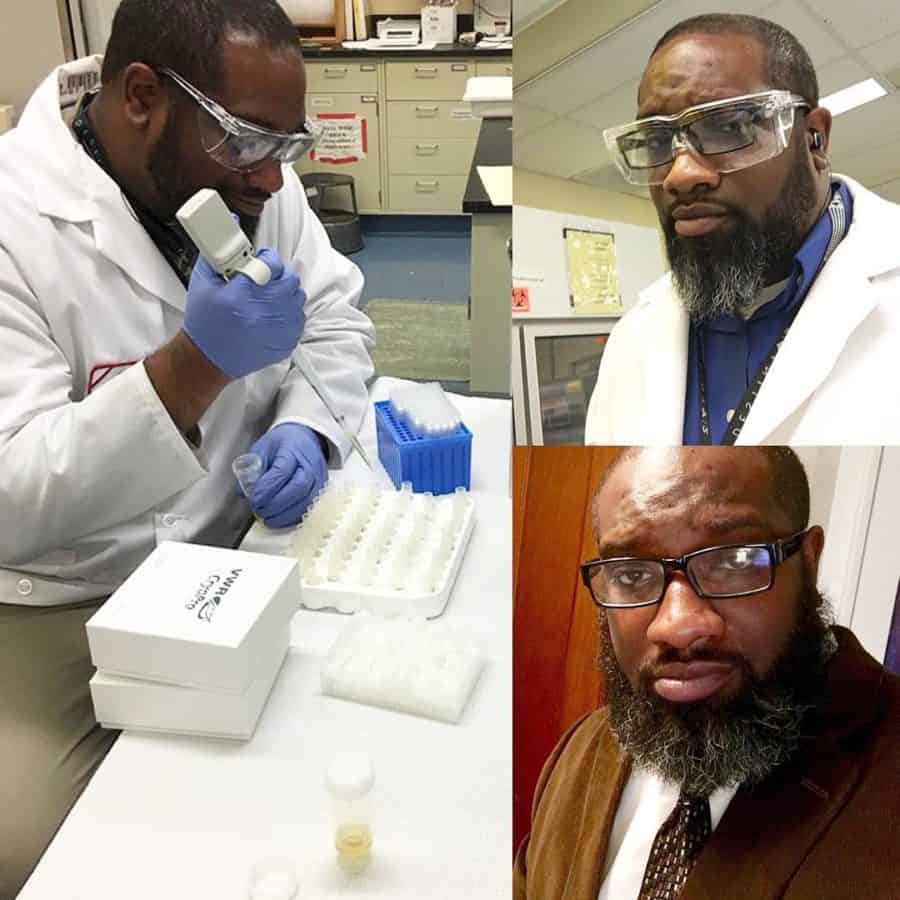 24. Patricia Edem
I'm excited to feature the first chemist for today's #FancyScientist! Patricia, AKA @PhDfitclub_, works at Rigshospitalet in Copenhagen and her research focuses on developing radiopharmaceutical agents to help detect cancer using PET imaging. PET (Positron emission tomography) is a type of nuclear imaging technology that allows researchers to evaluate organ and tissue functions by seeing metabolic processes in the body. The radiopharmaceutical agents she develops emit radiation so you can visualize tumor localization with specialized cameras. This helps detect cancer by providing a picture of the disease process non-invasively. Her insta shows a balance of science and fitness, but even when she's in workout clothes, she still looks pretty fancy to me.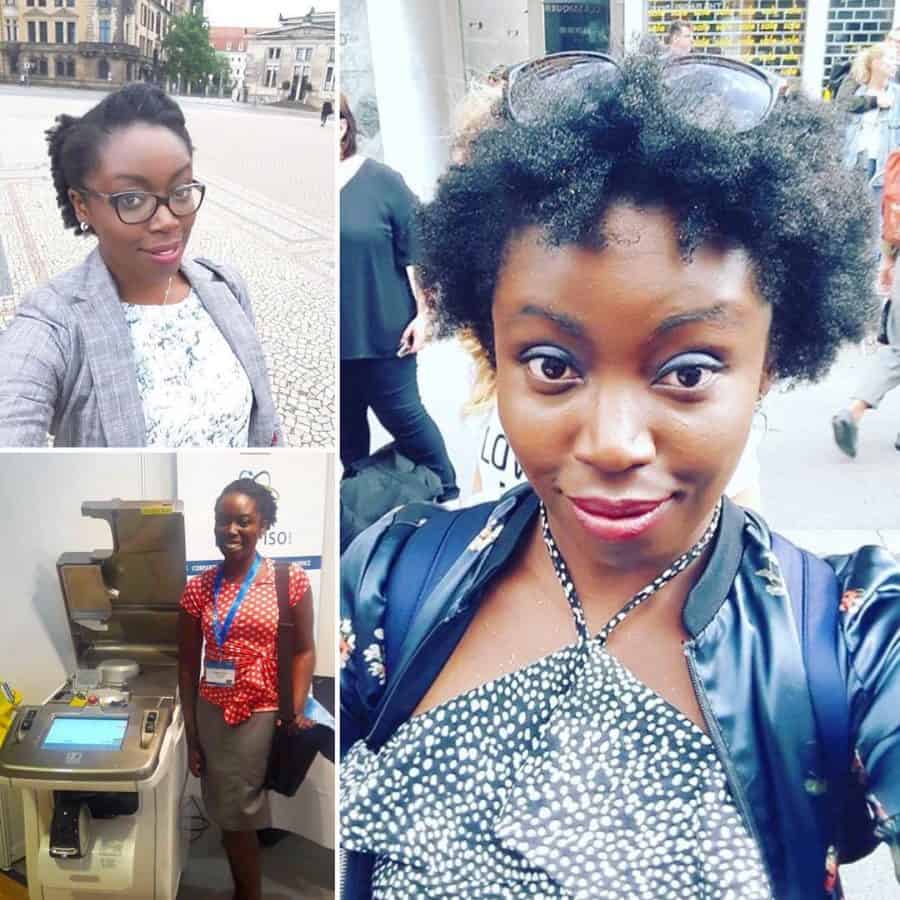 23. Marina the Marine Biologist
Today's #FancyScientist @marina.the.marine.biologist found her love for the ocean despite being landlocked in the Midwest. After college, she moved to Oahu to study biological oceanography at the University of Hawaii. While there, she discovered a love of teaching and has been instructing marine science, biology, and chemistry courses, in addition to advising undergraduate research projects. She's incredibly passionate about increasing awareness about ocean and marine conservation. When she first started teaching, many of her students were older and often mistook her for a student. She started dressing up to set herself apart. Now she loves it and does it to feel her best! Her students and colleagues joke that they can always hear her coming in her heels! I love it!
22. Louise Dutton
The #FancyScientist of the week is the @redheaded.scientist! Louise is a Ph.D. student at the Queen's University Belfast researching the role of a protein inhibitor called Gremlin-1 in bowel cancer. Gremlin-1 is involved in regulating many important processes during early development in embryos. However, in a variety of disease and cancers, including bowel cancer, it has been shown to be upregulated (increased activity). How this happens is unknown, so Louise's whole Ph.D. is devoted to solving this mystery. Louise posts lots of cool photos of her research in the lab and provides captions explaining exactly what she is doing. My favorite post though refers to her namesake red. She has been told she will never be taken seriously with such vibrant red hair, but rather than change, she is trying to break the scientist stereotype. YES! And I of course support this.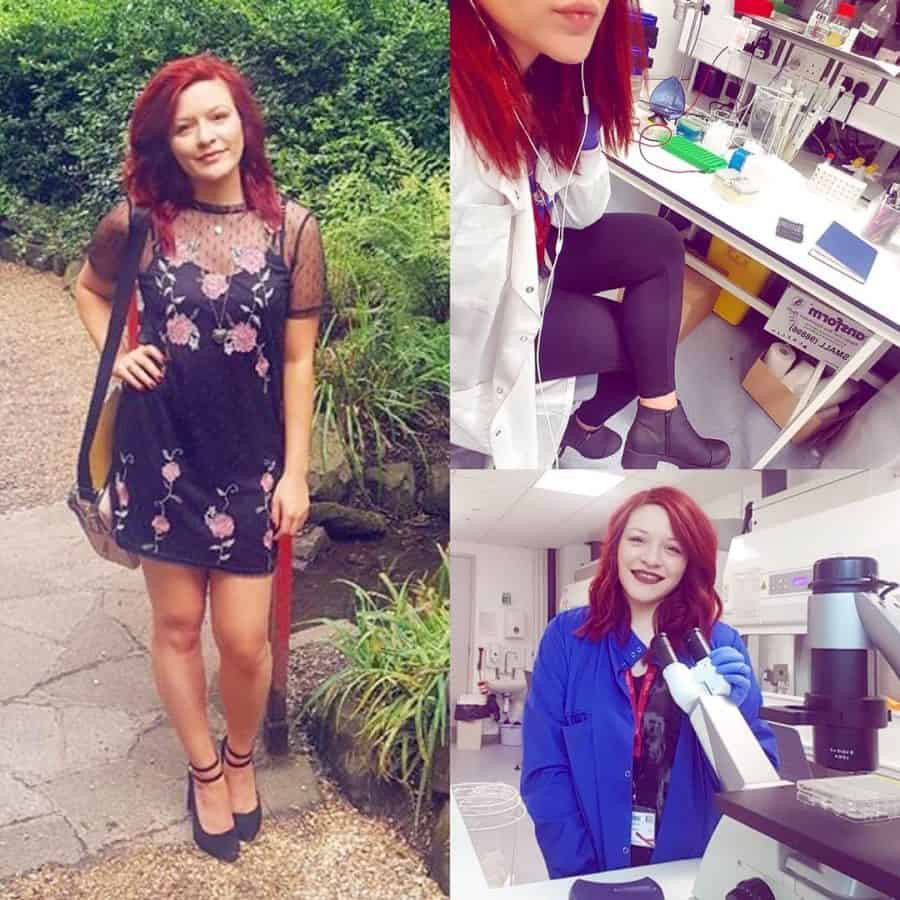 21. Megan McSherry
Today's #FancyScientist is my good rafiki Megan McSherry. Can you believe we met in Kenya 13 years ago?!?! Megan is an ecologist who conducts conservation research within coupled human-natural systems. One thing that stood out about Megan working at the School for Field Studies in Kenya was how much she loved and embraced Kenyan culture (I was there for a year and Megan learned more Kiswahili than me in four months). Her love of people shows in her research; she strives to find conservation solutions that are win-wins for people and wildlife. She has studied the effects of grazing management strategies on grassland vegetation and soils in Argentina, Tanzania, and Kenya. She doesn't think of herself as a fancy scientist, yet there are too many photos of her in fancy dresses to choose from. Nonsense!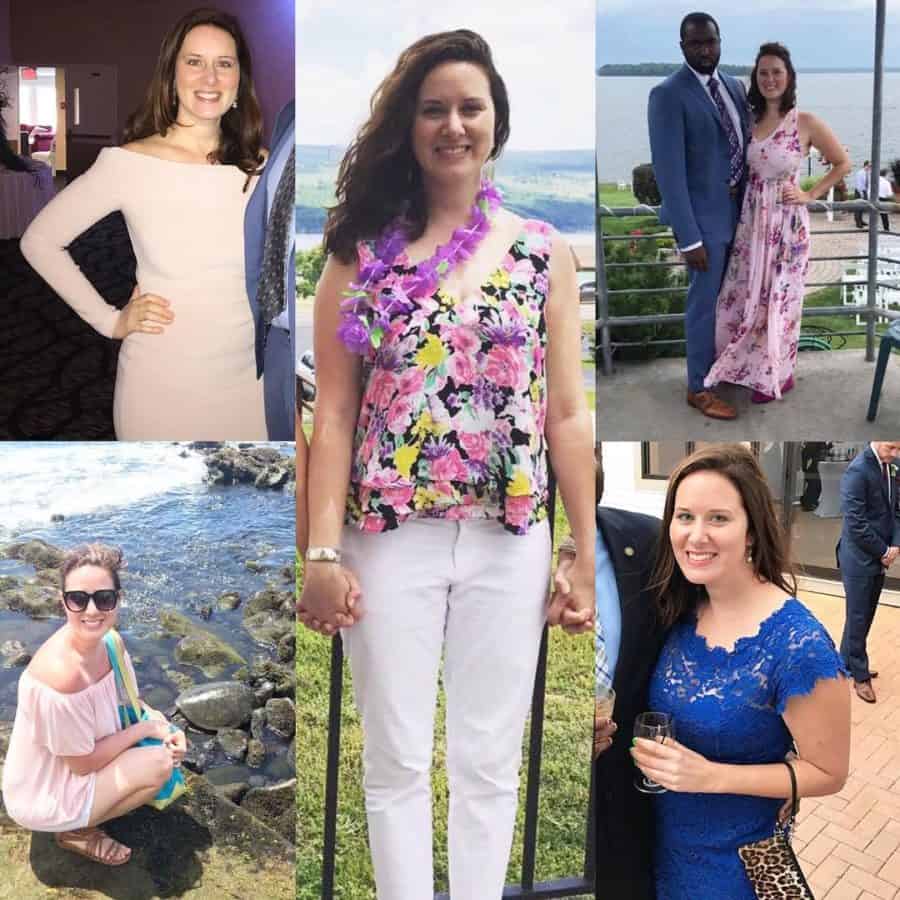 20. Bertha Hidalgo
I cannot believe it took me this long to find @chic_in_academia! She is the definition of a #FancyScientist! Bertha Hidalgo is an assistant professor in the Department of Epidemiology at the University of Alabama at Birmingham where she studies cardiometabolic diseases such as obesity, cardiovascular disease, and Type-2 diabetes. She focuses on Latino populations and is trying to understand if there are genetic and epigenetic differences exist between subgroups of people. In her spare time, she maintains an awesome blog, chicinacademia.com, where blogs about outfits, shopping, and lifestyle tips. Because life in academia especially as a professor is high stress, It's her way to decompress and have fun, so you will find no academic posts there. I just subscribed.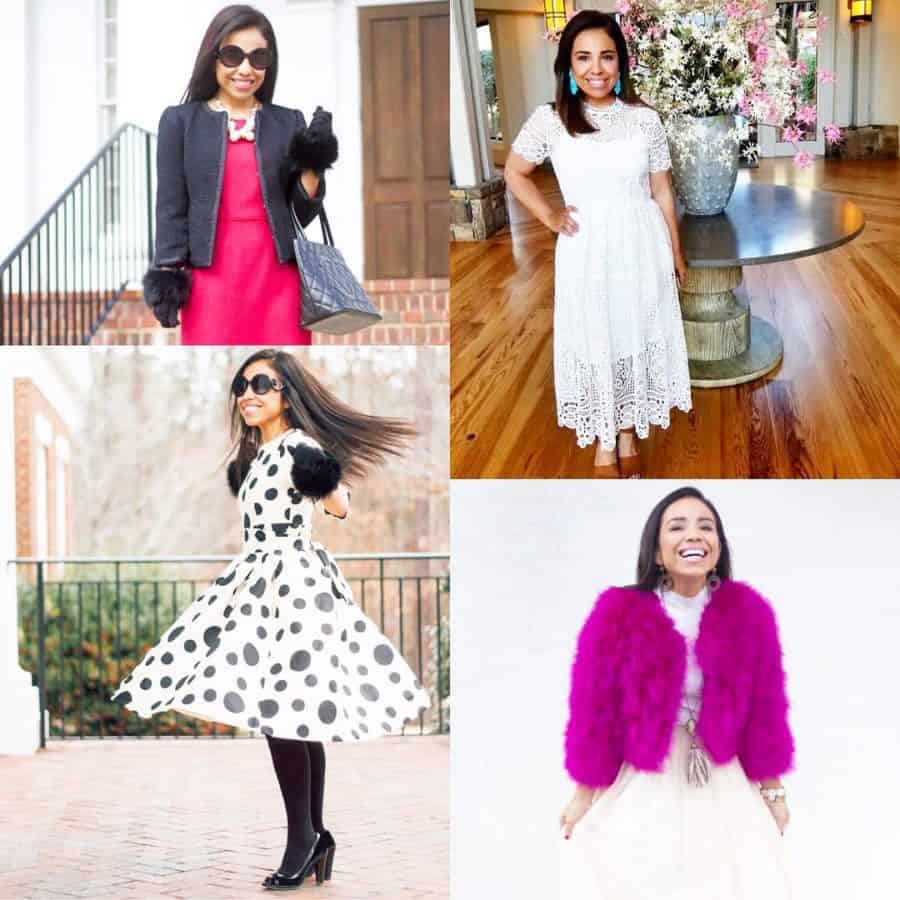 19. Lebaron Agostini
I came across @lee_the_scientist's profile and was completely taken aback to see such style under a lab coat! #FancyScientist Lebaron Agostini is a PhD student at Thomas Jefferson University studying genetics and cancer biology. He originally wanted to become a pharmacist, but changed his career trajectory after spending a summer doing population genetics research. He then started working in a lab that discovered novel antibiotics from soil bacteria, and later to the University of Miami Diabetes Research Institute. Here he narrowed his interests and decided to pursue chromatin biology (DNA, RNA, protein) and cancer initiation as his research topics. Lebaron is also passionate about and amazing at science education and outreach. He is a founder and contributor to Bio is Life Media (http://bioislifemedia.com). Here, he and others break down topics relating to cancer, fitness, diets, among other things. My favorite sections is Fact Check Friday. Lebaron uses Bio Is Life Media "to transcend the current fake news, click-bait, woo quackery media content, that plagues science information on the web.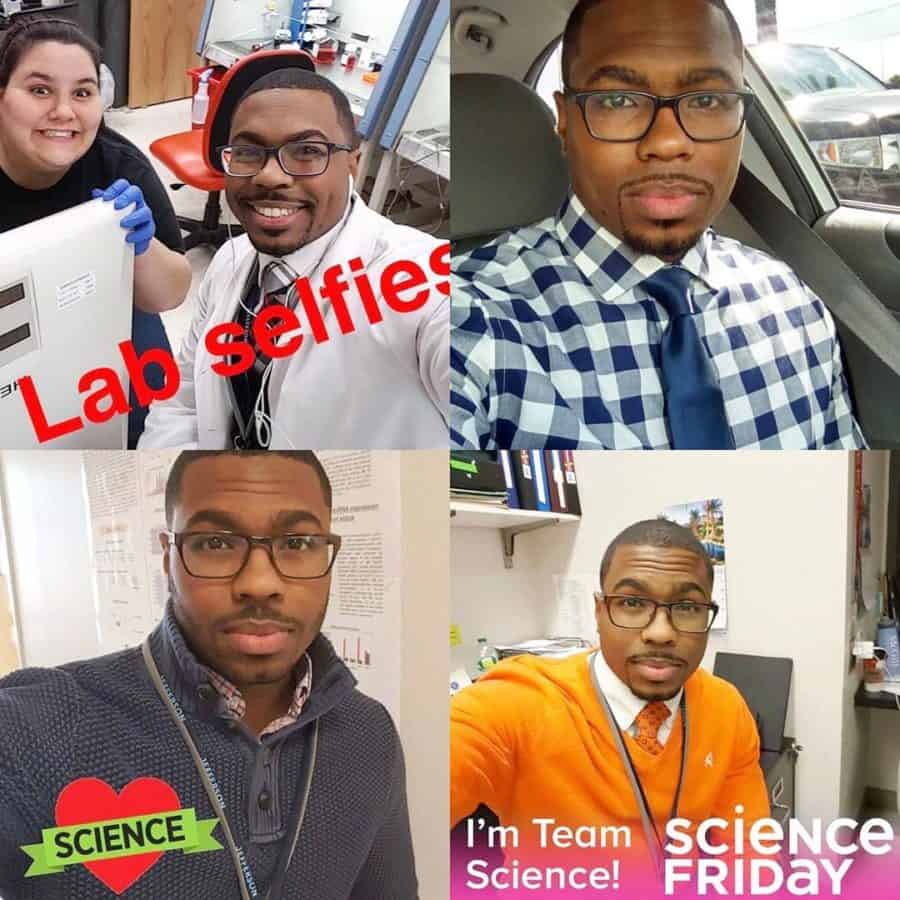 18. Lea Shell
The #FancyScientist of the day is entomologist (insect biologist) and my friend Lea Shell. @Veganbuglady of has a multitude of interests and projects – ants, microbes, and slime molds are a few. She is fundamental to the Students Discover project that I work on – where scientists collaborate with teachers to integrate real science into their classrooms. The scientists then use the data for real research questions. She is incredibly passionate about getting educators and students excited about insects and bacteria, which was a focus of her masters' work. She is also passionate about the challenging the perceptions of women in science and wants more women in science to be featured with kids. Not only does she travel with her kids, but she has given two hour-long workshops and presentations while wearing her babies.
17. Rebecca Johnson
I'm so excited for today's #FancyScientist and am super jealous of her job. Dr. Rebecca Johnson (@drrebeccaj) is the first female director of the Australian Museum Research Institute (in over 190 yrs!). She is a wildlife forensic scientist, conservation geneticist, and is the co-chief investigator of the Koala Genome Consortium, a group sequencing the koala genome for conservation applications (such as diseases). As a forensic scientist, she solves wildlife crimes. Wildlife trafficking of live or dead animals, or their parts is an illegal business worth billions of dollars that seriously threatens the survival of many species. Rebecca's genetic research can identify endangered species (if it's animal parts) or where the confiscated item comes from, which provides information on which ports/countries are lacking in adequate protections. Rebecca gets to dress up a lot (jealous!) as she attends lots of galas. All of her clothes are from @cueclothingco, an Australian clothing company where the clothes are all made in Australia. Finally, she was named a Superstar of STEM by the Science and Technology Australia Initiative and was featured in Vogue Australia!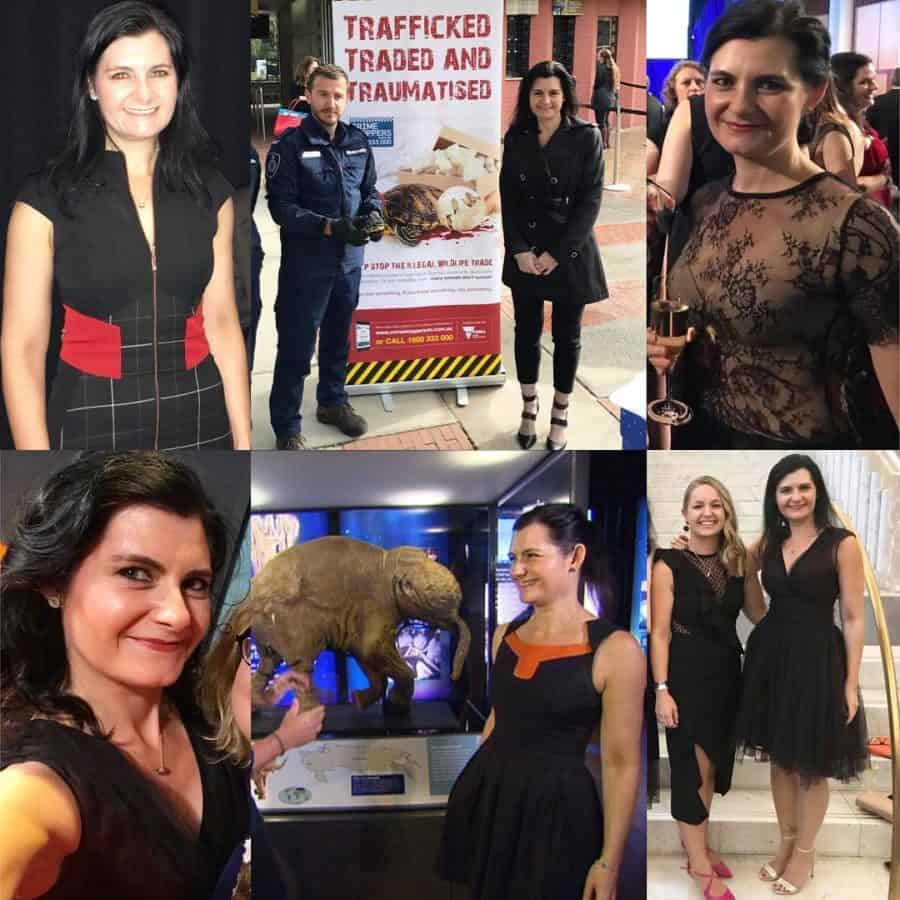 16. DeAnna Beasley
It's #FancyScientist #FancyFriday and today I'm excited to feature my Students Discover buddy DeAnna Beasley! @flyingscientist is now a professor at the University of Tennessee, and conducts research on how humans, through urbanization and climate change, affect the behavior, development, and physiology of insects. Insects serve as an excellent model system for this because they are often more sensitive to environmental change due to their small body sizes, dependence on external conditions for regulating body functions, and shorter generation times, which can allow scientists to observe changes more rapidly than larger organisms. Like me, DeAnna worked on the Students Discover project and worked alongside teachers to co-develop lesson plans that they use in their classrooms for students to conduct real scientific research. My favorite fun fact about DeAnna is that she hang glides, hence the name @flyingscientist.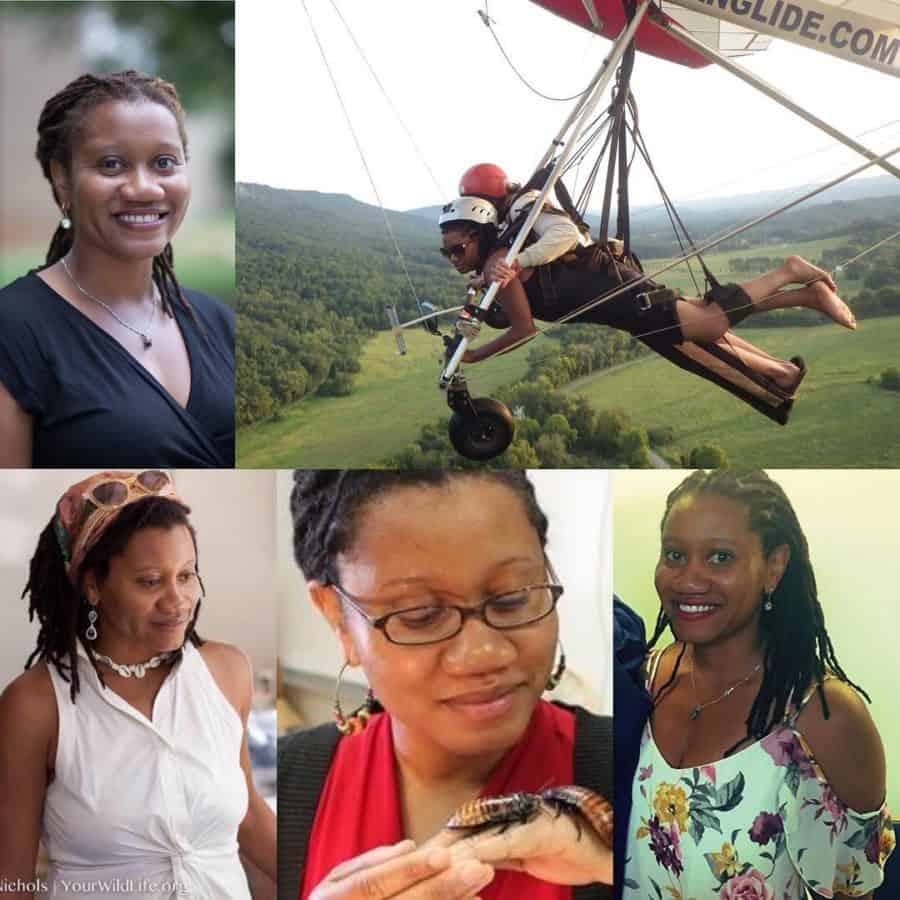 15. Stephanie O'Donnell
It's TGIFF – Thank God it's #FancyFriday! I met @steph_odonnell at the Society for Conservation Biology conference this past summer and knew she was a #FancyScientist at first site. She not only loves fashion, but loves biodiverse fashion as exemplified by this amazing bird dress she MADE! We met because we both work with tech in wildlife. In her role at Flora and Fauna International she brings together conservationists, engineers, and other techies into a community to collaboratively make conservation efforts state-of-the-art and likely more successful. Her organization Wildlabs.net runs the #Tech4Wildlife challenge, so if you are doing amazing things with tech for wildlife, be sure to tweet out your photos. She is also an amazing artist.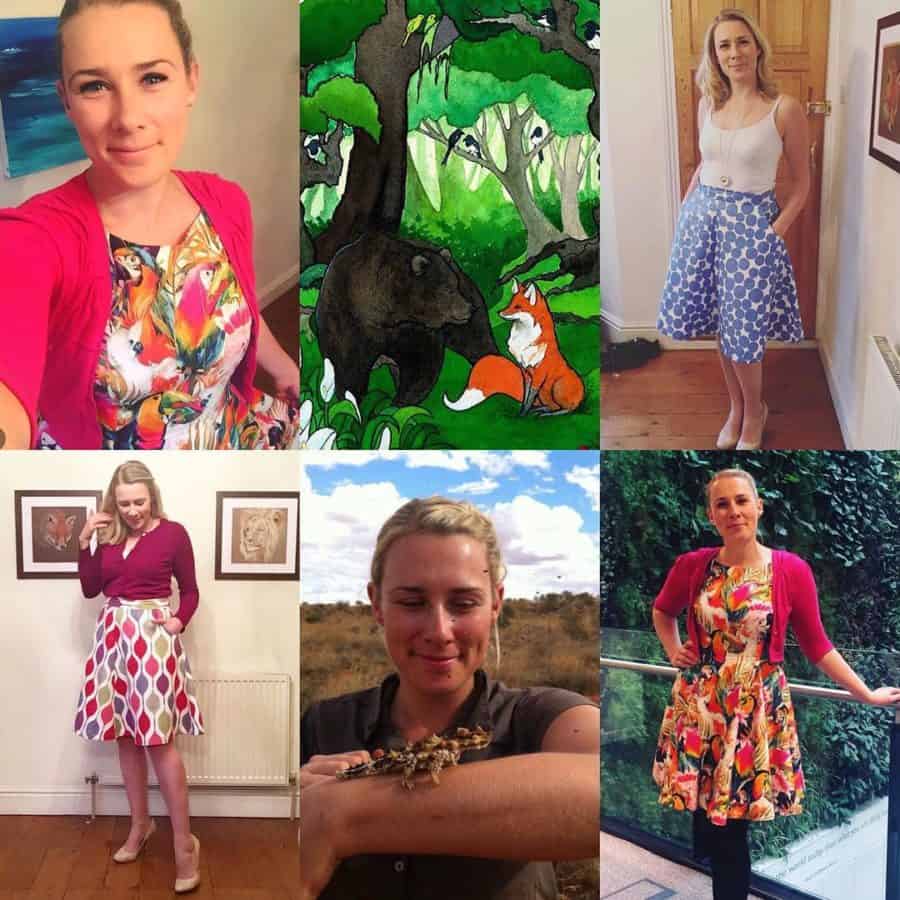 14. Kaberi Kar Gupta
Today's #FancyFriday #FancyScientist is slender loris expert Dr. Kaberi Kar Gupta!.
@lorisesoftheforest is wildlife biologist, social scientist, and founder of the Urban Slender Loris project. She studied the wild slender loris in the Kalakad-Mundanthurai Tiger Reserve for about a decade for her Ph.D. research. Now she is combining her degrees in wildlife biology and anthropology to study the ecology of the still wild, but urban-living slender lorises of large cities in India. Because these cute little primates live in cities of 12+ million, you cannot ignore people when trying to plan for their conservation. Her organization carries out nocturnal surveys of the primate to understand current distributions, but also conducts oral history surveys to seek knowledge about past ranges and create awareness. Her project is also citizen science based, meaning that regular citizens can participate in real science. You can tell Kaberi's home country is an influence in her style – she is frequently seen wearing bright, beautiful colorsand of course can be seen in amazing saris (so jealous). Check our her project here.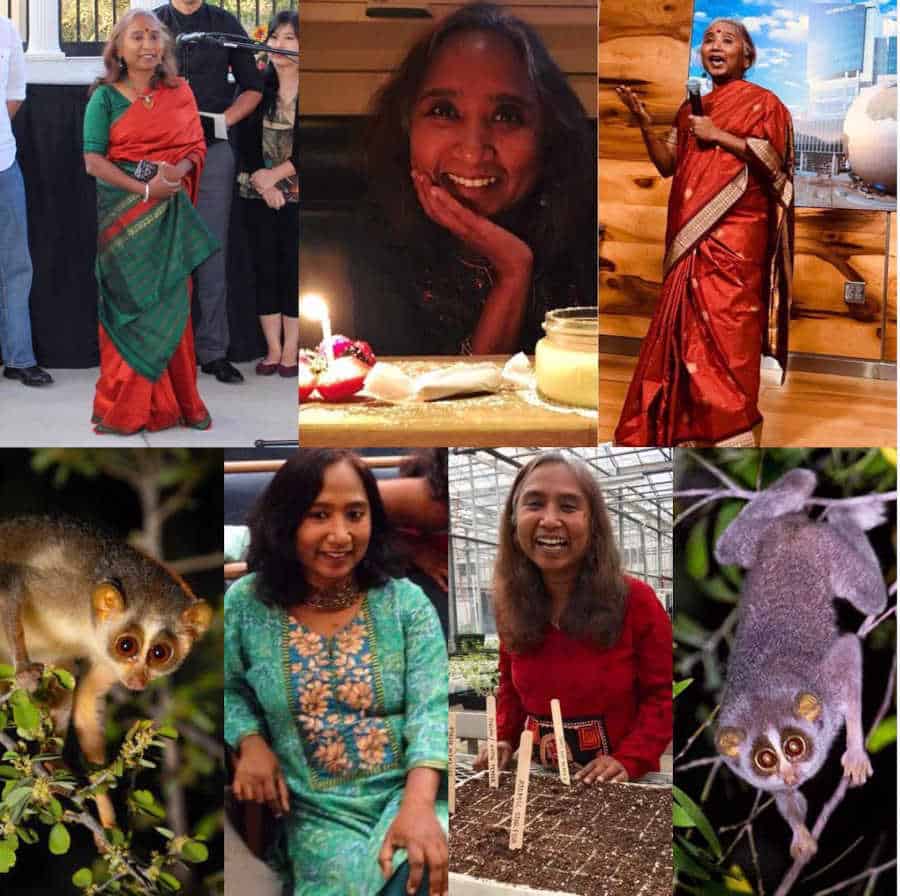 13. Kellie Ann
I don't know where to start with today's #FancyFriday #FancyScientist. Harvard PhD graduate. Postdoc at Yale. 1st in her undergraduate class. And not only is the @latina_scientist fancy herself, but she has a hella fancy grant. She is one of FIVE recipients of the prestigious Women in Science fellowship from the beauty company L'Oreal. Kellie Ann studies how our immune systems interact with infections from viruses and her fellowship money is applied towards understanding the impacts of the Zika virus within the brain. Not only are her posts super stylish, but they also carry an important message. She shares stories of what people have said about her not "earning" her place due to being a woman and Latina, despite the amazing accomplishments mentioned above and the hard work and effort she had to devote to get them. And that Latina women only make $0.54 cents per every dollar made by a man – the largest gender gap in the US. I hope her posts not only inspire young Latina girls to be ambitious in STEMand non-STEM careers alike, but also bring attention to this important issue for women as a whole.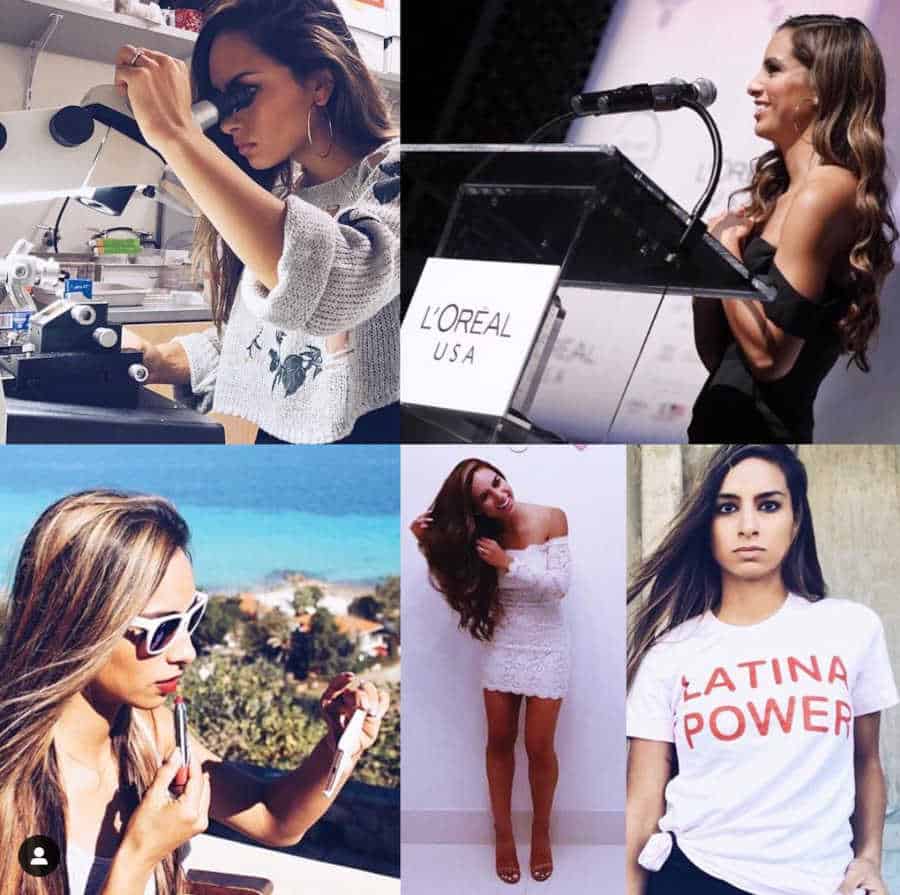 12. Rachel Smith
At first glance, today's #FancyScientist may not seem super fancy because she's frequently rocking bikinis, but when I saw her graduation pic of her red ribbon-tied heels, I knew she was perfect for #FancyFriday! I love following the @theblondebiologist on insta because she often posts strong conservation messages, sometimes reflecting the real-life difficulty of living a fun, fancy life while still making ecofriendly choices. Rachel now lives in Hawaii (so jealous!) as an environmental health specialist and is therefore passionate about conservation, but also marine biology and advocating for women in STEM. Living on an island really makes her think about the purchases she makes because trash can easily go into the ocean. I loved her post on a pool float; it was a fun purchase, but how long will it last? And where does it end up? Is it worth it? These are the types of questions I think we all need to ask ourselves!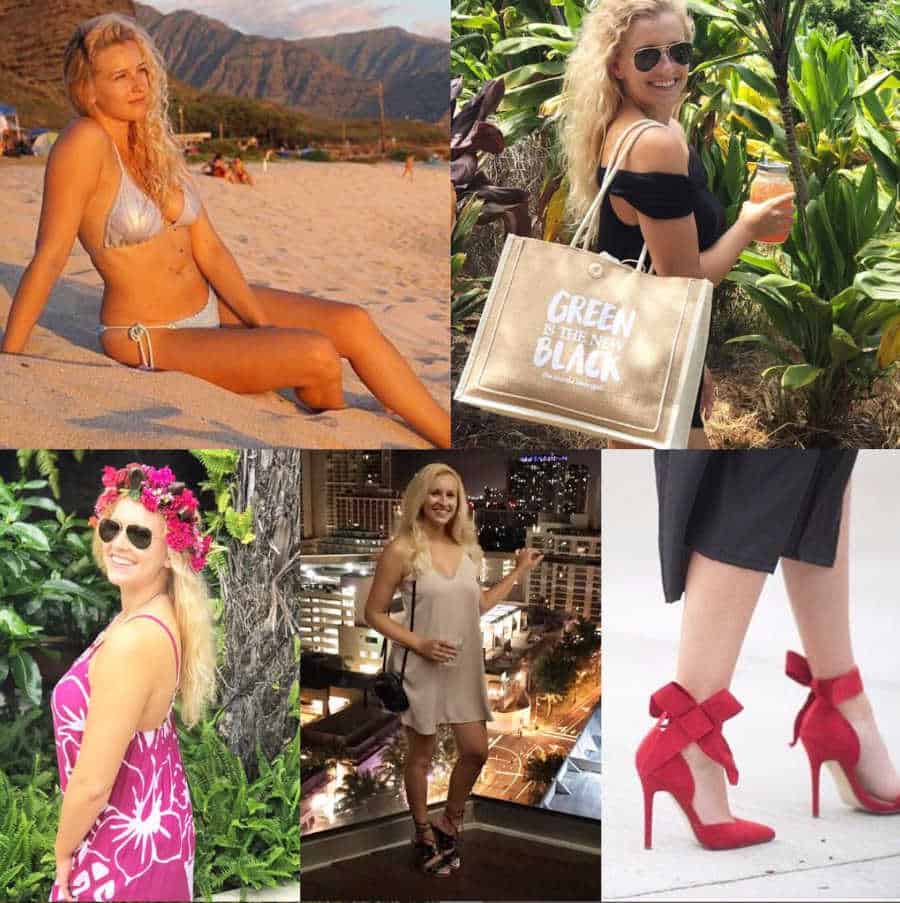 11. Iásón Mac Gabhann
In all my years working in the lab, I have NEVER seen a tie! Today's #FancyFriday #FancyScientist @the_irish_scientist breaks the lab coat stereotype – not by ditching it, but by making it vey dapper! His insta name does not lie – Iásón Mac Gabhann has dual citizenship in Ireland and the US and has conducted research in Dublin and Ireland. His background is in biochemistry and his research interests include the innate immune system of autoimmune diseases (I actually have an autoimmune disease – Hashimoto's). I love his feed because he shows a lot of cool behind-the-scenes in photos in the lab with great captions explaining what he is doing such as growing bacteria colonies, western blots, and performing ELISAs (nzyme-linked immunosorbent assay).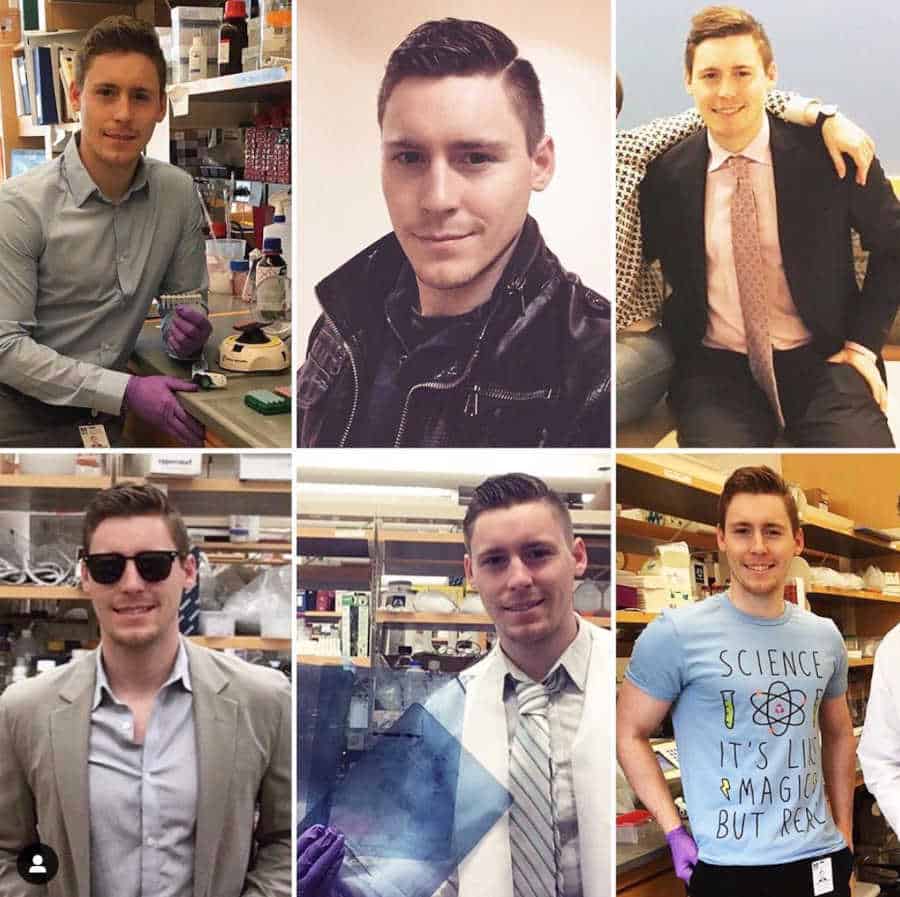 10. Andrea H: PhD Fashionista
Today's #FancyFriday #FancyScientist is all about fashion, it's even in her insta name! Andrea AKA @phd_fashionista is a biochemist and blogger all about defying the stereotypes of women in science (and scientists in general). She originally started her blog to keep track of her outfits that were practical enough to work in while obeying the strict lab safety rules and still being fashionable (a challenge). She loves to blog about lab fashion and has written advice on what to wear for professional conferences, every day work, and weekend fashion. Her PhD research focused on methyl groups on arginine residues of proteins, which is important for the regulation of certain proteins on genes, and can even turn genes on or off, depending on other factors. She is also interested in cancer epigenetics (modification of gene expression, but not the DNA itself) and disease models.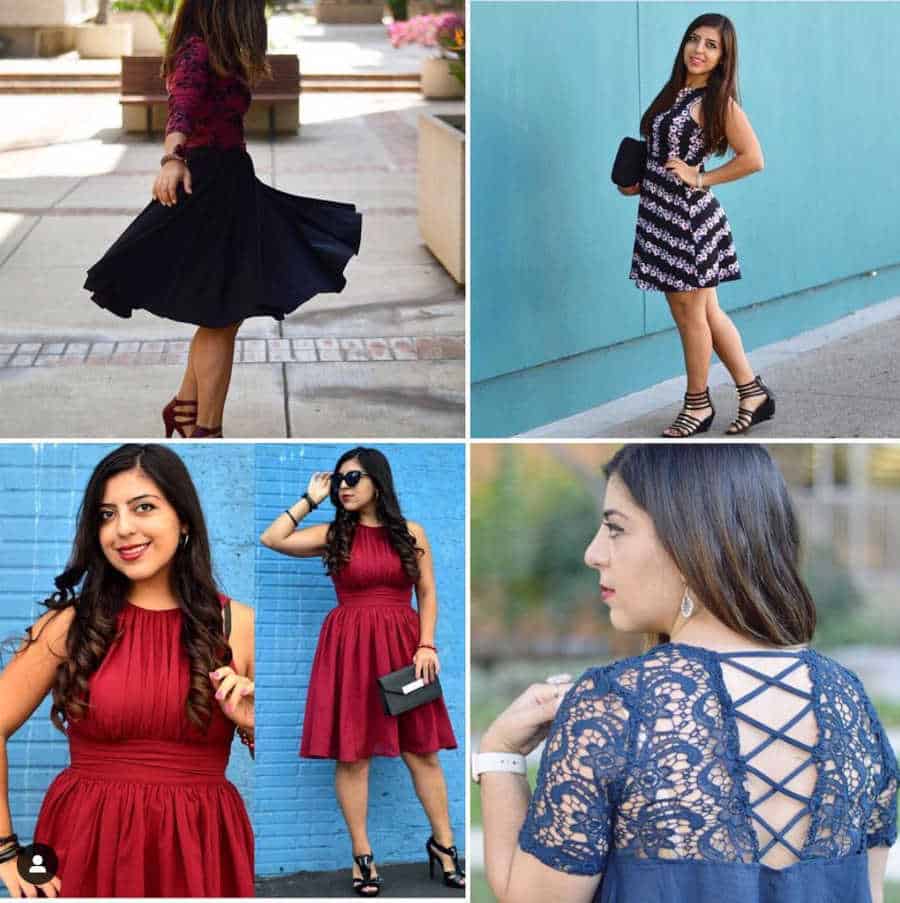 9. Chris Parsons
Who says that #FancyFriday is only for women? Not me. #Fancy is for all! Today I am excited to present marine mammal expert and one of my favorite people to follow on Twitter, Dr. Chris Parsons (@Craken_MacCraic). Chris has studied dolphins and whales for over TWO DECADES. I first met Chris at a the Society for Conservation Biology and I was super impressed by the number of ribbons he had (nearly 5 times the size of his name tag) reflecting his dedication to the society and conservation of the oceans as a whole. Chis has worked on marine mammals in all 7 continents (jealous!) and is EXTREMELY prolific in writing – 140 scientific papers, book chapters, and a textbook on marine mammal biology and conservation. It's easy to see why Chris is a #FancyScientist. I can't express how much I love these outfits. Not only do I value fanciness, but it increases value in theme. He holds an annual costume party, so some are from there, but also from presentations at conferences and pilgrimages to #JaneAustin sites.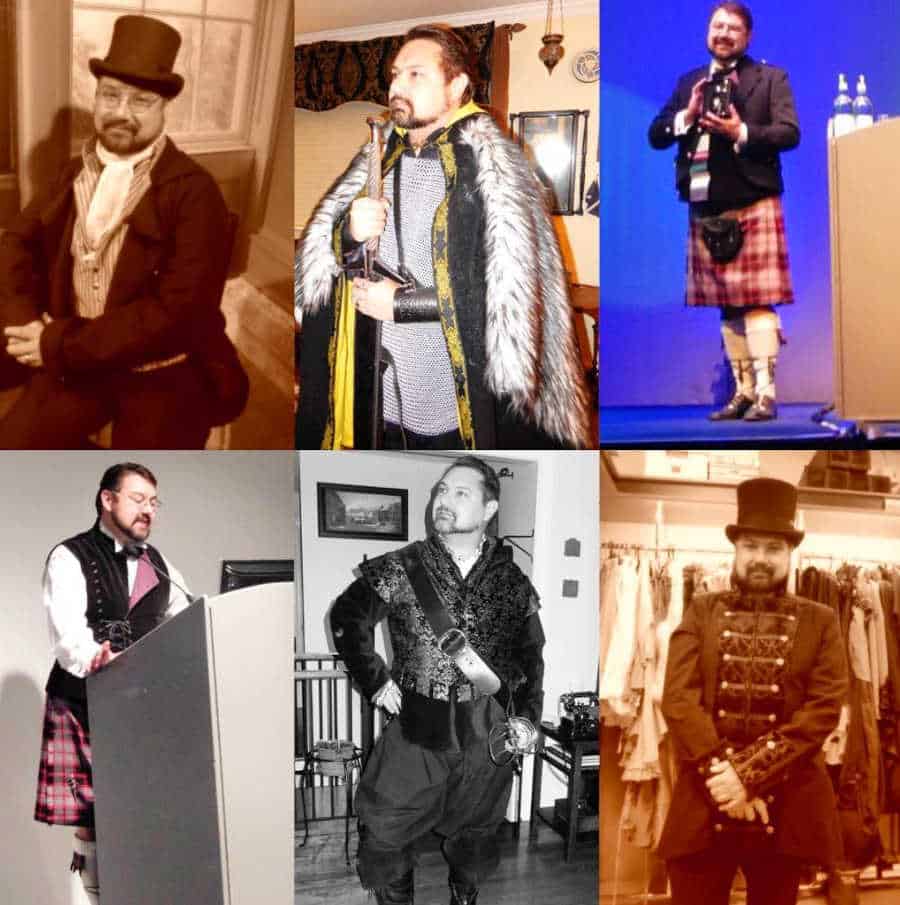 8. Christine Hawn
Today's #FancyFriday #FancyScientist is a former postdoc in our lab at @naturalsciences. I don't think there was ever a day that I didn't see Christine Hawn dress up! Some days even I felt sloppy. Christine studies animals in corridors, areas of habitat that can serve as a bridge between two larger areas for animals/plants to move and disperse. When I think of corridors, I think of ones in India to connect tigers to reserves, but Christine works on much smaller species that most people don't think about when it comes to conservation – spiders! Spiders are small, but important predators in ecosystems and Christine has studied how corridors affect their food resources. For their research, Christine painted spiders with nail polish or used stable isotopes as a way to mark them, making them individually identifiable for research (and incidentally fancy). I am deliberately using the pronouns they/their for Christine because they identify as transgender. Christine is also interested in the impacts that pharmaceuticals and personal care products can have on spiders living alongside streams, which can serve as an indicator for human health.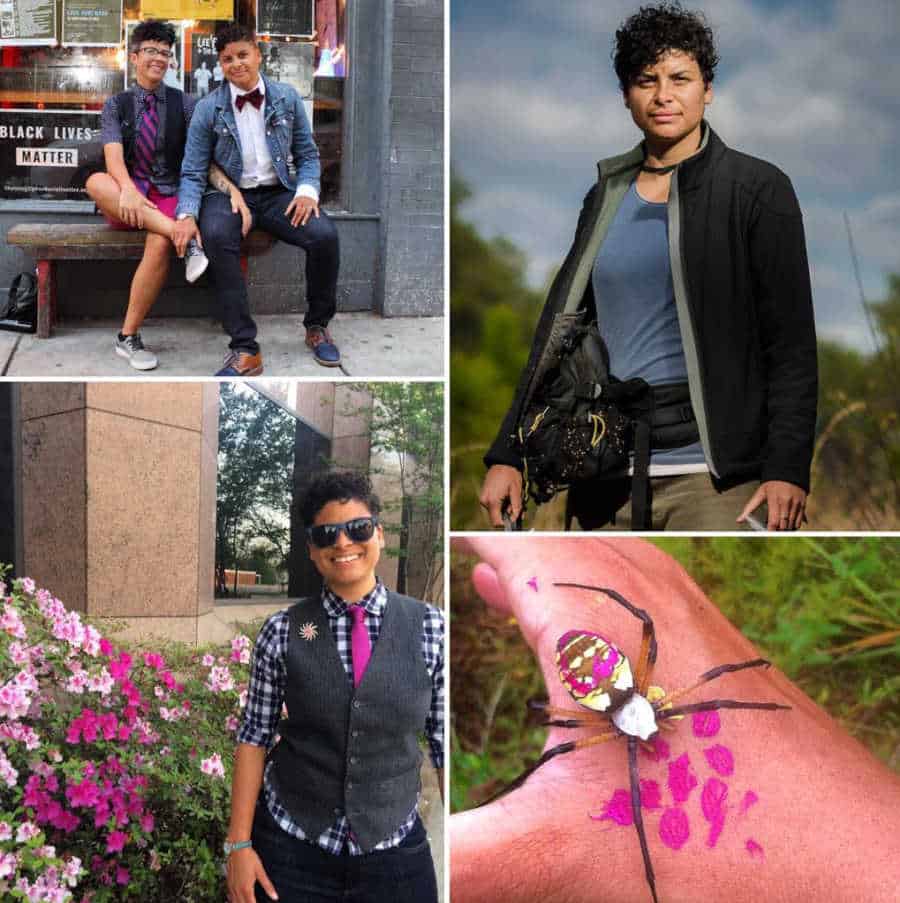 7. Mareike Dornhege
I met today's #FancyFriday #FancyScientist only once at a Society for Conservation Biology conference years ago, but we became Facebook friends ever since! Mareike Dornhege is a marine ecologist for the @saveourseasfoundation. Growing up in Northern Germany, she learned to love the ocean from an early age, and especially sharks from a book her grandmother gave her. She learned to dive at age 14 and over many years and dives was saddened and confused by how few sharks she saw. She now works in Japan asking fisherman questions about sharks for science. By talking to people and using data collected from catches today, she can evaluate the "shifting baselines." In other words, what may seem like normal catch now may be dramatically different than years ago. She also uses their information to understand the ecology of sharks. Mareike came to Japan to work as a model(!) so she naturally always loved fashion. Living in Tokyo has changed her style and she has abandoned the greys and blacks that dominated fashion in Berlin for bold colors. She loves classic feminine elements like floral patterns and lace and draws inspiration from both traditional Japanese fabric patterns and modern Japanese street fashion. As a marine ecologist her preferred work attire is bikinis with shorts and rash guards on top.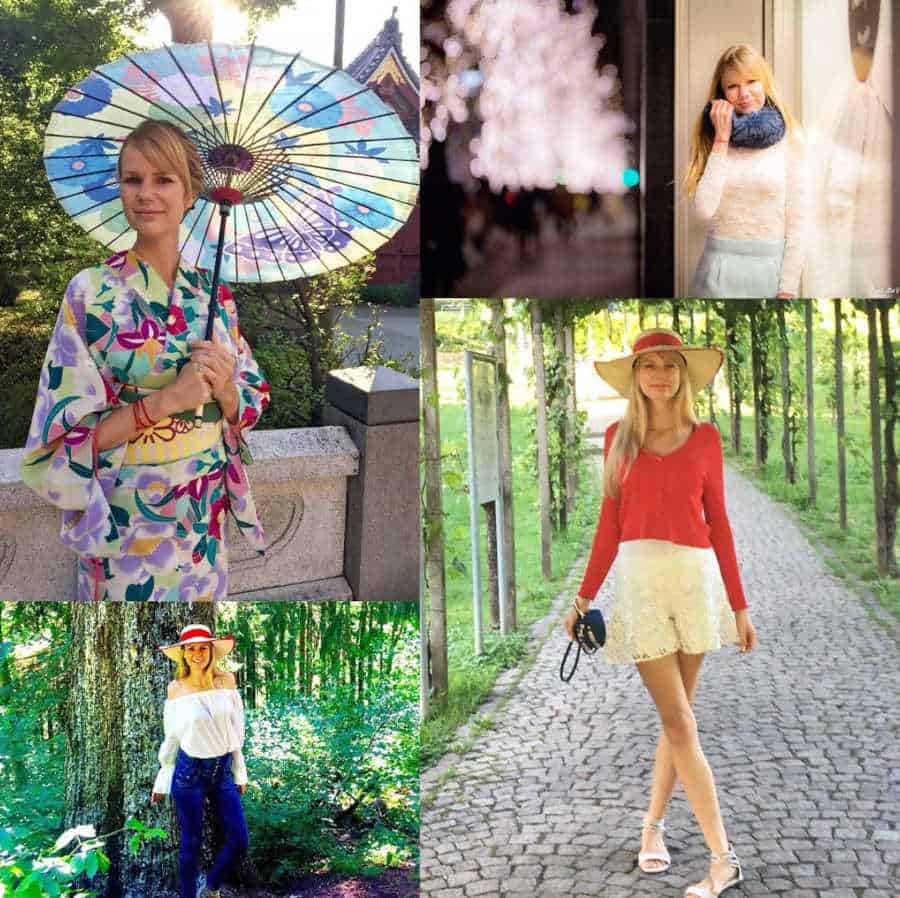 6. Tatiana Arias
Today's #FancyFriday #FancyScientist is my good friend Tatiana Arias! Tatiana and I were PhD students together at Mizzou. Now, Tatiana heads her own lab at a private research institution in Medellin, Colombia, where she is from studying the evolution and ecology of tropical plants especially orchids. She works to find solutions to agricultural challenges in Colombia such as using genetic diversity to broaden crop diversity, and preserving and even restoring lost the native biodiversity of plants emblematic to Colombia. She was recently the recipient of the Colombian Young Scientist Award from The World Academy of Sciences and The Colombian Academy of Sciences. She has the cutest kitty Oda, hence her Insta name @odasmama and has literally traveled the world.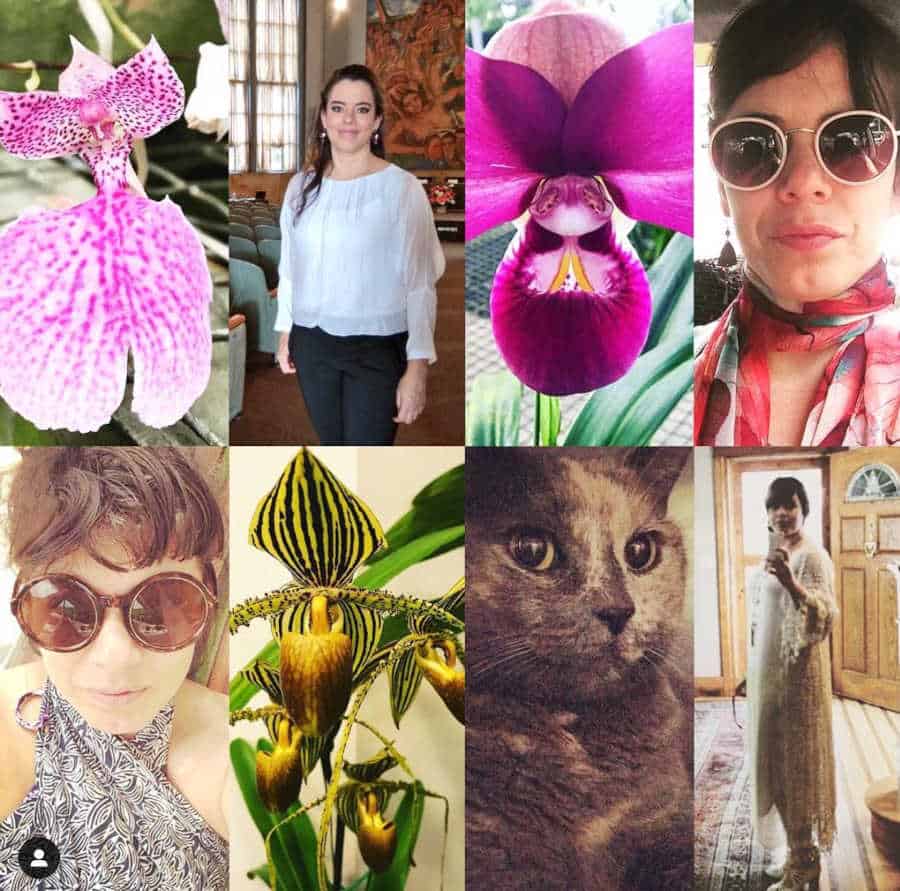 5. Sophie: The Scientific Beauty
I am so excited to introduce you to @sciencebeaut for #FancyFriday! I thought I was one of the rare fancy scientists, but Sophie's feed makes me feel like a #FancyScientist slacker! Sophie's science is fancy in itself – she has a PhD in bochemistry and writes about the science of beauty, breaking down ingredients in your favorite products, helping you make sense of the scientific claims the industry makes, and explaining science behind red lipstick. She loves fashion obviously, but favors classic couture that lasts a lifetime over fast fashion trends (which is also more ecofriendly). She adores Coco Chanel and Chanel in general and is obsessed with Louboutins .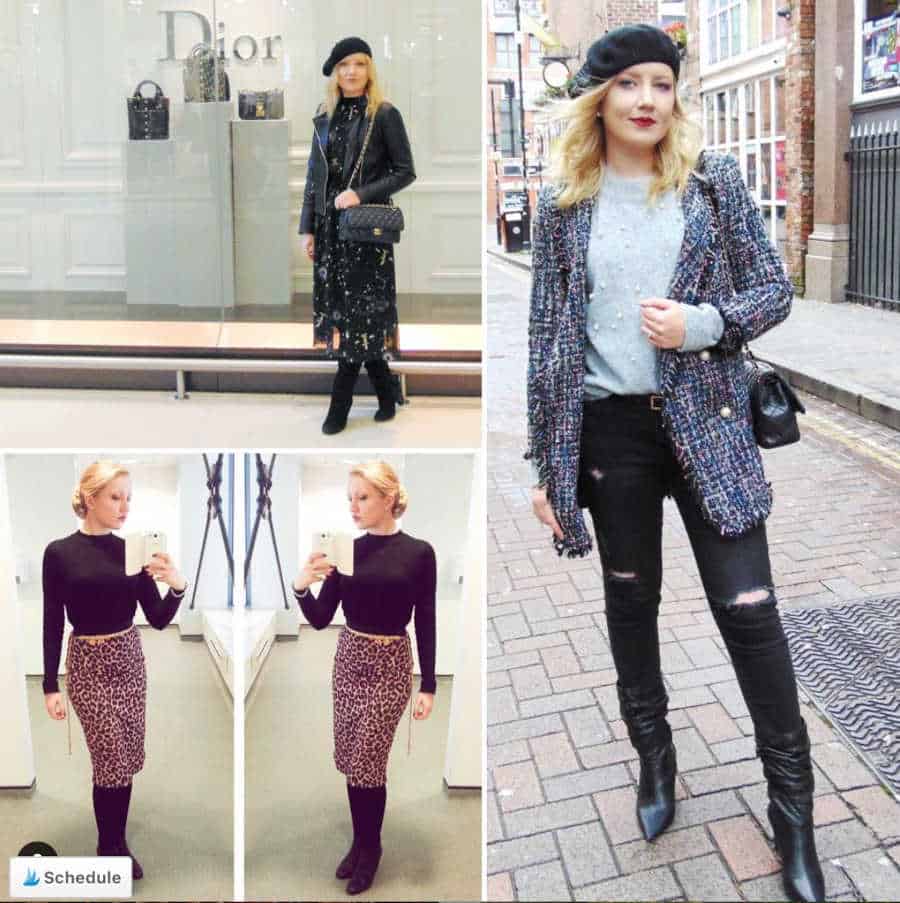 4. Sarah Jandricic
Today's #Fancyfriday #fancyscientist is the @theclosetmoth. Sarah has a science job that is fancy too – She works on flowers! Specifically, she works with the Canadian government to help growers manage insect pests and plant diseases sustainability so your flowers look perfect! She loves working with farmers and putting the things scientist develop into real world practice. You can tell her study subject influences her outfits. Sarah has a VERY fashionable Insta feed to prove you can be science-y and a fashionista. Besides fashion, she also loves her Bernese mountain dog Velika, and is obsessed with alpacas.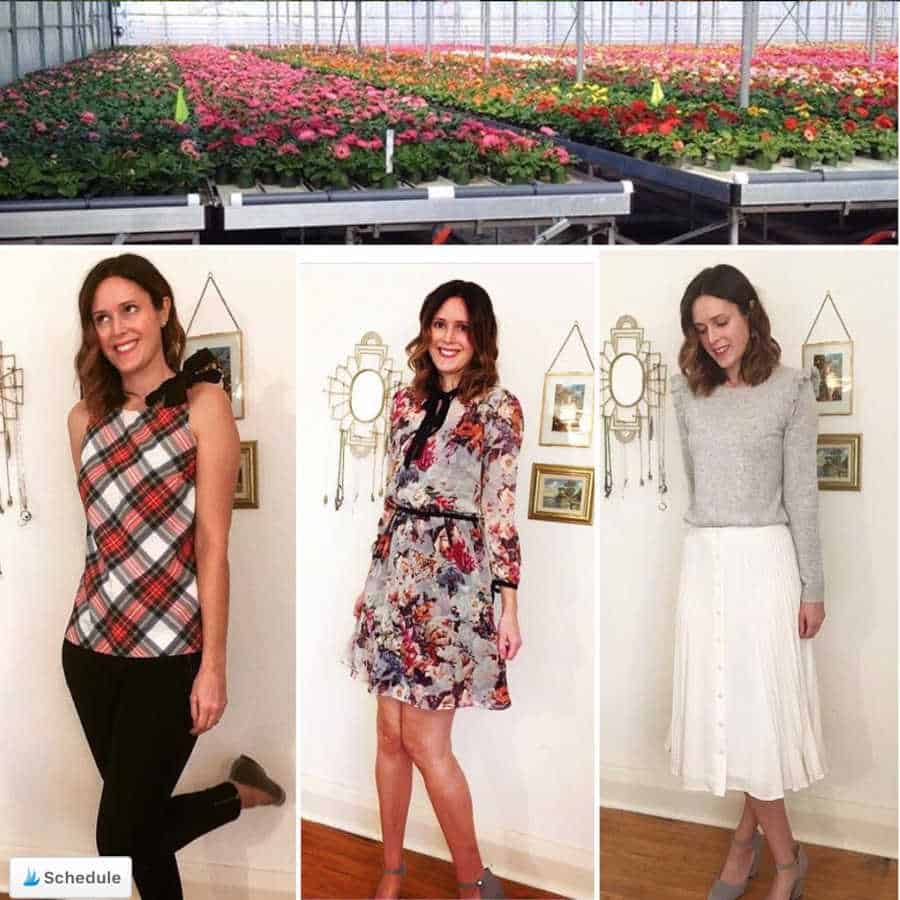 3. Summer Higdon
Today's #FancyFriday's #FancyScientist is @summerhigdon! Summer studies the super cool and super elusive spotted skunk at my alma mater Mizzou. The eastern spotted skunk is a once-common mesocarnivore that is now petitioned for federal listing under the Endangered Species Act. They are difficult to detect, even on camera traps, so she has to bait her camera traps to try to attract them. She studies everything spotted skunk – their home ranges, what habitats they live in, activity patterns and uses their scat (poop) to understand their diet. Summer posts amazing photos of her outside adventures with her sidekick, Peanut, the rat terrier. Her fancy hobbies include drinking craft beer and red wine, and cooking good food. Her not-so-fancy, but badass hobby is learning krav maga (I had to look this up). Summer was also an intern of mine and worked A LOT on our deer vigilance project. I like to think I had a strong influence in her fancy habits.
2. Rae Wynn Grant
Today's #fancyscientist and fashionista is @raewynngrant at my favorite museum, the American Museum of Natural History. Rae and I met YEARS ago (12 to be exact) in Kenya. She was a student, while I was an intern at the School for Field Studies. She now works as a Conservation Science Research and Teaching Fellow exploring the influence of human activity on large carnivores. She's another bear biologist and studies how human's influence black bears' landscape use, habitat suitability, and connectivity in the Western Great Basin. Rae also helps to coordinate the Education Department's Science Research Mentoring Program, offering high school students the opportunity to join ongoing research projects lead by AMNH scientists like herself. Rae is also super fun to follow. She is world traveller, a new mom, and posts lots of fun animal pics.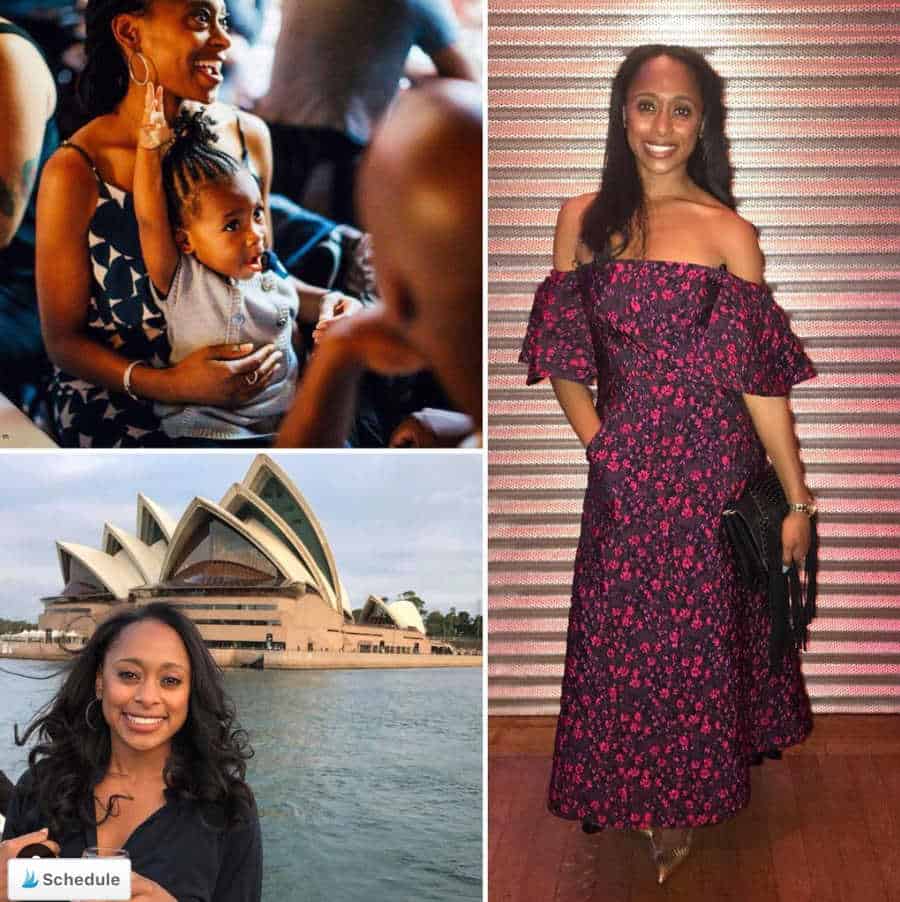 1. Emily Puckett
Today's #fancyscientist is one of my besties: former labmate and fellow blogger at Widllife SNPits (also founder, wildlifesnpits.wordpress.com), evolutionary biologist @emilyepuckett. Emily studies the distribution of genetic diversity across a species' range and uses this information to identify where in the genome differences exist and if they are tied to adaptations. Most of her research is on #blackbears, but she has also worked on rats, and soon chipmunks! She is mostly in a lab or at the computer, but has gone to the field a few times for #bear research. Her fancy hobbies include going to the #ballet, #opera, watching indy movies and drinking bubbly beverages (Cava, Champagne, or Chandon). I also love her shirt on the right – from Anthropologie.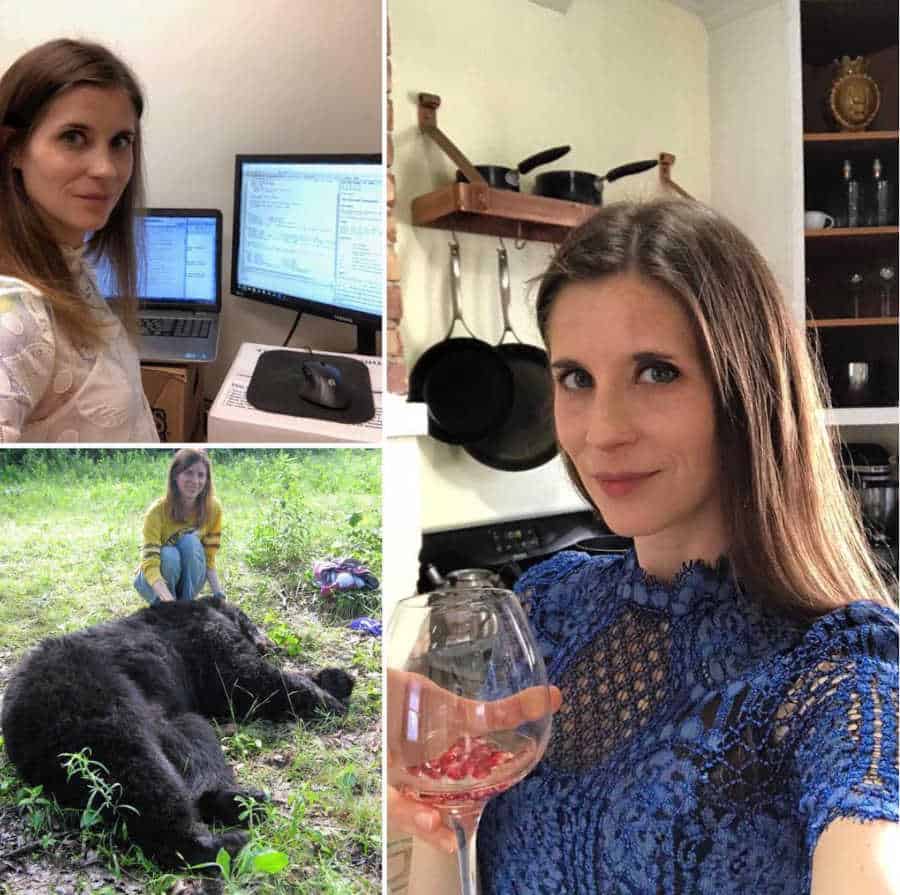 Are you a fancy scientist? Or do you know a fancy scientist? Send me a message to nominate them!
Stephanie Schuttler is a wildlife biologist with 17 years of experience in mammal ecology and conservation, education, and outreach. Read her inspirational story, "My Unexpected Journey Into Science" to find out how she went from the daughter of a jeweler to a Ph.D. in wildlife biology. Feel free to contact Stephanie here.