for Wildlife Biology, Ecology, Zoology, & Conservation Careers
March 27th and 28th at 12-2 PM EDT (will be recorded)
First 10 people that sign up will receive a free personalized resume audit with me
Learn the 6 major career types and 7 workplaces in-depth
Analyze your true interests, strengths, and weaknesses to know what you really want and where you fit into the job market
Become confident and optimistic about your future
I see this a lot in the wildlife Facebook groups – people applying for hundreds of jobs just hoping they will get lucky at one. If you apply for 400 jobs over 7 months, that's like applying for 2 jobs a day! Trust me – you don't have to do this!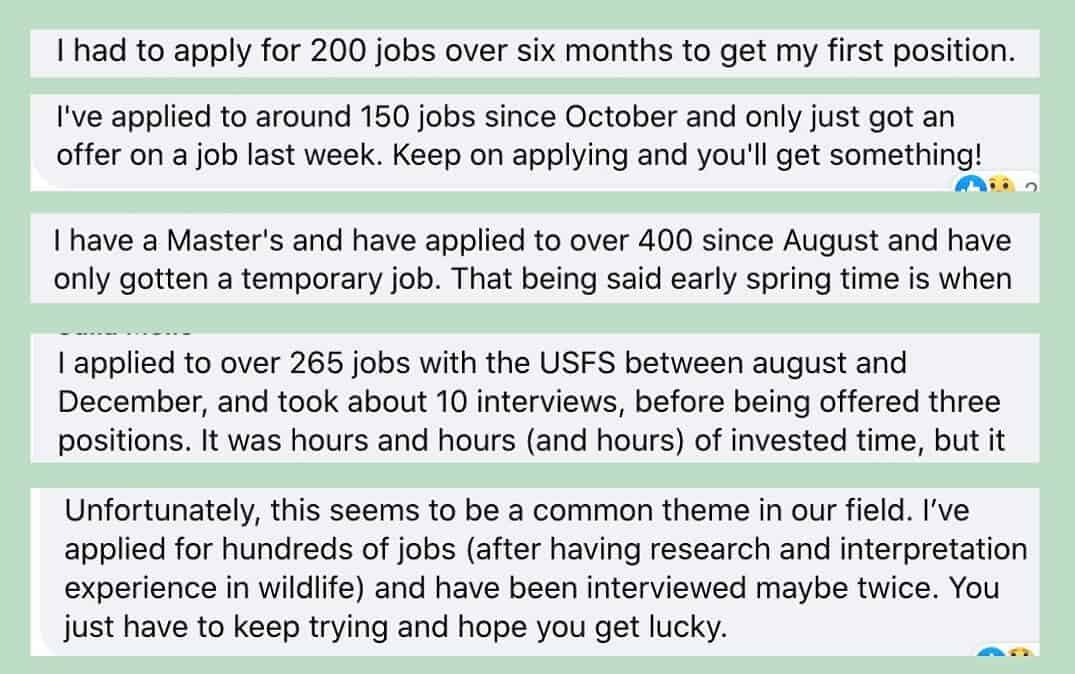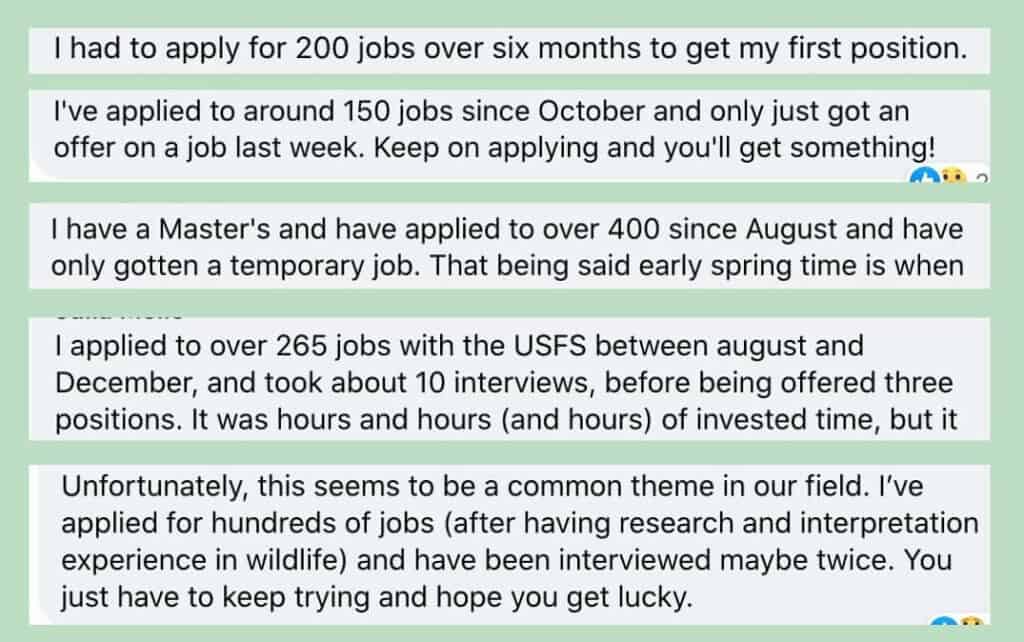 When I graduated from my Ph.D., I was told that job ads were a wish list and that if I met over 50% of the qualifications, I should apply. But I found this to be bad advice. I wasn't getting any interviews except for the jobs where I met almost all of the qualifications. I decided to change my strategy.
Instead, I started being choosy about the jobs I applied for and only applied to those where I met 90+% of the qualifications. For those jobs, I put my heart and passion into my cover letters. And it worked. I didn't apply for many jobs, but I got an interview for nearly 30% of the jobs I applied for.
I see people encouraging job seekers to apply for hundreds of jobs – like it's a crap shoot. It's not. You need a strategy.
In fact, applying to more jobs can work against you because you will most likely not be able to give each job application the time and energy they need. 
If you want to learn my strategy, I'm hosting a live workshop on March 27th and 28th on how to apply for wildlife, ecology, zoology, and conservation jobs. 
Job applications are something near and dear to my heart – when I first started applying for jobs in 2003 there was NOTHING out there on how to apply for wildlife biology or ecology jobs.
This became a passion project of mine – how to turn successful office-y job applications into successful wildlife/ecology ones.
I'm hosting a Job Application Workshop teaching you how to write compelling resumes, CVs, cover letters, and know which jobs you have a chance of getting so you don't waste your valuable time and energy on other applications. 
Job Application Workshop Details
Pre-assignment:
Experience matrix exercise to help you figure out your strengths, your hard and soft skills, and relevant experiences to put on your resume/CV.
Day 1:
Resumes: Components of a resume, detailed examples of how to word experiences and how detailed you should get, what experiences to include and how to know for which jobs, the difference between CV and resume, and open Q&A.
You will receive a template and your homework is to update your resume. You can send me yours as an example for tomorrow's session.
Day 2:
Going over some resume submissions from students
How to know if you will be competitive for a job
How to learn about the company/organization
Putting yourself in the right mindset/energy to apply for the job
Cover Letters: Components of a cover letter, how to brag about yourself without sounding conceited, what to emphasize and write.
Template for cover letters
Packet of my past successful cover letters (I found some more!)
You'll walk away with:
The Experience Matrix exercise
A resume template
and CV template
A Cover letter template
10+ of my past successful cover letters as examples
The workshop is $49 for the live version and after March 27th it will be $97 for the recording. If you cannot attend live, but sign up before the 27th, you will have long-term access to the recording.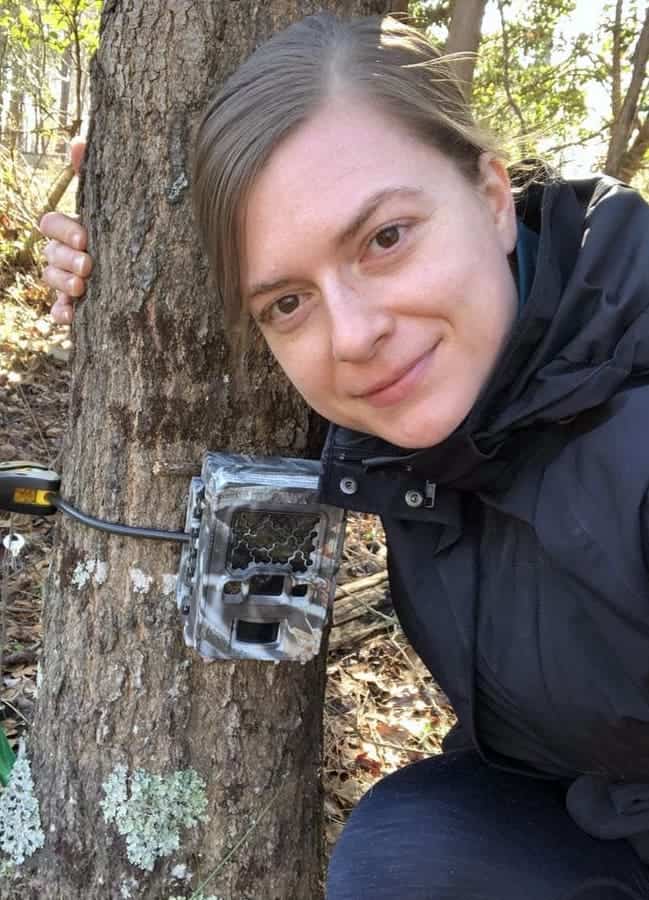 Hi, I'm Dr. Stephanie Schuttler and I've been working in the field of wildlife biology since 2003. I have a lot of experience:
BA in 2003, 3 internships, Ph.D. in 2012, 6 years of postdocs
20+ peer-reviewed scientific publications in top journals like Frontiers in Ecology and the Environment

,

Bioscience

, and

Methods in Ecology and Evolution

 

 

Publications in animal behavior, mammal communities, predator-prey relationships, non-invasive genetics, satellite telemetry, social science, and citizen science

 

Study species and systems across four continents

Work experience in the government, zoos, museums, academia, and alongside nonprofits

Researcher on large, collaborative open access projects like eMammal and Wildlife Insights