DISCOVER YOUR IDEAL WILDLIFE BIOLOGY JOB
Learn wildlife biology careers and find out which one is right for YOU
Learn the 6 major career types and 7 workplaces in-depth
Analyze your true interests, strengths, and weaknesses to know what you really want and where you fit into the job market
Become confident and optimistic about your future
ARE YOU STRUGGLING WITH THE NEXT STEPS IN YOUR CAREER?
You might know you want to have a career in wildlife biology, but you aren't sure exactly what or how to get there. 
You might be wondering if you are making the right career choices – posting your questions in different Facebook groups, asking your professors, and scouring the Internet hoping someone will be able to give you the specific advice you need.
I did the same thing. 
But I found out so much of the advice that I was given was wrong and out-of-date.
I thought I would just get experience and my degrees and figure out exactly what I wanted to do later on. 
But I'm here to tell you not all wildlife biology careers are the same. You can't just get a "blanket degree" and wildlife jobs are more competitive than ever before. 
Imagine if you knew exactly what you wanted to do though.
Do you think you could become better prepared for today's jobs?
Do you think you would be more confident and feel more secure? 
You bet!
This is what I wish I had done.
If you understand the job market, what you really want. and what it takes to get them, you'll be able to make yourself competitive.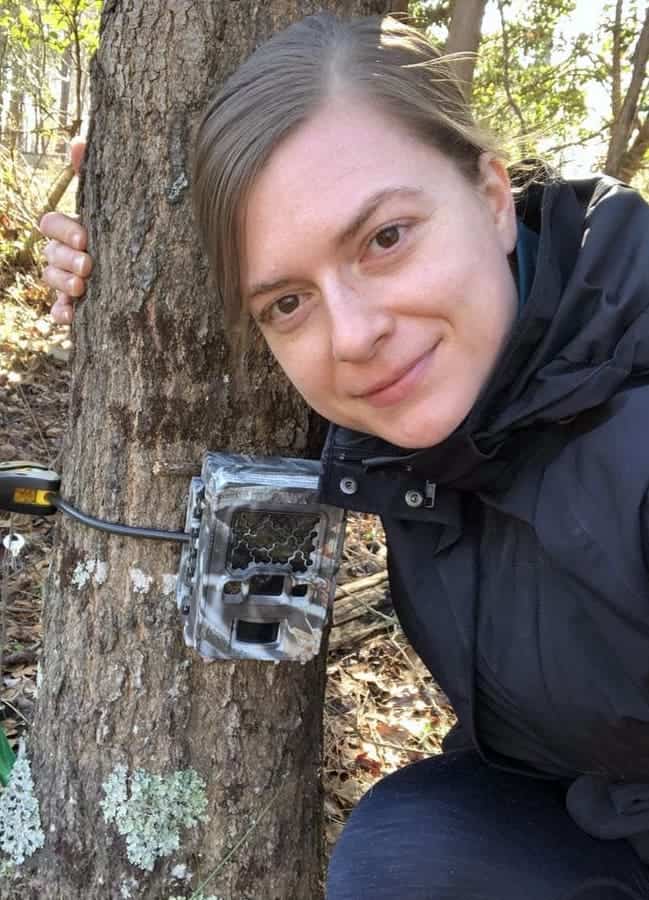 Hi, I'm Dr. Stephanie Schuttler and I've been working in the field of wildlife biology since 2003. I have a lot of experience:
BA in 2003, 3 internships, Ph.D. in 2012, 6 years of postdocs
20+ peer-reviewed scientific publications in top journals like Frontiers in Ecology and the Environment

,

Bioscience

, and

Methods in Ecology and Evolution

 

 

Publications in animal behavior, mammal communities, predator-prey relationships, non-invasive genetics, satellite telemetry, social science, and citizen science

 

Study species and systems across four continents

Work experience in the government, zoos, museums, academia, and alongside nonprofits

Researcher on large, collaborative open access projects like eMammal and Wildlife Insights
But the truth is, I created this Confusion to Clarity course because I found the advice I was given and the advice that is still being given today is largely incorrect.
Even with the amount of experience and level of expertise I had, I was honestly shocked at how difficult it was for me to get a permanent job in the city I was living in. I applied for job after job and was extremely close to getting it, but every time there was someone else who had more experience than me in that field.
But it's not because I'm wasn't good enough or have enough publications, it's because I didn't have the right experience for the jobs I wanted. My network didn't even help – for some jobs that I interviewed for, I already worked with the people hiring. 
No one told me that the job market would be so competitive. I found out, I couldn't rely on my degree alone and that I was pigeon-holed by my research experiences even though I was told this wouldn't happen.
I don't want this to happen to you!
I thought to get a job in wildlife biology, all you needed was experience and an education. I always had an idea of what I wanted to do, but was never certain on what or where.
But from years of being on and off the job market, I found out it was MUCH more complicated than this. For most jobs you need to specialize and too much education and experience can actually decrease your chances of getting some jobs. 
I wish someone had explained this all to me before I started.
This is exactly what I do in Confusion to Clarity. We'll go over the six major job categories and the seven workplaces in detail so you understand what courses or experiences you need to get to be competitive. You'll get almost two decades worth of knowledge from my experiences in this field in just one month.
Imagine going into 2021 clear about what you want to do!
Let's take a look at how we'll do it.
In this small group coaching program, you'll learn in detail all of the wildlife biology career options that are available to you, how to figure out which job is the right fit for you, and the next steps on your journey to getting that job.
4 Live Webinars Full of Content
Live weekly webinars with Stephanie on:


Research
6 job types
7 workplaces
Making decisions
In-depth exercises and questions designed to reveal the wildlife job right for you
Analyze/assess your strengths and desires
Weekly live coaching on exercises
"Hot seat" sessions on students' challenges 
Learn from others' questions
Discuss exercises and jobs with peers
Increase your network
Learn from others' past and current experiences
NEW! Plus monthly coaching calls to make sure you are on track for ALL OF 2021!
My Approach Focuses on 3 Key Areas:
In this competitive job market, employers can choose candidates that are perfectly suited for the advertised positions. I learned it is essential to understand what job you want before you make decisions on and invest in degree programs, research, and volunteer opportunities.
"In this case, it simply came down to finding a candidate that matched our needs almost exactly, and we were fortunate in that regard."
-Email response from a job I interviewed for that I did not get
Most of us do not take the time to really understand ourselves and think about what we ultimately want in life. We often go on to the next step without stopping to think because that is what we are encouraged to do or what we are expected to.
I believe it's important for us to slow down and figure out our why. My resources encourage you to not only ask questions about why you want to pursue a career in wildlife biology, but also what you want to live your best life for you.
Strategy is simply the integration between understanding the job market and understanding yourself well so that you can get the job that YOU want. Rather than follow the prescribed next steps often given as advice to everyone, my content is designed to help you come up with a personalized plan that will ultimately get you the career you want. 
Add here how I take a personlized approach
"I wanted to say thank you so much for the course! Your course helped me a lot in figuring out what it is I want to do in the field. Taking this semester off was much needed, I'm going to work on skills like R or ArcGIS, identifying animals on camera traps and identifying plants and animals in my city." ​
"This course helped me in getting information on career paths and advice on how to get there. I was worried there weren't that many jobs in the field but I just have to know where to look and broaden my search. I know what certain career paths I want to do now and not as confused as I was before I took the course."
"The most valuable part was that you definitely adjusted the course to address your classes specific questions! Also the financial lecture was very valuable, even fewer people are transparent about planning a budget than talk about how to become a wildlife biologist!​
"The course was really valuable"
Starts the week of December 7th until January 4th
4 Weekly live webinars on research and wildlife biology careers
Guided workbook with questions and exercises for each week
4 interactive live coaching calls
The opportunity to volunteer for a "hot seat" discussion during group coaching, where we can take a deep dive into understanding your career
Bonuses: Course on writing resumes, CVs, and cover letters
Only offered 2x a year
Limited to 20 participants
What is Research?

In depth overview of the research cycle
Applied vs theoretical with multiple examples
Different types of research questions to ask
How to prepare for the future of research

Exercise 1: Learn and use the Job Tracker

Exercise 2: Start a wildlife jobs vision board
Week 1 Group Coaching: Research
Intros! Sharing where everyone is and what they want to gain
How to notice initial patterns of Job Tracker and decipher their implications
Overview and analysis of several Job Tracker results by students
Tips for pursuing research
Hot seat coaching going in-depth with anyone feeling stuck to get unstuck

Live Q + A session where you can ask me anything
Week 2 Webinar: Career Types
Detailed overview of the 6 different job types

Explanations of what the different job types entail, what types of duties you perform, what it's like to work in those job types based on my own experience
Multiple real-world examples of professionals working in those positions
Exercise 3: Analysis of You
Continuation of Job Tracker and Vision Board
Week 2 Group Coaching: Career Types
Group sharing of responses to Exercise 3: Analysis of You
Summarizing patterns and starting to understand what they mean in terms of your career and happiness
Hot seat coaching going in-depth with anyone feeling stuck to get unstuck
Live Q + A session where you can ask me anything
Week 3 Webinar: Career Workplaces
Deep dive into the 7 career workplaces

Explanations of the different cultures
Real world examples of individuals in the 7 workplaces with different jobs
My personal experience in workplaces
Learning about hard and soft skills and what you need for the different career types
Exercise 4: Experience matrix
Continuation of Job Tracker and Vision Board
Week 3 Group Coaching: Career Workplaces
Group sharing and understanding exercise 4: Experience Matrix
Identifying your strengths and weaknesses
Hot seat coaching going in-depth with anyone feeling stuck to get unstuck
Live Q + A session where you can ask me anything
Week 4 Webinar: Developing Your RoadMap
How to bring all exercises together to understand your personal and professional interests
Identify your ideal job(s) being specific to career type and workplace
Assess opportunities available and financial investments and anticipated salaries
Exercise 5: Final Outcome and Roadmap
Exercise 6: What Do I Need to Make?
Week 4 Group Coaching: Developing Your Roadmap
Go over Exercise 5: Final Outcome and Roadmap
Students present roadmaps
Deep dive with students struggling to fill in gaps
How to identify next steps
Update career vision board to make it happen
Hot seat coaching going in-depth with anyone feeling stuck to get unstuck
Live Q + A session where you can ask me anything
Program Pricing and Options: Basic and VIP
VIP includes 8 sessions of one-on-one coaching and personalized resume critique
NEW! Plus monthly coaching calls to make sure you are on track for ALL OF 2021!
"I really liked the program, I felt it helped me narrow down some interests related to wildlife biology which is what I needed. I liked the work sheets, which I'm able to fill out again and continuing with the process of clarity."
After 2 Weeks:

"The webinars and the class so far have been incredibly helpful and I am so glad I am part of it."
Is This You?
You are a student in a wildlife biology program, but have no idea what you want to pursue in your career

You don't understand the differences between the different career types or which one is right for you

You don't know what kind of research or job would make you happiest

You hear how hard it is to get a job and are worried you won't be able to get one

Want to do everything you can to prepare yourself in for jobs

Are not sure you can afford a wildlife biology career
Imagine what it'd feel like to know what you want.
Imagine what it'd feel like to be certain about your career decisions.
Imagine what it'd feel like to have no FOMO and fear that you didn't get the right experience. 
You don't need to post in Facebook groups calling from the high heavens hoping for someone to help.
You don't need to get an expensive degree to get your answers.
You need to slow down before you speed up. Figure out what you want to do and develop a roadmap to pursue it.
Waiting can cost you time and money.
If you don't slow down to figure things out, you could make costly mistakes.
Who is Confusion to Clarity For?
Wildlife Biology, Ecology, Zoology, or Conservation Biology Students
Students currently or wanting to get a degree in these fields. Although this is targeted towards wildlife biology, these other fields apply!
College Graduates and Early Career Graduate Students
Students who recently graduated with their bachelor's degree or even are in the first few year(s) of their MS or Ph.D. program. 
I'm going to be honest...
Your advisors and mentors will most likely NOT prepare you for the job market. I've seen this career change dramatically over the course of my Ph.D. and I've found most professors are out of touch with how competitive it is and what skills are needed for what jobs. 
I thought my degree and experiences would apply to a wide range of jobs and research areas – but it didn't. I only received job interviews for positions where I had direct, relevant experience. 
Most professors don't know what is required for different types of jobs in wildlife biology – they have only been trained for academic positions. But I've applied to jobs in research, education, outreach, and communication, and to a wide variety of work places – and I've found they are all different. 
I also found out that my degree and experiences even made me less competitive for some jobs – jobs that I really wanted! 
You could just keep doing the next step – the next job, the next degree – but you risk becoming too specialized, setting yourself up for a job you don't ultimately want or that isn't widely available. 
You also might waste money on degrees you don't need, potentially going into debt (or further into debt), and years or your time before you get started in your "real" job. 
What if you could get clear on what you want now? One month of your time could save you years. 
Bonus: Resumes, CVs, and Cover Letters Course​
90+ minutes of how-to advice for writing competitive resumes, CVs, and cover letters
When to use a CV, when to use a cover letter
What to include in your resumes and CVs
How to post non-science/non-wildlife jobs to your resume
A copy of my resume and CV
9 of my successful cover letters applying to jobs in research, outreach, education, and science communication
11 useful blog posts, videos, resume examples
FREQUENTLY ASKED QUESTIONS
How is this course different from your book "Getting a Job in Wildlife Biology?" If I read the book, will this course still be helpful?
This course goes into much more detail than the book. The book is a great foundation, but in this course, you will be much more active – asking questions and interacting directly with me, filling out exercises about yourself, and getting much more detailed information about what research is like, the different job types are like, and the cultures of the career workplaces.  
How much time will I have to dedicate to the course?
I am accepting participants who want to engage and take a deep dive into themselves. This means you will have to commit to at least 1 hour of webinar time, 1 hour of live coaching, and time for the exercises. I understand this is a lot of work, but it will be worth it!
What time will the course be?
This is yet to be decided and will be based on participants' schedule. I anticipate the webinars on Mondays and the group coachings on Thursdays. If there is not a single time that everyone can come live, I will vary the live sections of the course.
NEW! Plus monthly coaching calls to make sure you are on track for ALL OF 2021!